Larry, Zac and Grant Build a Boat
Page 12
Thursday, March 20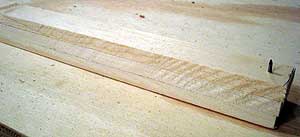 Yesterday Grant scarphed together three 12 ft. strips to make the keel. he took the clamps off this morning and arranged the strips so the scarphs didn't line up when stacked. Then he tacked them together and ripped them to this rough shape. Later, when we have hands to support the ends while sawing, we'll make the final cuts, fit them to the hull and glue or epoxy them in them in place. We'll probably 'glas tape the keel, too.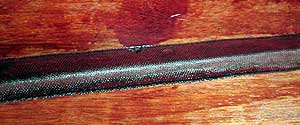 Today (without Zac here to help), Larry and Grant sanded the microballoon fillets, then applied two-inch wide 'glas tape with epoxy. We finished up about 7:00 pm, leaving the boat in the downstairs studio to cure.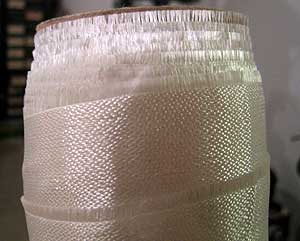 The UPS Guy delivered 5 yards of 3.25 oz x 60 in. today -- nicely packaged and rolled on a cardboard tube. It's the stuff we ordered Monday and now intend to apply on Saturday. Shipping charges were $9.19 and the material cost $27.50. We're thinkin' the boat will be very strong, what with the taped chines and the 'glas-covered hull.


Friday (3/21) -- Grant moved the boat back to the shop. Epoxy was hard and the boat weighed only 31 pounds. Go figure.

Here's another angle, clearly showing the limber holes.
Next step is to trim the bottom flush with sides, ease that juncture and 'glas the outside with the 3.25 oz. cloth. When that's done the boat shouldn't leak a drop.
We'll think more about how the motor and battery will be acomodated, etc.
Grant has a neat old bronze "wheel" used on launches in New England harbours and fishing boats when he was a kid. It's pretty heavy, so we probably will not use it on this boat, but might use it as a model for making something similar.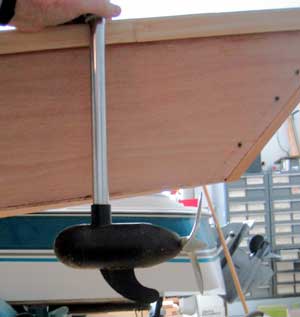 For the record, the O.D. of the motor's vertical shaft is 7/8 in. Right now, we're thinking it will be mounted through the bottom of the boat and keel in a (PVC?) tube 'glassed to the hull, and extending well above the waterline. The tube will be supported by some sort of strut connected to the sides of the boat.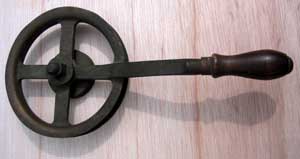 Grant's antique bronze "wheel"
---
Looking for more information about "fiberglas" or "fiberglass" or "resin?"
Be Our (and Google's) Guest:
---
On to Page 13
---
Back to Page 1
---
Click on an ad -- doing so helps pay for this website.
(Ads are not selected by the webmaster. Google selects advertisers based on page's content.)
---
grant@grantmaclaren.com