Saturday, March 22
Larry had emailed Grant a very nice (pdf) document from System Three's website (via the supplier Jamestown Distributors from whom he recently purchased some 'glas tape.) It's FIBERGLASSING WITH EPOXY.
After pancakes, Grant manned Terry's 3 inch power belt sander with new 50 grit paper, Zac used the shop vac to capture the resulting dust and Larry held the boat in place. In a few minutes we had the bottom panel just about flush with the sides of the boat at its chines and the stem ends flush with the sides and pretty well shaped.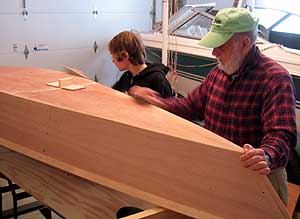 We all used sanding blocks to make the joint perfectly flush and eased the corners in preparation for 'glasing.
We removed all the screws from the hull. Larry mixed up some sawdust and epoxy and filled the resulting holes.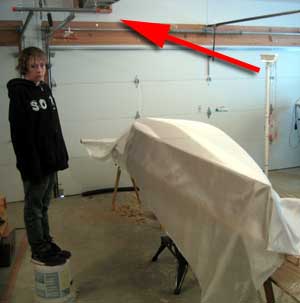 Zac said he had drunk too much hot tea and the added weight prevented him from doing ten chin-ups on the overhead bar.
We laid the 3.25 oz. cloth in place and rough trimmed it to fit, ready to be wetted out with epoxy.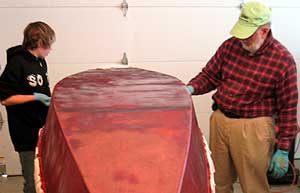 Epoxy guru Larry, Zac and Grant used spatulas to spread the goop that Larry had pumped, mixed and poured.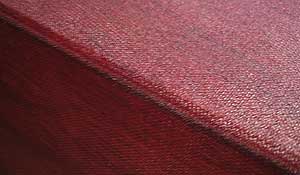 Here's a view of a 'glased chine.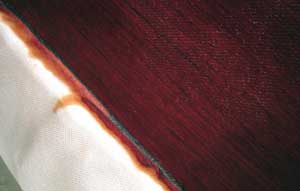 Forgot to tell you that Zac had run masking tape along the under side of the gunwales -- to keep epoxy from getting on them, as that's where Grant will trim the cloth on Sunday morning.
Next time we'll trim up the "keel*," attach and 'glas tape it.

---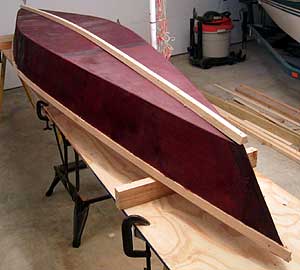 Sunday Morning, 3/23/08
The temperature dropped to the mid-60s overnight in the shop, but the epoxy cured nicely to the "green" stage. It was easy to trim the exless 'glas cloth from the bottom of the gunwales. There's a photo below.
The photo on the left shows the rough sawn "keel*" laying on the boat's bottom. The boat, less the rough-cut keel, now weighs 34 pounds.
* I've seen this external component referred to as a "keelson" in some writings, especially on the Internet. It's really not a keel, but it's not a keelson, either. A keelson is "a structure of timbers or steel beams that are bolted to the top of a keel to increase its strength. Also spelled kelson." Anyway, you know what we mean.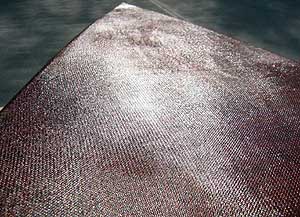 3/27/08
This back-lit photo shows the "grain" of our fiberglas. The back-lighting emphasises the texture.

Grant moved the boat outside after a heavy rain last night -- to make room for another project. Temps. in the 70's today.