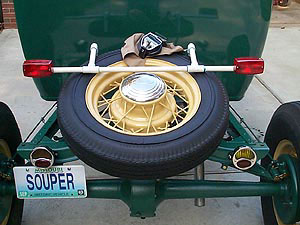 (10/22/02) Here's the tail light rig I built using some PVC tubing and a tail light kit from Wal-Mart. I ran a ground wire from the connector on the car to each of the two "trailer" lights. Only FOUR conductors are needed between the car's connector and lights (running, stop and turn signal) on the toad -- one of the four wires is the ground. I don't know why it works, but it does. I fasten the PVC to the spare wheel/tire using bungee cords. KISS!
(12/3/05) About how the spare wheel carrier was made: It is a very simple setup using a Fordor (60-A,B,C) spare wheel (or "spare tire") mount. No additional holes were made in the frame. The wheel mount was fastened to 1/2 inch thick steel plate which "hangs" from the rear spring U-bolts. The plate extends behind the rear cross member, making a "platform" on which the Fordor rear wheel munt is bolted. This arrangement puts the tire at an appropriate angle covering the rear cross member. (Thanks to Terry Oberer for finding the Fordor mount for me.) Here's a Sketch.
I usually tow the car at apx. 55 mph. Sometimes a bit faster, but Souper's wheels are not balanced so I don't tow it too fast. To keep the transmission lubricated, I start the car's engine every few hundred miles -- at least every time I fill the tank on the tow vehicle (currently -- in 2005 -- a Jeep Liberty.)
Towing a car on its own wheels is a great idea. Think about it:
cars are made to run (frontwards) on the road
you don't have to buy a trailer or dolly
you aren't pulling, or trying to stop, the weight of a trailer or dolly
no floor space is needed for storage (hang the tow bar on the wall)
no trailer license needed
I have heard of people who tow their "A" backwards with the rear wheels on a dolly and the steering wheel tied. I wonder if they have analyzed what this does to the front end geometry -- and front tire wear.