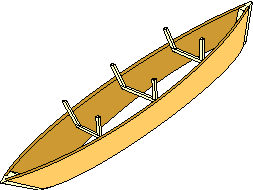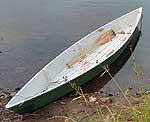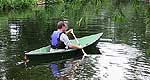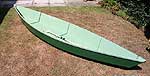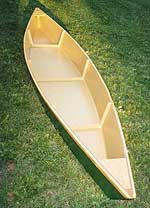 Larry, Zac and Grant Build a Boat
Page 9.
Because of that "cracked" scarph joint . . .
we'll use butt joints with gussets -- at least on the two side boards, and maybe on the bottom, too: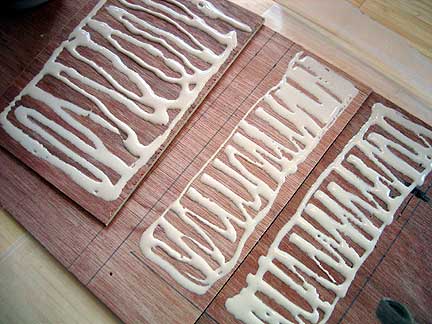 Here's the "first spread" of TiteBond Waterproof glue on the first of two 6 inch wide by 8-1/2 inch high gussets. The gusset is only 8-1/2 inches high because after messing around with our wood and glue joints, etc. we've decided to add "inwales" to our boat. They will be 3/4 inches wide and 1-1/2 inches deep, ripped from 2x4 stud stock purchased at Lowes.

We'll describe the inwales later, but here's a photo (by another builder of another boat) of what we're talking about: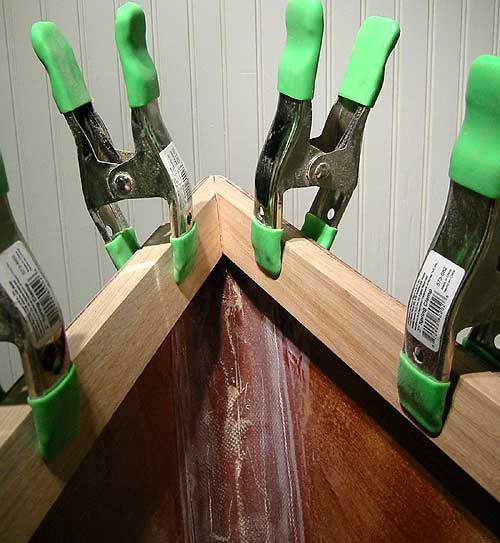 The above photo was stolen from a wonderful blog by Ron Paro about building a stitch and glue skiff. (More about Ron's blog on Page 10.)

And, here's information I found on the Internet about the glue we're using here: Aliphatic resin (a.k.a. "yellow glue", "carpenters wood glue") -- very good, probably the best glue to permanently bind two pieces of wood together; consequentially it should not be used to glue wood pieces that will need to be separated during a future repair or rebuild. If aliphatic resin is used to glue two pieces of wood previously joined with hide glue, first clean off all the old glue (a good practice anytime you are gluing) to maximize the holding power of the aliphatic resin.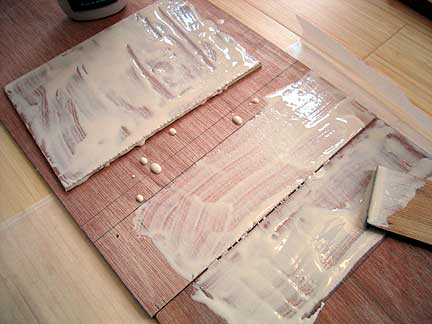 Anyway, the glue was spread out . . .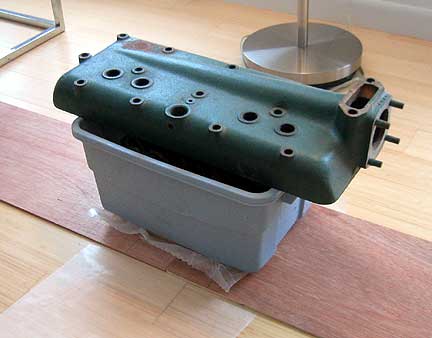 . . . and the joint weighted down with a bucket of chain and a Model "A" Ford cylinder head (We all have one, don't we?). Two map tacks were used to keep the gusset from sliding around as the weight was added.

24 hours later, the weights were removed and the two sides moved back into the garage/shop -- where it was about 62 degrees F. today (3/7/08) -- perfect for woodworking.

Inwales (or Sheer Clmaps) -- will be run fore and aft on the inside, and at top of the sides (of course.) When we assemble the parts we have and have made so far, i.e.,
two 10 inch x 14 ft. plywood sides
three ribs
two stem ends
two 16 ft. gunwales (7/16 inch x 1-1/4 inch, scarphed)
eight 3/4 x 1-1/2 inch pieces for inwales,
we'll find out if the 3/4 inch thick inwales can be bent into shape. (They seem kinda stiff.) If not, we'll rip them in half, bend them and glue them in place as a two-layer laminates.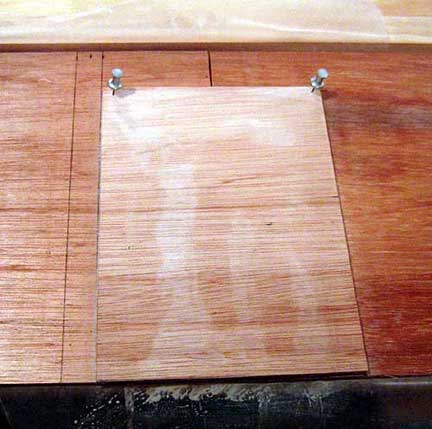 The map tacks keep the gusset from sliding around on this, the second side.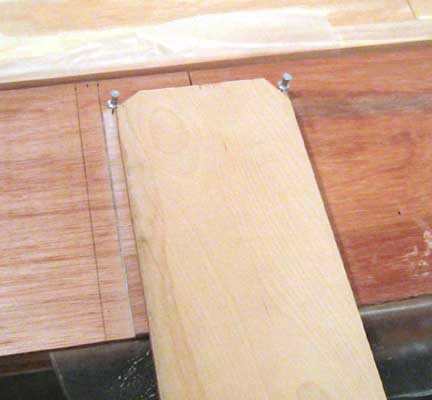 A piece of 3/4 ply will distribute the weight.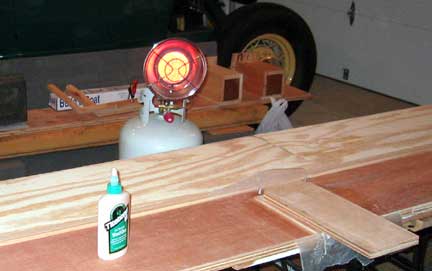 The two pieces of second side's butt joint ready for weight, on the bench in the garage.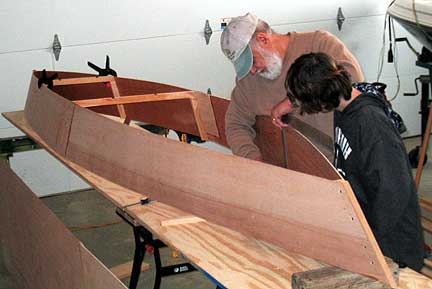 Larry and Zac locating the second of two end ribs. At this stage, we are finishing up the following:
Screwed, without glue, both the sides to the stems, using four 1-1/8" fine thread drywall screws at each joint.
Loacted and screwed the ribs to the sides. Three screws per each side of rib. No glue yet.
We dis-assembled and glued both surfaces of all joints, and replaced the screws and turned the boat right-side-up. It's starting to look like a boat.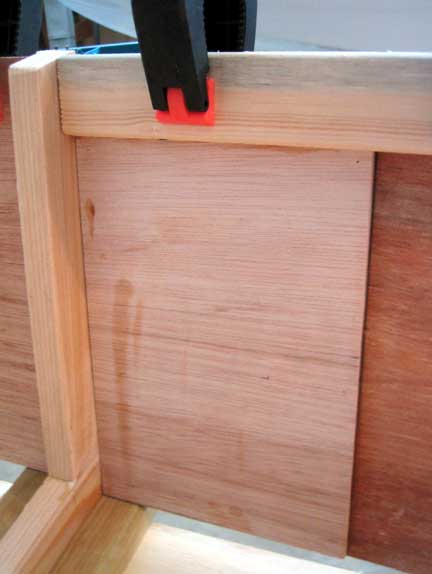 View inside of boat side at center rib showing gusset location and how inwale will be located above gusset, stoppped at rib. We've determined that 3/4 inch thick inwales are too stiif to bend, so will rip them in half and install as two-pieces, laminated in place. Inwales will run from "rib-to-rib."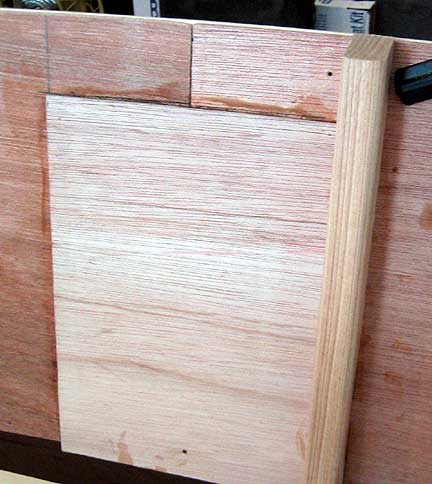 Another picture of same area without inwale. See the rubrail outside, just above the side board?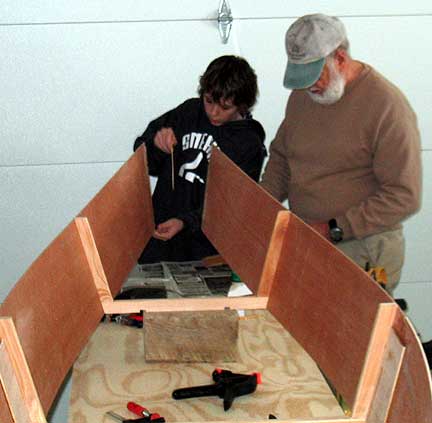 Zac and Larry re-joining sides with stem using glue and screws.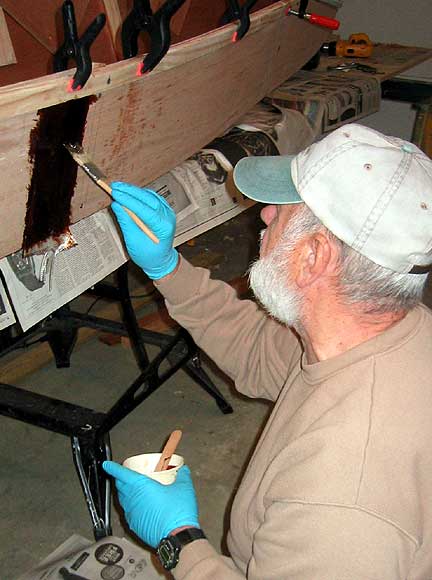 Above and below: Larry "glassing" the exterior of the two butt joints with fiberglas tape and epoxy resin.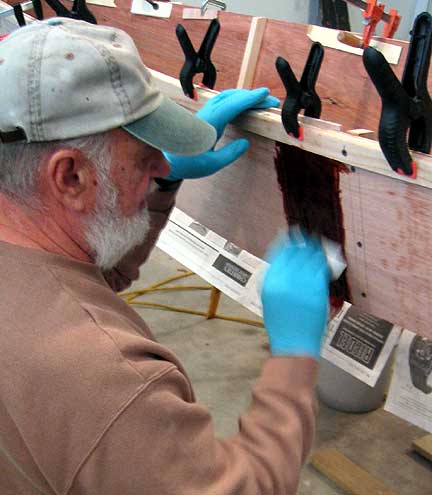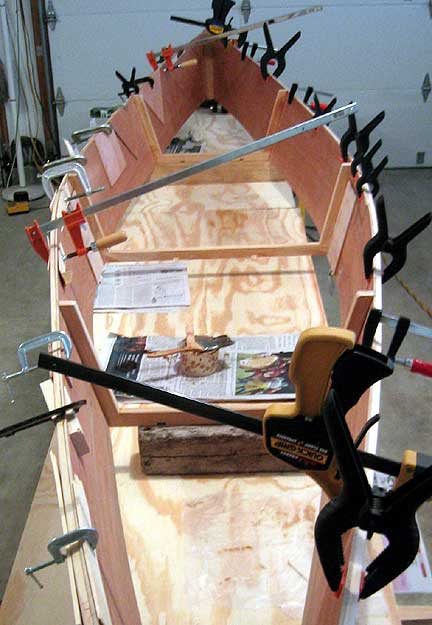 Above and below: The way we left the boat project Saturday evening.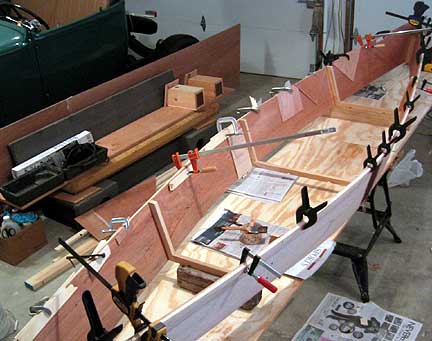 Go To Page 10 . . .
---
Click on an ad -- doing so helps pay for this website.
(Ads are not selected by the webmaster. Google selects advertisers based on page's content.)
---