Larry, Zac and Grant Build a Boat
Page 7
Sunday, March 2, 2008
Titebond Waterproof Glue Test Results
About three days ago, we edge-glued two pieces of 3/4" pine and clamped the joint overnight. Yesterday we tried to break the joint with these results: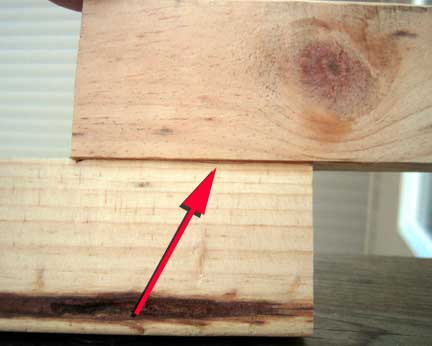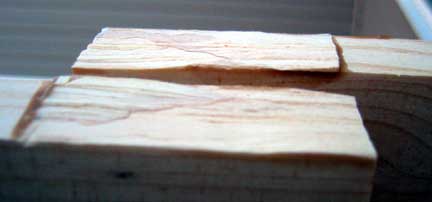 The wood failed, not the glue joint.
---
The cured Scarph Joints
look to be plenty strong, but will require sanding and filling. Grant made the mistake of nailing "clamp boards" (with 8d coated nails) for the two 10 inch side boards right on top of the clamp board for the joint in the bottom boards. Not too bright a move -- because there are now al least twice as many nail holes in the bottom in need of filling as there should have been. The nails were difficult to remove, requiring a nail puller (similar to this one) driven into the clamp boards.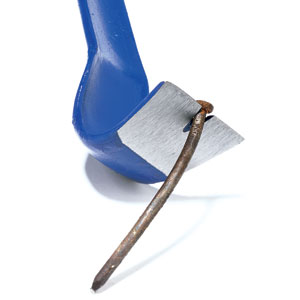 And -- when Grant removed the clamp boards from the first (16 ft.) side board and lifted it, he heard a "crack." He thinks it was the thin surface ply on the luan plywood -- or maybe some excess glue that "cracked." To lift the two side boards after that unsettling experience, he clamped a 10 ft. 1 x 4 to the two of them -- to restrict their bending. Anyway -- it seems likely that the panels will not bend uniformly, and that handling the scarf-joined panels must be done with care.
So . . . we'll have to discuss ways to deal with the side board and bottom board scarphs when assembling the boat. Should the scarph joints be placed on the center rib or should they be placed off the rib?

Forgive me for jumping around, but here's a quote from an excellent builder of a "stitch and glue" plywood boat:
"I did attempt to practice cutting scarfs on some scrap luan and found that the luan was much more prone to tear-out than the okoume was. I had similar difficulty with some scrap fir plywood I practiced on."
(We'll provide a link to his very nice site later in our blog.)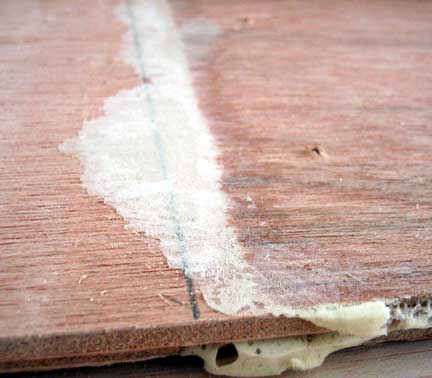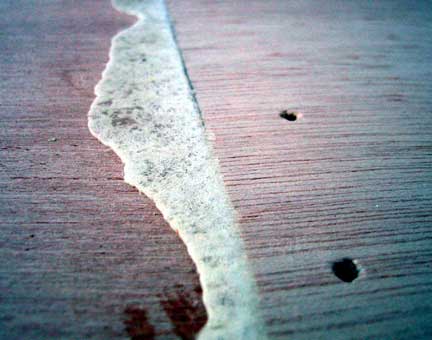 ---
Limber Holes (link)
probably aren't needed on a boat this size, but what the heck, they were easy to plough on the table saw: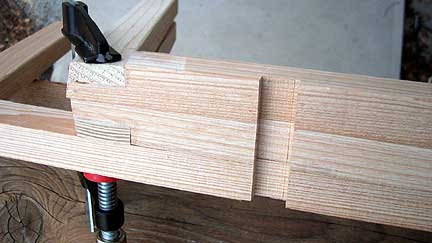 Stay tuned for next week
when we make it look something like this and add the bottom panel, and maybe 'glas tape the bottom to the sides: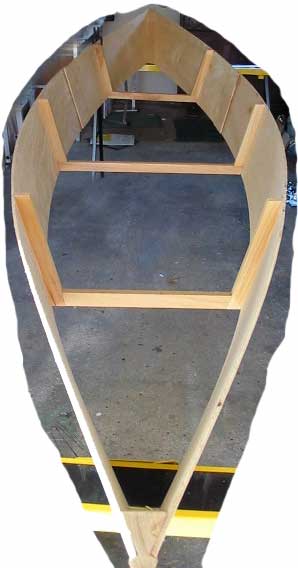 ---
Go To Page 8 . . .
---
Click on an ad -- doing so helps pay for this website.
(Ads are not selected by the webmaster. Google selects advertisers based on page's content.)
---