Larry, Zac and Grant Build a Boat
Page 3
Everyone at Tuesday Lunch
(on 2/26/08) said they knew about Gorilla Glue. All gave good reports, including Howard. He said a fellow he knew built airplane wing spars from short (3') pieces using the stuff.
Howard reminded me how I had made those good sanding blocks using plain old Elmer's spread on both mating surfaces -- then waiting a short time for the glue to lose its "shine" before joining and clamping. (We'll use a long sanding block to fair the hull sides to meet the bottom panel.)
At lunch we all tried breaking
the test glue joint with our bare hands. Nobody could. When I got home, I put the test piece on the garage floor, rested one end on a 3/4" block, then whacked the joint area one strong blow with my claw hammer. Here's the result: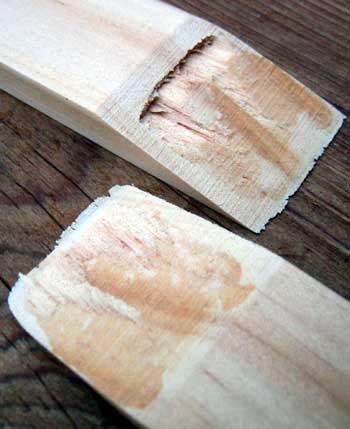 Conclusion:
There was not enough glue applied to the joint. Where there was plenty of glue, the wood failed before the glue.
Here's an idea
for some simple lifting handles at both ends of the boat.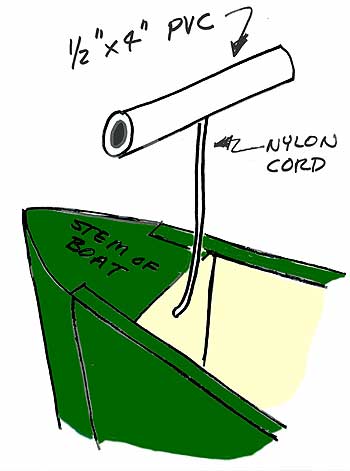 Go To Page 4 . . .
---
Click on an ad -- doing so helps pay for this website.
(Ads are not selected by the webmaster. Google selects advertisers based on page's content.)
---