Larry, Zac and Grant Build a Boat
Page 16
Sunday, April 20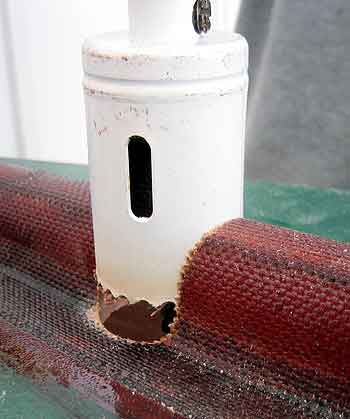 Hole saw at work.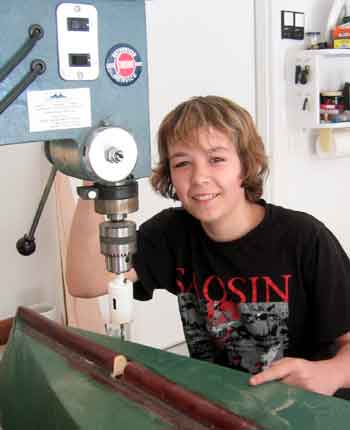 Zac at work -- (following a few Grant's Perfect Pancakes.)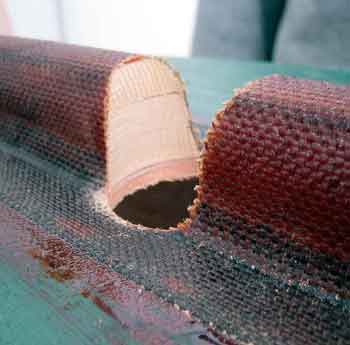 The result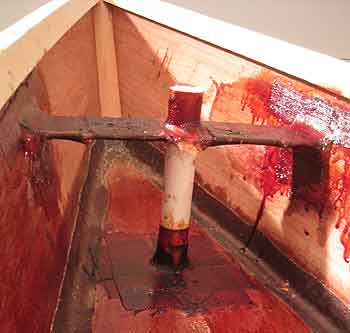 Not very pretty, but STRONG -- and wait 'til you see it after sanding and painting. While waiting for microballoons to cure, Larry and Grant came up with a slick way to bush the motor mounting shaft in this support tube. More to come on that.

Monday, April 21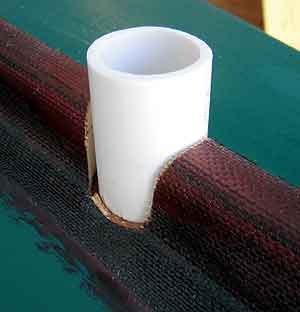 On Monday, Grant gave most of hull exterior another coat of green paint, while waiting for the "Sunday" epoxy to cure. Here's a closeup of the motor mount tube. It projects from the hull -- to locate the motor so the prop will clear the keel by 1/2 inch. Grant phoned in an order to Raka (772.489.4070) for 8 yards of 2 inch wide 'glas tape. We'll use it to put two more layers on the keel.

Looking for more information about "fiberglas" or "fiberglass" or "resin?"
Be Our (and Google's) Guest:
---
To Page 17
---
Back to Page 1
---
Click on an ad -- doing so helps pay for this website.
(Ads are not selected by the webmaster. Google selects advertisers based on page's content.)
---