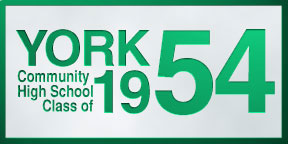 What ever happened to . . . ?
or
Biographies of York '54 Classmates
Maintained by Grant MacLaren, this is a DRAFT -- last revised in July, 1999 -- and dozens, possibly hundreds, of data elements have not been entered here.
This means there is a good chance the code(s) in an entry herein may not accurately reflect today's situation. -- esp. the codes ('$' or '$$') indicating payment for the newsletter.
(Also, we were supplied with many phone numbers, a few address changes and other error corrections in March of '99. All been entered in our mailing label data base, but not necessarily here. The 'roster' on this web site is the best source of current address information, but does not include 'biographies.')
The directory York '54 Classmates will be published on paper in 1999 for the 45th reunion of the 1954 graduating class of York High School, Elmhurst, Illinois.
Have you provided your own 'bio' for this book?
(It's sure to be a best-seller in 1999!)
If you have you provided your own 'bio,' how about writing a short biography for one of our deceased classmates?
Questions?
Corrections?
email Grant MacLaren now -
gmaclaren@aol.com

---
Roger Ahlgrim
( $ ) 201 Northwest Highway, Palatine IL 60067
Alice Aitken (Talarico)
( ) 8095 A Garrison Court, Arvada CO 80004
USPO Forwarding Order Expired 1/2/96
Dennis Aldred
( $$ ) 274 Cottage Hill, Elmhurst IL 60126
1994) Dennis and Betsy have two daughters, Jennifer and Sarah. Both attended York. Dennis is Chairman of MedLab Products in Warsaw, Poland. Betty is a senior member of The Elmhurst City Council. (1995) ''The newsletter is a great idea . . . Thanks once again for all the work you did on the reunion . . . I enjoyed it a lot--even though I like my life a lot better now than I did then. I was surprised at how many of our classmates are already retired. I've thought a lot about that since the reunion. Cheers!''
Sylvia Alexander (Ringer)
( ) PO Box 739, Colorado City CO 81019
Lee Alis
( ? ) 7012 Fremont Ave., Seattle WA 98103
Stanley Jim Allison
( L ) *lost*
Gene Anderson
( ) 1406 Crescent Lane, Rochester MI 48306
Ronald A. Anderson
( D ) *deceased*
Stuart Anderson
( $C ) 570 Cedar Ave., Elmhurst IL 60126
708-832-5232
(1994) Stu and Iligene have two sons; Scott, who works with Stu in Coffee Associates (a company Stu founded), and Mike who is a helicopter pilot in Germany. Stu likes to play tennis, and he and Iligene like to take motorcycle trips that have included much of the US, the British Isles and Europe. Stu emceed the '94 reunion banquet. (1998) Son Scott now works as Sales Manager for Lindahl Marine, based in Romeoville, Illinois.
Beverly Andorf
( L ) *lost*
Christine Annunziata
( L ) *lost*
Dick Archer
( ) 174 E. St. Andrews Drive, Mount Laurel NJ 08054
609-235-6678
Barbara Asher (Kinnane)
( ) 101 Darlene Court, Davenport FL 33837
Ernie1000@aol.com
(1999) Barbara has been married 45 year to Thomas Kinnane. They've had four children; two boys - Patrick (42) and Terrance (41), and two girls; Colleen (40) and Erin (38). They have eight grandchildren and one great-grandchild. Retired in Florida in 1990. Enjoys travel - Naples Florida, Marco Island and Sanibelle Island. Spends summers in Illinois and Wisconsin with family.
Dan Ast
( L ) 2224 W. Wisconsin Ave., Milwaukee WI 53233
(1996) reported by John Lund in Jan, 1996: "While I was in Milwaukee in early Dec. I went to the address given for Dan Ast. The manager said he had moved out about two years ago and had no idea where he had gone. I did get an address for what I suspect is his brother's in Indiana but the validity of the info is open to question. I'll send it to you or anyone else that is persuing lost classmates."
Bill Atwood
( D ) *deceased*
Jerrold A. Baldwin
( LI ) *lost*
Jim Ban
( ) 914 Babcock, Addison IL 60101
Malvin Bartlett
( LM ) *lost*
Tom Bartmann
( C ) 228 Bonnie Brae, Elmhurst IL 60126
(1997) Tom and his late wife Jane have three daughters, Connie, Robin and Julie. Thay also have five grandchildren. Tom runs Your Friendly Shopper, a weekly publication. Jane was very active in Elmhurst politics and served on the Elmhurst City Council for many years before she died in 1997.
Donna Baughman (Sutton)
( ) 746 Bode Circle, Hoffman Estates IL 60194
Holly Bawden (Nolan)
( V ) 340 Albany Shaker Rd., Albany NY 12211
(nolanh@crisny.org)
(518) 449-4797.
After York's graduation I attended Denison University and loved it. However, my pinmate was stationed in Germany and we married at Christmas of my sophomore year. Many of you were there! After a glorious year traveling all over Europe, I completed my B.A. (history/English) at Elmhurst College, which was a revelation. What a marvelous education existed right under our noses. Theatre and singing were still important to me then, and I played several clubs in Chicago and was in many plays and musicals there. Spinal surgery in '59 was a profound setback. In 1962 I taught English at York, but left Elmhurst to find a new life in Maine and then New York. I got my M.A. at University of NY. I married a man with three daughters and we had one wonderful son. My groom was English Dept. chairman, and I taught English years at another high school. Theatre and music disappeared from life, but I was wildly busy being mom, teacher, and community youth director.
Burnout set it after 17 good years teaching, and wanderlust returned in '77! At forty I landed the job of a lifetime as program director of the brand-new I LOVE NEW YORK campaign, which became an adventure in itself! Creating the world's most aggressive tourism & economic development campaign out of nothing was a heady experience, and my performance background paid off. I wrote and produced five films, keynoted at conferences all over the country, and presented over a thousand seminars. I retired in '95 and adore the freedom. The real me is a fairly serious person, despite the jazzy career, and retirement is allowing me to indulge my passion for history and for writing.
I've been single since 1984 and helped found what's become the largest singles' organization in America. Life's been an incredible trip! I've spent months in Greece every few years, since that's my historic focus, and have bonded with a man whose heritage takes us to his family's island there, as well. My wonderful son and his wife will make me a grandmother next January, which is a thrill many of you have already experienced. I now live in Albany, which is a wonderful area up the Hudson from New York City, and there's lots of room for visitors from the past. I've recently reconnected with Bonnie (Jones) Orr, Marcia Boyles, and Mike McLane, so the past can become the present again. It's delightful to see how many of you remained in the Chicago area and remained good friends. I'll be in Greece again during the reunion, so I send my love and good memories to everyone and wish you well.
Fondly, Holly (Bawden) Nolan
Janet Beall (Storch)
( $V ) 4536 Fern Drive, Bradenton FL 34208
941-746-8574
(1994) Janet has two children, Kim, who is married with two children and Scott, married with one child. Janet owns and operates ''Sweet Thoughts Inc.'' a company that produces bouquets of candy. The bouquets don't die, so you get to eat them! (1997) Janet moved to Florida. (1997) August - Angus: Have been meaning to write you (before I get lost again) to give you my new address, but since I am still part of the working world, time is of the essence. We built a new home at 4536 Fern Drive, Bradenton, Fl 34208. Phone # remains the same: (941) 746-8574. Now that we have E-mail on the computer this is so much faster. Jan Beal (Storch)
David Beck
( LV ) *lost*
Barbara Becker (Hoepner)
( $C ) 218 Maple Avenue, Elmhurst IL 60126
(1994) Barb is a Data Operator at Physicians Service Center, she and husband Wayne hope to retire soon and have more time to enjoy their four grandchildren.
(1995) Barb is another classmate who thinks the newsletter idea is a good one. ''Should make the '99 reunion much easier, Keep up the good work.'' says Barb. Barb has provided the committe with updates on a number of Classmates. Thanks, Barb.
Judy Beckman (Wolff)
( $ ) 3887 Overton Manor Trail, Birmingham AL 35243
205-967-8862; work: 801-4914
(1995) Judy answered our request for a bio--''B.S. Valparaiso Univ., '58; MS Ed. MacMurray College, '59. Phy. Ed. instructor at DePauw University, '59-'62. Married Edward Wolff 06/62. Chair of Women's Physical Ed. Dept., University of Omaha '62-'64. ''Retired.'' Mark born 11/64 and Lynne 11/66. Lived in Omaha, Cincinnati , Ft. Wayne, Peoria and now 11 years in Birmingham. ''Love the South.'' Enjoy travelling, live theatre, classical music, golf (hole-in-one '73), tennis and Auburn football. Employed as a benefits authorizer for SSA. No ''Mr. Right #2'' yet.
Ed Bedard
( D ) *deceased*
Calvin Beisswanger
( $C ) 82 Greenleaf Drive, Oak Brook IL 60521
312-226-6585; 226-5097(fax) DADNIAREPLAYING@msn.com
(1994) Cal and wife Joy (York, '58) have a son Calvin, a daughter Kimberly. and a grandson Calvin III. Between skiing, hunting and rounds of golf, Cal is CEO of a wholesale meat company, qualifying him to handle the finances for the our York reunion parties.
(1997) Hi Grant! I need you to update my bio for the next reunion. I now have a granddaughter - Cailee Renee Beisswanger. She is sister of Calvin III. The York '54 web page is great!
Deborah ''Debby'' Bennett (Piherra)
( $$M ) 2988 Deer Valley Court, Snellville GA 30278
404-736-1109
(1995) Debby and husband Ron have four adult children and three grandsons. Debby does volunteer work with handicapped people. Debby and Ron did not attend the '94 reunion.
Bob Berger and Bonnie Kain (Berger)
( $ ) 4274 Rosewood, Saginaw MI 48603
(1994) Bob and Bonnie have been married since 1958. They have two children and are retired. (1996) "Angus - Bob and Bonnie "Kian" Berger will send a short bio later--time is ''short'' now--thanks for all your time. See you in 1999. ''B''
Terry Bernett
( LV ) *lost*
Paul Bewie
( ) 4435 Vogel Drive, Toledo OH 43613
Steve Blakely
( D ) *deceased*
Judy Bloedel (Dillingham)
( $V ) 349 Parkview, Elmhurst IL 60126
(1994) Judy and husband Bob are busy managing three generations of family, learning to be more flexible than ever.
Howard Boldebuck
( D$$ ) 1133 S. Finley Rd. Ste. #404, Lombard IL 60148
630-627-8930

Bill,
In a message dated 4/6/99 1:33:09 PM, w-dawson@nwu.edu (old address) writes:
Angus,
Our class continues to grow smaller. This obituary ran in today's Chicago Tribune:
Howard C. Boldebuck, age 62, retired DuPage County Sheriff, loving father of Brian; brother of Susan (Richard) Farr; uncle of Scott and Cory Farr. Visitation Wednesday 5 pm. until 9 pm. and Thursday 10 am. until time of funeral service 11 am. at Gibbons Funeral Home, 134 S. York Rd., Elmhurst. Interment private.

Howard apparently died yesterday; no cause was given.
Bill Dawson

Thanky you, Bill for the sad news. Howie stayed in touch here. He was looking forward to the class reunion and worked at contacting others, finding addresses, etc. I'll use the obit in our "bios" booklet.
-=Angus=-

(1999) Brian,
In a message dated 4/24/99 1:06:01 AM, BRIANCMALONE@worldnet.att.net writes:
((Dear Alan, Grant, and Mike:
It is with deep sadness that I inform you that my father, Howard Boldebuck Jr. passed away on Easter Sunday evening. He was very ill for the last two years with Respiratory problems and homebond. It gave him great comfort that he was able to communicate with the three of you and he truly loved being apart of the York High School class of 54. He had told me on many occasions that the 1950's were the greatest times of his life!! Thank you for making his memories happy ones!
Sincerely,
Brian Boldebuck-Malone))
Brian, Thank you for your note. We will make note of your comments in the "biography" booklet to be distributed at our 45th class reunion later this year.

(1997) Date: Mon, Mar 31, 1997 3:43 AM EDT From: boldebuckhb@worldnet.att.net (Boldebuck) Hi Grant,
I just got hooked up to the net and while searching for Boldebucks for a past history of the family name, came accrossed the York class of 54 information. I have not recieved any newsletters. This may be due to the information I got recently that I was supoposed to be dead. Needless to say, the news of my death was greatly exaggerted. Thank God!
I retiered in 1995 as Commander of The DuPage County Sheriff's Record Division where I had worked for 26 yrs, the last 5 as co-ordinator and developer of an on-line real-time, multi-jurisdictional police computer information system. Which is a lot of words to say a system that 32 Municipal police departments could all use and be interfaced automaticly with the State L.E.A.D.S.(Law enforcement aids date system) and the N.C.I.C. (National Central Information System) F.B.I.
When we were done, several Police agency networks from around the U.S. asked to copy it. That last sure got wordy, didn't it? Sorry.
I am divorced and have my 26 yr old son living with me. He just returned from a two week trip to France. I have a breathing disability that has slowed me down some but the doctors say I might beat it in a year or so.
I regularly see Art Caso and his wife Chista. Art now has a consulting occupation with several major companies and is doing well. I see that Art Perry is lost. I used to see him regularly as he would call me at the office or stop in for coffee often.
Several years ago he stopped in to tell me he was retiring and moving to Florida. He said he would stop back and let me know where and how to get hold of him before he left. Unfortunatly I became ill and was in the hospitol for several weeks shortly after that. When I returned to work I tried to locate him in Florida but was told he left the address I had found for him there and left no forwarding address.
(Howie reported later he had found Art through via our newsletter . . . angus)
I think Tom Bartman tried to contact him also but had no luck. I know Art had had some cancer surgery but the last time I talked with him he said that he was fine.
Well your probably tired of reading this by now so I'll say so-long. It would be nice to hear from you or any of the classmates. My e-mail address is boldebuckhb@worldnet.att.net Sure hope things are going great for you.
Howie

Margaret Jane Bowser
( L ) *lost*

Marcia Boyles
( ) 18 E. Cliff St., Alexandria VA 22301

Charlene Bremberg
( I$D ) 1305 Kingsbridge Ct. Normal IL 61761-2875
309-452-6125
Charlene (Chuckie) Bremberg passed away on Sunday, August 30, 1998 after a lengthy illness due to a heart condition. (Reported by Toni Novak in an email received September 2, 1998.)

Frances Broderick
( L ) *lost*

Barbara Buehring Broker
( L ) *unknown*

Ron Broker
( ) 78 E. Lincoln, Geneva IL 60134 (1995) Ron's newsletter was returned - looks like we may have a bad street number on his address.

Faith Brown
Paullina, IA 51046
(1994) Paullina is a little town out in the middle of Iowa. It measures about 3000 feet E/W and 4000 feet N/S. The town does have 16 named streets but you probably don't need to use them to get their mail.

Floyd Brown
( L ) *lost*

Richard Lee Bruce
( L ) *lost*

Steve Bruder
( D ) 1570 Colorado Ave., Aurora IL 60504
(7/12/96 - Press Publications) Steven A. Bruder, 60, of Aurora and formerly of Lombard, a gas station mechanic, died Tuesday, July 9, at home.
Visitation is from 3 p.m. until the time when funeral services will be held at 8 p.m. Friday, July 12, at Ahlgrim Funeral Home, 567 S. Spring Road, Elmhurst, with the Rev. Michael Lane conducting. Interment was private.
He is survived by his daughter, Teri L. (James B.) Lawn; his granddaughter, Kimberly Marie Lawn; his mother, Helen Bruder; and his sister, Roberta Brecka. He was preceded in death by his wife, Judith A.; and his father, Steven A Rrurler Sr.
Dolores Ritter (Kallas) provide the above obituary. In July of '96 Dolores wrote: Here is an obituary for classamte Steve Bruder. His wife Judith Julien (class of '55) passed away in November of 1995.

Donald Bryson
( L ) *lost*

Carl Budelsky
( ) RR #2, Box 71, Cobden IL 62920

Betty Bunge (Perry)
( ) 1028 Finley Rd., Lombard IL 60148

Wallace Burke
( ) 29022 Firthridge Rd., Rancho Palos Verdes CA 90274

Marilyn Burnell (Herkes)
( $ ) 16456 241st Avenue, Big Lake MN 55309
(1994) Marilyn and Neil have four children (two sons, two daughters) and ten grandchildren. Jeanne retired in '93 from being an insurance agent, but still works for the US Nuclear Regulatory Commission (with regional office in Lisle, IL) so she gets to see York friends now and then. (1995) Marilyn is looking forward to the '99 party. (Maybe by then she'll have finished that upcoming absolutely fascinating book on her life.)

(1999) Marilyn has been married to Neil Herkes for 43 years. They have 4 children, 2 boys and 2 girls, and 11 grandchildren, age 20 to 4 months. After living in Minnesota for 20 years and retiring in 1997, they built a house on Fyre Lake in Sherrard, Illinois, to be near son Scott and family who live across the lake. The other children live in Omaha, Las Vegas and California. Hobbies and interests include: fishing, canoeing, landscaping the new yard, gardening, reading, classical music, biking, traveling and hiking especially in the mountains of Canada.
See you at the reunion.

Ray Butler
( ) 529 N. Princeton, Villa Park IL 60181

Ruth Cain
( LV ) *lost*

Jeanne Caldwell (Hallam)
( $V ) 6104 Hickorywood Drive, Speedway IN 46224

Ed Canfield
( ) 1783 Lark lane, Sunnyvale CA 94087

Jeannette Carlson
( L ) *lost*

John B. Carlson
( L ) *lost*

Mary Carney (McDermand)
( M ) 805 Safford Avenue, Lake Bluff IL 60040
(1994) In addition to being a homemaker, Mary does clerical work for Lake Bluff Golf Course. Married to Chuck since 1958, she has three married sons and three delightful grandchildren. Chuck is retired from high school teaching; they spend winters in their Palm Desert CA home. Mary plays golf year around, enjoys sewing and crafts.

Shirley Carter (DeLorme)
( $$V ) 2415 Oakwood Avenue, Green Bay WI 54301
414-435-5535


<1999> Jan 30, 1999
Dear Grant and fellow alums,
It's hard to believe that my "Why-We-Love-Our-Packers" essay is over a year old. Like thousands of others, I remain a loyal fan, in spite of a disappointing season and Coach Holmgren's leaving for Seattle with half his staff. Although I am shocked by the rapid growth of our city, an occasional tollway drive to Elmhurst reminds me that Green Bay is still a pretty peaceful place. I plan to die here, but not for a long time.

I am weaning myself from the role of high school English teacher. After twenty-two years of full-time teaching and four of half-time, I retired in June of '97. I substitute teach occasionally, which keeps me in the loop and provides the funds for an annual trip to Phoenix to visit half my grandchildren. I have three more grandchildren and almost-four step-grandchildren in Wisconsin. When I'm not grandmothering, I love to ski, bike, walk, sail, drive, fish, garden, cook, eat, read, sing, and "play at" the piano. Can't wait to see what Barb Fainter and Bill Dawsen are planning for us music lovers.

I consider one of the loveliest parts of my life my continued friendship with Jane McGrew, who once told a third party, "Shirley's not a friend, she's family." I think there's a bit of that feeling throughout our class of '54, and I can't wait to see you all in 9/99.

Shirley (Carter) De Lorme
2415 Oakwood Ave.
Green Bay, WI 54301
920-453-5535

(1994) Shirley, a high school English teacher, has two sons and two grandsons. Also two step-daughters, two step-grandsons and one step-granddaughter. Shirley enjoys riding, skiing, reading and working in stained glass. Shirley is recentlt widowed. (1995) Shirley says she is spending her time figuring out how to write a SHORT autobiography for the York '54 directory. She says she'd ''love to be in the musical presentation group.'' (1997) February 14, 1997 (for the '97 York High Class of '54 Newsletter) Though a Green Bayite for thirty years now, I have never called myself a football fan. I cut up sweaters to line my first husband's boots for the infamous Ice Bowl and asked my second husband, "Did we win?" when he came home after pouring beer for charity at each home game until near his death. Otherwise I proudly denied being one of those crazy "cheese heads." This year was different. In the middle of February, I am still suffering from severe withdrawal caused by the passing of our Super Bowl Victory Mania. Dressed in my Packer sweat shirt or Packer nighty, I had to replay eighteen hours of video tapes of pre-game, game, post-game, Mike Holmgren Show, the homecoming parade, and Vince Lombardi nostalgia pieces such as "The Glory Years" before I could bear to send them, along with a week's worth of newspapers, to my son in Phoenix. My other son (in Sheboygan) wrote a Packer rap song that got played on WIXX and reviewed in the Press Gazette. I stood for two and a half hours in a 12-degree snowfall to see the team buses pass the courthouse and watch a few lucky fans reach up and feel the Lombardi trophy or shake Desmond Howard's hand. More courageous fans waited for six hours at Lambeau Field for the buses to crawl through a jam of thousands of fans cheering on every street along the parade route. It wasn't just that "we won again, finally." I think it had a lot to do with Coach Mike Holmgren and the way he managed to help a group of respectable, dignified, and truly concerned human beings be the best that they could be. Even the Christian zeal of Reggie White, who plans to make his home here and who is now involved in improving our small-scale inner city, somehow fit in just right. Oh, sure, lots of people are laughing their way to the bank (though the profits from the FIRST sale of the stadium sod at $10.00 a box did go to charity.) And we know we will lose a few players to higher bidders next year. But we who reside in this frozen tun dra are proud - proud of our city, our beautiful surroundings, our university, our library, our museum, our ballet company, our community theater, our symphony, and our world class performing arts center. We're proud of each other for the fact that there were no injuries or arrests during the victory celebration. And we're proud of our Packers.

(P.S. I am retiring from teaching English this June.)

Feb. 15, 1997
Hi Grant and Bill!
Here's my 1997 newsletter offering, Grant (before I run out of Packer spirit and wonder why the heck I got so crazy.) Maybe we'll be Super Bowl champs AGAIN before I get the next newsletter! Thanks for keeping us together, word-wise. Here's a little contribution for future postage.

Bill, I'd love to be in the "musical presentation" you're organizing. I have no more talent now than I did then (probably even less,) but it sounds like fun.

Shirley

Art Caso
( ) 202 Sunnyside, Elmhurst IL 60126

In a message dated 3/15/00 11:27:40 AM, acaso@elmhurst.edu writes:

>HI, JUST GOT MY E-MAIL BACK AFTER A LONG ILLNESS,
>[NOT ME, MY COMPUTER], SO PLEASE CONFIRM
>THAT THIS IS STILL YOUR ADDRESS.

>Things are going nicely. Everyone is healthy and happy.
>My mother is >turning 91, Krysia is studying portrait painting,
>Marya just had another boy, Nicola graduates in May, and
>I'm enjoying life. My
>brains got through Y2K without any [noticable] problems,
>despite dire predictions from my kids that I'd never get
>out of the 1950's, let alone the 20th Century.
> I'm still teaching my favorite subjects at Elmhurst College,
>doing some consulting, and running the Boy Scouts.
>What's your news since we last communicated?

>All the best, ART CASO

Bob Cetera
( V ) 5197 Whitney Woods Road, Cave City KY 42127-9347
502-773-3496
(1999) Bob was "found" by Norm Sather.

Joy Lorraine Christian
( L ) *lost*

Jean Christianson
( D ) *deceased*

Roberta Shirley Ciochon
( L ) *lost*

Millicent Clark
( D ) *deceased*

Lois Cohen (Kleiner)
( ) 32 Robertson Rd., Pueblo CO 81001

David Colby
3805 Oak Lake Circle North, Apt. C, Indianapolis IN 46268
317-876-1603
(1998) Lynn Luske Sasso had a call from David Colby who gave her his address and phone number.
(1999) Grant, Here's my Bio: I graduated York in 1954. I spent 2 years at Elmhurst College and graduated Illinois Wesleyan University in 1958. I went to work for CNA Insurance in their Surety Dept in 1959. Spent time in Detroit and became Manager of their Indianapolis Surety Office in 1963. I am currently Vice President of CNA Surety in Indianapolis and will retire on 9/30/99 after 401/2 years.
I am married to my wife, Judy, I have 3 children, living in Indianapolis. We have a not for profit corporation , Anderson Woods Inc, which provides camping and residential facilities to handicapped individuals in the southern Indiana area. I will be retiring to our farm in Perry County, IN and will be spending winters at my condo on Manasota Key in Englewood, FL.
From: "David Colby" --dtc123@email.msn.com--

Jeanne Coldwell (Hallman)
6104 Hickorywood Drive, Speedway IN 46224
(1994) Jeanne, now retired from nursery teaching and administration, and husband Robert have two children, Kimberly and Timothy. As of '94, they have no grandchildren.

Pat Cole (Cain)
( ) 111 East Washington, Villa Park IL 60181
(1994) Pat is a dental hygienist and marketing representative for Sunrider International. Her husband Pat is retired from District 88. They have two grandchildren, Samantha and Danielle. Pat and Pat have four sons and two daughters. Pat enjoys travel, golf and the grandkids (''especially the grandkids!'')

W. James Copland
( R )

Jane Coryell
In a message dated 3/19/01 7:33:52 AM, JaneCoryell writes:

I happily stumbled on our web page recently and noted that I am lost. I'm not lost--I'm right here in Maine.

Jane Coryell
RR #1, Box 960
Augusta, ME 04330
207-622-9344
JaneCoryell@aol.com

After leaving York, I've done the following: College at Oberlin, Training in Physical Therapy at University of Iowa, MS in Physical Therapy and PhD in Developmental Psychology at Boston University. I practiced PT in New Jersey for 10 years, spent a lifetime (it seemed) in graduate school, then taught at Boston Univ. I retired in 1990 and moved to a lake in Maine where I am living happily ever after.

Retirement is wonderful! I've had a couple of interesting part-time jobs, belong to 3 singing groups (large, medium, and small), am on Boards of Trustees of a local historical site and an arboretum. I read a lot, garden, and just do what I feel like.

I have been thinking for a while about our 50th Reunion, and I am planning to come to whatever festivities are planned.

Bill Curran and Pat Hartwig (Curran)
( ) 12 Arrowhead Lane, DeKalb IL 60115
(1994) Bill and Pat, who dated since they went to Roosevelt Grade School together, have four children, nine grandchildren. Bill is in the road contracting business and it has branched into other companies. They stay busy working, golfing and traveling.

Fred Curry
( ) 6218 Milbrook Rd., Brentwood TN 37207
(1994) Married for 31 years, Fred and his wife have a married daughter and bachelor son. Fred is CEO of Cost Reductions, Inc. and has been very involved in the production of the Saturn automobile. He's given up golf for sailing.

Dick Curtis
( ) 26-W-306 Marion, Wheaton IL 60187

Bill Dailey
( $ ) c/o Nettleton Realty, 211 E. Lake Street, Addison, IL 60101
708-833-2611
(1996) Bill is working at Nettleton Realty in Addison, Illinois.

Dorothy Dale (Flohr)
( ) 2542B W. MacArthur, Santa Ana CA 92704

Jan Davenport
( L ) *lost*

Stan Davis
( ) 152 No. Briarwood Lane, Oakbrook IL 60521 (6 mos./yr)
( ) 551 NE Phillips Dr., Boca Raton FL 33432 (6 mos./yr)
(1994) Stan retired from active business in 1986 and moved to Florida. He and Nancy still maintain a home in Oakbrook where they spend summers. They have four grandchildren and operate five golf courses in Florida, New Jersey and Illinois. They also spend a few months a year on their boat in the Bahamas and southern Florida.

John Davison
( I ) 318 No. Lincoln St., Batavia IL 60510
(1994) John is a Associate Professor at NIU where he teaches ''Methods of teaching physical science'' and supervises student teachers in Chemistry, Physics and Earth Sciences. He has also taught chemistry, been a division head and summer school principal at Oak Park River Forest High School.

Bill Dawson
( $I ) 700 Woodmere Lane, Glenview IL 60025
(847-729-6830) w-dawson@northwestern.edu
This is to let everyone know that I have a new e-mail address, effective immediately:

w-dawson@northwestern.edu

Please update your address books. Thanks.
Bill Dawson
William Dawson
Northwestern University, Evanston, IL. USA
w-dawson@nwu.edu


(1/29/98) Grant,
Just finished a quick journey on our '54 home page, and am impressed at all the new segments and links! Keep up the good work, and thanks from all of us for doing it.

Now for some changes in my own data. Please delete all my previously-sent bios and e-mail information; this new stuff will be for the roster, reunion book, music questionnaire and any other appropriate place.

Updated e-mail address: w-dawson@nwu.edu

New telephone: (847) 729-6830

New bio: Bill finally retired from his hand and orthopaedic surgery practice in Dec 1996 and has made a successful transition to combining music and medicine in a different and most enjoyable way. He's now teaching bassoon at a local high school, writing articles for several musical and medical journals, giving lectures and presentations on music medicine, and doing lots of committee and administrative work for several national organizations. Some of his "spare" time is filled with playing music in local orchestras, bands, and free-lance groups, concentrating on bassoon, contrabassoon, baritone sax and tuba. Bill and Beverly now have two grandsons, aged 4 and 1; their daughter Sue and her family live in Oklahoma City, so lots of traveling is in order to see the youngsters on a regular basis.
Bill

Ronald DeMarco
( $ ) 2026 Helton Creek Rd., Blairsville GA 30512
(1994) Ron and Rita have two daughters, Diane who lives in Atlanta and Laura who is in business with her mom designing and selling patterns for quilts and wall hangings. Ron is retired from the building business in Boca Raton, Florida. They are living in the mountains of North Georgia.

Carol Dennis (Adams)
( IM ) 9230 Yacht Club Circle, Hobe Sound FL 33455
(1994) Carol retired from teaching in 1993. She stays busy buying and selling used cars and spending time with her two grandchildren. (1996) When we mailed Carol's newsletter in late '95, it cam back marked "no such street in Boynton Beach, FL. Somehow Jane found this address, so we mailed her another copy.

Barbara DeRuiter
( L ) *lost*

Pat Deutsche (Bode)
( V ) 8682 Billings Road, Kirtland OH 44094

Margaret Dimmitt (Stock)
( $ ) 398 Avery Avenue, Elmhurst IL 60126
(1994) Margaret married Jim in 1992. She has two sons, both single so has to ''borrow'' grandchildren from Evelyn Freitag. She and Jim love to travel. 1995) Margaret says ''Love the idea of a newsletter, let me know if you need any help.''

Grace Dispensa (Fischer)
( $ ) 16419 Kunde Rd., Union IL 60180
(1994) Grace and Roy (York '47) have been married 36 years. They have two sons and one daughter, all married. Roy built there home which has a large garden and fruit orchard to keep Grace busy. (1998) 5/26/98 Dear Jane, Thank you for the York 1954 Newsletter. It was great. In 1958 I married Raymond A. Fischer from Villa Park, a brick layer. He built a beautiful brick home in Union, Illinois. We own 40 acres, with a large garden and fruit orchid. We have three children, one girl and two boys. All are married and we now have three granddaughters and one grandson. Roy and I have been married 40 years. Your newsletter was enjoyed. Keep up the good work.

Rodean Ann Donovan (Moerdyk)
( $ ) 1305 No. Eleventh St., Vincennes IN 47591
812-882-9614 (home), 812-888-5327 (work)
(1994) Rodean is an Educatioanl Specialist at Vincennes University, where she expects to earn her BS degree in 1995 with a sociology major and business minor. All six of her children have competed their formal education. Rodean is active in St. Paul's Lutheran Church, the league of Woman Voters and various community affairs. Hobbies include playing bridge and art work.
(1995) From Rodean Donovan (Moerdyk) 1305 No. Eleventh St., Vincennes IN 47591: Merry Christmas! 1995 has been especially eventful and rewarding for me. After six years as a part-time student at Indiana State University, work on my Bachelor's Degree in sociology was finally completed! This long-anticipated event was begun forty-one years ago as an occupational therapy major at Western Michigan University. To celebrate, my six children, their five spouses, and eleven grandchildren planned a ''roast'' for family and friends.
One of my graduation gifts was a trip to Hawaii in October. With #2 daughter, Kim, and her family living in Hilo, my time was spent visiting and sightseeing with them. They have been living on the ''big island'' for over a year, so my tours were well selected. We all flew to Kauai for four days to tour that island as well. Beauty abounded! Rainbows were seen almost daily; flowers and fruits were everywhere. We hiked over lava flows, black, white, and green sand beaches, around active volcanoes, in caves, through rain forests, by cacti, by canyons, red dirt paths, formal gardens and informal gardens, waded in ffde pools and the ocean. We also visited several shops and factories. Most importantly, however, was time spent with the family visiting, working on school projects, watching soccer games, attending church functions, and meeting new frends. The three weeks went by much too quickly.
We were worried for a time at work that our grants would not be funded to continue our TRIO programs at Vincennes University. Fortunately, even with some cuts, the funding did come through for the coming fouryears. We are proud of the educational services we offer to our many clients and hope to continue these good works.
With so many blessings all around us, we only have to open our hearts to express ''Thanks'' to our creator. My dear family, friends, and good health are my greatest blessings. I wish each of you the blessings of peace and happiness today and for the NEW YEAR 1996. Love from Vincennes, Indiana, Rodean ''Deanie'' Moerdyk

(1998) My greetings still come from Vincennes, Indiana. Although the last Moerdyk "K" has officially left, many boxes remain as reminders. A "newly acquired" room has been redecorated into a den. This conversion was motivated by Kristina taking her bedroom furniture when she and Brian bought a new house in Indianapolis. Their wedding last June was a highlight of 1997 and provided another great opportunity for a family get-together. I am richly blessed with family and many good friends.

Burkes: Kris and Brian have been busy painting and wallpapering their new home to reflect their taste. It is delightfully furnished with "his," "hers," "theirs," and "others." They look so settled with everything neatly in its place. Just wait until I empty my attic and basement of a bike, books, games, dishes, formals, and Barbie dolls. Ha, ha, ha! ! Kris recently changed to a day shift as graphic artist for the NBC affiliate, Channel 13. New hubby is much happier with a schedule more compatible with his high-school-teaching/foot-ball-coaching demands.

Moerdyks: _eith, Janeth, Ian, Stephanie, and Stacie reside in Crossville, TN, where Keith is a salesman for Aeroil. Jan recently began a part-time bank job now tna~ aii tne kids are in scnooi. Sne s~iii rinds time, nowever, Ior rheir many activities. Everyone is taking piano lessons. Ian also plays me saxophone and basketball. The girls are in Daisy and Brownie Scouts. In the summer, water activities consume leisure hours as the family practically lives on their boat.

Reillys: Karla, Bill, William, Bradford, and Stephen are all involved in a whirlwind of activities: music, church, school, sports, scouts, gymnastics, teaching, and video-taping me Colts or Pacers for Channel 13 plus boys' sports events for team members. Their "newly acquired" room, vacated by Kris, inspired some changes. William now has his own private, sports-decorated room.

Moerdyks: Ken, Bonnie, and Brandy continue to reside in Decatur, IL. Ken now commutes to Springfield where he still sells cars for Isringhausen, but at their recently consolidated dealership. He is always eager to tell anyone who will listen everything they ever (or never) wanted to know about cars. Bonnie and Brandy stay active in several church and school activities.

Waters: Kimberly, John, Andrew, and Bret are apartment dwellers for the interim while their new Colorado house is being built. What a switch from Hawaii! Family activities still involve nursing, teaching, church, music, and, of course, sports. John turned the big 4-0 in November. Bro and Sis in-laws, with kids, flew out from Naperville for the surprise party so Dave could supervise a royal roast. Family members not able to attend had to settle for mailing gag gifts.

Leets: Karen, David, Andrew, and Jeffrey still reside in Naperville, IL. Karen is a Director at McDonalds and Dave is in marketing at FileNet. Last year Dave won a trip to Australia -- this year to Hawaii. Karen will be on sabbatical for two months this summer. During part of that time, they will travel to London and Sweden. All keep busy with church, music, school, karate, and golf.

My VUB job at Vincennes University now includes territory from Vincennes to Evansville. This means travel to Evansville twice a week. It has been tiring, due in part to a bronchial cough which has plagued me for the past three months. Hopefully, my energy will return by June as I plan to keep nine of my eleven grandchildren for a week at "Gram's Camp." Any volunteers with a car to assist? Walt continues to make sure I eat well -- too well as evidenced by my tight clothes.

So many blessings are too easily taken for granted. Please stop to take a few moments each day to reflect and give thanks to Him. Have a marvelous 1998!

Joy to one and all, "Deanie" Rodean Moerdyk

(1998) PEACE TO YOU! CHRISTMAS 1998

A persistent, bronchial-asthma cough this past year did not diminish my many joys of sharing special times with family, friends and Walter. Almost twenty years at Vincennes University, assisting veterans with their educational goals, has provided the necessary vacation days.

"Gram's Camp" was a major, however exhausting, delight. Nine, of then eleven, grandchildren spent one week with Gram last June. In spite of continual rain, we had a great time. Each child, with partner, had assigned chores - the favorite being "Chef'. God willing, Gram plans a repeat this coming June.

August brought the arrival of number twelve, Adrianna Kay. She already prefers the night life, much to the dismay of her parents, Kris and Brian.

Almost a month of my vacation was spent in Colorado this fall visiting my daughter, Kim, and family. Time was also spent with my sister-in-law, Donna, and family. Activities included: visiting, painting, playing platform tennis, sewing, decorating, and touring. Bret graciously gave Gram his room, complete with Matemao (huge, white rat who sleeps during day and exercises at night), and half-empty waterbed -- usually shared with Calvin (unfortunately, a dog). Telephone calls from twin cousins I had not seen for almost sixty years were another highlight. Bill lives in Alaska and Don in Idaho. While in Colorado! I met Bill's son, Eric, a grad student at CU. They can provide some of my missing maternal, Olson, genealogical information. Bill, now retired, plans to come to Vincennes after receiving his doctorate degree next May. Fortunately, all my children (Leets, Waters, Moerdyks, Reillys, Moerdyks, and Burkes) and their families are healthy and active. It takes much of my energy just to keep up -- especially since they are good at finding "projects" for Mom/Gram. Actually, I am blessed to be able to help.

Pray for travel weather as we plan our annual holiday trek to Michigan.

May peace be yours this holiday season and throughout 1999, Rodean "Deanie" Moerdyk (Donovan)

Pearl Drohner (Wheaton)
( ) 8404 Burgett Rd., Richmond IL 60071

Carol Duchild (Hadley)
( ) 1306 N. Pine, Rochester MI 48307
(1997) A Bob Duchild (Date: Sat, Apr 5, 1997) reported the following in an email message to Grant MacLaren dated April 5, 1997:
Carole Duchild Hadley can be found at: 1306 N. Pine, Rochester, Michigan, 48307. She is married to the Reverend Chandler Hadley, and has 4 married children and 7 grandchildren.

Mary Duncan (Granger)
( M ) 450 Headlands Ct., Sausalito CA 94965

Loretta Dvorsky (Borucki)
( ) 2425 56th St., Cicero IL 60650

(1999) Hi, I received your newsletter and thought even though I'll be unable to attend the reunion, as a graduate of the '54 class, I should at least participate in some way.

I'm Loretta Dvorsky Boruchi. I raised three children myself, worked at Sunbeam for 18 years. I have Fibromyalgia and therefore on Social Security Disability.

But I'm doing O.K. I enjoy watching sports. Yvonne Sather and I have kept in touch by mail. The last three years we have seen each other three or four times a year.

I have five grandchildren.
Loretta

Beverly Ebeling (Stolz)
( D ) *decesaed*
Beverly passed away in November of 1995. From an obituary: Beverly J. Stolz, nee Ebeling, 58, of North Plainfield, N.J., and formerly of Elmhurst, a customer service representative with Dunn and Bradstreet, Livingston, N.J., for 15 years, died Friday, Nov. 4, at home. Mrs. Stolz was born and raised in Elmhurst. She was active with animal rights organizations. She is survived by her sons, Michael D. and Mark R. Stolz She was preceded in death by her sister, Marilyn Hoelzer.

Mary Edwards
( LV ) *lost*

John Ehrhardt
( $ ) 7351 S. Madison Circle, Littleton CO 80122
says he's looking forward to '99. Now retired, John's embarrassed to say his golf handicap is actually getting worse.

Janet Ellison (Boevers)
( $I ) O - N - 506 Farwell, Wheaton IL 60187
(630-690-3236)

Annamae Enright
( L ) *lost*

Ardeth Erickson (Johnson)
( V ) 8414 Cedar Street, Omaha NE 68214

Dan Erlandson
( ) 466 S. Elizabeth St., Lombard IL 60148

Pat Eslinger (Francek)
( ) 414 Richmond, Westmont IL 60559
(1994) Pat has managed an automotive repair shop for eight years. She has three daughters, two sons and four grandsons.

Address changed 4/21/99

Chuck Evanson
( I ) 4510 Lafayette Esplanade, Fort Wayne IN 46806

Ed Ewald
( ) 243 E. Third Street, Elmhurst IL 60126
(1994) As of '94, we didn t receive any new info from Eddie, but we believe he is in the food/catering business. Eddie and Faith, as of the reunion book prior to the '94 edition, had nine kids and four grandchildren.

Barbara Fainter (Smith)
( $IV ) 111 N. Wheaton Ave. #307, Wheaton , Il., 60187.
(2000) (email from Jane McGrew): "Angus, Barbara Fainter will be moving to her new condo at the end of this month so please change her address to:111 N. Wheaton Ave. #307, Wheaton , Il., 60187. (1994) Barb is Vice President of Management Data Services. She attended the 40th reunion party and got her pictures of it about a week before Christmas.

Jack Falter
( $C ) 418 Webster, Elmhurst IL 60126
630-279-4521
(1994) Jack and Lois have two children, Steve, 27, is a newlywed and engineer for Chrysler in Royal Oaks, Michigan and Cynthia, 25, is a CPA. Jack is trying to find the happy medium between eating, drinking, exercising and work. Jack served on the '94 reunion committee.
(1999) Jack keeps busy as a stock broker for A.G. Edwards in Roselle, Illinois. Jack and Lois have two children. Steve, 32, is employed by General Electric's Medical Systems Division in Waukesha, WI -- two kids -- Little "Jack" and Mike -- and Cynthia, younger than Steve (to keep peace in the family), a CPA and Accounting Supervisor for U.S. Can in Oak Brok. Looking to retire in 2001, but will always be Jane's flunky. Everybody enjoy the Reunion. I will!

Don Farmer
( $$ ) PO Box F, Brookings OR 97415
(1994) Don and Marjorie have three sons and four grandchildren. He's a State Farm insurance agent. Living right on the Pacific Ocean shore, Don enjoys fishing, hunting and whatever nature provides. (1996) Don sent us a generous contribution to keep the newsletter on schedule. Thanks, Don!

Sandra Fearn (Dutton)
( ) 350 Elm St., Glen Ellyn IL 60137

Jim Feaster
( ) 7045 Regalview Circle, Dallas TX 75248

Evelyn Felbinger (Freitag)
( $ ) 266 Larch Avenue, Elmhurst IL 60126

Ann Felthouse (Holtz)
( ) 3966 Pleasant Valley, Brighton MI 48116
(1994) Ann and David have four married children and seven grandchildren. Ann is an Administrative Assistant; she enjoys restoring old cars, camping and church work. In her spare time, she tries to keep up with her expanded family of seventeen.

Marcia Felz
( $$SC ) (see Nick Van Hoose)

Gail Ferdinandsen (Connally)
( M ) 2815 Armstrong Drive, Lake Orion MI 48361

Rita Fielitz (Farrell)
( ) 21-W-111 Glen Park Rd., Lombard IL 60148

Ken Fiene
( ) 20 W. 534 Moreland, Addison IL 60101
(1994) Ken is a retired police officer. he enjoys fishing, hunting and golf.

Lawrence ''Larry'' Forgue
( V ) 203 Sweetwater Ck. Dr. W., Longwood FL 32778-3452
407-788-6799; 407-682-1353 (fax); Gbarblf@aol.com
(1998) Larry checked in here November of '98.
(1994) Larry and Barb (Hahn - I.C. 1955) have lived in Florida for 25 years. They have five childeren, 4.75 grandchildren. Larry is in sales for Precision Optical Tools for Aerospace. He says he missed the 50th birthday party but heisted one high at a place called ''Zieglers Tavern'' in Heidelberg, Germany on that same evening.

Jerry Fosnot
( M ) 320 Buckingham Drive, Conyers GA 30208

Frank Foster
( I ) 20970 White Road, Antioch IL 60002
(1994) Frank was unable to attend the 40th; he was competing at obedience trials with his dogs.

Lois Fredriksen (Heim)
( ) PO Box 555, Newton OH 50208-0555 (1995) Lois moved from Chicago to Newton, IA sometime in 1995.

Evie French (Mazzoni)
( $ ) 1435 W. Via de Roma, Green Valley AZ 85614
(1994) Evie and Rich (York 1953) 38 years ago. They have one son who teaches at Colorado State University. For the past seven years Evie worked for a developer/builder as a receptionist and sales secretary. She enjoys bike riding, walking (at least three miles per day) travel, bowling and golf. Evie tells us she is ''really pleased with the idea of a newsletter'' and promises to send ''news or interesting things to share.''

Robert B. French
( L ) *lost*

Truman Fricke
( ) 707 Riverside, Villa Park IL 60181

Bob Friedli
( ) 3901 Tower Drive, Richton Park IL 60471

Allan Fritz
( $ ) 4861 S. Cherokee St., Englewood CO 80110
(1994) Retired Al and wife Sharon made it to the 1994 Reunion.
(1995) Sharon emailed me on Thu, Jan 11, 1996 19:44 - From: sfritz@du.edu (SHARON K FRITZ) Hi Grant (or should I say Angus) I'm Al's wife - we met at the reunion and later at the "emergence" from Stu's lake. I have just been in a 4 hours Internet class which followed a 4-hour e-mail class on Monday. Al told me about the class notes on the web and I was most excited to be able to access them. As you may remember, I wasn't very computer literate. However, now I'm the only paid employee of the National Cable Television Center and Museum that is relocating from Penn State to the Univ. of Denver campus. It's not only necessary, but kind of fun to begin to learn about all the words that have been floating around. You are my practice project, and if this ever, actually works, I'd sure love to get just a note from you letting me know you received it. Thanks so much. Hope to see you at the next reunion - or even sooner in Denver - we are now "childless" and have lots of room. If all else fails, my phone number at work is 303-871-4885. Hope to hear from you. Fondly, Sharon

Arleee Fritz (Becker)
( $V ) 289 Winthrop Avenue, Elmhurst IL 60126
(1995) Arleen sent us a newsletter check in late '95, but no news.

Rolf Fritz
( ) 906 W. Roosevelt Rd., Wheaton IL 60187

Bob Froeming
( ) PO Box 536, Twin Lakes WI 53181

Henry Gaetano
( DI ) 329 Oaklawn, Elmhurst IL 60126
(1996) 12/29/95 "Dear Mr. MacLaren, Sorry to inform you that Henry Gaetano passed away January 2, 1992 of a heart attack at age 56. Respectfully yours, Jerry Gaetano"

Mile Galasso and Joyce Stebel (Galasso)
( ) 52 Country Club Drive, Bloomington IL 60108 (1994) Mike and Joyce have three children and five grandchildren. Mike is a DuPage County Circuit Court Judge. Joyce is a retired medical secretary and sings in the Aeolian Choral Association and at church. Mike loves to play golf and they enjoy spending time at their lake home in Michigan.

Alan Gallagher
( LM ) *lost*

Clarence Garboske
( L ) *lost*

Mary Jane Gaunt
( L ) *lost*

Virginia Gaus
( SV ) (see Richard Vernon)

Dorothy Gee (Dolan)
( V ) Rt. 2, Box 320A, Ozark AR 72749

Norman Gehrke
( ) 122 N. Addison, Villa Park IL 60181

Lorraine Geiger (Jehu)
( ) 2609 West Mulberry, Fort Collins CO 80521

Sandra Regina Gerrie
( L ) *lost*

Pat Gillette
( D ) *deceased*

Arno Gillis
( D ) *deceased* (br>

Elaine Glanz (Steward)
( ) 1900 Penbrooke Road, Traverse City MI 49684

Jeanne Caryl Gnapp (Tanke)
( ) 608 S. West Avenue, Wheaton IL 60187
630-462-1272
Judy Reidel (Penrod) found Jeanne's address in October of '97.

John Robert Godwin
( L ) *lost*

Donald Gordon
( ) 2212 Alma Avenue, Manhattan Beach CA 90266

Pat Gore (Erienbaugh)
W2322 Pine Road, Neshkord WI 54960
(1994) Pat has one son who is getting married soon. She plans on retiring in a couple of years from the position of assistant branch manager at Oshkosh Saving and Loan.
(1996) 1/9/96 Pat wrote '' I really enjoyed my issue of the York '54 newsletter received at Christmastime. I'm really sorry I missed the reunion in '94, but my son decided to get married about that time and thought I should go up there. Keep up the good work."

John Gorvett
( ) 332 Center St., West Chicago IL 60185

Barbara Graff (Dublin)
( $IV ) 6570 E. Calle Cavalier, Tuscon AZ 85715
(1994) Barb and Al have one son who is studying for the ministry and one grandchild. Barb is a born again Christian; says she stays busy leading bible studies and prayer groups. Barb also likes to garden, do community work and a bit of traveling. (1995?) Barb and Al have been house-hunting again. She says its gotten to be a way of life. Barb's also working ''more or less routinely'' at a fitness club.

Sarah Greaves (Meisles)
( ) 1690 Groten Ct., Wheaton IL 60187

Shirley Griffin (Johnson)
( V ) 936 Warren Ave., Downers Grove IL 60515 (1994) Shirley and Willis have seven children and four grandchildren between them. They began operating the Tivoli Theatre in Downers Grove in 1978. As their interest in theatres and film grew, they formed a corporation which includes other commercial buildings. Today, with thirteen theater locations and thirty-nine screens, Classic Cinemas is the largest independent theater chain in northern Illinois. Shirley is serving her second term as secretary of the Theatre Historical Society. At our '94 reunion, Shirley hosted her classmates in a tour of the movie theater in downtown Elmhurst. We had a great time.!

Peter W. Grimm
( ) 1610 NE First St. #6, Fort Lauderdale FL 33301
(1994) Peter and his wife have four children and four grandchildren. He co-founded O'Day Corp., which became the world's largest manufacturer of sail boats. He currently builds, repairs and sells large powere and sail yachts (40' to 150')

Jim Guertler
( ) 104 Saddle Brook Drive, Oak Brook IL 60521
Jim is owner and founder of El Matador Restaurant in Streamwood. IL. In 1988 he formed Component Products. Inc., a local supplier of traffic products. supplying between 40 and 50% of all cast iron. aluminum and special alloy for traffic pedestal and pedestrian signal bases and poles in the U.S. This year Jim started up operations on another new division for CPI. FAST Corp., Foil Application Specially Technology, which builds the machinery used in the manufacturing of bellows. Jim and Fran have been married 36 years. They have 2 daughters and 3 granddaughters.

Ronald G.''Ron'' Guilbert
( $V ) 527 W. Heber Street, Glendora CA 91741
818-335-5828
(1995) ''Enclosed is my five bucks for my subscription to the annual newsletter pointing to the 1999 class reunion. Perhaps I'll be able to make it this time--I made it to the ''so now we are 50'' reunion with my wife, and missed the 40th reunion because of the difficulties of going through a divorce after 29 years of wedded bliss. Well, maybe not quite 29.
''The house is sold, the assets divided, and by 1999 (with the grace of God and a quick infield) I will no longer be an indentured servant to my ex's craving for alimony. Hopefully, I'll be the bearer of other and better news by then.
''I've enclosed my business card--for what it's worth. It does say one thing: I'm employed. That's more than a lot of people my age in Southern California can claim nowadays. I'll look for some pictures to send your way next time. Sincerely, Ronald G. Guilbert''
(Ed's. note -- Ron's card shows he works for Surfware, makers of the Computer Aided Manufacturing software known as Surfcam.)

(1999) On Mon, 26 Apr 1999, Ron Guilbert wrote:
"Malvolio, Malvolio, endeavor thy self to sleep and leave thy vain bibble babble."
May not be right, but after 45 years, not too far from the mark, I suspect.
Listen, Mike, I don't have time to give you a bio right now. On Friday I'm off to Pittsburgh to spend a week with my son who is a grad student (MBA) at Carnegie Mellon and he wants me to go parachuting with him. If I succumb to his wishes - I'd rather play golf - my bio could be read on my tombstone.
"Born 1936, died the Fool."
Ron Guilbert

Robert Erving Gustaveson
( L ) *lost*

John Hadley
( RI )

Mary Haimbaugh (Secrist)
( LV ) *lost*

Richard Hammesfahr
( L ) *lost*

Judy Hamowitz (King)
( V ) 1145 Roelawn, Paxton IL 60957
judyking@illicom.net
(Dec. 1, 2001) Hi! This is from Judy Hamowitz King down here in the pretty little town of Paxton, Ill. I am retired so I have to work! Just 15 or so hours a week in our little home town IGA. I am divorced, but surrounded by family. My three children all live here in town and so do six of their combined children. The seventh grandchild lives in S.C. and has two beautiful little girls. Figures that the babies live the farthest away! I haven't made it to any of the reunions, but I do get up to Villa Park to visit Marge Schwarz '52. Life is just great and I still laugh a lot at it and myself. If anyone wants to send me an e-mail, my address is judyking@illicom.net. Thanks for your web page. I really enjoy it--Judy Hamowitz King

Carole Hansen (O'Connell)
( $ ) 710 So. Clinton Street, Suite 11B, Denver CO 80231
303-739-0297 (home)
transworldcarole@aol.com
(9/2002) Carole's email address confirmed by Jane.
(1995) Carole is a Freelance Tour Guide Director, a Joslin's Department Store Floater and their instructor for White Gloves Etiquette class. Her husband Bob. works for NRC - Nalional Rehab Counselors. Their daughter Kathleen was married September 24, 1994 in Oregon, about the time of the class reunion. In 1995 Carole became one of eight tour guides of the new Coor's Field--home of the Colorado Rockies. And, she is a guide at the new Denver International Airport, so was ''thrilled to be part of both openings.'' Grandson Brett, 5-1/2, lives nearby and Carole delights in visiting nearby zoos and museums with him. Her sixth grandchild was due in April of 1995. She's looking forward to our 45th. Carole does miss all the traveling she has done throughout the years wilh TWA. In 1985 she had the opportunily to return to the skies as In-Flight Supervisor lor TWA's Internalional Destinations.

(1997) Our '97 Resolution was to research the FAMILY TREE, which was completed in time for April's "Reese Reunion" in Ocala, Florida. My Mom's sister, Kay Reese Moore, and I had a stopover in Atlanta to unite her son Chuck (local T.V. anchorman) and his wife Deborah with our son Michael (Georgia Pacific Co.), Julie, and Kyle (2 yrs.). What fun! Down memory lane. So thrilled that we made the reunion, for Aunt Ginny Latter Reese has since passed away.

Then in June, flew to Redmond, Oregon for daughter Kathleen, Pat and Ross Michael (1 yr. in April) anticipated arrival of Natalie Rae (9# 6 oz.). What joy! Prior week in June, Michael's family welcomed Riley Christine (11# l oz.). Now, Carlie Rae will have girl cousons . . .

July, son Bob started up his own art adjusting film in Chicago called O'Connell International Arts, Inc. He commutes to Crystal Lake, IL. where Susan and twins, Billy and Matt (3 yrs.) are kept busy. Plus it is great that Susan's lovely parents still live in Brown Deer, WI. Next trip, after Christmas, will be to see them. September, Bob and I celebrated our 40th Anniversary by flying into Buffalo, N.Y. to see his Aunt Marg (97 yrs). It had been 24 years since we were last there, when Dad O'Connell had passed away. Hubby so thrilled to see his homestead(s) so well preserved. We took Marg with us every day from morning past eurfew and although she is totally blind, still has her great sense of humor.

October, Bob had cataract surgery. Three and a half years ago he had the other eye done. Both successful!

November, Michael and his family transferring here from Atlanta. Excitement galore! Pray, someday, more of our children would make the move.

Our Felicia, Steve, and Brett (9 yrs) live nearby, so always an event to be together. Christmas we will be in Salem, Oregon with son Jim, Annie, Carlie (6 yrs), Reese Joseph (4yrs); Kathleen, Pat, Ross Michael and Natalie Rae. Before the new year, we'll be back in Denver.

We do count our blessings - for years, gatherings were for weddings; then births and hopefully soon for entire family so cousins can get to know one another. We pray your year so blessed! MERRY CHRISTMAS AND HAPPY NEW YEAR.

Still love touring plus Coors Field and all Colorado. Look forward to next newsletter and, of course, reunion. It seems so far off.

(1999) Hello Grant, Just a few corrections to previous "bio" of yours truly. I'm no longer with TWA, but full time with Denver International Airport as an Educational Consultant in the Marketing Tour office . . . Love it!

Then, as for our Colorado Rockies -- am a Saturday Tour guide of Coors Field; a behind the scenes tour. Plus, I enjoy my game tickets. When the team is home playing, no tours, so am a tour guide for several local Management Co. Which is great, for I get out to see all the beauty of Colorado while being paid for showing off the tourist spots!

Our five children have given us nine awesome grandchildren, two to ten years of age.

So enjoy hearing all about our classmates; most enjoying retirement, it seems.

As for Alice Aiken -- would love to follow up -- any leads? Married name, area, etc?

I received a copy of Donna M's bio. Great hearing from her. Great!

PS - Grant, - Grant, if it were possible to get our '54 year book, I would pay. Mine is gone. Another story. Carole

Ron Hargreaves
( ) 17215 Guss Way, Bend OR 97707
541-385-6940

Doug Harris
( V ) 25621 Carmel Knolls Drive, Carmel CA 93923

Joan Harris (Mobeck)
( SD ) *deceased* (see George Mobeck)

Paul Harris
( ) 199 Crestview, Elmhurst IL 60126

Bill Harrison
( $$I ) 6-S-176 Canterbury Ct., Naperville IL 60540
(1995) In 1995 Bill had been married to Winnie Orme for 29 years. The have two children and two grandsons. Bill retired from Sears in '93 after 36 years. Active in Grace Methosist Church as treasurer, he also works at a homeless shelter in Aurora, and enjoys golf, gardening and participating in a gourmet group. ''We enjoyed the last class reunion more than we expected.''

(1999) May 10, 1999 Winnie (Orme), class of 62' and I have been married for 33 years and have lived in Naperville for 23 years, I retired from Sears six years ago and Winnie retired from secretarial work last year. We have two children; Sheri, 31 and Jeffrey, 28. Sheri has given us two wonderful grandchildren.

Since retirement we have traveled to South America, Europe and Africa as well as around this country including a 17 day trip to Alaska. We have planned a 16 day trip to Ireland this summer. My spare time is spent trying to improve my golf, working in my garden, helping at a homeless shelter in Aurora and as church treasurer. We are looking forward to seeing everyone at the reunion.

Robert ''Bob'' Harrison
( $CI ) 1821 S. Highland, Arlington Heights IL 60005)
(1995) tells us to use the same info he provided for the 40th reunion booklet. So here it is: Bob and Phyllis have been married thirty years, have three children and three grandchildren. Bob has been employed at A. M. Castle for 33 years. He loves to go on cruises, playing golf and water skiing. He would love to retire, but as of today, has not won the lottery.

Janace Harte
( LM ) *lost*

Lois Hartman
( D ) *deceased*

Pat Hartwig
( SV ) (see Bill Curran)

Virginia Hathorne (Funk)
( ) 6055 W. Waveland, Chicago IL 60634

Beverly Hawkins
( L ) *lost*

Carol Hawkins (Stephens)
( $ ) 200 Rainbow Dr., Suite #10113 Livingston TX 77351-9360
Carol reported in May "We are once again full-time RV'ers and have a mailing service. Right now we are golfing in Detroit Lakes MN.
(1994) Carol retied in 1984 from her position as a medical assistant-office manager for a plastic surgeon in Mesa, AZ. She and George were full time RVers for five years and then settled in Isabella, MO in 1989. (HCR 2. Box 2262. Isabella, M0 65676). Vegetable and fruit gardening. fishing. golf and church activities fill Carols free time. Carol has four children and five grandchildren.

(May 13, 1999) Dear Grant, Unfortunately, I am unable to attend the 45th reunion party. My husband and I are committed until Oct. 8, 1999. We are still Full Time "RVing" in our 37 foot, two slide 5th wheel which also includes our Black Lab, Tex.

We spent the winter in Port Aransas, Texas which is on Mustang Island, North Padre Island. My husband is an avid fisherman, so this is the perfect place for him and I can always find numerous activities to keep me busy.

This winter I played in the Winter Texan Handbell Choir in our winter church, line danced several times per week, golfing, walking and biking also kept me busy. The park we spend the winter in has loads of activities and we participate as often as time allows. In otherwords, we are enjoying our winter home and are constantly meeting new people from all over the country and learning about new places to explore. At this point, we don't even know where we would like to establish roots. So as long as we are healthy, and the Good Lord lets us we will just keep rolling down the highway.

This summer we will be in the Grand Teton National Park working for the Grand Teton Lodge Company at the Colter Bay Facility. This will be our 10th year there. My husband, Bob, is a fishing guide on Jackson Lake and I am the Assistant Executive Housekeeper for Colter Bay and our contracts $o to Oct.

When we leave the Tetons, we will head for Nebraska and some bird hunting before returning to Texas. So, we are thoroughly enjoying our retirement. I hope that all goes well and we are able to attend the 50th reunion. I am planning on that.

Address: Carol Stephens 201 Rainbow Dr., Suite #10113, Livingston TX 77399-2001

Please make sure the Suite # is included as this is our mail service and that number is our ID #. We have also declared Texas as our residence.

Lee Hedge
( LI ) *lost*

Margaret Heidelmeier (Pearson)
( ) OS-476 Euclid, Villa Park IL 60181

Donna Henderson
( L ) *lost*

Jackie Hennesay
( ? ) 127 E. Lewis St., Lake Forest IL 60045

Margaret Herlehy (Batryn)
( R ) 445 Hillside, Elmhurst IL 60126 *deceased*

Gale Edwin Hermance
( R )

Harold Herron
( ) 4-N-461 Ann Court, Addison IL 60101

Duane Hesterman
( ) 22-W-045 McCormick Ave., Glen Ellyn IL 60137

Bob Hightower
( ) 3-N-536 Linda Lane, Addison IL 60101

Carol Hildebrant
( L ) *lost*

Kenneth Hill
( $I ) 22001 Oakton Ave., Frankfort IL 60423

Marlene Hitzemann
( LM ) *lost*

Richard Hocking
( ) 3300 Western Ave., Highland Park IL 60035

Jackie Holderman (Fox)
( ) 5912 Conway Road, Bethesda MD 20824

Judith Holderman (Mazella)
( L ) *lost*

Mary Lee Holmyard
( L ) *lost*

Yvonne Hoppenstedt
( S ) (see Norman Sather)

Phyllis Horn (Zoellner)
( $C ) 241 W. Berkshire, Lombard IL 60148
(1994) Phyllis' husband Carl is retired and he's waiting for her to do the same so they can move to their home in Sarasota, Florida. They have three sons, all married, and six grandchildren. Besides the grandkids, Phyllis enjoys bridge, golf and bingo.

Jane Howe
( L ) *lost*

Diane Hrdlicka (Hughes)
( ) 305 E. Pine St., Villa Park IL 60181
(1994) Diane and Jerry have seven children and five grandchildren. Since retiring. they have done some traveling; recently returning from the British Isles. Golfing in the summer and bowling in the winter keep Diane busy, and of course, those grandkids fill in any spare time.

Grace Jacker (Seablom)
( IV ) RR #1, 44-W-020 Main St., Elburn IL 60119
(1994) Grace and Fred have four children and two grandchildren. She retired from teaching in 1993, now enjoys working in Public Affairs lor Hispanic radio. Grace spent twelve years running sled dogs all over US and Canada, still enjoys horses and raising beef and lamb. She rarly has time to play the organ.

Donna Jaeger (Greene)
( ) 124 Springs Cove, Louisville CO 80027

Ruth James (Trondsen)
( $V ) 1589 Clemson Drive, Naperville IL 60565
(1994) Ruth and Dick are retired and in '94 were in the process of selling their Connecticut home for a move back to the Chicago area. Ruth was in Nova Scotia during the '94 reunion, so didn't attend. (1995) They moved in May of '95 to Naperville IL 60565. Ruth wrote '' . . . we've been retired three years -- and have two grandchildren.''

John Jenkins
( I ) 15 Westwood Place, Danville IL 61832
John and Pat Jenkins have lived in Danville for many years. John practices law there.

Jack Jensen
( ) 2989 Columbus Road, Centerburg OH 43011
Jack retired from JC Penney, after 27 years in retail. Currently he owns and operates a Mail Boxes Etc. franchise in Columbus, Ohio. Jack and Ann have been married 33 years, have two children and one grandson. Jack and Ann breed, raise and show Champion Airedale and Lakeland Terriers. Their kennel name is Tairanjac.

Carol Johnson (Watson)
( V ) Rt #2, LeMoille IA 61330

Lanny Johnson
( D ) *deceased*

Nancy Johnson
( D ) *deceased*

Paul Johnson
( D ) *deceased*

Raymond Johnson
724 ChateauDrive, Rogers AR 72756
(1994) Ray and Nancy have been married 38 years. They have four children and nine grandchildren. Ray retired from General Motors in 1990, where he was the G.M. investigator for the Chicago region. All of Rays kids and grandkids live in the Chicago area, so he spends a lot of time here.

Ron Johnson
( $I ) 3925 Rau Dr., Dickinson TX 77539
(1994) Ron has been teaching in higher educationfor 25 years, primarily marketing. He has taught in colleges in Illinois. New Mexico, Texas and the Virgin Islands. Ron enjoys playing golf. Ron and Caryl have been married 30 years, Caryl also teaches high school and occasionally at the University of Houston.

Spencer Johnson
( L ) *lost*

Shirley Johnson (Bublitz)
( ) 726 S. Lombard Ave., Lombard IL 60148
(1994) Shirley and Russ have recently retired and never been busier. They have two granddaughters, love to travel and spend a lot of time at their second home in Wisconsin.

Bonnie Jones (Orr)
( V ) 571 Via Sinuosa, Santa Barbara CA 93110
(1994) Bonnie, who was a high school librarioan, is enjoying retirement. She has become an adult education junkie . . . taking classes in writing, computers. fine arts, current events, etc. Bonnie and Jack sing in their church choir along with both her parents . . . 86 and 90 years young. Bonnie has two sons.

Donald Jones
* deceased *

Charles Jordan
( ) 536 Sturbridge Ct., Walnut Creek CA 94598

Carol Ann Jorgensen
( L ) *lost*

Ronald Jorns
( ) 707 Berkley Ave., Elmhurst IL 60126

Robert Arthur Josephson
( L ) *lost*

Don Jugle
( D ) *deceased*
(1999 - Info provided by Don's brother, L. Andrew Jugle) Don attended Carleton College, finishing at Columbia University in NYC. he played football at both. Married Ethyl Mummert of Winfield, IL Christmas Eve 1961. Straight to PhD at Rensselaer Polytechnic Institute in Materials Engineering in 1963, among first awarded in U.S. Did research at Xerox in Rochester, NY developing color machine and several patents on toners. Was winner of Malcolm Balderidge Award for Xerox in early 80's. Three sons, Lance, Kip and Jay.
Don died in a sking accident February, 1992 shortly after the death of his youngest son, and International Olympic skier, Jay.
Son Lance at ljugle@frontiernet.net; Son Kip at KipJugle@USA.XEROX.COM.
You might contact them to firm-up dates. Good luck on the task! L.Andrew Jugle

Susan Jusko
( L ) *lost*

Regina Kahn (Knapp)
( M ) 1600 E. Clark, Sp 4, Santa Maria CA 93455 April 20, 1999 Regina (Kahn) Knapp 1600 E. Clark Ave. Space 4 Santa Monica CA 93455-7510

Class of '54

Very early retired due to severe Scoliosis.

I've been married 43 years and we (Charles) have three girls and a son. We're grandparents of 8 boys and 3 girls, ages 22 down to 4.

Due to my asthma we spend our time mainly babysitting for our one daughter while she works. We also have a small bed and bath shop.

Of all my girlish dreams, only the one of home and family was realized. My children say that was worth everything -- good and bad -- and totally successful.

Bonnie Kain
( $S ) (see Bob Berger)

Lorraine Kalbantner (Russell)
( ) 940 S. Michigan, Villa Park IL 60181

Bruce Karr
( $$M ) 3595 Royal Tern Circle, Boynton Beach FL 33436
407-369-0641
(1997) Got a note from Bruce Karr in February, '97 saying "Angus - Just a couple of bucks for the newsletter. I gave Kroz (Kraegel) some cash earlier, but he kept it. All the best, Bruce (Please note address change.)" Bruce and Verona's address is now 3595 Royal Tern Circle, Boynton Beach FL 33436 •

Bob Kassner
1065 SW 57th Street - Cape Coral, Florida 33914
rokassner@aol.com
(2/9/00) Hi, It's been a while, but while surfing the net, I found the York site and noticed that my information was a little bit out of date.

It would be great to hear from any of the class, and I will reciprocate on messages and photos post haste.

I'm sorry I missed the news of, and the reunion. I hope to be at the next one. Best Regards,

(1994) Bob couldn t make it to the '94 reunion; he was in the process of moving to Florida.

Marilyn Keil
( L ) *lost*

Dixon Kendall
( L ) *lost*

Roberta Kerbec (Bogusch)
( $V ) RR #2, Box 28, Bruce WI 54819 (1996) January 28, 1996 - Dear Grant, Thanks to everyone who works so hard on the newsletter and reunion. Husband Arnie and I live in the 'Beautiful Northwoods' of Wisconsin, otherwise known as the 'Backwoods.' We are a mile from Bruce (pop. 800) and halfway between Eau Claire and Hayward (towns some people may have heard of.) I have three children and four stepchildren and eleven grand-kids in all, many of whom are in the Chicago area. One son is career Navy Submariner in Charleston. Mom and sister are right there in Villa park. We make trips 'back home' about once a year. The reunion weekend was a 'stealth' visit for simplicity. When Arnie had heart problems we had to give up our home-based sewing business after fourteen years. Now he's semiretired and I sew for a local sportswear manufacturer. See you all in 1999 - God willing. Has anyone considered a less formal setting such as a picnic? I think it would encourage mingling. Sincerely, Bobbi 'Bubbles' Kerbec

Jim John Ketchmark
( R )

Richard Kinzel
( R ) 685 Kearsage, Elmhurst IL 60126

Patricia Kirby
( LV ) *lost*

Charles A. Klusas
( L ) *lost*

Jeanne Knapp (Tanke)
( ) 608 S West Street, Wheaton IL 60187

Regina Knapp (Kahn)
1600 E. Clark, Sp.4, Santa Maria, CA 93455
(1994) Regina has one son and three daughters . . . all married. This group has produced eight grandsons and two granddaughters. Regina owns a linen store and enjoys making rag rugs, pillows, etc. to sell in her store. Loves where she lives oceans to mountains, great weather . . . she says it's the best place nationwide for vacations unless you get nailed by an earthquake.

Ruth Eleanor Knowles
1024 Sacremento St., San Francisco CA 94108-2003
415-433-7244
duganek@aol.com
(1999) After working for 20 years as a stage costumer in New York and wardrobe designer in Hollywood, Eleanor Knowles Dugan is now living in San Francisco and writing for a living. She and her youngest child recently spent a year in Normandy where she researched a book on the 17th century writer Madeleine de ScudŹry while her son studied for the Baccalaureate. For a living, she writes and ghost-writes books on business communications and self improvement. For pleasure she writes about films and has an enormous archival web site devoted to Jeanette MacDonald and Nelson Eddy at http://www.dandugan.com/maytime.
Best wishes,
Eleanor
(Knowles Dugan)

Carol Kocanda (Rieger)
( $ ) 6040 W. Eastwood Ave., Chicago IL 60630
(1994) Carol is a supervisor in the Investor Reporting Department of LaSalle Talman Home Mortgage Corp. She has three growing granddaughters. She loves to travel to Europe, ski, bike and roller blade.
(1995) sent this nice letter for our '95 newsletter: ''I needed a change of the day in, day out, run of the mill routine, so I opted for a hiking tour in the White Mountains of New Hampshire, Sept. 1994. I flew into Portland, Maine, spent a day on the coast. A tour guide picked me and another woman from Florida up in Portland, drove us to North Conway, NH where we met two women from New York, one from Ohio and her daughter from Chicago. The tour tumed out to be six single women. We had three professional tour guides, altemating between two women and one man. We had two guides with us on all our hikes. Believe me, I climbed mountains I didn't know I could climb.
The outstanding surge of satisfaction from spending six days in the mountains, climbing terrain that repeatedly gave you a challenge, close to nature, trekking through the wilderness with highly educated guides on all the aspects of nature, from mushrooms to birds, guides backpacking gourmet lunches to the top for your enjoyment is beyond description. Not to mention the evenings spent in Country Inns with the convenience of gourmet dining rooms, all menu items included. Tremendous experience. I highly recommend the 'New England Hiking Tours'. You'll love it as much as I did.''
(1998) (email via Bill Dawson 7/2/98) Angus, I received this post today and wanted you to have a copy -- most of it is directed toward the entire class:
From: ETRCCR@aol.com Hello Everyone: Just received the Winter 1997-98 newsletter and I certainly enjoyed it, but I was very sorry to hear about Jane and Tom's loss. I send my belated condolences. As of April 1, 98, I am retired and so far it's been great. Traveled to Hong Kong in May and will be heading to Alaska in Aug. for a land and water adventure. I am looking forward to the reunion next year. Even though I do not play an instrument, if there is something I can do, I can sing, a little, I wouldn't mind being involved in your musical extravaganza. I am available. Please put me on the E-mail listing. I would love to hear from any of our friends out there. Carol Kocanda Rieger-Email: CRER@msn.com NEW email as of 2/1/01

(2/1/00) Hi Carol, Will do.
-=Grant=-

In a message dated 1/31/00 10:46:40 PM, etrccr@dellnet.com writes:
>Hi Grant,
>I would just like you to know that I have a
>new address and if you would please up- date your listing.
>It is etrccr@dellnet.com.
>Wishing you and the rest of the crowd a Good Year 2000.
>Take care.
>Carol (Kocanda) Rieger

Art Kopitke
( ) 826 E. Walnut #242, Grapevine TX 76051

Edward Kopp
( ) 315 E. Third Street, Elmhurst IL 60126

Carol Kosanda
( R )

Marelleyn Kostner
( LV ) *lost*

Gene Kraegel and Dawn Leber (Kraegel)
( $C ) 390 Greenfield Trace, Marietta GA 30068
(1994) Gene is a Manufacturers Rep. and Dawn frequently travels with him. Dawn also does a lot of volunteer work for several community groups. They have flown in for a number of of the reunion committee meetings.
(1995) Gene and Dawn spent some time with Bruce Karr and wife Verena this past summer. Bruce was competing in an international wheel chair tournament in Atlanta.

Fred Kraeplin
( I ) PO Boc 728, Columbus MT 59019
(1994) Fred owns a sports bar and casino . . . he has two sons and two daughters, likes to fish and hunt.

David Kramer
( ) 643 N. Michigan, Villa Park 60181

Bernice Kraus (Scott)
( $ ) 3225 Southeren Hills Blvd., Springfield MO 65804
(417-883-0988)
(1995) I wan't to say ''Hi'' to my York High School friends. After graduating from Northern Illinois University and later teaching Home Economics for three years, I moved to Springfield, Missouri in 1961 with my husband, Glen. He established his Chiropractic practice and I began dividing my time between the office and making a home for Glen and, eventually four children. In more recent years grandchildren and trips to such places as Japan, Europe and New Zealand has kept life interesting. I hope to see everyone at the reunion in 1999.''

Arlene Krempels
( R )

William L. Kreutzer
( L ) *lost*

William W. Krueger
( L ) *lost*

Butch Kruse
( ) 161 Crestwood Dr., Dundee IL 60118 (1994) Bob retired4 years ago and is giving serious thought to living in Florida, at least during the winter months. Bob and Judi have five children and eleven grandchildern. Bob still enjoys sports,

Helen Lagowski (Bluemel) ( ) Rt. #6, Box 347, Chippewa Falls WI 54729

Dolores Lamport (Binkley)
( IV ) 2019 Boudreau, Urbana IL 61801

Eunice Langeler (Hufendick)
( ) 5831 Webster St., Downers Grove IL 60515

Eric Larson
( I ) 2 Oak Brook Club Dr. C202, Oak Brook IL 60521
(1994) Eric has been in the coatings business lor 30 years, has two married kids and two winging it. His wife, Pat is director ol Victim Services for AAIM. They play a lot of goll and enjoy lile.

Jim Latta
( M ) 609 Catalina Rd., Fullerton CA 92635
USPO Forwarding Order Expired 1/2/96

Arden Laurent (Waters)
( ) 254 Betty Street, Waukegan IL 60085

Joyce LaVicka
( ) 149 W. Madison, Lombard IL 60148

Dawn Leber (Kraegel)
( $SCM ) (see Gene Kraegel)

Sherry Jane Ledr
( LM ) *lost*

Ed Lee
( ) 238 N. Third St., Villa Park IL 60181

Richard Leeseberg
( L ) *deceased* (See report fromLarry Lester.)

Margarett Leroy (Hawkins)
( RM )

Lawrence Lester
( ) 340 Schroeder Ave., Delevan WI 53115
(1994) Larry has been with Ameritech lor 38 years and is about to retire. He and Beverly have two daughters and one grandson. He loves to hunt, fish, shoot, etc. He is Captain of the local fire department and rescue squad. Presently EMT Intermediate and Defibrillation certified. Larry also teaches part time for Gateway Technical College.
(1995) Larry wrote us in December of 1995 -- ''Dear Grant, Enlosed is my check for continuing the newsletter. I retired from Ameritech in July of 1994, am now working several jobs ''just to get out.'' I noticed in the list of missing Classmates, Richard Leeseberg. I was informed several years ago that he had passed away. I never had this confirmed by anyone else, but I used to work with him at Illinois Bell Telephone Co. and I believe it was through another employee that I learned this. Am looking forward to the next newsletter. Thank you, Lawrence Lester.

Jacqueline Lewis (Raddish)
( $$ ) 510 Oliver Ave., Altamonte Springs FL 32701
(1994) Jackie has two sons, two daughters and five grandkids. She has had a busy life. Moved from Illinois to Ohio to New Jersey and finally to Florida where the whole family resides. She has done many things; been a florist, ran a restaurant, personnel secretary, personnel manager, formed a model agency, was in a car accident that kept her in and out of the hospital for eight years. So she formed two other businesses; one is called 'Hats and Things' and the other is Alph-Omega and Associates. She has many interests.
(1995) Jackie says ''I'm so happy about this newsletter. Hope all is well with you. Can't tell you how much fun I had at our reunion. And you guys did a beautiful job!'' (1996) Dear York '54's
I moved about a year ago and thought it about time I let you know it. After all, I surely don't want to miss out on our next reunion. I had such a blast from the past.
No, I'm still not married but I am finding out blondes have more fun. Also, I have two new grand-babies. Well they aren't so new. They both turned one. I have a Skylor Thomas and a Victoria Ashley. In case you're wondering -- they are both beautiful.
Well things change and Dad could no longer live alone so we bought a house at 510 Oliver, Altamonte Springs, FL 32701 and my phone is the same -- 407-830-6178. So now Dad and I are "roommates."
My dolls are doing well. I have them in two stores here. The Four Seasons on Park Ave. and Victoria Attic in Altamonte. I'm hoping they will be big sellers for Christmas.
Please note that if you plan to come to Florida, look me up. I'm easy to find and if you don't have a place to stay, you can stay here.
I've also been working on a pilot film for TV. If it gets sold -- well, it will be interesting. They are taking it to NY hopefully next week. Also, did the make-up for another TV pilot. That was fun but I really think this last one will sell faster. It is a sit-com.
Better get to sleep -- tomorrow will be another busy day.
Hope all is well with you and any problems are simply learning experiences. Regards to all, Jackie (Lewis) Raddish

Pat Lewis (Long)
( V ) 838 Neva Avenue, Addison IL 60101

Ruth Lighter
( R )

Ed Link
( $ ) 7 Rogers Rd., Danvers MA 01923
978-777-0022
(1999) I have lived in Massachusetts for thirty-one years and retired from General Electric in 1996 after thirty-three years as an accountant.
My first wife (Sharon) died in 1986 and I have two grown children from that marriage.
I remarried in 1987 (Dolores) and have two step-sons, both attending college in NYC. Dolores is a counselor at a local college. I have not attended previous reunions because I was the "Missing Link" for forty-four years. I am looking forward to seeing many of our classmates at the 45th Reunion in '99.

Corinne Longwell (Pombert)
( ) 139 Pick Avenue, Elmhurst IL 60126

Roger Low
( $I ) 10307 Hunt Country Lane, Vienna VA 22180

Joanne Jean Lukcas
(March 18, 2000) Please change address for Joann Jean Lukcas (Martin) from 750 Chapparal Lane, Escondido, CA TO:
Joann Lukcas (Martin)
28890 Lilac Road, Sp. 132
Valley Center, Ca. 92082
760-749-6847
email: Inyellow@excite.com
Please add this information to your '54 Webmaster's list of York '54 Class .
Just received some of the information from Ray Johnson, Great Job on the "99 Class re-union. Hope to make the next one.

John Lund
( $ ) 5647 Inverness Drive, Rockford IL 61107
815-398-7552 - email J LUN BIKE@aol.com

John has had a dental practice in Rockford for many years. He checked in via email just as we were going to press in November of '95.
Here are a couple of paragraphs from the (John) ''Lund Family Christmas Letter 1995'' (by Trudy, I'd bet. Angus) ... John participated again in the senior olympics and earned a first and a second place, thereby proving that Norwegians ARE superior beings. I just sit around,eat bon bons all day, and watch soaps if I can find the remote. Sometimes, I run, cook, sew, garden, blade, complain, pick up stuff, etc. I am the domestic goddess, but I'd rather be called YOUR MAJESTY. ... and ... Once again, we didn't win the lottery or bingo. Our children aren't Einsteins, and we haven't won the Nobel Peace prize (at least not this year), but we believe we have a lovely family of eight children, with three great spouses. Everyone is healthy and on speaking terms. We love them all. What more could anyone ask for? We pray that all of you are healthy, happy, and safe. GOD JUL, The Lunds''

Lyn Luske (Sasso)
( $CV ) 11216 Black Walnut Pointe, Indianapolis IN 46236
(1995) Lyn has three kids, youngest now in college, and two adorable grandchildren. Lyn moved to Indianapolis (from Whitelish Bay WI) in the fall of 1994.

(1999) I'm now living in Idianapolis IN in a house on a lake, or rather a reservoir. It's a dream come true and I love it.

I still work for Manpower and travel the highways and byways of Indiana and southern Illinois. Many of our offices are in small towns and, contrary to popular opinion, parts of Indiana are hilly and beautiful and well worth seeing!

My daughter, Sara, graduated from Indiana University in May of 1997 and moved to Palatine, IL and started working for CDW, a computer company. She's recently moved to "Wrigleyville" and lives 2 blocks from Wrigley Field. It's a great area and I love visiting her.

I have 4 more granddaughters than I had 5 years ago....which makes a total of 6 grandchildren, Matthew being the lone boy. Of course they're all beautiful and smart and love visiting me. Rick and April are expecting another baby in June so maybe Matt will finally have a boy cousin.

Both of my boys are in the orthopaedic field. Rick is an orthopaedic spine surgeon and Greg is Vice President of Corporate Development for Biomet in Warsaw, IN.

We all leave on April 3rd to spend Spring Vacation on Sanibel Island.

See you all in September.

Lyn Luske Sasso

Lew Mabie
( $I ) 9204 Claytonia Lake, Annandale VA 22003
(703-764-2065) mabie_lew@i-n-s.com
(1994) Lew retired from the Navy in 1984 as a Captain. Currently he serves as Chief Operating Officerof INS, Inc. Lew and Nan have one son in college. Lew enjoys skiing, travel, old cars, goll, tennis and a RARE performance on the clairinet ... he still remembers ''The Saints.''
(1997) Subj: Yo Angus! Date: Wed, Jan 29, 1997 10:26 AM EDT From: Mabie_Lew@i-n-s.com To: GMacLaren@aol.com Thanks for the York Newsletter. Funny but the older I get the nicer these things are. Unfortunately, you put in pictures of people obviously a lot older than you and me!! Although I forget that this is one group in which lying about your age just won't sell. Am glad I am listed as a dues paying member! Might want to add my home phone and email address: home is 703-764-2065 and email: "mabie_lew@i-n-s.com". The company I have been with over the past 9 years is in the IT business so we do home pages and network stuff - amazing what these young kids can do. I am interested in the band reunion, and hope to reactivate the ole Eight Notes - I believe we helped bring back "The Saints." Will contact Bill Dawson - loved to hear him play hot bassoon! Let me know as things grow closer if I can make any calls in the Eastern part of the U.S. When is your publishing date for the next newsletter? Will try to contribute something at that time. Still working full time but looking to throttle back at end of this year. Did pick up on one comment in the newletter about local DuPage County alums feeling intimidated to come to reunions because of us allegedly successful out of towners. Something we should work on as if the locals only knew why we had to leave town . . . !! Anyway, keep up the good work and if ever back here in Mecca, would love to see you or any of the gang. Lew Mabie P.S. Would like a quick "I got it" to ensure this hit the highway to you. Thanks (1999) After 25 years in the Navy and 15 in private industry, I've throttled down to being a consultant in a part time mode. My primary, and most fun, job is teaching a career- planning course (outplacement support) for senior military officers and civilians about to retire from the military. My wife, Nan, joins me as we travel around the country to government bases. In our non-working time we travel, usher at Washington theatres, and I continue to try to play golf. Our one son lives and works not far from us here in Northern Virginia. Oh yes, I continue to play the clarinet and am looking forward to participating in the Lavern Reimer memorial band concert at the reunion.

Grant MacLaren
( $ ) 7 Crosswinds, St. Louis MO 63132-4303
(314-569-2846) GMacLaren@aol.com
(1997) Grant and wife Phyllis lived most of their married lives near St. Louis, Missouri where Grant was a Dean in a large community college system. After their two daughters left home, Phyllis taught high scool art.

Daughter Laurel graduated from University of Illinois and Harvard's JFK School, then founded and directed an AIDs awareness program in Indonesia. Heather graduated from KU in Lawence Kansas; she lives and works there now.

Grant and Phyllis built a retiremnt home in Placitas, New Mexico but Grant missed the mosquitoes and humidity so they moved back to Missouri.

Grant publishes an international newsletter for antique aviation enthusiasts and does other stuff -- like designing world wide web sites . . . and producung this class directory and our '54 annual newsletter.

In 1997, Grant got a lot of publicity. Kiplinger's Personal Finance Magazine published an article about him in their September edition.

In the same month Kitplanes had a feature article about many subscribers to his airplane newsletter. Grant also participated in "The Great American Race," a coast-to-coast rally for antique cars.

During the summer of '99 Grant is overseeing the reconstruction of a house in Olivette, Missouri (a "close-in" suburb of St. Louis.) He and Phyllis are looking forward to the birth of their first grandchild -- in January of 2000.

Orland Major
( ) 1343 N 26th Street, Mesa AZ 85203

Gail Manders (Caro)
( ) 2057 Peters Colony Road, Carrollton TX 75007

Carolyn Manning (Griswold)
( ) 217 Warwick drive, Walnut Creek CA 94598

Sara Martinez (Spitz)
( $$ ) 4734 North Talman Ave., Chicago IL 60625
773-275-7786
(1994) Sara has one son and two daughters. She works in the area of employee benelits consulting/communication for a management consulting lirm. Sara loves to ski. (recreation and racing), sail and has recently taken up rollerbladding . . . figures she'll never be younger. (1998) Sorry to have been out of touch, but you know how that goes. If there is any way I can help out with the next reunion, I'd love to do that, or even the newsletter, if you need someone. You can contact me at the above address or at by phone.
Update: I have moved to the address above. I bought an apartment building and moved my parents in so that they would have someone around on a daily basis. So far it's workin~ just fine. My dad takes care of the vegetable garden and the front yard is mine.
I became a grandmother for the first time on St. Patrick' s Day. My granddaughter Teagan was born as I was driving my daughter to the hospital, so it was a special thrill to help in the delivery and be the first person ever to see her. We're keeping the car for her so she can drive around in her delivery room when she grows up.
I also retired from my position at Towers Perrin after 18+ years, and am working for my son three days a week. That's working out much better than I had anticipated, even though it's quite a turnaround to have him for a boss instead of bossing him around.
Anyway, that's the news. I'm looking forward to getting the newsletter. Regards - I hope everything is going well for you in every way possible.
Sara Spitz (Martinez)

Ken Marunde
( ) 15019 South Street, Woodstock IL 60098

Dale Ralph Maxwell
( L ) *lost*

Paul Mayer
( ) 3839-35 Vista Cantina South, Ocenaside CA 92056

Lynne Maysack
( ) 2399 Monks Rd., New Haven KY 40051
502-549-3766
(10/24/97) (via email) From: cmaysack@sprynet.com (Carl Maysack) -- Subject is not lost. She lives at 2399 Monks Rd., New Haven KY 40051... married name Brady. Phone 502-549-3766. I will print and send your listing to her. Carl (Bud) Maysack

Lucia Mazzone (Morris)
( ) 414 Maplewood Drive, Sycamore IL 60178
(1994) Lucia has three children and four grandchildren. Husband Gary is retiring alter teachinq 33 years in the DeKalb school system.

Susan McAllon
( ) 850 School Street, Lombard IL 60148

Bill McCormak
( $ ) 333 Columbia Ave., Des Plaines IL 60016
(1995) Bill sent us a summary of his past 40 years: '54-58; Granell College, Iowa-BA degree - '58-'60; US Coast Guard, graduated OCS, served aboard USCG Sebago, Mobile, AL - '61; Joined AC Nielson Co., Chicago, assigned to metro NY area - '63 married Ellen Laur, Queens, NY, April 20 - '64; Lynn Eileen born Jan. 22, '66; Laura Evelyn born Aug. 22 - '67; promoted to District Mgr. - '69 - Promoted to Asst. Field Mgr., Chicago and move to current address in May - '71; Michael Jonathan born Oct. 5 - '73 Promoted to Client Service Group - '76; Mary Katherine born July 6 (bicentennial baby) - '78; Elected Vice Pres., promoted to Retail Relations Group - '82; named member of newly formed Trade Svcs. Group - '84 Nielson purchased by Dun and Bradstreet - '86; moved to newly formed Retail Information Svcs. Group - '91 daughter Lynn married to David Schuyler (York HS grad.) - '94; accepted severance package from Nielson, leave after 33+ yrs, will officially retire in 1966 - '95; first grandchild born - Jacob William Schuyler, Mar. 24.

Alice McDonald (Dimpfl)
( R ) 323 Washington St., Villa Park IL 60181

Dean McFarland
( D ) *deceased*
(See Donna VanEwyk)

Jane McGrew (McBride)
( $C ) 915 N. York Road #504, Elmhurst IL 60126
708-279-6647; 1706 (f)
(1994) Jane has two children; Doug, 28 and Caroline, 26. Her grandchild Christian is 3 year old.. Jane has taught Special Ed for 23 years. She has been married to Phil, originally from Minneapolis, for seven years. Jane has donated tons of time and effort for this reunion. Be sure and say 'Thanks' when you see her. (1997) Jane's husband Phil died March 2, 1997. (1999) (from Jane via email in May of '99) Since York, I have studied at Lawrence College in Appleton, Wisconsin and the Univ. of Illinois . After graduation, I married, lived in Chicago, London, Chicago and Elmhurst. I had two children, Douglas and Caroline. They are now 32 and 30. Douglas is single and lives in Minneapolis and Caroline is married, lives now in Chicago and has two children, Christian (8) and Maria (10 mos.) I have taught "M. I." (mentally impaired) children for 28 years and hope that I have, at least, two more years in me.

I was divorced in 1972 and when Caroline graduated from York, I officially (by Judge Galasso ) changed my name back to McGrew. Within days, I met Phillip McBride (the meeting is kind of a cute story and Shirley will tell you that one if you ask---or maybe, if you don't). We had ten perfect years together, but in March 1997, Flip died so now life has revealed one more twist--one I could have done without. I spend most of the summers in a little house. in a little village, in the little state of New Hampshire. While most of the world thinks of moving South to avoid the cold, I will need to find respite from the heat and HUMIDITY. I'm lucky that through the years I have kept many friends from Hawthorne (Stuie, Bill etc.) and York (all my committee friends Bill, Jack, Toni, and Angus,) plus the True Blues Judy and Tommy. Shirley is in a separate category--that of sister more than friend ,or ,rather ,in addition to friend ,I guess would sound better. I love working on the reunions , and I really am fascinated by the different, but same, lives we have devised for ourselves. See you in September !
Jane

Mike McLane
( $CV ) 20 Norman Drive, Gales Ferry CT 06335
860-464-6776 (voice), 860 464-6529 (fax), mmclane@connix.com
(1999) I'm still doing Macintosh computer consulting but my major client is no longer Computer Sciences Corporation. Late in 1997 I was asked to provide Macintosh Desk top support to Pfizer's Central Research facility in Groton, CT. (No, I'm not in the Viagra research department!). Cindy continues her office work for several Internal Medicine doctors, seeing no reason to leave a place where she has fun and good friends. We have reached the point, however, where we can tell our "employers" any time we wish to take a long weekend (or more) off to visit our daughter's family on Martha's Vineyard. Cindy asked me if I was having fun at Pfizer, to which I replied, "It is great! I don't have to hire people, I don't have to fire people, I don't have to worry about budgets and I make new 'best friends' about once an hour when I fix their computer problems".

We are thinking about retiring "for real" in early 2000 and doing some travelling.

I'm happily married to Cindy Mahar; York, 1955. I retired from the Navy in 1981 after 23 years of service in the submarine force where I commanded the USS Daniel Webster, a Polaris missile submarine. We have two children. Holly (Parry) living on Martha's Vineyard and Chris, in the USAF living lots of places.

My hobbies include travel to far off places, target shooting (pistol) and almost anything to do with Macintosh computers. For those of you with the ability to ''surf the net'', check out my web page at ''http://connix.com/~mmclane'' and go to the Photo Album link at the bottom of the page to see what we have been up to.

We're both looking forward to the reunion in '99! Hope to see lots of classmates there.

Maryellen McPherson
( L ) *lost*

Sue Melander (Kelty)
( $$ ) 520-C W. Maryland, Phoenix AZ 85013
602-274-8025
(1994) Sue has lived in Phoenix for more than 20 years, is an ollice manager for Young Sales Co. She has one son, Bill and one grandchild, Megan,7 years old. Sue loves to travel, especially to San Diego in the HOT summer. (1996) Sue sent us a contribution for the newsletter. Thanks, Sue.

Patricia Merrifield (Harland)
( V ) 724 Tiffany Ct., Antioch IL 60002
(1994) Pat is looking forward to retirement. She and Richard have four children, all married, six grandchildren,four girls and twin boys. Pat is active in high school sports, coaching and paper work.

Priscilla Merriam (Kuehn)
( $ ) 2773 N.9Oth St., Milwaukee WI 53222
(1994) Priscilla has been a high school administrator for years, five as an assistant principal andl three as a principal. She now supervises middle and high school curriculum projects lor the Milwaukee Schools. Priscilla and Ken have two children, Laura and Lawrence, and two grandchildren. They like to hike, travel, garden and antiques. They also enjoy visiting historic places and civil war battlefields. (1997) via email Feb 4, 1997 " Hi I enjoyed reading the newsletter about the great class of '54. Nice job. "I will send along my new e-mail address as soon as I get it, as the one that I am using will be ending with my retirement, occurring this week. After 26 years with the Milwaukee Public Schools as a teacher, principal and central office administrator, I am ready to spend my time volunteering at the Milwaukee Zoo and Historic Milwaukee, traveling, and visiting our grandchildren in St. Louis. My son is a pilot for TWA and my daughter is a teacher in the Aurora. My husband Ken is retired and just waiting for us to have the time to do more things together." See you in '99!"

Frances Missar (Henderson)
( V ) 219 S. Mason St., Bensenville IL 60106

Lowell Mittlestadt
( D ) *deceased*

David Moates
( ) 1526 Lakeview Drive, Darien IL 60559

George Mobeck and Joan Harris (Mobeck)
( $ ) 506 Savona Ct., Altamonte Springs FL 32701
(1994) Another pair of our classmates who are married. George is an artist in the field of advertising. George and Joan have lived in Florida since 1972. They have 2 sons. Over the years they have enjoyed the outdoor life in Florida. The past fourteen years, they have been involved in driving and showing MG cars. (1995) In '95 Joan wrote ''we have been busy remodeling the whole inside of their house. By the time of this newsletter's publication, the big job should be all finished or, as Joan says ''we will have both lost our minds.'' (Joan passed away late in 1995 - of cancer.)

Ronald P. Moeller
( L ) *lost*

Donne Moen
( I ) 8 Caballeros Rd., Palos Verde CA 90274

Bernt Monsen
( $C ) 115 Berteau Ave., Elmhurst IL 60126
(1994) Bernt is retired as Elmhurst Police Chief. He has worked for the FBI and State Police in the Intelligence Unit. Bernt and Karen have four grandchildren, three boys and a girl and enjoy them immensely.

Nancy Morgan
( SV ) (see Clifford Stasi),

Don William Morin
( R )

Burke Morris
( D ) *deceased*

Mildred Motter
( LV ) *lost*

David Murison
( ) RR #1, Box 119G, Sycamore Il 60178

Patricia Murphy
( L ) *lost*


Ed Nagel
( RI ) 2710 Grove Manor Drive, Kingwood TX 77345
281-360-4952
(1994) After retiring from Mars, Inc., Ed was recalled to help with the development of new markets in Asia. Since last October he has been living in Taipei and will be returning to Korea, Singapore and then Kuala Lumpur. Ed and Edie have one son and one daughter. Ed mentions that aboul a year ago he saw Jim Schroeder and Dennis Thompson on national TV at diflerent times during the same week.
(3/13/99) The class prophecy had me peddling pencils on Maxwell Street -- true enough for starters -- actually they were nickel candy bars and I peddled millions of them (at slightly higher prices) all over the world during my 30 year career at Mars. Somehow we ended up in Texas and have been living here since 1985. Our daughter Karen is married and lives near us in Kingwood. Our son David recently graduated from Sam Houston University and is currently interviewing for jobs. Since finishing an assignment in Argentina a year ago, Edie and I have been spending our time with family, boating, traveling and thoroughly enjoying life. I guess that's called retirement. We look forward to seeing everyone at the 45th reunion.

Faith Nagle (Brown)
( ) General Delivery, Paullina IA 51046

Mary Nash (Corrigan)
( ) 438 N. Ardmore Ave., Villa Park IL 60181

Roy Nelson
( ) 7 Brookfield Rd., West Hartford CT 06107
(1994) Roy has been married lor a long time with three grown kids, Sherri, Dawn and Mark--who are scattered far and wide. Roy works in a small New England employee benelits consulting firm, of which he is part owner. Roy enjoys playing tennis, when time and body permits.

Joyce Nemec (Travis)
( ) 1040 Mountain View St., Hendersonville NC 28739
828-697-7044; 828-692-7929 (h)
pjtravis@ioa.com

(1998) Hi Grant, I just checked out the York54 page and your web page today. I truly enjoyed Jane's article in the Elmhurst Press. Sure brought back some wonderful memories.
You are doing a great job keeping tabs on all of us. I found two classmates that I did not know how to reach. Thanks!
Just wanted to let you know that we moved some time ago and you need to change our address. Also got a new area code. They are: 1040 Mountain View St., Hendersonville NC 28739 Phone: 828-692-7929 E-mail numbers are below.
Joyce Nemec Travis - Class of '54
Paul & Joyce Travis - Freedom in Christ
Ministry to the Church & Families
Office Ph/Fax 828-697-7044
Email: pauljoycetravis@juno.com OR pjtravis@ioa.com

Joyce has three sons, all married, and five grandchildren. Joyce and Paul have been married five years, since they lost their mates. Paul has been a pastor for more than 30 years. They enjoy hiking in their lovely surroundings to find waterfalls to photograph. Joyce's latest project was to complete genealogy research on her family and compile books for her children. In her spare time. Joyce enjoys reading. sewing and crafts and spending time with the grandkids.

(1998) Hi Grant,

This is an old classmate of yours that has been slow in responding. I am sending you a brief bio if you wish to use it all or in part: Bio for Joyce Nemec Travis-


My husband, Paul, and I have been home missionaries since early 1995 when we came on staff with Freedom in Christ Ministries. This is an international ministry and we raise our own support [no salary]. We travel a good bit to New England, Mid-Atlantic and Southeastern states training and teaching pastors, leaders, missionaries and Christian counselors as well as lay people how to help others. This is our purpose and also to help encourage, train and equip individuals and churches with resource materials.

We have four sons, eight grandchildren and are busier than ever - do not see any so called "retirement" in the near future. I'd love to hear from anybody out there.
Our office phone/fax is 828-697-7044 Home phone 828-692-7929 or our email is: pauljoycetravis@juno.com

We will do our best to be at the 1999 reunion!

Paul and Joyce Travis - with Freedom in Christ Ministries, Intl.
Ministering to the Church and the Family
Hendersonville NC Office Phone/Fax: 828-697-7044
E-mail: pauljoycetravis@juno.com

Kent Newlon
( V ) 528 Howell, Cincinnati OH 45220

Midge Nicoll (Niblock)
( L$V ) 12 Willow Bridge, Unit 12, Durham NC 27707
(1995) Midge did not make the '94 party, but says ''I refer often to the 'good times in '54' ''
(1996) Midge's '95 newsletter was retuned ''Attempted, not known.''

Marion Niederer (Streder)
( I ) 6119 Warm Mist Lane, Dallas TX 75248
(1994) Marion has been married for 35 years. She and Al have two children, both graduated from York. Marion has seven grandchildren ranging in ages from five to ten. Marion does volunteer work at church and is a homework helper wilh disadvantaged children.

Terry Nolan
( ) 13016 Hartle Rd., Clermont FL 34711

Melvin Nordbrock
( ) PO Box 16862, Missoula MT 59808
406-239-5798
(1999) An interesting life for me since 1954. I spent 21 years with Illinois Bell Telephone Co., with a number of years in management. In 1977, built a cabin in the mountains; Superior MT. Sold everything in 1998 and moved to Missoula.
I have two daughters and one son from my first marriage. One adopted son from second marriage.
Over the years I've done a variety of work learning projects. Built log homes. Construction industry. Logging industry. Cruised timber. Manufactured home industry.
My fun activities include hunting and fishing in US and Canada, drove stock cars, downhill and cross country skiing. I'm single and spend lots of summertime traveling on motorcycle.
I plan on being back for a portion of the reunion.

Harvey North
( ) 5475 Metamora Rd., Metamora MI 48455

Laura Norton (Brose)
( $ ) Rt #8, Box 415, Olympia WA 98501
In early 1995 Laura wrote this nice letter: ''Ralph and I became engaged on graduation night and married in August at the Grace Bible Church in Elmhurst. Lucia Mazzone, Joyce Nemec and Pat VanSky were our bridesmaids. Judy Weymouth was soloist; all were senior classmates. We moved to Washington state in 1956 and became partners with Ralph's folks on a twenty-acre chicken and cattle ranch with a river and huge furs. Water skiing was the favorite weekend outing of our four children. We now have nine grandchildren from ages 18 to two weeks and enjoy developing our grandparenting skills. Ralph is a retired marine mechanic and likes to restore old cars. I am employed at an apple cider mill and country store. We make five varieties of cider and delicious pies, jams and syrups. This Spring we won second place at the National Cider Making Convention held in Decatur, IL. Now our favorite weekends include riding and camping with our Christian Motorcycle Club, and touring our beautiful state of mountains, oceans and beaches.'' (3/13/99) Laura reports they will be unable to make the 45th and they now have eleven grandchildren!

Toni Novak (Mack)
( $C ) 113 W. High St., Sycamore IL 60178
rontoni@tbcnet.com.
(1999) I attended Illinois State University (ISNU) for two years after high school graduation where I met the man of my dreams and got married in 1956. We lived in Villa Park for twelve years and for the past thirty in Sycamore, IL.
We have four children; Cynthia, a junior-high teacher in Lombard; Cheryl, an elementary teacher in Genoa, Il.; Stephen, print room manager for Werthan Printing in Nashville, Tn, and Tom, who is in sales/staff for Fischer Meats in Louisville, Ky.
They gave us ten grandchildren, five girls and five boys ages five to fourteen.
My husband, Ron, is a retired classroom teacher and I worked various part-time jobs over the years including that of fraternity cook at Northern Illinois University.
We spend February at Siesta Key, Florida. and take a summer trip in addition to visiting our children and grandchildren.
I like golf, cooking and gardening, and have enjoyed renewing old friendships while working with the reunion committee over the past several years.

Patricia Jean O'Connor
( L ) *lost*

Richard Oestmann
( ) 564 S Craig Place, Lombard IL 60148 ( D ) *deceased* (1996) Richard Paul Oestmann, 59, of Lombard, a truck driver for Kieft Bros. Concrete Co., died Friday, Feb. 23, 1996 at home. Funeral services were held Tuesday, Feb. 27, at the maple St. Chapel of First Church of Lombard with the Rev. Robert Hatfield conducting. Internment was in Elm Lawn Cemetery, Elmhurst. Arrangements were handled by Pederson-Ryberg Mortuary, Elm hurst. He is survived by his wife, Margaret; his sons, Jeffrey P. (Laura) and Dale R. Oestmann; five grandchildren; his sister, Carolyn (Robert C.) Olson; and his brother, Robert A. Ostmann.

John Oldenburg
( ) 630 E. Van Buren, Villa Park IL 60181

Keith Olson
( $I ) 410 Berkley Avenue, Elmhurst IL 60126
708-834-7357
(1995) Keith writes ''You asked for 'news of your life'. Not that important to anyone else, but greatly important to me is that I retired recently, and its been great. Keep up the good efforts you are putting in now and reminding us of the decades that have passed.

Donald Orme
( D ) *deceased*

Faye Ottmann (Schau)
( $C ) 8613 Kendall Lane, Orland Park IL 60462
(1994) Faye and Charles have two children and five grandchildren . . . with another due in November. She is ''Jack of all Trades'' while helping to run the lfamily business; HC Schau & Son, Inc. It's a wholesale food distributor. She loves to travel and like many of us . . . enjoys the grandkids.

Eleanore Overgaard (Beymer)
( ) 9625 E. 25th Place, Tulsa OK 74129
(1994) Eleanore is employed in the computer lab at Foster M.S. in Tulsa. She and her husband have two boys; Mike and Dave.

Lee Joanne Palkovic (Alis)
( R )

Russell Papenbrok
( ) 949 S Norbury Avenue, Lombard IL 60148
630-620-1675
(3/2/99) Dear Grant,
Lefty (Russ Papenbrok) and I (Audrey Gottschalk Papenbrok, '56) aren't online yet. I'm visiting our daughter and we checked out your website, and thought we'd send info for Lefty's bio. We contacted Frank Seidel and sent him the website information so you should hear from him soon too.
Russell (best known as Lefty) Papenbrok and Audrey (Gottschalk) Papenbrok (York '56) have been happily married for 42 years and are still living in Lombard. We have two daughters and four terrific grandchildren - two in Colorado and two in Champaign - that we visit as often as we can. Lefty's working at Telecommunication Network Design and will retire in about 2 years and we're looking forward to visiting the grandchildren more often. We hope to make the reunion this summer.
Thanks for all the work you're putting in to this!
Audrey Papenbrok

Vincent Paris
( V ) 2826 Drake St., Costa Mesa CA 92626 (1999) American Culinary Federation, Inc., Orange County Chapter Orange Empire Chefs and Professional Cooks Association 20311 S.W. Birch Street, Suite 204 Newport Beach, CA 92660-1755 Fax/Phone 714-756-2433 Culinary Close-Up: Chef Vince Paris

Chef Vince Paris, a resident of Costa Meas, gradusated from the Culinary Institute of America on the Yale campus and traveled with the Hilton Organization forthe next two years. With Hilton, he started at the Wiltenburg Holland, then went onto London, Paris and Rome.

After returning to the United States, Vince took a position at the Sheraton Blackstone in Chicago. In the late 50's the Blackstone was one of the largest hotels in the states (now a Hilton on Michigan Boulevard).

In the early 60's, the go west theme came to California, and Chef Paris came to California to operate a dude ranch for the land developers ot the Hesperia and Victorvalley area. "We had early morning breakfast rides and fabulous buffets served at the ranch and guests would come from the inns and hotels to join in the fun."

In 1964 Vince opened his own restaurant in Victorville called Ye Olde Lantern. It boasted a fine continental fare and had a full liquor license.

After a very successful ten years, moved to sunny Southern California and returned to school. He attended Orange Coast College and UCLA and earned a teaching credential and degree. He then took a position as coordinator of the Culinary Arts Department at Cypress College.

Over the last fifteen years, the award-winning department and Vince and his students have traveled extensively every summer to exotic lands in Asia, Western Europe, Malasia, Indonesia, Russia, New Zealand,Australia, Philippines, South America, and Mexico. In October last year, he and students were in Frankfurtfor for the Culinary Olympics.

Vince gives of his time and energies and along with a busy schedule, is Western Vice President for International Food Service Executives Association (IFSEA), Past Chairperson for Council on Hotel Restaurant Institution, and currently spends many hours as Treasurer for OECA.

Charles D. Parker
( L ) *lost*

Joseph H. Parker
( L ) *lost*

June Weeks (Patterson)
( $V ) 3852 N. 26th St., Boulder CO 80304
(1994) June owns her own travel business in Boulder. She plays lots of golf. volleyball, tennis and enjoys fly fishing. Her husband Jim, is retired from IBM. June has 2 children, Stephanie and Scott and 2 step-children. Laurie and Craig.
(1995) June and husband Jim enjoy the skiing in Colorado; in the spring of '95 they spent six weeks in Southern Africa trekking, canoeing and sight seeing. June says they enjoyed the '94 reunion and plan to be back in '99.
(1999) 26 April 1999 - Dear Grant,

Not much has happened in the past 5 years, to add to my bio or maybe a lot has happened. It depends on your perspective!

I retired 3 years ago from my travel business and since then Jim and I have been traveling a lot. We have enjoyed 3 Elderhostel trips, one sailing in the San Juan islands in Washington, one biking along the Danube River in Austria, and one canoeing along the Alagash waterway in Maine.

We returned last week from a 3 week trip to Africa. We led a group of 5 through South Africa and Zimbabwe. I lived in South Africa 25 years ago, so its like returning home to go back. Over the years it has changed so much I don't recognize a lot of things. Jim and I were in the same countries 4 years ago on our own and I was amazed at the changes in just 4 years. We did a canoe trip on the Zambezi river and dodged hippos and crocs. Saw loads of lovely birds, as well as many other animals. Flew over Victoria Falls in a helicopter, visited an African village that is not on the tourist track, rode a elephant through the bush, patted a cheetah on the head and played [????] with baby rhinos. 1000 pounds of cute!!!

We have added 2 grandchildren to our list of grandkids. Both are 3 years now and such fun. My daughter Stephanie has a son, Chase and my stepson has a daughter, Jenna also 3. My son, Scott, lives in Kirkland, WA. and is not married.

Last fall, Bob and Gretchen Stemple came up to Boulder for our couples guest day at Boulder Country Club. We had a good day and came in third. It is fun making contact with high school friends. We reconnected at our reunion 5 years ago and found we didn't live too far apart.

Thanks for doing all this gathering. See you in September!

(signed) June Weeks Patterson

Jackie Payne (Luchetta)
( ) 253 Maple Aveneu, Elmhurst IL 60126

Chuck Pease
( $ ) 714 Peach St., Freewater OR 97862
(1995) Chuck is a retired science teacher and athletic director. He and wife of forty years, Virginia have six children and thirteen grandchildren. Youngest son and marathon runner Art won the 1994 Special Olympics International Male Athlete of the Year.

Fernando J. Penna
( R )

Sharon R. Perkins (Gormanos)
( L ) *lost*

Arthur J. Perry
( ) 2274 Arbour Walk Circle #1511, Naples FL 34109
941-514-2573
(1997) This new address for Art was provided by Jane McGrew (McBride) in October.


Robert James Peters
( L ) *lost*

Alice Peterson (Wright)
( ) Rt 1, Annie Mitchell Dr., Deer Run GA 30207
(1996) We received the address label of the '95 newsletter returned with the following unsigned note: ''Please remove name and incorrect address from mailing list. Do not include in any future directory.''

Jean Phelps (Tobin)
( ) 6020 Hillside Ave., Crystal Lake IL 60014

Patricia Philip (Riley)
( V ) 9735 Green Spruce Drive, Memphis TN 38002
(1996) 1/11/96 - Issue #1 returned by USPO - "no such street" (1996) Jane came through with the above address for Patricia. So we sent her another copy of the newsletter in March '96.

Sandra Kay Pinckney (Farris)
( LV ) *lost*

Al Pioch
( V ) 282 Charmille Lane, Wood Dale IL 60191

Paul Plomb
( ) 27-W-133 Fleming Drive, Winfield IL 60190

Dorothy Pointec
( LV ) *lost*

George Prehn
( ) 4-N-650 Brookside Drive, St. Charles IL 60175

Sandra L. Procker (Olsen)
( L ) *lost*

Ruth Prueter (Rudd)
( ) 1453 S. Stewart St., Lombard IL 60148

Joyce Putman (Switzer)
( R )

Keith Quirk,
( ) 305 Hawthorne, Iowa Falls IA 50126
(1994) Keith works as part of a support team (special education). at the state juvenile corrections facility for boys in Iowa. Keith and Bev have two daughters and five grandchildren. Bev operates her own cake decorating business and is busy in the community. Their current interests include biking, bird watching, bridge and Brandy. their 14-1/2 year old Shih Tzu.

Norma Raab (Rambow)
( M ) 109 Barley, Naperville IL 60540

Ken Ragnetti
( ) 4013 Eaton Drive, Rockford, IL 61114
815-282-0359, email Ken3132@aol.com
(1994) Ken is recently retired from a career in education and is currently selling real estate in the Elmhurst area. Ken and Terry have 2 daughters. one son and one granddaughter. Ken enjoys playing goll whenever he can. and if I remember. he is verv qood at it. (1997) Grant,
I came accross the York High class list and bios that you have been alert and generous enough to place on the web. I'm sure this kind of activity is keeping you youthful and abreast of this electronic age.
For myself, I've continued to play a lot of golf, holding my handicap within the single digit range (6). Also I've been having a great time with the computer, the internet's offerings, and have been especially pleased with the access to financial information that I can use to manage stock investments.
I am still married to Terry and we now have two grandchildren. Please note and make any needed corrections that we are now living in Rockford. Our home is beautiful, the neighborhood is super friendly,and there is plenty to do around here.
Once again, thanks for attending to the class of 54s needs.
Ken Ragnetti

Charlotte Redmer
( L ) *lost*

Judy Reidel (Penrod)
( $C ) 3564 Sabaka Trail, Verona WI 53593
(1999) Judy and Bob have three children; Susan, Bob and Mary, one granddaughter, Katie, and three grandsons, Michael, Jamie and Will. The children and grandchildren live in New Jersey, Texas, and Pennsylvania so we do a lot of traveling!! We have not retired, but when we do, we'll probably head East as that is where our daughters and their families live. Bob is president/CEO of NCI, Inc. and Judy manages their home-based business, Advanced Patient Devices, LLC. Judy also traveled a few miles between Wisconsin and Illinois for the reunion committee meetings - making all but one - and it has been worth every added mile for the good times, laughs, and after-the-meeting dinners we've had.

Tom Reimer
( ) 2233 Kenilworth Avenue, Wilmette IL 60091
Tom and Janet have 3 children, Scott,30, Craig,27 and Amy,19. Tom has worked for 32 years for the U.S. Department of Housing and Urban Development. For the past 10 years, he has been the Regional Director of Public Housing. In his leisure time, Tom likes to garden, collect stamps and do stained glass projects.

Ron Reinecke
( $V ) 30-W-161 Mack Road, Warrenville IL 60555
(1994) checked in with the committee in June; ''Keep up the good work!'' he says.
(1995) Ron is director of the DuPage Convalescent Center.

Muriel Richey (Myers)
( ) 505 W Cochice Drive, Carol Stream IL 60197

David Rickson
( $$I ) 30107 Crestview Drive, Bay Village OH 44140
(1996) Angus - Here ís that long awaited Dave Rickson bio.(as if anyone is really waiting)

After our fabulous high school experience.I went to Northwestern and majored in industrial engineering and met my future wife, the former Jeannie Parker, a lovely home town girl from central Ohio. We got pinned after a year of going together and have been going together ever since. I was obligated to three years in the Navy and was assigned to a carrier on the west coast, the USS Coral Sea. Jeannie got a job teaching in Long Beach and we got married on July 23, 1960. She went to Japan while I was over there and we saw each other when I was in port. That turned out to be a great experience.

After leaving the Navy, I worked at industrial engineering and plant management for many years in several locations during which we had three kids. The first, David (we call him Rick), also went to Northwestern, then Case Medical School and is now a practicing MD. The second, Regan, went to Harvard for his undergrad and to U of S. Carolina for his MBA and is now assigned overseas as a consultant to the Swiss Bank Corporation in Zurich and London. The third, Beth, went to Northwestern and is with Andersen Consultanting assigned in New York for an extended time. She is an avid runner and has run in many marathons including Boston, Chicago, New York, and San Francisco. This fall she plans to enter MBA school somewhere. None of the kids are married. Jeannie teaches math at Bay High School here in Bay Village, Ohio. I am in the real estate business and probably will be until I retire.

Dolores Ritter (Kallas)
( $CM ) 747 Dolores Drive, Bensenville IL 60106
(1998) Alter 30 years at Ameritech, Dolores retired in l988. She and George have one married daughter and two grandchildren. They enjoy traveling throughout the U.S. and spending time at their second home on a lake in Wisconsin. Since her retirement, Delores has taken up walking for exercise. So far she has walked more than 6,200 miles and biked over l6,000 miles. She averages two to three miles a day.

Joyce Ritzenthaler (Lavicka)
( M ) 149 W. Madison IL 60148

Bucky Robertson
( D ) *deceased*

Virginia Lee Rogers
( LM ) *lost*

Wanda Ronske (Smith)
( ) 18-W-230 Lowell Lane, Villa Park IL 60181

Richard Rose
( L ) *lost*

Elroy Rosenwinkel
( ) 9-N-125 Kendall Road, Elgin IL 60123

Marilyn Dee Roth (Faison)
( R )

Betty Royer
( LM ) *lost*

Patricia Lee Royster
( LM ) *lost*

Diane Rubietta (Ruppert)
( $$ ) 320 Quien Sabe Rd., Scotts Valley CA 95066
(1996) - I married a mechanical engineer, Bud, in 1958 and immediately became a "migrant worker." We have lived in Urbana, Il; Princeton, NJ; Daytona Beach, FL; Madison, WS; Crystal Lake, IL; San Jose, CA; Coeur D'Alene, ID; and finally, for the past 20 years in Scotts Valley, CA (5 miles from Santa Cruz). Along the way we had two boys and a girl and now have three grandchildren as well. Since "settling down" we have started a Manufacturing Rep business - I am the bookkeeper (who would like to retire) and Bud is in charge of sales (and says he will work forever). We also started two distributor businesses. All the kids are involved in at least one of the businesses. Dinners at our house resemble a board meeting more than a family dinner. We spend half of our time at our home in Scotts Valley and half of our time at our ranch on the Sacramento River in Northern California, near Redding, CA. P.S. Can't believe so many of you stayed so close to home. Really appreciate the time and effort so many are putting into the Newsletter Thanks! Looking forward to the directory. Enclosed is my check for the newsletter. <! -- 25.00 -->

Glenn Ruby
( V ) 1310 Curtis Avenue, Manhattan Beach CA 90266

John Rudolph
( L ) *lost*

Nancy Rule
( L ) *lost*

Zandra Runge
( L ) *lost*

Carol Rysdon (Gorman)
2950 Stratlord Dr., Largo, FL., 34641
(1994) Carol works for Pinellas County Sheriff's Department. She has been there for twelvge years. Carol and Bob have two children and one grand child. In her spare time, Carol enjoys doing crafts.

Carol Rysdon (Gorman)
( M ) 2950 Stratford Dr., Largo FL 34641

Carol Sahlin (Ambrose)
( $ ) 11832 Cormoy Lane, Orland Park IL 60462-8534
yumyumtoo@aol.com
(1994) Carol has been working at the Worth Public Library for the past fourteen years where she is now head ol the adult services department. She loves books (naturally), traveling, gardening, walking and 'hanging out' on Chicago's lakefront. Carol and Ernie have been married 35 vears. They have two sons and one daughter. (1997) Carol moved from Worth, IL to Orland Park in 1996. (1999) April 15, 1999
To: Grant MacLaren
From: Carol Sahlin (Ambrose)
Re: York Class of '54 Bio for 45th Anniversary "Book"
CAROL SAHLIN (AMBROSE)

After graduating from YCHS, I worked at the Leo Burnett Advertising Agency in Chicago for ten years followed by 14 years as Adults Services Librarian at the Worth Public Library.

Sandwiched in between "careers', I was active in scouting and church activities, attended college and raised three children - two boys and a girl.

Currently retired, I love reading, gardening, "surfing" the Web, wintering in Florida, my cat YumYum and leading a book discussion group.

My husband, Ernie, (retired from United States Steel) and I are celebrating 40 happy years of marriage and the arrival of our first grandchild.

Carol Sahlin (Ambrose) 11832 Cormoy Lane Orland Park, IL 708--478-1831 E-Mail: yumyumtoo@aol.com

(5/7/99) Grant: I forgot to mention in my bio, recently sent to you, that Barbara Trotta (Didriksen) and I have remained the same close friends we were while students at YCHS. Miles have separated us through the years but we keep in touch on a regular basis by phone and on occasion will make the long trips to visit each other. Barb and her husband Dick are currently living in Evansville (after years in Massachusetts) which is only a five hour drive from our home. Each of us have been fortunate to attend family weddings, etc. We still like to "rehash" the story of how our friendship began while playing field hockey at good old York High in our sophomore year after both of us had transferred from other high schools. (I am adding this info as I believe you asked if any of us had kept in touch with old classmates). Carol Sahlin Ambrose

James Sanders
( ) 4740 W. Princeton, Denver CO 80236

Richard Sanders
10240 Aintree Crescent, Richmond, British Columbia,
Canada, V7A 3T8 / 604-275-2982
ds1056@sprint.ca

In a message dated 10/17/01 1:55:34 PM, ds1056@sprint.ca writes:

<< Hi Grant, It appears that I have found the "past".... It was an enjoyable experience to read your Web pages. I found the page by accident. Not sure that it is still operational. Please let me know.
For all to know my address, etc. is:

Richard Sanders
10240 Aintree Crescent
Richmond, British Columbia,
Canada, V7A 3T8
604-275-2982
ds1056@sprint.ca

Also, please let me know if the "Newsletter" is still being sent out -- and how I would be able to make the contribution$.
Are there any plans for a 50 year reunion?

Your Web page looks great, and I am sure a lot of work went into it.

Thanks, Dick, from Canada>>

Hi Dick, Thanks for kind words RE: '54 web site. Good to hear from you. I have entered you on our data base, so you will receive any future mailings (when and if). I'm not sure what plans are for future reunions. I'll cc this to a few classmates and post your email on our site. Also, at some near future date I'll add your name and addrtess to the web site.
-=Grant=-

Norman Sather and Yvonne Hoppenstedt (Sather)
( $ ) 1612 Hedge Ct., Naperville IL 60565
(1994) Norm is a Director of Energy Systems at Argonne National Labortories. He has been there for tenty years. Before that Norm and Yvonne lived in Seattle, Washington where Norm taught Chemical Engineering at the University ol Washington. They have three married sons and one three year-old grandson.

6/9/99 bio update from Yvonne Hoppenstedt and Norm Sather:
Today Yvonne and I are celebrating our 42nd wedding anniversary, so it seems like a good time to update our York Class of '54 bios. We have three sons, all married: Bill, who lives in Denver, John in Naperville and Eric in Palo Alto, and one grandson, Nicholas, who is 8 and lives in Denver.

Yvonne and I are living in Naperville, where we have been for 25 years now. My, how time flies! Yvonne spends her time gardening, reading, and enjoying Naperville. Two years ago, Norm retired from full-time employment at Argonne, although he still works there part-time on developing new research programs for the laboratory. This (and golf) keeps him out of the house most of the time, which Yvonne is very happy about. We both enjoy traveling, especially around the US and Europe, and we have spent the last two winters in California. We are hoping to see many of you at the 45th in September.

Howard Sauerman
( I ) 1015 N. Scott St., Wheaton IL 60187

Susan Savoy (Ward)
( ) 1907 Sharon Drive, Addison IL 60101

Dan Schaaf
( ) 7201 Turquoise Dr., SW, Tacoma WA 98498
(1994) Dan is a anesthesiologist, grandfather of five, all under five years, and will enjoy them more when they can play cribbage in less than four years, Dan will retire and put the whole medical fiasco behind him. Florida and his computer will occupy his lile, I bet his wife Pat fits in the future someplace, too.

Kurt Schaefer
( ) 309 W. First St., Box 68, Goodwell OK 73939


Roger Schaefer
( D ) *deceased*

Beverly Schalo (Hudec)
( M ) 6500 Eldorado Drive, Morton Grove IL 60053

Gail Schmidt (Cox)
( $ ) 1410 W. Parkwood Court, Spokane WA 99218
509-466-0356
(9/19/98 via email) Dear Grant, FYI - Gail Schmidt Cox died Wednesday 9-16-98 of cancer. Have someone toast her at your reunion this next year.
Thank you,
Fred Cox

Richard Schmidt
( L ) *lost*

Al Schoenbach
( ) 2757 Niles Road, St. Joseph MI 49085
(1994) Al has had his own asphalt business the past 15 years. He collects antique carrousel horses and automobile memorabilia. He has 2 vintage MG automobiles. He and Dagne enjoy dancing to their 2 jukeboxes every night--50's music of course. They also enjoy skiing the slopes in the West and of course, their two grandchildren.

Virginia ''Ginny'' Scholz (Horvath)
( $$V ) Happy Trails Resort, 17200 W. Bell Road, Surprise AZ 85374
623-975-4462
(1998) April 13, 1998 - What happened? I didn't get a Newsletter at the end of 1997. I thought we were supposed to get one every year around October. I suer hope I didn't miss out on anything.
Just wanted to let you know too, we have moved.
Please let me know what's going on.
Sincerely, Ginny
(1996) January 3, 1996 - York '54 Reunion Newsletter - Grant "Angus" MacLaren, Editor, 6364 Franks Road, Byrnes Mill. MO 63051-1103
Dear "54 Classmates: Hello, and greetings from Cave Creek, Arizona! I was so excited when I received my York 54 Newsletter. I sat down immediately and read it front to back, and was still doing so when my hubby, Bud, got home from work. His remark was "York '54, how great." My thoughts exactly.
I was sorry that we were not able to attend "MY 40th", but you better believe we'll be at the 45th. We're already planning on it, God willing we are still alive and kicking.
In December of 1992 we packed up all of our belongings and made the move to sunny Arizona. My husband, Bud, was offered a job as superintendent of a large manufacturing firm that he had done business for for over 25 years. We decided that maybe it was time to sell out our own tool and die business in Lombard and head for warmer country. I was able to tiake early retirement from the court system in DuPage County after 18 years, so the decision was made. And it is one we have never regretted. Of course we miss our children and grandchildren, but we made regular trips back for visits, and they make yearly visits here.
We bought a beautiful home in Cave Creek, AZ, which is 25 miles Northeast of Phoenix in the high desert area. It is simply beautiful. In 1990 we visited friends in Arizona, and it was love at first sight. I only wish we had done it sooner.
We joined a country club, and I soon became involved in that, and also in the Greater Phoenix Newcomers Club. We have made a huge circle of friends, so our lives are anything but idle. I play golf three to four times a week, ALL YEAR ROUND! However, after three years of golf, Clubs, etc., I still had time on my hands. So, I took a part time job at one of the largest grocery chains in Arizona as a "BAG LADY". I love the term, even though it means something other than what most of us think it does. I bag groceries, greet people, assist them in the store, and anything else that needs doing. What fun, and a "no brainer" job. I wanted something laid back and fun, and that's just what it is - FUN.
Bud and I also belong to a couples golf league, bowling, and whatever else we decide to do. But mostly, we enjoy the weekends spent around our pool. A luxury not afford in Illinois. Here we use the pool from April through the end of October. Can't beat it.
Well, my former classmates, I look forward to 1999 with great enthusiasm and also to each coming Newsletter. I'm a long ways away, but if you need help with anything let me know. I squeeze it in somehow. Also here is my donation.
Thanks, and God bless us all,
Virginia (Ginny) (Scholz) Horvath (1998) - July 8, 1998 - Dear Grant:
Just got back from a weeks visit in St. Louis area with my sister and was so happy to see the Newsletter. Don't care if it is late or not, just great to get caught up on what's been happening. Also thought I had better get busy on my bio for the reunion, so here goes:

As printed in the Newsletter (Winter 1997), Bud and I have moved to Happy Trails Resort, 17200 W. Bell Rd. #2331, Surprise, AZ 85374. Phone 623-975-4462. We have a beautiful 1600 s.f. double wide manufactured home (we own the property) in a fantastic golfing park. Actually, there are many golf courses within a 10 mile area) When finally built out, there will be about 3500 residents, however 90% of them leave for the summer and go back to visit their families, farm etc. Then we have only about 250 to 300 summer residents. We just love it, and any time any of you want to visit - give us a call. Other than our trips home at Christmas time we will be steady residents until Bud retires in about 4 years. Since our last reunion, we have added another granddaughter, Kimberleigh Maurine (my middle name) who is four years old. Needless to say, we spoil she and her sister Stephanie Marie as all grandparents do. Stephanie has been coming out every summer to visit and has become quite a seasoned flyer. She is 9 years old, and has been a straight A student since first grade. She is a star soccer player, and an accomplished member of the Sharks swim team. Kimberleigh started playing soccer this year and it looks as though she will be following in her sisters foot steps. Bud and I celebrated our "40th" Anniversary in July of 98, (picture will follow for bio) and are looking forward to many more wonderful years to come. Congratulations to all of the class mates who have accomplished the same! I am serving my second year as President of our Ladies Golf League, which helps keep me busy. Bud and I play as often as possible, but with the new home, there is much work to be done. Bud is building the garage himself, so by summer of 1999 we should have everything completed. Our oldest boy C.P.H. Jr. and his wife Lisa, are still in Tennessee, and they have a small 20 acre ranch with lots of animals, i.e. beef cows, horses, pigs, chickens, cats, dogs, and a kennel that his wife runs that holds 65 cats and dogs. So, besides working full time for MCA Records as a computer programmer, he also takes care of his ranch. Our younger son, James and his wife Robin live in Rosemont, and so far have only two dogs. Our daughter Lyda and her husband Dan, just moved into a big new home in the West Chicago area. With the two girls, Steph and Kimi, their former home was getting a little cramped. Bud and I go home at Christmas but are always glad to get back home to sunny and warm Arizona. We simply love it here, even though the summers are hot. In my old age (HA!) I have found it is easier to stay cool than it is to keep warm. I am looking forward to 1999 and the renewing of old friendships. Until then, friends: HAPPY TRAILS TO ALL!

Grant: Hope this is okay, but if it is too wordy then feel free to cut out whatever you want. See you next year. And hope the enclosed check helps out.
Sincerely Ginny (Horvath)

Nancy Schorb (Wallenberg)
( $ ) 834 Saddlewood Dr, Glen Ellyn IL 60137-3202
(630) 545-0663

(2002) Hi Grant
I found your HS web site when I did a search on "Nancy Schorb" (Wallenberg).
I was hoping to find a bit more information on her as I am doing a web site for her Ripon College class of 58. Information like a HS picture or something more recent.
Her current address is that below (which was found by doing a reverse lookup on the phone number).
Wallenberg, N E
834 Saddlewood Dr
Glen Ellyn, IL 60137-3202
(630)545-0663
A college classmate of hers gave me an email address for her of: Nancy@wallenberg.us
and I just sent her an email this morning so I don't know yet if it is valid.
I maintain a web site for my high school as well. Here's the URL for that. http://www.homestead.com/cameronwis
John Popko johnpopko@yahoo.com

(1994) Nancy expressed the feeling of many we've talked with after the '94 party. In a letter to Jane, Nancy wrote: ''I wasn't exactly wild to go to our 40th reunion, but I could not have been more wrong! I, and Frank too, had a great time. Everything was planned so well with a fun time as the goal. It was that. I thought the ''lets-all-stand-up-and-introduce-ourselves'' bit was going to be a bore--but once again, wrong! Because, directly afterward everyone milled around and talked to those other than at their table. My New Field grade school group got together, quite a few of us actually, and laughed over ice skating in the cemetery, Camp Fire Girls, and so on. And everyone looked do trim and vibrant. (Well, I try, anyway.) I know you and the committee members put in a lot of time. Thanks!''

April, 1999 Wood Dale IL 60191

Hi Grant,
Hope this does it for my "bio."
After my husband passed away in '95, I decided that retirement -- like maturity -- is way overrated, and, thus, I am back teaching, this time as a college writing prof. and having great fun.

I also enjoy traveling, the opera, painting, aerobics, and trying to keep up with my three grandsons.

Nancy Schorb Wallenberg
168 S. Sherwood Drive
Wood Dale IL 60191
630-766-2958

Mons Schrantz
( ) 1325 E. Vernon Avenue, Normal IL 61761

April 16,1999
Dear Grant:

From what I read, you're looking for bio's. It will be interesting what I put down in the 'fifty words' but here goes. First, a reminder that I only attended York from Thanksgiving to graduation in our senior year.

Following that my folks said I better go to college, so I went to and graduated from Elmhurst College having a pretty good basketball career and an average educational experience. Following that I married Carol (a college sweetheart) in September and got drafted in January. Following two years stationed at Fort Benjamin Harrison in Indianapolis, I found State Farm Insurance in Bloomington, Illinois, and spent 37 years with them until my retirement in October, 1998. My final job with State Form was vice president of marketing all of the company's products.

While in the Army, Carol and I had two children (we didn't have money to do anything else). Cindy, in Chandler, AZ is a single mom with daughter Nikki graduating from high school this year. Jeff is married with three kids (ages 7, 9 and 12) and is a State Form agent in Newport, OR. And our youngest, Tad, is in the oil and convenience store business in Newport, NH, with his wife and their 2-year old daughter. Three GREAT places to visit.

My few months of retirement will not be filled with travel. That was a lot of my job with State Farm. But golf, church and community volunteer activities should fill the time. It has so far.

Well, that's my story and I'm sticking to it. Good luck on making it '50 words." As you can see, I didn't do too good.

Best wishes,
Mons Schrantz

James Schroeder
( $ ) 4102 Lester Ct., Alexandria VA 22311 (1995) Jim attended the '94 reunion. See the Elmhurst story about his life on our website.

Jerry Schultz
( L ) *lost*

Marjorie Schulze (Vogel)
( ) W11047 Enterprise Lake Rd., Elcho WI 54428

Arnold Schumacher
( ) 1-S-335 Myrtle Ave., Villa Park IL 60181

Martha Schumacher (Belza)
( ) 9111 Tiverton Way, Louisville KY 40242

Joseph Schwan
( L ) *lost*

Jean Schwolow (Mohrig)
( ) 5 Hillside Court, Northfield MN 55057

Frank Dieter Seidel
( ) 3005 Wistar Court, Bensalem, PA 19020-1828
215-757-3542 - FJSeidel@Erols.com


(1999) Since about 1958, I have been living in Pennsylvania. I started college at Illinois, played on both soccer and chess teams there, finally got my degree at night in the Philadelphia area, with majors, or quasi majors, in business, chemistry and philosophy. Nobody offered me a job as a philosopher, therefore, I tried chemistry first for about 15 years at 3 different companies (research at a drug co., analyses at a metallurgical co, and lab supervision at a chemical mfg.). During 1970-71, I presented papers at three national symposia. Eventually, I got bored and tired of going to the same place every day.

I had no illusions that I would ever actually do something useful or constructive, therefore I was an ideal candidate to audit and criticize what other, more constructive people did. Thus I spent the next 25 years auditing and examining insurance companies for a governmental regulatory agency. I was able to go to different places and interact with more people. During that process, I acquired 4 professional designations, 2 of which pertain only to regulators, 2 others to real people (FLMI for life insurance and CFP for Certified Financial Planner).

In my successful attempts to dodge as much work and responsibility at home as possible, I got involved with community and professional organizations. I coached soccer for a few years and became an officer at two regulatory professional organizations. That involvement included editing and publishing a small national publication. Periodically, I would write articles for small publications, in either English or German.

Personally, I have been married for about 40 years, to the same woman. That longevity was mostly her doing because my domestic instincts had to be acquired very slowly. We do have three nice children, who did college, and now have their own families. My brother and sister live in Germany and I try to visit them every 2 or 3 years. In 1990, after the Berlin Wall come down, I visited the city (Dresden) where I was born, for the first time in 43 years. My parents had made a quick and unauthorized departure in the middle of the night in 1947. During my last visit to Berlin, I saw no trace of the Wall anymore; now the only place to see a section of the Wall is at one of the German clubs in the Philadelphia area. That Saxon-German club brought a whole section over and erected it as a monument and reminder on its beautiful club grounds.

We live just outside of Philadelphia in Bucks County. On weekends, we often drive to the Pocono mountains, where we have another place. My best financial planning had been keeping my wife at work. That allowed us to travel. We both enjoy traveling and go on at least one major trip every year. The furthest destination was Australia and the Great Barrier Reef. Every November, we can be found on a cruise ship. However, we are ready to cruise and travel also any other time. We are thinking of retiring this year, at least from regular full-time employment, and hope that we stay healthy enough to go on many more trips.

(4/8/99 Thank you, Angus, I am particularly looking forward to wisdom of the ages and the meaning of life! I was not sure whether or not I would stay with my ISP, that's why I now have an additional e-mail address at Frank@Seidel.com I don't own the domain, I merely rent a sub domain. Now I can change ISPs and still keep the same E-mail address. I'll probably be able to remember that address, even when I get older! Frank

Lynn Semple (Hagee)
( V ) 97 Arundel Place, St. Louis MO 63105
Seeing nothing after my name I realize a response to my classmates has been non-existent. A quick update from June of 1954 includes: 1958 graduation from Lawrence University with a B.A. concentrated in art, French and education. A teaching job in Lake Forest, Illinois followed, along with work toward a Masters at Lake Forest College (unfinished) and a 4 month stay in Europe. I was married in 1960 to George Hagee, an architect and moved to St. Louis where I continued to teach. The next spate of years encompassed 4 children (a daughter and three sons), redoing 2 houses (more my husband than me), Jr. League, 4 culinary schools in Europe, a decade plus of catering and event planning, the CORO Foundation, 3 years of extoling the virtues of food and drink on local CBS-TV and a stint on the Alumni Board of Lawrence; all of the above were entered into with enthusiasm and departed from with a bit more insight as well as grey hair.
I am now a consultant and was employeed in 1999 by private clients and also the St. Louis Art Museum where I organized the details surrounding the Max Beckman exhibit (any relation Judy??) Currently I am assisting with an upgrade of visitor amenities at the Missouri Botanical Garden. Being the master of my own working hours allows time for 2 grandchildren, Zoe and Noah who happen to live a stone's throw from Angus. I read all the bios with great pleasure and am so anxious to reconnect with classmates in September. Are you allowed to attend the festivities if you flunked Stu's test?????
lshagee@stlnet.com

Barbara Shaffer
( V ) 1850 Goldenrod St., Sarasota FL 34239

Barbara Shockey
( L ) *lost*

Carol Siebert (Reed)
( ? ) 3129 Carnegie Ct., San Diego CA 92122

Donald L. ''Don'' Slegfried
( D ) *deceased*
25 N. Harvard Avenue, Villa Park IL 60181
(1995) Donald L. Siegfried, 59, a 31-year resident of Villa Park, a claims adjustor for Harco Insurance Co., Elk Grove Village, died suddenly Thursday, June 22, 1995 at home.
Funeral services were held Saturday, June 24, in the chapel of Villa Park Funeral Home, Villa Park with the Revs. Thomas Burris and Jack MacDonald conducting. Interment was private.
He is survived by his wife, Dorothy; his son, Daniel (Robin); his daughters, Laura (Michael) Brennan and Carolyn Siegfried; his grandchildren, Sam, Joe, Hannah and Dan; his sister, Carol Johanson; and his mother, Pauline. He was preceded in death by his father, Lloyd; and his brother, David.

Maribelle J. Simmons (Wilson)
( ) 11850 Sophia Drive # 5110, Temple Terrace FL 33637.
813-988-6365
(11/23/01)Grant- Please update my new info. I mailed a letter to you with my new address in Florida but you must not of gotten it. I do not have a computer but my son does and when I visit him I look at the site -- it looks great and it's nice to look at what's been going on in everybody's life. while I am now living in sunny Tampa florida near my youngest son Todd and it is nice here so say hello to everyone for me and here's my info: Mari Wilson (Simmons) 11850 Sophia Drive # 5110, Temple Terrace FL 33637. Phone 813-988-6365
:) Happy Holidays!!!
(1996) "I have five grandchildren." says Maribelle.

Judith Ann Simpson
( LI ) *lost*

Linda Singer (Uhle)
( ) 106 Westmore Ave., Lombard IL 60148

Bill Sippy
( ) 1222 W. Itaska Street, Bensenville IL 60106

Anita Skarbeck
( L ) *lost*

Marie Smith (Nelson)
( L ) *lost*

Dick Snyder
Richrad H. ''Dick'' Snyder
( $$I ) 5326 Fond du Lac Rd., Oshkosh WI 54901
414-233-6407; 414-929-5503 (office)
(1994) (1994) Dick won ''best dreseed'' at the '94 Reunion tennis match.
(1995) Hi Committee, (Angus, Jane, whoever read these things) Thanks for the newsletter despite my forgetting to send in my subscription check (now enclosed - ($10.00, gem).)
I had a delightful time at the 40th reunion, not having seen some folks for 15 years and others for 40 years. I always get an extra kick out of seeing some Villa Park and Lombard class mates--I go back to Kindergarten with a few.
As to a little personal history. I wanted to work for Mercury Marine as an engineer since early in high school. I had a job set during college, and the day I graduated from the University of Illinois with a degree in Mechanical Engineering I arrived in Oshkosh Wisconsin ready to go to work. Now it's thirty-seven years later and I'm still having a great time, and a very satisfying career. I've had three distinct careers at Mercury. I was chief engineer of hydraulics for over twenty years up through 1983. Then I was Director of racing and High Performance Products through '87. For the past eight years I have served as an in-house consultant in boating safety matters to all of the Brunswick marine companies; Mercury, SeaRay, Bayliner, Starcraft, Astro-Procraft, etc. This frees me up to serve as our primary boat accident investigator and expert witness in the many civil suits that arise. I'm now getting increasingly involved in criminal cases working for various prosecuting attorneys around the country. I have two daughters, 37 and 35 who each have a son and a daughter. They are 16, 15, 14 and 8. I still play a lot of tennis and a lot of sing-along piano at a number of care homes around Wisconsin.
I look forward to the next newsletter.
Dick Snyder.

(1999) Dick Snyder Bio Update

Occasionally I envy the growing number of my classmates who have entered the world of retirement. However, my career as an engineer in the recreational boating industry has been and continues to be so darn interesting (and fun) that I'm going to stay with it, full time, until I turn 65, mid 2001. Early this year I celebrated my 40th anniversary with Mercury Marine, the company I wanted to work for during my high school days. I have frequently become involved as an expert witness in both civil and criminal legal actions related to recreational boating accidents. I expect to continue with that activity well into (semi) retirement It takes me all over the country, and I meet some very interesting people. At the moment I'm involved in my first murder case.

Three of my four grandchildren are in college. My favorite hobby of playing piano for sing-alongs at various care homes is more active than ever, about 50 sing-alongs a year at four different locations around Wisconsin. Last year I celebrated my 25th anniversary playing sing-alongs at the local county mental health center, I still play a fair amount of tennis, and am an avid snowmobiler in the winter.

(Grant, I didn't think you were serious about the "Who's Who" entry, but just for a joke, this is what I've had on record with these people -- Who'sWho in Science and Engineering -- for a number of years.)

SNYDER, RICHARD HANFORD, marine engineer, accident investigator; b. Evanston, Ill., July 7. 1936; s. Robert B. and Mary F. (Pahaly); children: Lynn Konen, Jeanette McDonald, BS in Mech. Engring., U. Ill., 1959. Registered profl. engr., Wis., Design engr. Mercury Marine, Oshkosh. Wis., 1959-61, chief engr., hydrodynamics, 1962-83, dir. racing and high performance products. 1984-87; dir. product safety engring. Mercury Marine, Fond du Lac, Wis., 1988-; cons. in propeller injury/damage analysis. Author: (booklets) Everything You Need to Know about Propellers, 1978. 4th edit-, 1992, Hi Performance Operations, 1978, 4th edit., 1996. Capt. U.S. Army, 1966. Mem. Am. Boat and Yacht Coun., (pres. 1993-94, Horizon Award 1996, Jonas Lippman Memorial Award, 1999) Amer. Power Boating Assoc., (chm. nat. safety com. 1988-96), Nat. Assn. State Boating Adminstrs. NASBLA award 1992), Nat. Safe Boating Coun. Achievemnets include 9 patents related to recreational boating. Home 5326 Fond du Lac Rd., Oshkosh WI 54901. Ofice Mercuty marine W6250 Pioneer Rd., Fond du Lac WI 54935 (414) 929-5503 Email: dick_snyder@mercmarine.com

Don Soderholm
( ) 50250 Joy Road, Plymouth MI 48170

Paul Sonderegger
( D ) *deceased* (1994) Paul died a few months before the 1994 reunion.

Neil Sorenson
( ) PO Box 805 508 S. Spruce St., Woodland Park CO 80866

John Soule
( ) 1235 Cheltonham Drive, Glen Ellen IL 60137

Sue Sowers (Anderson)
( $$ ) 241 Viking Drive, El Paso TX 79912

(2002) In a message dated 5/23/02 1:23:27 PM, landerson@elp.rr.com writes:
Hi Grant !
Had an old classmate trying to look me up and she used my old e-mail address ... said she got it from our (York) info. We changed our address recently to: landerson@elp.rr.com Still live in the same house at 241 Viking Drive, El Paso, TX 79912-3827. We are in our 42nd year here ... not much for moving around :).
Hope all is well with everyone. Haven't had a newsletter in a long time. Thanks for all your hard work.
Sue Sowers Anderson
Class of '54

(1997) (via email) Hi Grant!
Was trying to read the York info on the Web and wasn't able to get all the scoop that I saw that first time (and neglected to read) but saw that your e-mail address was there. I KNOW that somewhere in one of my filing cabinets I have what I am seeking, but......
I wanted to send another contribution for the Newsletter and couldn't remember where or to whom I am to send it ! This has nothing to do with age ! Just a mind that is cluttered with too many details ! Will you please enlighten me ? I think about many of you frequently and wonder how everyone is faring. I do hear from a few at Christmas time.
Lee and I are enjoying retirement and traveling whenever we can fit it in ! We have a son in Sugar Land, TX. He is a develope and builder of luxury homes. At the present he is finishing up a community and beginning a new one. He has two of our grandchildren. We have a daughter in Helena, MT and she is a CPA and her husband owns some car dealerships. They have a son (step for her) and we are now "great grandparents". Our third, a daughter, lives here in El Paso. She has the remaining three grandchildren. Her husband is head football coach with one of the oldest high schools here. We have 22 or 23 high schools.
I travel a lot with my work (volunteer) for the church and Lee accompanies me when possible. Gets me all over the 48 and into Canada. At the present time Lee is enjoying good health and is in full remission from his cancer. We pray that that will continue !
I moved my mother to El Paso in January and she is in a retirement home. Will be 89 next time around. We also have my mother-in-law in a retirement center here...but not the same !
Our e-mail address is: DCDD73A.prodigy.com. Sure hope to make it to Elmhurst the NEXT time there is a gathering. My last time was our "50th".
Best to you. Keep up the good work. I envy those that are computer literate. I struggle !
Sue (Sowers) Anderson
(1998) Sue's husband Lee had major surgery at the end of '87; is cancer free now. Sue is President of her church District and caring for her Lee's step-mother and her own mother; both in retirement homes. She and Lee are great-grandparents.
(1995) We are retired. (or at least Lee is!). Do women ever retire? I still do volunteer work for church and travel in that capacity with several different ''hats''--keeps me busy and very content. One of the jobs at present is chairing our Rocky Mountain District 1996 Convention that will be in El Paso (Covers a large land area, including Colorado, New Mexico, part of Arizona, Utah and Texas!) I am also chairman of the Board of Hispanic Ministry in El Paso . . . it is a big challenge (why didn't I take Spanish in high school??????) At one time I served as church secretary for 18 years, then I managed a gourmet cooking store at the Mall before I got too busy with my ''volunteering'' I find the time I spend in my ''work'' very enriching and have friends throughout the United States and Canada
We like to visit our children when possible. Lee is recuperating from several cancer surgeries that were performed in 1994. It has been a rough time, but there was light at the end of the tunnel! They can no longer find any tumors. We pray that will continue and he can get back to a normal routine. He misses the golf course!
Personal stats:
Married 39 years to Leland F. (class of '49 Children; 3 - Grandchildren; 6
Jeffrey lives in Sugar Land, Tx He is an architect/builder/developer and is developing Sugar Lakes, a beautiful community He has two children Christopher who is turning 13 and Kathryn ''Katie'' who is turning 10 and a wonderful wife, Cindy. She is a stay a home Mom
Deborah lives in El Paso, Tx She works for Coates America Thread Co in a supervisory position She has three children, Meaghan who is 9, Emily who is 6 and Jordan who is l Her husband, Craig, is the head football coach at Ysleta High School.
Cynthia (Cindy) lives in Helena, MT. She is a CPA and her husband, Jim, is also a CPA and owns three car dealerships. Two in Helena and one in Billings, MT. She has a step-son, Scott who is married to Carin

Forwarded Message:
Subj: Greetings from "The Pass to the North"
Date: Thursday, April 15, 1999 8:06:12 PM
From: LEESUE@prodigy.net
To: Janemcbrid@aol.com
From: LEESUE@prodigy.net (Leland F Anderson) To: Janemcbrid@aol.com

Hi Jane !
Just finished reading the York '54 Newsletter and decided to sit right down and drop you a line ! Always enjoy reading it and finding out what is going on ! Was surprised to see that Carole Hansen O'Connell is still in Denver. I thought I had heard that she moved. I go there 4-6 times a year on business and just didn't look her up. Will try to the next time I am up there. Just came back from there on Sunday. My schedule is usually pretty busy, but I can probably find time to make a call !!
Sorry we won't be at the reunion. We had kind of planned to come, but Lee's 50th is just two weeks prior and we can't do both. He thinks '50' has priority. Ha. Ha. I have a heavy travel schedule with my 'volunteer' position with the church and the fall is the worst, so I am doing quite a bit of juggling just to go for his ! Took on another 4 year committment last June as the District President. (I did this once b/4).
This year is a full one. March was the only month that I hadn't planned on a trip and so decided to do some remodeling ! Got it done and I am pleased with it. After living in the same house for 38 + years, it needs a 'face lift' every now and then.
I keep busy with taking care of our two mothers (they are both here in El Paso) and mine just celebrated her 90th. Lee's health has been good for over a year now and we are most thankful for that! We have 6 grandchildren ( one is "step") and one great granddaughter that is two years old. All of them are our pride and joy. Will be going to Sugar Land, TX this next week to see our son, Jeff, and his family. He is a successful developer and luxury homebuilder. Was named home builder of the year for Texas last year. Are we proud??? He has two children....Christ (16) and Katie (13). Our youngest, Cindy, lives in Helena, MT and is a CPA and I am sure she will be glad when this day is over ! She is the one with a step-son and granddaughter. We will go there in May. Our third, Debbie, lives here in El Paso altho' on the other side of the mountain and she has three children. Meaghan (13) Emily (9) and Jordan (4). Deb works with clothing manufacturing plants in the South and "south of the border". She is fluent in Spanish.
Will send back the questionnaire soon. Didn't know some of the questions. Did you guys rack your brains on that ?????
Sorry to be missing the reunion. Oh, by the way, my e-mail address has changed: LEESUE@prodigy.net. They listed it completely wrong in the annual or yearbook or whatever.
Blessings to you all,
Sue Anderson (Sowers)

Patricia Sparacio
( L ) *lost*

Dick Spencer
( D ) *deceased*

Dick Spencer
* deceased *

Connie Stamatkas (Campbell)
( ) 501 McLeansboro Rd., Benton IL 62812

Nancy Starn (Anderson Branch)
( V ) 156 Nogal Canyon Rd., Bent NM 88314
505-671-4870

(1999) Update for Nancy Starn Anderson Branch:
1954: Grad York High
1958: Grad Valparaiso University (B.S., Elem. Ed.)
Married Norman Anderson, 3 children; Randy Robin, Dawn.
Lived in Chicago area until 1981. 1981: Moved to Bent, New Mexico, began ranching life - cattle, apples, saddle horses. Taught 3rd grade 14 years in Ruidoso schools (retired 1997)
1991: Norman Anderson deceased.
1994: Married Edward Branch
Continue full time ranching on 4,000 acre mountain (6,100 ft.) ranch in Bent. Training a beautiful paint colt named "Puccini." 10 grandchildren. Named "Farmer of the Year 1998."

Clifford Stasi and Nancy Morgan Stasi
( ) 586 Mitchell, Elmhurst IL 60126

Joyce Stebel
( SV ) (see Mike Galasso),

Arnold Steben
( M ) 143 N. Myrtle Avenue, Villa Park IL 60181

Evelyn Steben (Hertrich)
( $ ) 214 West Rd., Lombard IL 60148

Bob Stemple
( $ ) 6163 So. Pike Drive, Larkspur CO 80118
303 681 2037
stemplerobert@msn.com

(7/27/02) Grant, This is from Robert Stemple. My new address is 6163 So. Pike Drive, Larkspur, CO 80118. Same phone 303 681 2037. e-mail is stemplerobert@msn.com. Gretchen and I spend the winters in Carlsbad, CA. We are in the phone book so if any of our classmates are in Colorado or San Diego give us a call.

(1995) wrote ''Everything still the same here. I retire in twenty months but who's counting? (1999) April 28, 1999 - Dear Grant,
I really appreciate the newsletter and I want to thank you for your efforts. My email address is rastemle@msn.com .

In updating my bio, I can only wonder how this can be 1999. We just graduated a couple of years ago. Gretchen and I still live at 7921 Red Rock Circle, Larkspur, CO 80118. 1 retired from United Airlines in 1996 (mandatory age 60) as a 747-400 Captain and have been busy ever since. I see in the newsletter that many of our classmates have the same situation of being retired and busier than they ever were in real life.

My oldest daughter Julie is a flight attendant for United based in Denver, our son Andy has his own business selling, moving, and doing custom and commercial art framing. Our youngest daughter Suzy is working for Andy as his manager. They are all married and living in the Denver area. We have three grandchildren, Lacy, Taylor, and August, which makes it awful hard to leave, however, we are now snowbirds having traded my sailboat for a condo in Carlsbad, CA. As Gretchen says, "it's bigger than a boat." As for retirement, I get up in the morning and before I know it the day is gone just doing stuff. My golf game still sucks so maybe I will devote more time to it.

When I was in grade school at Hawthorne, my teachers and classmates probably wondered where my brain was most of the time. I spent a lot of time at the library in Wilder Park, where I escaped to the world of National Geographic, (the first Playboy). Things I dreamed I would see one day, the great Buddha at Kamakura, Japan. I said I would climb Mt. Fuji, observe the temples of SiaiA see Haley's comet, (what a bust). Two natural objects, which always fascinated me, were meteor crater near Winslow, AZ and Devils Tower in Wyoming. I was going to be so old when the year 2000 arrived, but it still remains one of my goals. Do you realize that many of our classmates still had crank telephones! Do you remember your phone number when you were in the 2nd grade! Do you realize we have watched almost 2/3rds of the 20th Century go by? Vincent Van Gogh died only 45 years and Monet only IO years before many of us were bom. Why didn't we become painters? I want to thank everyone who has worked producing the memories of our class. For a world class dreamer it means a lot to me as does the Social Security check.

(signed) Bob
Bob Stemple

Stephen Stinson
Hi Grant!

I went from York High to Illinois (Champagne-Urbana) for two years, then graduated from Rutgers (NJ, 1959) in chemistry. I got an M.S. and Ph.D. in organic chemistry from U. of Iowa (Iowa City, 1964).

While still in grad school, I spent a summer in Europe. While touring Poland on a lark, I met the cutest little blonde chemical engineer. On getting my degree, I proposed by letter, and Mary and I married in 1965. She plans to retire soon from the U.S. EPA after 30 years there. We have a daughter, Kim, and seven grandchildren. We hope we can stay in NJ in retirement, because we are a short trainride from the Metropolitan Opera, City Opera, and American Ballet Theater.

I taught chemistry for some years at Purdue (Indianapolis campus) and U. of Toledo (Ohio). In the mid-'70's, I went to a PR agency (Manning) in New York. At the end of 2001, I retired as a reporter after 26 years at Chemical & Engineering News magazine.

In retirement, I work for a publishing company in Pa. (editing chemical content) and for a PR agency in NJ (chemical comany clients).

Cheers!
Steve
Stephen C. Stinson
37 Beacon Hill Dr.
Metuchen, NJ 08840
(732) 549-2066

Jim Stokes
( $ ) 631 Kent Hills NE, Grand Rapids MI 49505
(1995) Jim sends the greeting ''keep up the good work.''.

Jack Stolper
( ) 122 W. Kenilworth Ave., Villa Park IL 60181

Rita Stoltman
( LM ) *lost*

Shirley Stout
( S ) (see Wally Strauch),

Dick Stratton
( I ) 38092 N. North Ave., Beach Park IL 60087

Wally Strauch and Shirley Stout Strauch
( $$I ) RFD #1 Brook Road, Sanbornton NH 03269
strauchwas@inc-net.com

(1998) April 21, 1998 Greetings from NH, Angus:
As I started my week of recovery from neck surgery, I started cleaning out some of my files. Guess what I found ... the '54 Newsletter, with some notes attached--the news I planned to send along to you.

First, let me say what a terrific newsletter you put together ... Can't believe it was 2-1/2 years ago. If you are still going to press, I hope Shirley and I can get on the mailing list. We hope to make the '99 festivities! Shirley and I are back in New England. I'm CEO of the local community hospital.

Shirl is a family worker for an alternative education program. After 9 years in Minot, ND, we are glad to be back in New Hampshire, within 1-1/2 hours of our son and two of our three daughters. One daughter-husband and grandson are still in ND. Our two Moms are still in Elmhurst and Lombard, so we do get back to "York territory" several times a year. Usually catch up on all the news by visiting with Tom Bartman.

Can't forget to mention there are two more grandsons here in NH. Haven't found too many '54'ers out in NE, but if anyone is coming out this way, we are at the Gateway to the NH White Mountains -- 1-1/2 hours north of Boston! Give us a call. See you in '99!

Regards, Wally & Shirley (Stout) Strauch 113 Brook Road, Sanbornton, NH 03269-2209, E-Mail-STRAUCHWA@JUNO.COM

(1999) Shirley and Wally Strauch have been enjoying scenic central New Hampshire for seven years. We've lived, and worked in: AL, MO, MN, WI, MA, ND, IN … and NH; Wally in hospital administration and Shirley as a teacher and social worker. Our son and two of our daughters (and two grandsons) live in New England; our third daughter (and grandson and granddaughter) live in ND. We are enjoying rural living, and NH's Four Seasons: biking, XC skiing, the ocean, and NH's annual Fall Foliage Spectacular! Come on out and see us -- in historic Sanbornton NH (pop. 2,200) - 113 Brook Road (603) 934-6963.

Charles Strong and Marian Wagner Strong
( $$ ) 3006 Mountain Ridge Court, Park City UT 84060
chuckstrong@att.net
<< October, 2001 - Dear Grant
Since I have not recieved any e-mail for a long time I thought nothing was happening. But as I check for Kragels e-mail address I notice that mine is wrong. So, my address is chuckstrong@att.net.

We are doing well, we leave for a round the world trip on April 8th and will be gone for two months. Who would have thunk #1 that we would still be around, & # 2 still enjoying every minute of life. Still remember great times with you, John and Terry amongst others. Have I missed anything?

C. Strong >>

Hi Chuck,
I've been out of town for a few days.
I'll change your address on the data base.
It might be awhile before it gets changed on the web site.
I don't know of anything you've missed.
Sorry I'm such a rush. Gotta go.
-=Angus=-
PS -- a bit confused about your email address.
(see response line above.)

Both Chuck Strong and Marian Wagner ('54) are retired. Chuck worked for 35 years with United Parcel Service starting as a driver in Glen Ellen, progressing to center manager in DesPlaines, division manager in Minnesota, regional department manager in Ohio, and finished as an area manager in corporate headquarters Greenwich Ct. They have two children; Pamala and Ronald, four grandchildren; three girls and one boy. Daughter Pam and husband Graig live in Park City Utah while Ron lives in Weed CA. The couple try to live active lives playing tennis, skiing, biking, fishing, scuba diving, and traveling. (They won the prestigious tennis contest at the '94 Reunion.) In '95 they toured Italy and southern France.

(1998) MF.RRY CHRISTMAS 1997 -- Dear Grant, Well we did it! We have moved. Our new address is (above.) After 4 months with the architect and 15 months of construction we are in our new home. We had owned the lot for a number of years and after some resistance from Marian who was happy in our old house we decided to build. The house is a little larger than the old one and we were able to put in some features that you don't get in a spec. house. The building part was fun, moving was a bear. Our daughter Pam and her husband Craig bought our old house, they sold theirs and closed on July 1. Our house wasn't ready, so we moved as much of our stuff as possible into the garage. On July 15 the city let us move furniture into our new garage, somewhere around the 20th we started moving from the garage down into the house(the house is on the side of a hill with the garage and laundry room on the top level). On the 26th we had our first guests for a week. Needless to say the house still had furniture to move and was not totally done. Our guests left on the 2nd of August and on the 3rd we left for a month in Africa.

As in the past we enjoyed Africa and visited Uganda, Kenya, Zanzibar, and Tanzania. This time we were in tents about half the time, pretty nice tents, one camp had 13 people to take care of the 4 of us. Not really roughing it. We saw 4 of the big five but were unable to find a Leopard. In Uganda we walked in and found a group of Gorillas. We watched them for an hour from as close as 5 meters. They were much more interested in eating the vegetation than they were in us.

We returned on Sept. 6th and low and behold our furniture was as we left it -- to resume moving. We still have a garage loft area to move some furniture to buy, and some sub-contractors to get in to finish and correct some things, but we feel everything will be done before the Olympics come to town in 2002.

We are both in good health, gaining weight, losing hair, cheering the Utah JAZZ, eating good food ,drinking a lot of wine (only because its supposed to be good for you), playing tennis, and looking forward to the ski season and all our friends who visit.

Marian & Chuck Strong
Looking forward to the next reunion.

(12/14/98) from cstrong@ParkCityUS.com
I can't think of a meaningful thing to add to your questionnaire. it will be interesting to read the answers, although i'm not sure what they will tell us. Between traveling skiing and tennis we are keeping quite busy. Note the change in our e-mail address. we decided to upgrade our computer and move to Windows 98. I understand it is equal to the 1987 mac. What do the dollar signs mean after names of classmates?
c. strong

(1999) 4/16/99 Dear Grant

I worked for 35 years with United Parcel Service starting as a driver in Glen Elien IL, progressed to center mgr. in Des Plaines, division mgr. in Minneapolis, regional dept. mgr. in Columbus Oh., and finished as a area mgr. in corporate headquarters, Greenwich Ct.

We moved to Connecticut kicking and scratching, so after retiring we moved to our vacation home in Park City. Marian worked various jobs that kept us in travel money.

The former Marian Wagner (class 54) and I have two children Pamla and Ronald, four grandchildren three girls and one boy. Pam and her husband Graig live in Park City Utah while Ron lives in Weed California.

We live active lives playing tenns, golf, skiing, fishing, eating, consuming wine and traveling. Our main trips this year will be to the Galapagos islands, Macho Pichu, and the California wine country.

We are gearing up for the 2002 Olympics, despite the scandal. and have received more requests for sleeping accommodations than we have bedrooms. Guess togetherness will prevail.

Yours as 54'ers.
Charles and Marian Strong
3006 Mt. Ridge Ct.
Park City Utah 84060

Ps We know you probably spend money out of your own pocket to produce the newsletter etc. so the check is from Marian and I to help the cause.

Donna Swanson (Nielson)
( ) 303 Dale Drive #3F, Addison IL 60101

Shirley Swanson (Hines)
( ) 111 W. Grant Ave., Plano IL 60545

Paula Swanson (Platt)
( $M ) 41 Bogey Circle, Doylestown PA 18901
thinks the newsletter ''a great idea'' and tells us she is working nights answering phones, doing volunteer work with people who have AIDS and training literacy. She has a student in prison.

(1999) Paula has taught elementary school in California, Illinois and New Jersey. She has three children and Ron has seven and they have thirteen grandchildren. They celebrated their 25th wedding anniversary this year. Paula works part-time in telephone sales. She does volunteer work and teaches English as a second language. In her spare time, she loves to knit and travel.

Ruth Talbott
( ) 4398 Fisher Lane, White Bear Lake MN 55110

Lori Talcott (Hoopes)
( $ ) 4145 Minton Drive, Fairfax VA 22032
is retired from her position as a senior management analyst with a Department of Defense consulting firm. Husband Ron is a senior VP with the Navy Federal Credit Union, the largest in the world. They visited with bridesmaid June Weeks (Patterson) in July of '95.

Warren Tarr
( ) 102 Fifth Street, Whitefish MT 59937
In a message dated 6/7/99 12:30:24 AM, btarr@bigsky.net writes: Grant,
Warren (Willie) Tarr and Ann Burgher Tarr, class of '55 have been married since 1959. Moved to Whitefish Montana in 1968 and are still there. We have two male offspring (that would take pages and pages to brag about) and two grandsons and two granddaughters that would take twice as much space.

I will retire in the fall or winter from Plum Creek Timber Co. Ann will retire from the Whitefish school system on June 10, 1999. I have seen my old partner in crime "Stemp" a couple of times since leaving Illinois, but thats about it. Ann and I spend our time canoeing, kayaking, alpine skiing, nordic skiing, bicycling and sleeping.. See you at the reunion Bob!!!

Gay Taylor (Schick)
( D ) *deceased*

John Thomas
( L ) *lost*

Dennis Thompson
( $$I ) 4750 Del Moreno Place, Woodland Hills CA 91364-4633
818-347-8369
(1994) Tish and Dennis have your '54 Committee on their annual holiday letter mailing list. (It's a spiffy looking publication, thanks to Tish.) That's a great way to stay in touch. If you mail a holiday letter, send us one, too.
(1995) The Thompsons sent a '95 Christmas greeting in poem form with color pictures. Portions: ''The stars of our tree and the joy of our lives: - Austin Dennis (1/2 yr) and Taylor Victoria (5) - They're sweet and adorable and so very clever ... - We smile, shake our heads and salute ''gran-parenthood forever.'' and another verse; ''My everloving and I are journeying on - after 35 years our romance is still strong! - Our life is blessing and we sure have a plateful - Good health, family and friends (for which we're most grateful) - May '96 be wonderful and fulfill every wish - Merry Christmas, Happy New Year from Dennis and Tish.''

(1999)
Dennis P Thompson, M.D., EA.C.S.
Aesthetic, Plastic & Reconstructive Surgery
Medical Group, Inc.

April 27, 1999


Grant MacLaren

7 Crossroads

St. Louis MO 63132

Dear Grant,

Here's my Who's Who entries - (included copies of entries in Who's Who in California; in the West; in America; in the World; in Medicine and Healthcare)

Now the real stuff:

Married since 1961 (38 years) to Tish (16 year breast cancer survivor)
Three children - Laura, Vikki, Betz
Two grandchildren - Taylor, Austin
Two step-grandchildren - Nicole, Brett
Mom lives at Lexington Square, Elmhurst - suffering from Alzheimer's
Our dogs are dead and I gave away my drum sets. The accordion just rotted away.
Put 317,000 miles on my '68 MGB and continue to drive it 250 miles a week.
Former Moderator, Congregational Church of Northridge, CA
Former Chief of Plastic Surgery, St. John's Hospital, Santa Monica, CA
Former President, Los Angeles Society of Plastic Surgeons
Former President, California Society of Plastic Surgeons
Current President, UCLA Plastic Surgery Society
Two year SURVIVOR of inoperable cancer of the stomach
Signed a 5 year lease on my medical office July '98

See ya 'all in September!
Dennis

Santa Monica Medical Centre
2001 Santa Monica Blvd. Suite 1180-W Santa Monica, California 90404-2194
Telephone (310) 829-6876 Fax (310) 828-3541
Diplomate, American Board of Plastic Surgery

George Thomson
( L ) *lost*

John Tiedeman
( L ) *lost*

Ken Travis
( ) 513 S. Plymouth Lane, Schaumburg IL 60193
(1994) Ken and Sandy (York 1956) have two children, Ken and Kim and four grandkids, Tommy 7, Colleen 4, Kelsi 3 and Sara 2. Ken is an inspector lor Northern Illinois Gas.

Eileen Triebes (Steward)
( R )

Barbara Trotta (Didriksen)
( ) 466 Cedar Hill Lane, Evansville IN 47710
(1994) Barb and Dick (York '53) have been married 35 years. Their daughter Michelle Suzanne, 27, was married on their 33rd Anniversary. Barb and Dick show their trophy winning Corvettes. Their 61 Triple Black with silver cove, 283CI, 245 HP. dual quad carbs, won the NCRS Top Flight in Indy in 1993. They also have a 1967 Lyndale Blue Stingray Roadster. They're hoping to get top flight next year. They already have a wall of trophies and plaques. Dick is Vice President of Marketing and Sales at Potter & Brumlield in Princeton, IN.

Shirley Tucker (Chaffin)
( ) 1402 Kings Country Blvd., Scroggins TX 75480
(1/99) Grant I just stumbled on to the "class of 54" web site through some dumb luck and some help from Chuck and Marian Strong. In visiting the web-site I am having some difficulty opening "E-mail 25 of you 54 classmates", is there a problem with this area or is it just me?
Also I need to update my address in the 54 class roster. My new address is 1402 Kings Country Blvd. Scroggins, Texas, 75480. Any help or assistance would be appreciated. Thanks and regards, Shirley
Chaffin@peoplescom.net

Rose Tyminski (Schaper)
( ) 1000 Dartmouth Drive, Wheaton IL 60187

Vanita Urquhart (Brockman)
( V ) 35 Houston Court, Lafayette CA 94549

Pat Van Sky
( R )

Donna VanEwyk (McFarland)
( $V ) 2700 Bayshore Blvd. #11-409, Dunedin FL 34698
727-733-3034
(June 22, 1999) After four years at York, Dean and I were married in 1958.
. . . Following Dean's enlistment in the Army, we were stationed in Orleans, France, where I worked for the Dept. of the Army. Being only 80 miles south of Paris, most weekends were spent there, while longer holiday vacations allowed us to tour most of Europe -- Switzerland, Spain, Austria, Holland, Ireland and, of course, all of the French countryside.
. . . An upgrade in Dean's rank from Private to 2nd Lieutenant due to a Direct Commission, our next assignment signaled a move to Zweibrocken, Germany. Here Dean worked with the Moby Dick computer and became secretary to the General of the A.F. Base in Wiesbaden until our daughter Deanna was born in 1962. Our travels in Europe continued -- train rides to Paris and Berlin (then divided), across Check Point Charley, more of Austria, Italy and, of course, all of the German cities and countryside.
. . . Back in the States in '63 son Dale was born at Elmhurst Hospital. Dean now employed by IBM. The family of four moved to Rockville MD.
. . . Because of Dean's job, we relocated to Houston TX at the Space Center, an exciting era in the lives and times of everyone's world, especially ours. 1967 son David was born. 1969 we moved once again -- this time to the provincial city of Linwood NJ; outside of Atlantic City and close enough to Philly and N.Y. City for frequent visits.
. . . By 1974, the five of us, plus another addition, dog Daisy, moved back to Maryland; Gaithersburg this time, but due to an accident I suffered in '75 we were forced to move to Dunedin FL, which has been my home ever since.
. . . In March of 1984 Dean passed on. In 1985 I took the big plunge, bought a mini van, had it customized and after 10 years of not driving, I took to the road again. Then after 20 years of raising three active children, playing bridge, hitting the luncheon/fashion show circuit, etc., etc., I began WORKING -- at age 60!! A part-time job with Nielson Media Research has be come a very full-time job. However I still find time to play bridge, enjoy the visits of my long-time school pals and do a lot of traveling.
. . . I'm fortunate enough to have two of my children close by and one granddaughter (who affectionately refers to me as Grandma Mac) while David is defending our country as a Marine -- his wife a fourth year Med. student at Duke.
. . . Line everyone else, I look forward to our 45th!

Nick Van Hoose and Marcia Felz (Van Hoose)
( $$C ) 1032 Cherry Lane, Lombard IL 60148
(1994) Nick is in sales and Marcia works at Villa Park Trust and Savings as an officer. Marcia has four children, Nick has two sons. The ''Brady Bunch'' now includes six grandchildren and one on the way. Nick deserves a big pat on the back for all the time and effort he has put in on this reunion.
(1996) Heard from Nick in January - with his updates on Bill Dailey and Jack Winchell.

Shirley Vaughn (Bunnell)
( ? ) PO Box 293, Fort White FL 32038

William F. Vaughn
( L ) *lost*

Allan Vegell
( ) 7612 Preakness Cv., Ft. Wayne IN 46815-8706
219-493-6635
(1999) Norm Sather reports "Allan has been living in Fort Wayne for the past 33 years."

Ronald W. Veit
( R )

Richard Vernon and Virginia Gaus Vernon
( ) 22201 Rivergate, Cleveland OH 44116

Alice Vette (Christian)
( I ) 8682 N. 275 West, Delphi IN 46923
(2000) Alice provided her new address in May.
Alice retired in 1991 from teaching Home Economics at Willowbrook High School. George and Alice have two sons; Craig and Kent, and five grandchildren. They moved from Elmhurst to the country in Indiana in 1991. They love to watch the birds and other wildlife. Alice likes gardening, quilting, sewing reading and traveling. She is also involved in Church activities.

Brian Vihnanek
( $ ) 220 S. Ahrens Court, Lombard IL 60148-3029
708-629-3818
(1995) Sharon and Brian have a new address since the '94 reunion. That's it above.

Elaine Volle (Franz)
( $V ) 8990 Stetson Place, Ls Cruces NM 88011
505-521-1520
(1994) Elaine retired as an x-ray tecnologist a few years ago and now enjoys being at home. She enjoys gardening and traveling. Elaine also does volunteer work for the Wellness house in Hinsdale, as well as for Reach for Recovery. They have three grown children, one daughter and two sons. They also have two grandsons, Ryan and Shawn, who they truly enjoy !!
(1995) Elaine enjoyed the 40th party . . . she says 'We at our tables sure enjoyed Saturday night, Sept. 24 -- and also Friday was loads of fun also. Looking forward to the newsletter.'

(5/1995) An update for the Class of '54's 45th Reunion.
Elaine Volle Franz - Greetings from the Land of Enchantment! Husband Russ and myself retired to New Mexico. Just wonderful! Never enjoyed so many interesting things -- climbing and rock hunting -- festivals and the wonderful sunshine! NO GRASS - NO SNOW - NO ICE!
We have three grown children - all married. One daughter, two sons and three grandsons; Ryan, Shawn and Dakota. A great joy!
Much happiness to all!
Elaine Volle Franz

Diane Vonder (Ellison)
( L ) *lost*

Nancy Voris (Hartnett)
( $M ) 229 Schiller St, Elmhurst IL 60126

Marian Wagner
( $$SV ) (see Charles Strong),

Don Ward
( ) 7511 Cella, Cincinnati OH 45239

Keith Ward
( ) 636 Swain Ave., Elmhurst IL 60126

Mary Jane Warkentien (Reynolds)
( ) 405 S. Fairfield, Lombard IL 60148

Carol Watson
( ) RR 2, La Molle IL 61330

Clyde Webster
( L? ) 6841 E 42nd Street, Tuscon AZ 85730

Terry Webster (Kirchner)
( ) 822 Lake Aveneue, Fort Wayne IN 46805
Terry was at the '94 Reunion.

Herman Weimer
( ) 1434 Warrington Road, Deerfield IL 60015
Herman and Sheila have been married for 31 years and have 2 children, Scott and Noel. They are avid gardeners...Herm is the one with the dirty knees. fishing, boating and cross country skiing are also a big part of their lives. Herm is General Manager, Quality and Safety Services for Signooe Corp. Their 4 year stint in Europe as a family brought the true meaning to ''America The Beautiful.''

(1999) May 12, 1999 -- Herman and Sheilla (McKnight) Weimer reside at 1434 Warrington Rd., Deefield IL 60015. Their son, Scott and Nisa live in Spring Grove, IL and are busy with their 2-1/2 year old grandson. Daughter Noel and Freddie are living in Seatlle WA, enjoyning the liquid sunshine.

Herb reached age 59.5 in 1996 and wished his fellow workers "Good luck 'cause I'm outta here!", retiring from Signode Corp., a division ITW, after 35 years service.

The Weimers now cruise, garden and spend a lot of time during the summer at our cottage in the U. P. of Michigan with the "Yoopers." Their grandson doesn't water ski yet, but squeals in delight when riding in Grampa's boat, a 185 hp Baretta.

Dorothy Ellen Werner
( L ) *lost*

Edward H. Werner
( L ) *lost*

Julianne M. Weymouth
( L ) *lost*

Sharon White (Schultz)
( ) 525 So. Lincoln Lane, Arlington Heights IL 60005
(1994) Sharon currently works part time as the Continuing Care Coordinator wilh the Lutheran General Addiction Treatment Program's out-patient unit. Before that she worked for ten years in Lutheran's in-patient treatnlent unit, eventually becoming certified as a Senior Addictions Counselor. Three years ago, Hazelden published a workbook Sharon wrote titled Coming Back From a Relapse. Sharon and Sheldon have 3 sons, who now range in age from 26 to 35.

Lorraine Widlak (Rigazio)
( L ) *lost*

Herb Wilken
( $I ) 5201 Knollwood Ln., Anderson IN 46011
Herb works at General Motors in Engineering, he's working on GM electric vehicle system. Herb and Margaret have one son and one daughter. Herb enjoys sailing and biking.

Chuck Williams
( I ) Radiology, Memorial Hospital, Springfield IL 62705

Bruce Williams
( $ ) 1912 Capri Lane, Schaumburg IL 60193
TutW@aol.com

(1994) Bruce has worked for Honeywell Inc. for 28 years and will be retiring April 29. 1994. His wife, Barb. is also retiring from UNOCAL Corp. after 33 years. Now theyll have more time to enjoy their vacation home in Merrimac, Wisconsin. Hobbies include travel and old cars. He has a restored beauty . . . a 1963 Studebaker Avanti. They enjoy auto racing and are season ticket holders for the Kane County Cougars.
(1995) Hello, what a nice surprise when I turned on the PC tonight to check all my bad investments and find some messages from the class of 54! I see we have four in the net now but have to believe that more of us are on-line. This is sure a neat way to link us all and hope to hear more in the future! I've been ''retired'' now for a little over a year, just now beginning to relax after working at Honeywell for over 28 years. I used to get cold sweats on Sunday evenings, but then calmed down after realizing I didn't have to get up at 5:45 am to start the weekly cycle over again! I took a ''buy out package'' in 1994; best thing I ever did! My wife, Barbara, also is a victim of downsizing. After 33 years with Unocal Corporation, her job was moved to Houston, Texas. Barb and I hopefully will do some traveling with the Alaskan Highway on the agenda. bye for now, Bruce (tutw@aol.com)
(1996) Hi Grant: Things are rolling along here in Shaumburg although we are searching the Internet for homes in Washington and Oregon; we will possibly move out there next year. We had the Wisconsin home appraised and it looks like a "sell" so may put the primary up for sale in the spring and move west! We've been thinking about doing that for some time so hopefully will do the deed.
We just installed a 28.8 bps modem that really speeds you along the 'net, Wow. What an improvement.
The summer here has been great so far, only one 90 degree day and the sweet corn is super, can't get much better than that!!!
Best regards, Bruce Williams, (tutw@aol.com)

(1999) Hi Angus:
Just a note on the 45th, we probably won't be able to make it as we anticipate making out long awaited move to Oregon in the late summer or early fall of 99. This is really heartbreaking for me as I only live a few miles from Nordic Hills.

A brief bio is due I guess. After York I attended University of Utah for 2 years in Salt Lake City, but missed the midwest,(grades weren't too good either), and then went to Western Illinois in Macomb for a year, brought my grades up and then went back to U. of Utah in 58. Well, ran out of money and joined the Army in June of 58 for 3 years. Was stationed in Ft. Lewis, Wash for 31 months and was discharged in June of 61. (Never. saw Elvis). Went to work for Pure Oil Co in Palatine, Illinois and met my future wife Barbara there, married in 1965, and switched jobs to Greyhound Corp in Chicago where I was an Assistant Terminal Mgr. Moved to Honeywell Corp in 1966 retired from there in 1994 as a Purchasing Mgr.

I went back to college in 1977 and got my B.A. from Elmhurst College in 1979, A long wait for the sheepskin, (25 years), but it was from an Elmhurst school!

Barb and I have no children, but 2 demanding cats, and are looking forward to our new home in Eagle Point, Oregon, probably in August, Sept of 99. Will update with our new address as it becomes available. P.S. I would like to have one of the "books" from the 45th so keep me posted on that info.

Congrats on the fab job you are doing on the York 54 website!
Regards, Bruce Williams

Patricia Joan Williamson
( L ) *lost*

Cathleen Wilson
( L ) *lost*

Jack Winchell
( ) 9820 Old Chimney Ct., Cincinatti, OH 45241
513-791-5806
(1996) Per Nick VanHoose: Jack's house is up for sale in February. He will be moving to Siesta Key (near Sarasota) in December of '96. Jack has been the owner of Hugget Packaging Inc.; his son Marty will be buying the firm.

Bill Windrich
( $C ) 239 Michican Avenue, Elmhurst IL 60126
Bill and Linda have one daughter, Vicki, who is married to an FBI Agent. They have two granddaughters, Jessica and Lindsey, who are spoiled rotten by you know who. Bill recently relired from the Elmhurst Fire Department afer 28 years of protecting Elmhurst. He now spends more time with his painting and decorating business and managing his apartment complex.

Chuck Wingard
( ) 719 So. Lombard Ave., Lombard IL 60148
(1994) Chuck is Vice President of Portable Tool Sales and Service. He has worked at Portable forty years. Chuck and Darlene have been married 37 years, have two children, a son and daughter, each of whom have two kids.The grandkids are 2, 3, 4 and 5 years old. Chuck really enjoys golf.

Carol Woerly (Wagener)
( ) O-N-240 Leonard St., Winfield IL 60190

Jeanne Wolter (Davik)
( V ) 854 Hillcrest, Elmhurst IL 60126
jedavik@msn.com

Post-York Biography:
My connections with York and Elmhurst seem destined to continue. Four years after graduating from York I returned to our alma mater to begin a teaching career in the English Department. And it was at York that I met my future husband John, who had just been hired to teach Chemistry. (He continued his York connection for the next 34 years, 22 of them as Science Department Chairman.)
After seven years of teaching, including a Sabbatical year in London, I 'dropped out' to take care of our two children, Alex and Helen. Eventually they attended two of my old Elmhurst schools: Lincoln and York. When they were old enough, I started a new career as a sales rep for a legal publisher, CCH. That continued until a few years ago when the company was bought out, and I decided it would be prudent to take early retirement and protect my pension benefits.
Lately I've had more time for civic affairs. I'm involved in several organizations that have Elmhurst as part of their name: Elmhurst Symphony Association, Elmhurst: College & Community, and the League of Women Voters of Elmhurst. As president of the League, I'll be moderating an all-community dinner and program entitled, "State of the Community: Looking Toward the Year 2000" on the Sunday of our reunion. The mayor of Elmhurst, the president of Elmhurst College, and the new Elmhurst District 205 School Superintendent will all speak.
It sounds as though I've had no life outside of Elmhurst! Actually I left Elmhurst to earn both university degrees, I've lived in London, and my husband and I travel outside the country almost every year. Yet, there's something about Elmhurst that's very special, and I hope it will bring all of you back to town for our 45th reunion.
Regards,
Jeanne
jedavik@msn.com (mailto:jedavik@msn.com)

Fay Worley
( SC ) (see George Zarogian),

Connie York (Lisauskas)
( ) 777 Poplar Avenue, Elmhurst IL 60126

George Zaroogian and Fay Worley (Zaroogian)
( $C ) 1340 So. Oakland, Villa Park IL 60181
(1994) George retired from the Elmhurst Police Department two years ago. Fay is still working in business administration at Salt Creek Sanitary District. She continues to work because ''its a requirement of retirement compatability.'' They have two children, Michael and Mark . . . no grandkids yet. George and Fay say they are still too young for that. Both were involved in the '94 Reunion Committee.

Jim Zwickel
( ) 2652 230th Place, Torrance CA 99999

Return to the York '54 home page.

The web builder of
York's Class of 1954
is
Grant MacLaren.
He may be reached via email at
gmaclaren@aol.com
or you may visit his
home page.