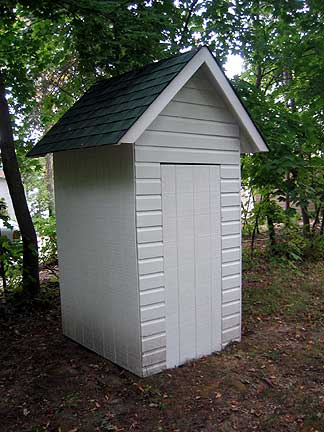 You probably know what this is.
After pre-fabbing it in Byrnes Mill,
I intended to get the door hung on this
trip, but other fun got in my way.
---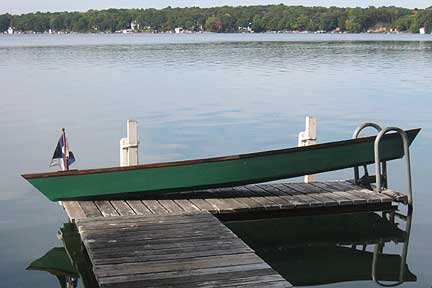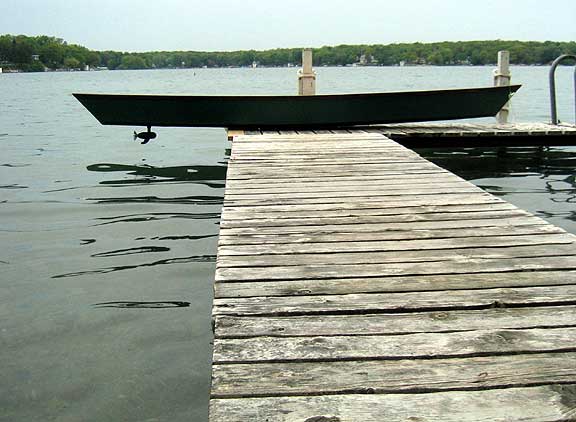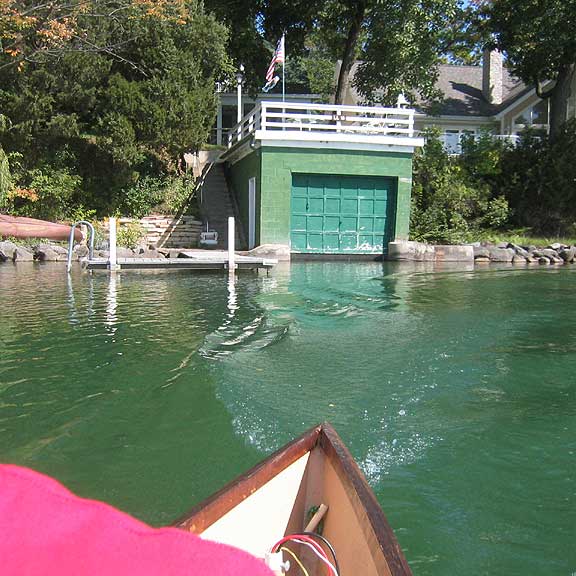 Jerry, Doug and I took Iligene's.
pier out for the winter, so I
managed to take a few cruises
in the little green boat beforehand.
---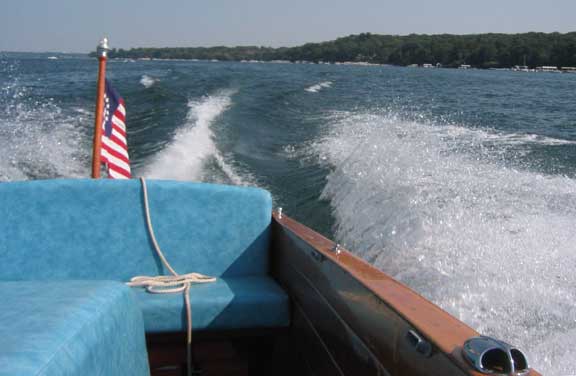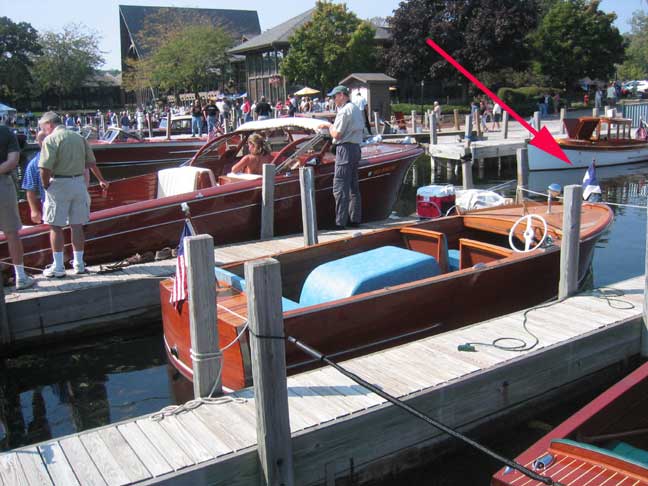 We took Doug's Chris-Craft
to Lake Geneva and used it to
get to Walter's boat house for
a tour of the Hathor. I made
some photos, but "you had to
have been there . . . '
BTW, Doug purchased his boat in New Engtland.
It once belonged to poet Robert Frost.
It had no bow flag, so we flew my burgee
during the show.
---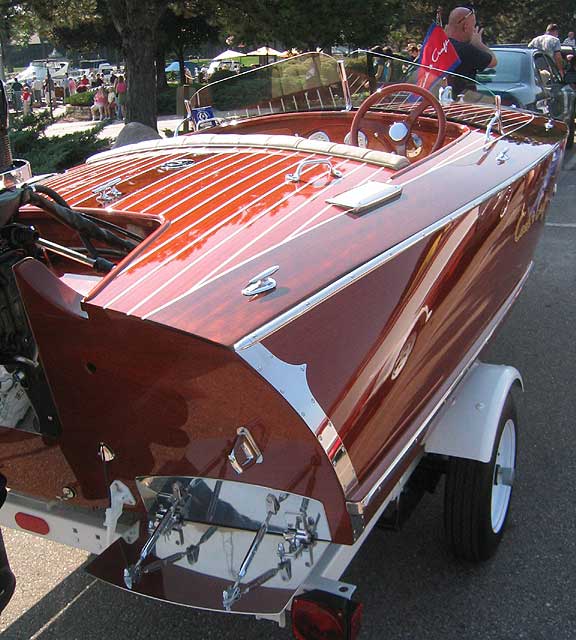 The builder of the little outboard
two-place says he did the varnishing
with a roller -- while in the nude.
(Google: rascal runabout)
---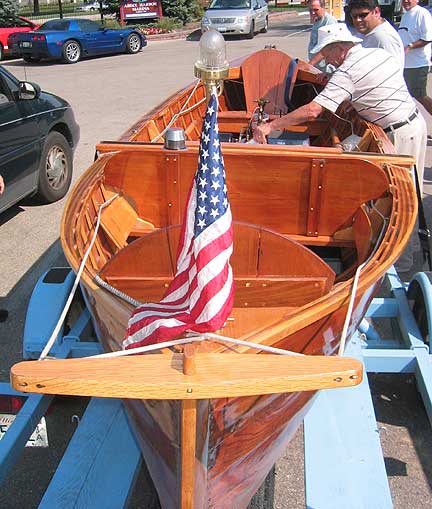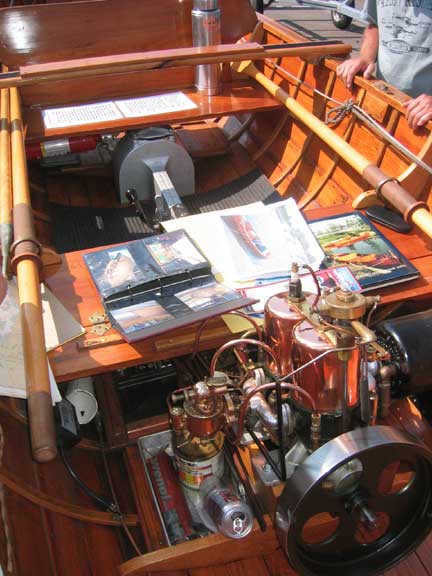 Another neat boat in the ACBS show's
parking lot was an old two-banger launch
with a retractable propeller.

This cute little boat is heavily used by
its owner. The photos on the seat
show him and a few others on a recent
week-long trip up in the "border waters."
I had seen an engine like this one (a friend
has one), but had never seen the prop.
---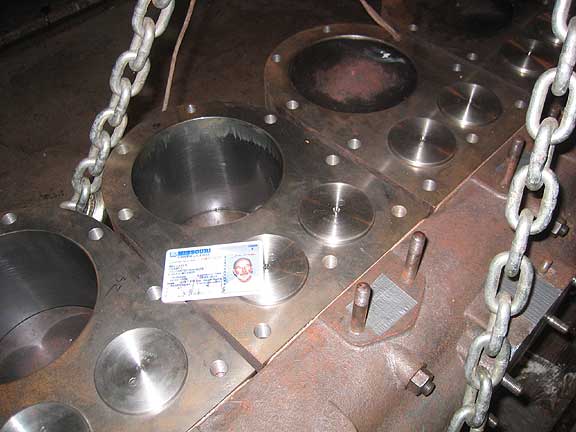 Ooops, almost forgot to show you
the size of the valves in the Lathrop
(that is to power the Hathor.)

In Larry's driveway.
(Hard to refuse -- no takers.)
---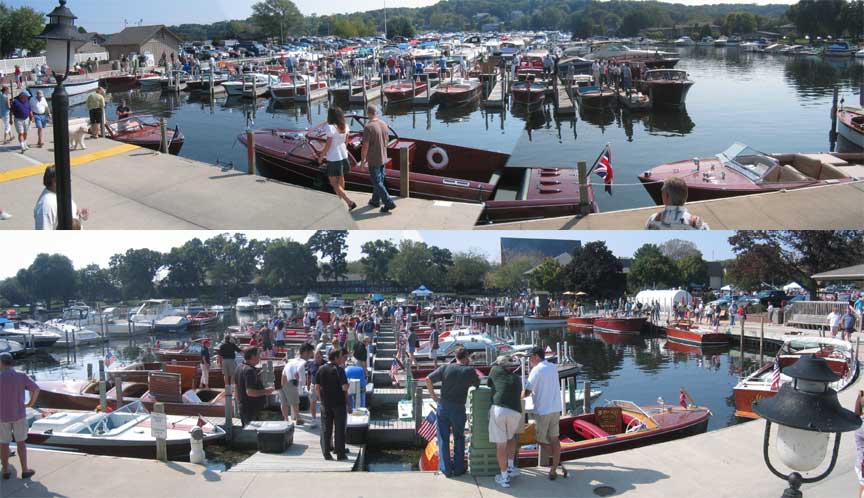 The ACBS show on Saturday.
---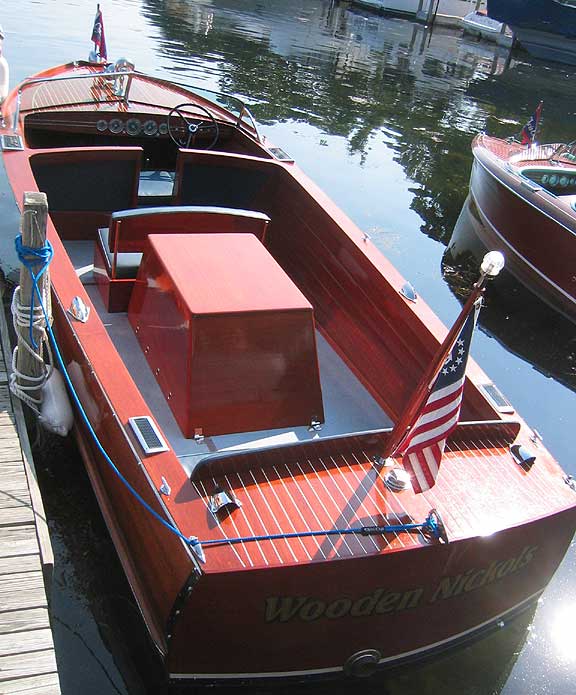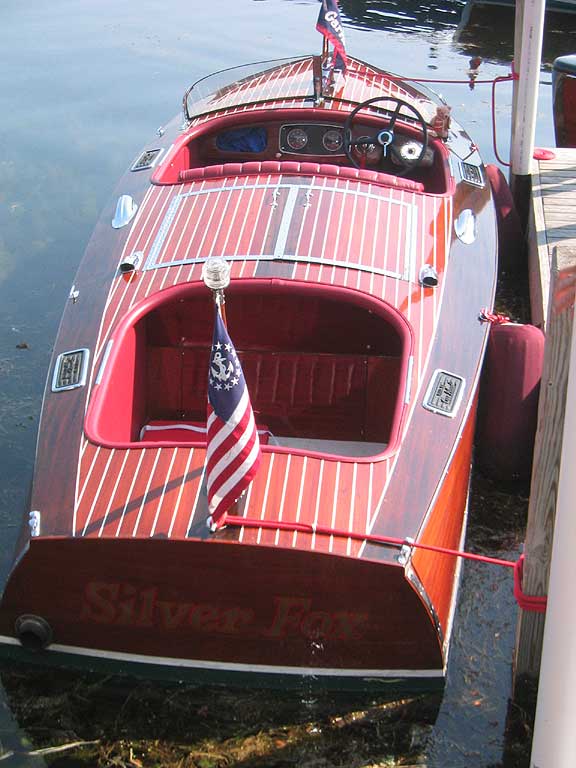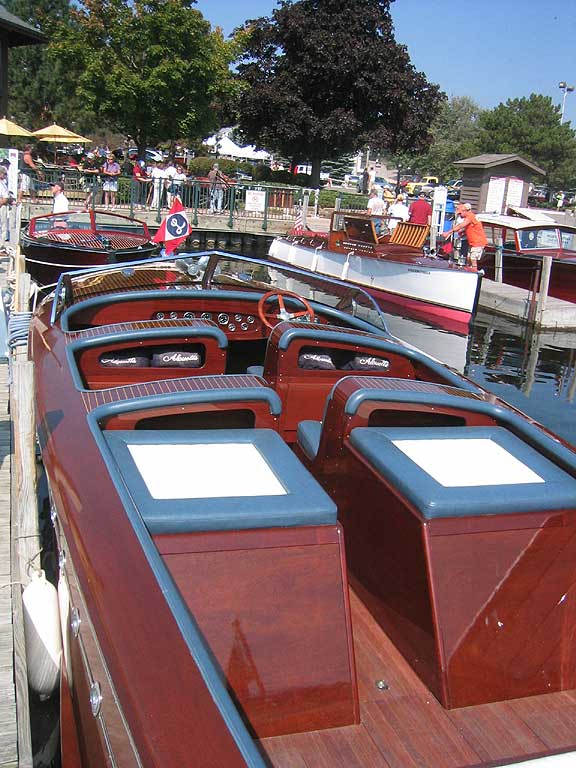 Above -- Top to bottom:
* If I owned a woodie, it would be a "utility."
* One of Jerry's two Gar Woods.
* Larry's Alouette -- Again, this year I
went with Larry for the ride to
the show and back.
Am I lucky, or what?
---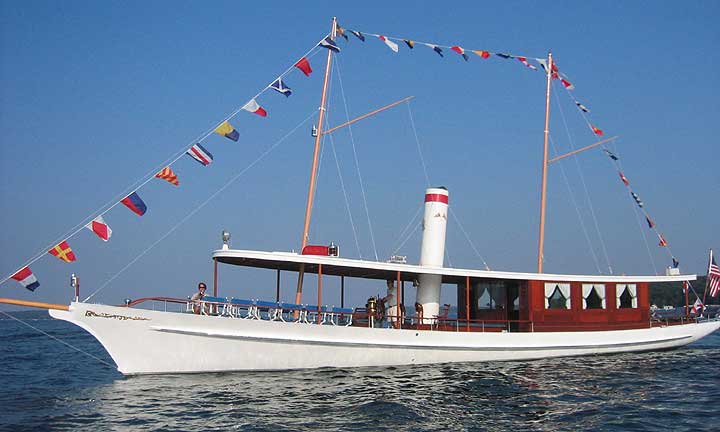 When we left the show basin, Sea Lark
was there to great us. Most of us at
Friday's dinner got a ride on her.
---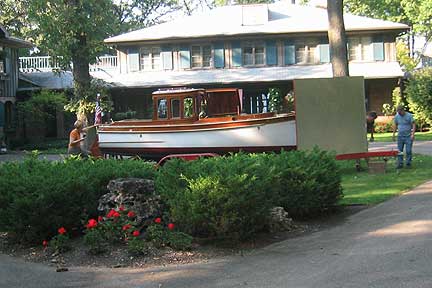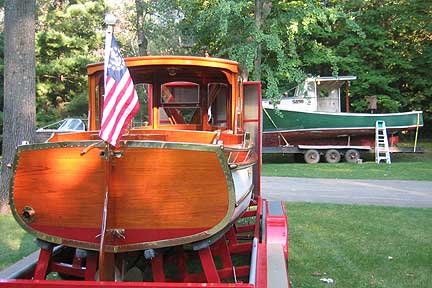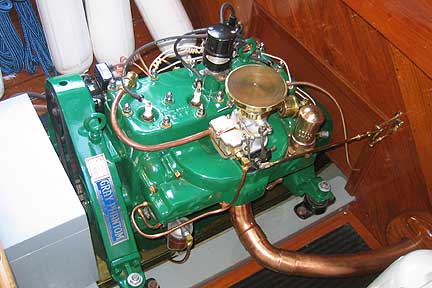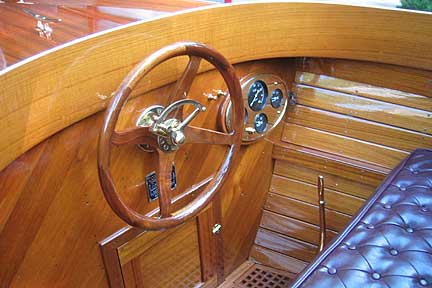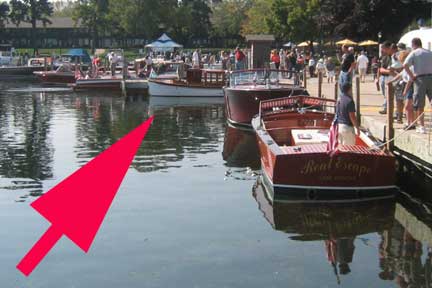 Anyone who seriously messes around with woodies
knows Don Danenberg, author of
"How to Restore Your Wooden Runabout."
Don brought a recent project to the show,
this beautiful yacht tender.
It was parked in Larry's driveway
Friday night, then launched on Saturday.
---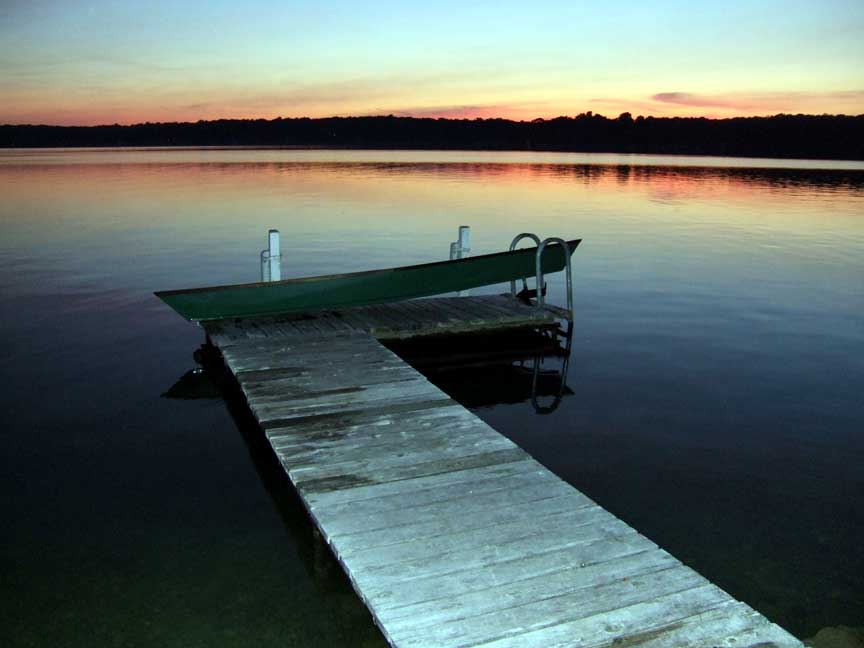 Twilight