Howard Henderson's Thorpe T-18, N600HH
Synopsis: An airplane, homebuilt by Howard Henderson and finished in 1975, was being flown by its current owner when it crashed February 8, 2018 on a private airstrip in Lincoln County, Missouri. The creator of this website gathered information from various sources to provide this brief history of the airplane, its builder and recent owners.

Posted here: 2/12/18
Posted: Feb 08, 2018 12:07 PM CST
Updated: Feb 08, 2018 4:48 PM CST
By Stephanie Baumer, Online News Producer

LINCOLN CO. (KMOV.com) - A pilot suffered a broken arm after a small plane crashed in Lincoln County Thursday.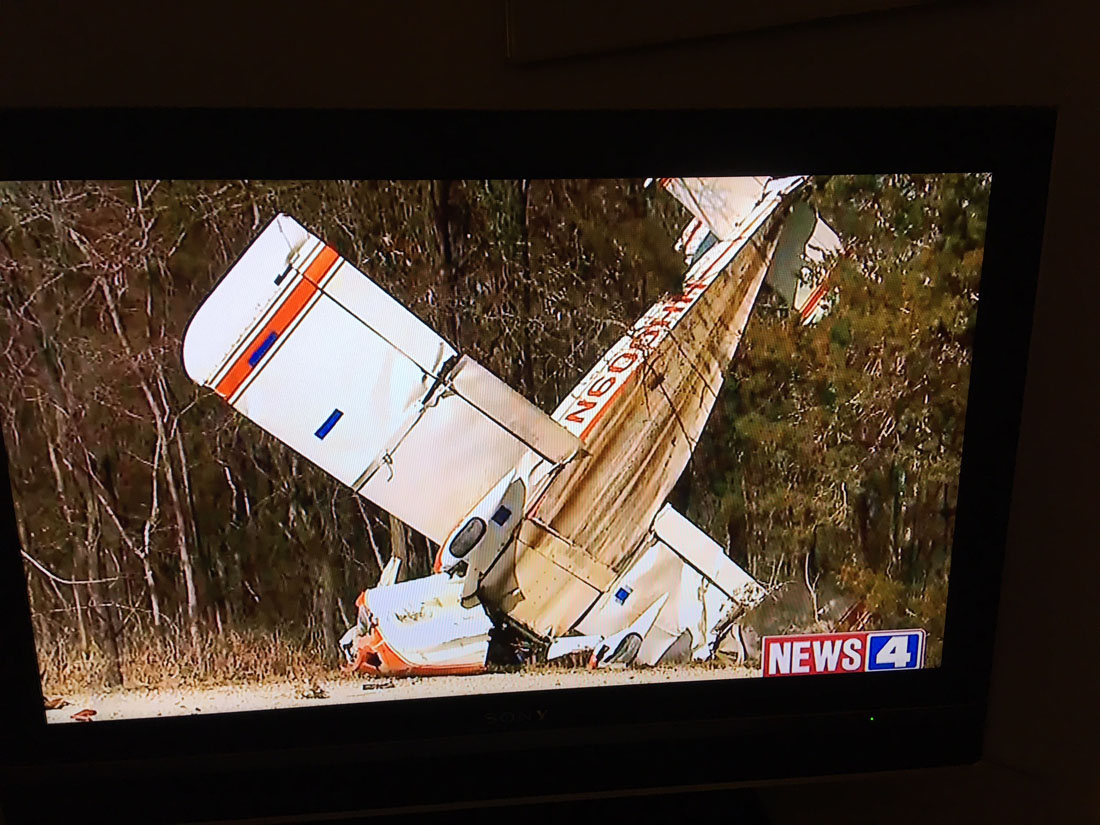 Missouri State Highway Patrol officials said pilot Mike Fleming (Mike R. Fleming of Troy, MO) was the only person on the plane when it crashed at Wolf Creek Road and Highway U around noon.
According to authorities, the narrow private road doubles as a private airstrip.
"I was in the house making lunch and I heard what sounded like an empty dump truck coming down a gravel road," said Fleming's neighbor, who wanted to remain anonymous.
The crash happened just a few feet from the man's home.
"I wouldn't be able to live with myself if I just stood over here," he said. "So I went over there and he put his arm around my shoulders and we lifted him up and got him out over it."
Following the crash, Fleming was taken to the local hospital for treatment. Despite the heavy damage done to the aircraft itself, Fleming suffered only a broken hand and arm.
"Could definitely have been a lot worse. when we got over there fuel was pouring out and it could've caught on fire," said Ron MacKnight, Fire Chief for Wright City. "We always prepare for the worst and hope for the best and this is one of those best case scenarios."
Copyright 2018 KMOV (Meredith Corporation). All rights reserved
************************
Grant MacLaren said:
"Just happened to see this tv image out of the corner of my eye. I seldom watch local news and the sound was off, but I spotted a very familiar paint job and was attracted to the tv screen with my iPhone in hand.
"The owner/pilot, Mike Fleming was a hangar mate and good friend of ours when the T-18 Howard buit was was at Creve Coeur Airport in Sadie Hawkin's hangar. Mike must have bought 600HH from Sadie, another good friend and the hangar owner. Sadie bought the plane from Howard years before Howard left us. Mike and Sadie were very high-time pilots. (Mike may have owned the plane in partership with others.)
"Good to learn that Mike suffered only a broken arm and hand.
"When we knew Mike, he had a Tri-Pacer in Sadie's hangar and was always urging me to fly it, as I did enjoy doing quite often."
In a note to a friend Grant said:
"Of possible interest. From early 1975 Howard Henderson and I spent many hours in 600HH, north to OshKosh, east to Dayton, west to western Kansas and south to places in Tennessee I can't remember."
-=Grant=-
---
MORE HERE ABOUT HOWARD'S 600HH
---
After building and flying the T-18 for many years, Howard built and flew a Pietenpol Air Camper, powered with a Ford Model "A" engine. Read about it here. (Sadie and Mike rescued 600HH when St. Louis airports flooded (in 1989) while Howard and I had the Piet at Brodhead. We had moved the plane from Creve Coeur -- which was sure to flood -- to Spirit -- which wasn't supposed to, but did.)
---
https://aviation-safety.net/wikibase/wiki.php?id=205859