1/14/15 -- Cruise Commander Guy Marvin III emails:
Grant, we generally launch our boats on Saturday or early Sunday, March 21 or 22. Cars and trailers leave at noon Sunday to drive to Sanford so they will be there when we arrive later in the week by boat. A bus returns you to the Holiday Inn and later that evening takes you to the Yacht Club for dinner and returns you to the Inn.

Monday, March 23, a bus takes you to the Club and your boat and we leave spending that evening at the Quality Inn in Palatka after stopping for lunch at the Outback Crab Shack.

Tuesday, March 24, we take a side trip into Crescent Lake stopping at a B&B for lunch in Crescent City and boat back to the Quality Inn in Palatka for a second night.

Wednesday, March 25, we travel to Astor stopping in Welaka for lunch at Shrimp R Us.

Thursday, March 26, we take a brown bag lunch and head for Sanford where we get on our trailers and head for the Boat Show in Tavares. That is a brief description of our schedule.
---
Text from a 1/6/15 email from the Sunnyland Chapter, extensively edited by Grant MacLaren:
Two trips again this year, first going south beginning with dinner Mar. 22 at the Florida Yacht Club, Jacksonville, ( 5210 Yacht Club Road, Jacksonville, FL 32210 -- on the St. Johns River ) the week before Sunnyland's Show ( the show we attended with "Meanwhile" in 2013 ) and the second going North Mar. 30 after the Show from Palatka to Sanford, then back north. (Crossed out only because we do not intend to join the northbound cruise. ... gem)
Southbound, we launch boats Saturday (Mar. 21) or early Sunday (Mar. 22) at the Florida Yacht Club, Jacksonville. Good idea to come Saturday to make sure your boat is running and ready to rock and roll. (I'd like to be early, to "test run" the "new" boat.) At noon Sunday, drivers will take trailers to Sanford. (Trailers to be parked at Boat Tree Marina.) There will be an $8/day charge for parking.
A bus will return trailer drivers to the Holiday Inn, Orange Park. (620 Wells Rd, 32073) (The bus will also take us to and from banquet dinner at yacht club -- map below, where "A" = Club, "B" = Motel, click to enlarge.)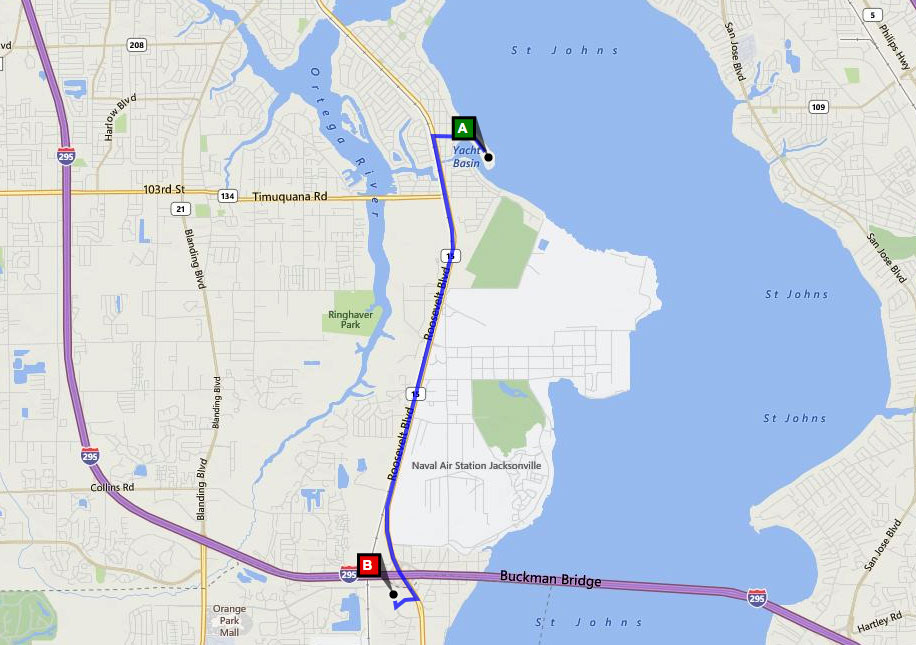 Anyone joining us in Sanford can ride the bus for $10.
On the Cruise, luggage will be trucked so you don't have to take it in your boat.
Festivities begin Sunday evening (Mar. 22) with dinner at the Florida Yacht Club.
Transportation (bus, see above) will be provided that evening and Monday morning.
On Monday (Mar 23) we will cruise to the Outback Crab Shack for a seafood extravaganza before stopping for the night in Palatka -- at The Quality Inn.
Dinner is on your own.
Tuesday (Mar 24) we cruise Dunn's Creek to Crescent City. A great B&B, the Sprague House, will host us for lunch. Then back to Palatka.
Dinner, again, is on your own.
Wednesday (Mar 25) we will stop for lunch in Welatka at Shrimp R Us. You raved about it last year! Then on to Silver Glen (?) where we will take a dip in the beautiful clear spring water if you like.
That evening (Mar 25) we will be in Astor at Astor Bridge Motel or Castaways. Dinner on your own at Blackwater Inn.
Thursday (Mar 26) we will have a nice box brunch as we head out for Sanford stopping briefly at Blue Springs to see the manatees before we pull out in Sanford.
See Map 2. (Ignore "road map" route.)
See Ocala Nat'l Forest image.
See Ocala Nat'l Forest image.
See An earlier Sunnyland cruise.
Then, grab lunch and head for Tavares and the Sunnyland Boat Festival.
See Map 3.
See Grant's 2013 Tavares photos here.
See Meanwhile at Tavares.

Please note on your registration form there is a place to order 2015 St Johns River Cruise shirts and hats. These are collared golf shirts with your boat's name on the sleeve. We have a new supplier and they are real nice If you want these items, please place your order now!!!
Also please note motel rooms have been blocked for each night's stay.
When we confirm your registration, we will include information on making these motel reservations. Please identify yourself as a St. John River Cruise participant when registering.
VIDEO BY CHRIS & JULIE BULLEN
OF 2015 CRUISE HERE