Blue Sprite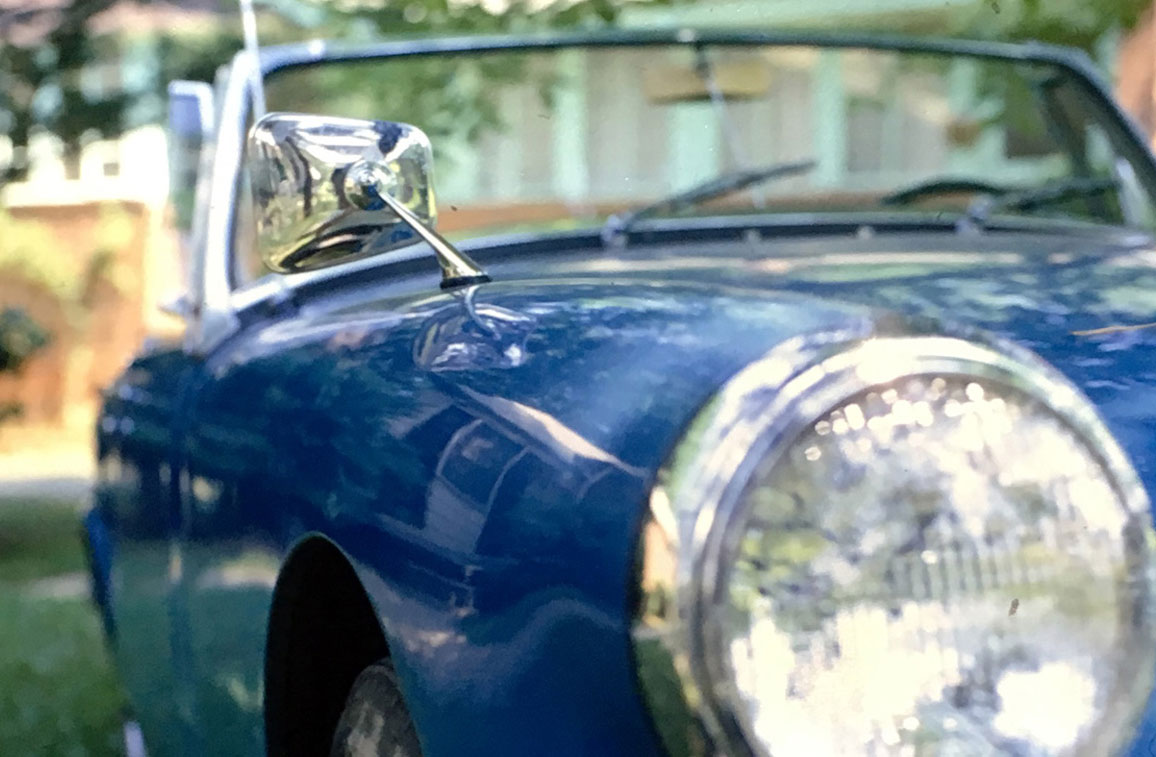 In 1965 Phyllis was an art teacher, Grant an exhibits designer. We had been married one year, living at 5218 Valley Stream Road in Charlotte (2 screen shots below), and took a honeymoon trip to England and Europe. We ordered (and paid for) an Austin Healy Sprite to be delivered, new, in London. We first flew to Paris where we shopped for camping gear at Galeries Lafayette, an upmarket department store. The 5 story store had been on Boulevard Haussmann in the 9th arrondissement since 1912. Grant knew it from his Army stint in France. It's now a chain.
We had ordered a British Racing Green (what else?) Sprite, but when we arrived at Austin Healy with our tent and camping gear piled on the Paicadilly Circus sidewalk, not only could we not take delivery of our car, the terribly polite sales person apologized, "We are frightfully sorry, but your car has not been built. And our dealership closes promptly in five minutes. Good day." He was VERY polite!
We rented a staid blue sedan of forgotten make (Phyllis thinks a Ford, we'll see as slides turn up) and headed to a friend's back yard to pitch out beautiful blue French tent. (We do have other pictures somewhere, but for now, here's the tent pitched in Carbondale, years later.)
I wanted to visit 56 Oxford Road, Mosely, Birmingham, England -- the address of my cousins, Shiela and Iona who had lived with us during WW II. (We did; today the address is 56 Oxford Road, Birmingham, England B13 9, United Kingdom.) Phyllis had a long-time pen pal she'd never met, so . . . .

We had planned to visit Creag an Tuirc, in Scotland -- the ancient rallying place of Clan MacLaren -- a high knoll overlooking Balquhidder -- with beautiful views of Loch Voil.

After many days and many frustrating "polite" phone calls -- coin activated, disconnections as time ran out -- we were told AH still had not built "our" car -- a green car. "Would you take a blue one?" "Hell yes, we'll take a blue one."

Now headed to Scotland in our blue Sprite, we were fed up with British politeness and inefficiency. "An oil change, what, you haven't made a booking?" It was cold and damp; why were we headed north in a brand new rag-top? We made a U-turn, boarded a ferry -- without a booking, "No booking, highly irregular" -- crossed the channel and drove down the west coast of France, stopping at Mount St. Michell, then around to St. Tropez, Monaco, Italy, Germany, Holland, etc. (We have lots of slides to scan.)

More later.