Power Valves, etc.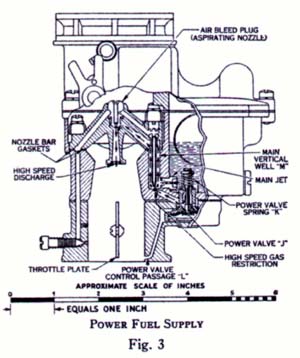 A friend told me the word "carburetor" is an old French word meaning Keep you hands off.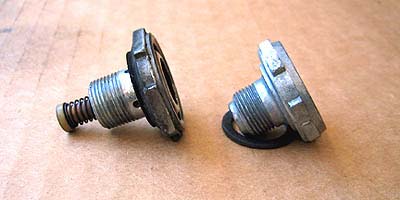 (Read some background info here.)

9/16/03 - Hi Dan, I saw your Instant Message about my carbs. Thanks for asking.
Yes, the car is running MUCH better. I still have the rear carb blocked off completely.
I removed the Power Valve from the front carb and replaced it with one of the plugs given to me by Brent Terry.
The improvement was amazing! Now the car doesn't quit under hard acceleration.
It does hesitate under when you punch the gas pedal. It does so a lot when the accelerator pump is set at #1, less at #2 and still does it a little bit at #3. Mavbe the pump need rebuilding.
Now I intend to unblock the rear carb, plug the Power Valve circuit and try it again.
In any case, the car is running good enough to enter the Newport (IN) Hill Climb on Oct 4 & 5.

-=Grant=-

9/17/03 - See above photo - On your left is a power valve removed from one of my "94" carburetors. On the right is one of two power valve "plugs" (Vintage Speed part #H-28 PVP) given to me recently by Brent Terry.

The power valve resides in the bottom of the bowl section of the carb and protrudes into a recess in the base, or throttle body, portion of the carb. The power valve in both my carbs did not have a gasket where the valve seats in the bowl section. The "plug" came with a gasket (shown in the photo.)

When I removed the power valve and replaced it with a plug (and its gasket), I noticed the plug protruded so far down into the base that the two parts (bowl and base) would not come together tightly enough to allow the gasket between them to seal tightly. So I spent a few minutes on the grinding wheel removing about 1/16" of material from the plug (after the photo was taken.)

I ran the car with one active carb; its power valve removed and plugged. It not only ran better than it has ever run -- and, even at full throttle going up hill, fuel flow was adequate. So far, so good. It seems the power valve, sensing low vacuum, was dumping so much fuel into the engine that the gravity fed fuel was not adequate to keep the bowl at its proper level. (That proves to be rather embar rising during a hill climb competition.)

9/18/03 - Hooked up the rear carb (power valve plugged) and ran the car and drove it a few miles. It ran poorly -- lots of backfiring, etc. So now I'll shut it down again and run on one "plugged" carb until I come up with another plan.

I found the following Internet article to be very interesting.

FUEL PRESSURE REGULATING:
Fuel pressure is very critical to these early carburetors. Early Ford Motor Co. shop bulletins and manuals state the Ford/Holley/Chandler Grove and Stromberg carburetors are all designed to operate at 2 1/2 psi. Yet the fuel pump delivery pressure spec's call for 3 1/2 psi ! I don't understand the thinking behind this. The Strombergs are very sensitive to fuel pressure because of their float/needle valve design. It just doesn't exert enough pressure to overcome the fuel pressure. They have a tendency to flood when fuel pressure is in the neighborhood of 3-1/2 lbs. On these carbs I install a pressure regulator and set it at 2-1/2 psi. This regulator HAS to be physically located between the fuel pump and carb since the fuel pump is putting out 3-1/2 Psi. If you're entering your classic car for judging, then carry a spare fuel line without the regulator and replace it when you get to the meet.

STROMBERG CARBURETORS:
Applications:
48's had a 1.031' venturi and are rated at 175 cfm. They were stock on '34 and '35 V-8's with 221 cu. inches. Main jets were 48 at sea level.
81's had a 0.812" venturi and are rated at 135 cfm. They were stock on '37 and '38 V-S 60's.
97's had a 0.969" venturi and are rated at 150 cfm. They were stock on '36 and '37 V-S's with 221 cu. inches. Main jets were 45 and power valves were #65 at sea level.
L's had a 1.000" venturi and are rated at 160 cfm. They came on '36 and '37 Lincoln V-12's.
The Stromberg 97 is the most popular and plentiful at this time and they're getting pretty scarce. All of the mentioned carbs are quite similar.
---
2006 -- Have you seen the new 97 repros? They are perfect replicas -- right down to the box they come in.

BACK



Made on a Mac by a Mac