Souper's "81" Carbs
March, 2009
---
Google ads helps pay
for this website.
---
---
Stromberg Model "81"
The model 81 had a small 13/16" or 81/100s" venturi and was standard equipment on the 1937 and 1938 Fords with the small V-8-60 engine.
This carb was very popular with the midget racers using the V-8 60 in years past and even today.
It was not produced in large amounts and good cores are rare today.
This little carb flowed about 125 cfm and make great hot rod carbs for small inch motors. Souped up Model A and B Ford and the little V-8-60 V-8 use these a lot.The body section and the base are much smaller inside on the 81 but the outside dimensions look the same.
Most are marked with a large 81 on the side of the bowl, but all have the 13/16 venturi size stamped on the side of the bowl.
The 81 uses a smaller base with tiny throttle plates and are marked marked EE-7/8.
Bob Hunt removed Souper's fuel tank, cleaned its interior and sloshed it with a treatment made for coating tank interiors. Then he installed the two 81's with new fuel lines, and installed the 6 volt pump I've had for a few years. Terry advised we will need a pressure regulator after the pump, so I went home and ordered a Holley 12-804 fuel pressure regulator. (I didn't think to order a gauge, but ordered one the day the pump arrived.)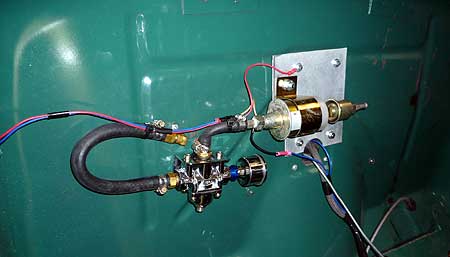 A "behind the tank" view as of 3/21/09.
---
On March 21, Bob Hunt and I played with the carb set-up. Using a coffee can as a gas tank sitting on Souper's floorboard, we ran the engine, observing:
The timing seems to be right, but it's kinda hard to tell with "B" distributer on "A' engine.
The engine runs great on one carb, but still "lean sneezes" on two. i.e., it backfires through the carbureators.
Running on two carbs, it needs almost full choke to stay running.
"4 Banger Friends" advise increasing jet sizes. "Probably by 2 sizes."
The pump, regulator and gauge work fine and the pump makes very little noise.


From Ford Barn: Posted by uncle max on Sunday, March 22, 2009:
In Reply to: Stromberg 81 Jets? posted by Grant MacLaren on Sunday, March 22, 2009:
"Your 81's probably have .035's in them now, although they might be .033's. Usually, popping comes from a clogged jet. Unless your banger is really wild, I'd stick with .035's in both, then maybe try .036's. And, you could go up to # 70 powervalves."
So -- 3/22 -- we took both carbs apart. The "Golden Goose" looked good inside. The other one (in the rear) was a mess. Probably all the passages were clogged up. If we had tried to run the engine on the back carb alone, our guess is it would not have run. All it was doing was permitting more air into the engine -- probably why we had to choke engine to make it run when both carbs were breathing.


Above -- "Rear" carb after soaking
a few hours in carb cleaner.
Strange crud in bottom of float chamber.
(Mostly gone now.)


Above -- "Front" carb (Golden Goose)


Above -- "Front" carb (Golden Goose)
(just another shot)

It's beginning to look as though the guys on Ford Barn were correct. i.e., when properly rebuilt, the engine will run good on two 81's -- without larger jets. Stay tuned. We'll know soon.
Posted by RCW on fordbarn.com March 23, 2009:
In Reply to: Stromberg 81 Jets? posted by Grant MacLaren March 22, 2009:
This a simple problem.
What seems to be logical with carbs is not.
When you put large carbs on a small engine, you jet down.
Small carb on large engine, jet up.
It has to do with CFM through the carb and air fuel mixture.
What you have is small carbs on a large engine and the CFM of air is greater than the fuel going in so jet them up. If you put 97's on it jet down. We had to go to .035's jets with 97's on a "B" sprint we ran.
3/23/09 Spoke with Jim Brierley today and asked, "Should Souper run OK with two 81's having stock jets?" His answer was "Yes, I'm now running three 81's on my speedster. They came with "37's" (jets) and seemed a little rich, so I put in the stock "35's" and they work great."

We talked about float levels and I quoted this aricle.

Jim repled that you can come very close to correct level by running the engine with the carb tops off -- noticing "2 little holes" and "1 little hole below the 2 little holes". The "1 little hole" is an air bleed and if you can see gas there, it's about right.

Jim also mentioned that the Strombergs are known as "leakers."

That's because the needle point (the supply valve's needle) tends to wear an indention in the float's lever arm, causing the supply valve's needle to bind, letting gas level to reach the top of the float chamber. "Using a little sandpaper to smooth out the indent will solve that problem."

3/23/09 -- Ordered a jet wrench from "Mad Max." (The one Terry loaned me doesn't fit in the hole.)
CLICK FOR LARGER IMAGE OF PUMP, ETC.
CLICK FOR VIEW OF PRESSURE GAUGE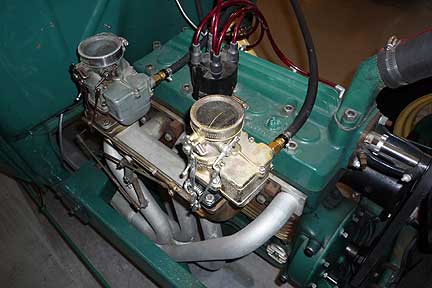 Click on photo for larger image.
Another pretty good web page by Grant MacLaren