Sailing Bicycle

Article in Globe Democrat, Nov. 19, 1976
---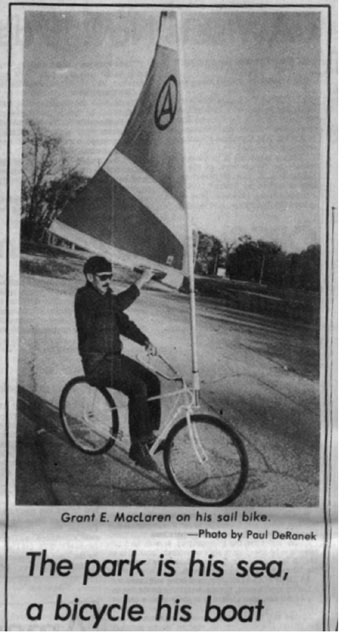 A tall sail billowing in the breeze over the asphalt of a Forest Park parking lot can't match the Yankee Clipper for glamor, but it attracts attention.
"I get a lot of people asking about my sail bike." Grant MacLaren said.
AS PROBABLY the only sail bike skipper in the St. Louis area and Midwest distributor for the Aero-Cycle, MacLaren sails his bicycle in the face of the winds of economic skepticism.
"About three years ago, I read an article about a man who invented a sailing bicycle," MacLaren said. "I was fascinated, so I built one myself."
The 40-year-old MacLaren, coordinator of instructional resources at St. Louis Community College District, then traveled to Darien, Conn., to talk to George Patterson, the inventor of the sail bike.
"I was enthusiastic about his idea and told him I would be glad to be the Midwest representative," MacLaren said. "I am, but we haven't sold any."
THE INTEREST shown when MacLaren sails his bike has a tendency to disappear when he tells people the Aero-Cycle will have to sell for more than $300.
"The problem is not a lack of interest, but the price turns people off," MacLaren said.
The sail bike is easy to master, MacLaren said.
"Most people learn to ride them within 10 minutes," MacLaren said. "If you have some sailing or ice-boating experience you call sail them even more proficiently."
---
---


Another web page
by Grant MacLaren <!******END Grant's Standard Close ************************>