Sailing Bicycles
At the age of 13 I sailed a small boat in Alamitos Bay near Long Beach, California. The 8 ft. boat was a "Sabot" with homemade sails. The sails were made from a WW II parachute, so it didn't perform very well, but that boat started me sailing -- an activity I've loved all my life.
By 1973 I had sailed and raced many boats, including Lightenings, Thistles, Y-Flyers, X-Boats, C-Scows, E-Scows, M-20's, DN ice boats and land yachts. Land yachts were sailed by friends in and around the St. Louis, Missouri area. (St. Louis hard water sailing is limited by mild winters so small land yachts satisfy the lust for winter sailing.) In 1970 I sold my M-20 and bought (oh horrors!) - - - a catamaran! By 1978 I was a pretty good cat sailor, placing 13th in the Hobie 14 Nationals.
Anyway, in 1973 I decided to build a land yacht and enrolled in a welding course so I could build the steering apparatus. (I still have the front fork and one runner, but never did build the sail trike.) One day, sailing a friend's three wheeler, I thought "I'll bet I could sail a TWO-wheeler." I needed a bicycle to start with.
A neighbor said she'd give me her son's old, now unused bicycle if I'd hook up her dishwasher. The plumbing job finished, I built a mast step out of plywood, used a couple of pieces of pipe for mast and boom and made a sail of polyethylene -- held together with duct tape. It sailed pretty good.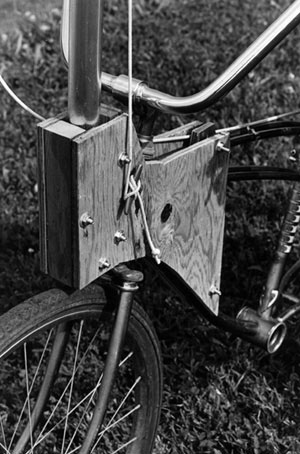 ---


Another web page
by Grant MacLaren <!******END Grant's Standard Close ************************>