Memories of Point Judith
"Uncle Jim" and "Aunt Ede" or James and Edith Meehan were good friends of my childhood family. Jim had a wonderful "persona," he worked with my father at Brown and Sharpe, and often traveled to give talks on behalf of the company. More about Jim HERE.
During my childhood, the Meehans lived in two houses, a small house in Centerdale, RI and a beach home on Pt. Judith. When I was about 14, they moved full-time to the house on Pt. Judith.
The Point Judith house was first located right on the water at the end of Fourth St. When a hurricane's high water washed away the beach on the ocean-side of the of the house, they moved the house away from the ocean, but kept ownership of its original lot, so they could still see the ocean from the house's new location. (Click for larger image.)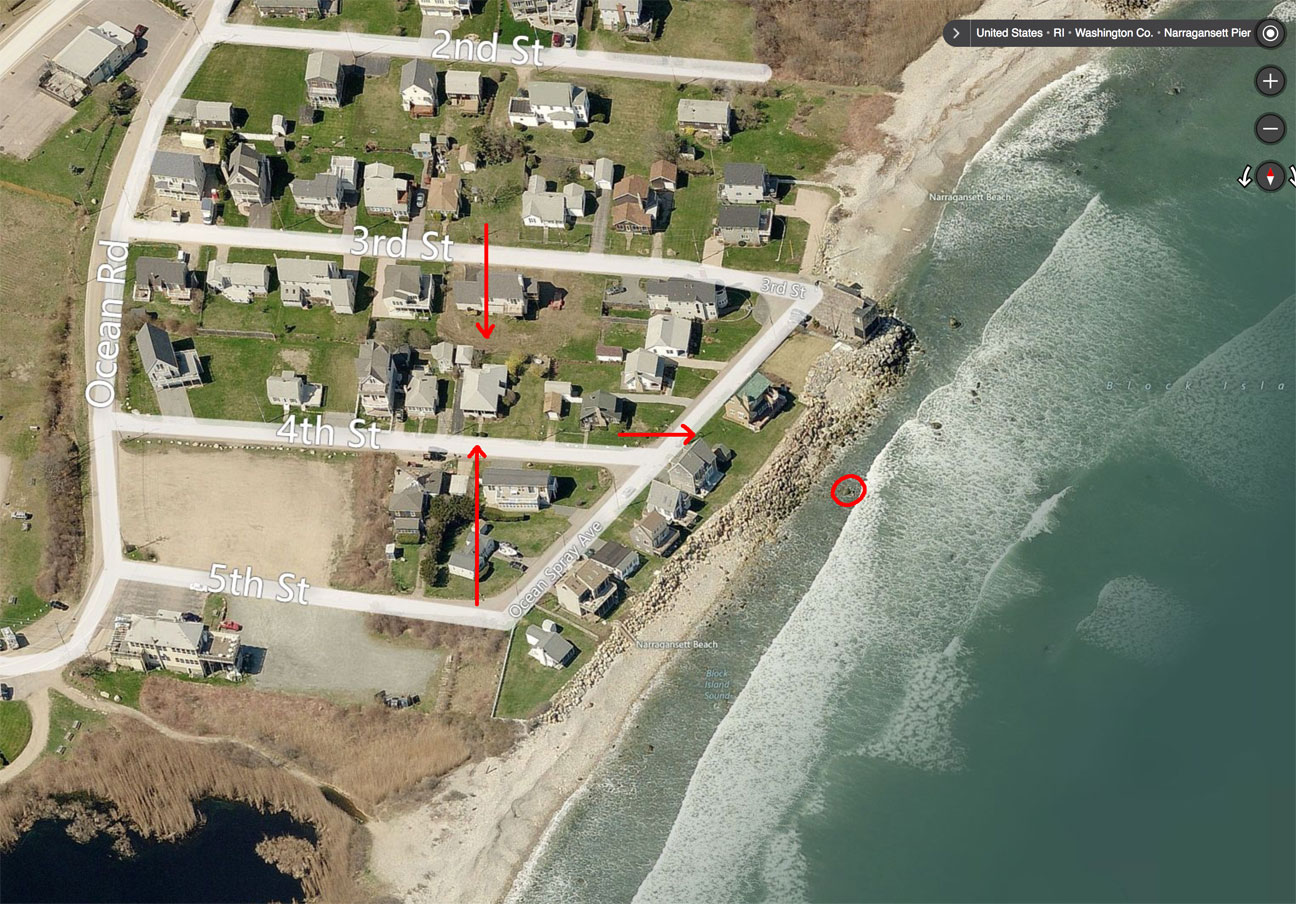 Aunt Ede's mother and father, "Ma" and "Pa" Ramsden, immigrants from England, lived with them. "Pa" was a retired cabinet maker; I have his tool box and many of his tools -- planes and saws, etc. (All marked with his name, "L. Ramsden.")
Before they moved the house "Pa" sometimes kept a boat moored to a very large rock in the ocean, in front of the house. The mooring consisted of an "endless" line that let Pa retrieve the boat for fishing trips, etc. If his boat was not moored close-by in the Sound, a trip to the piers in Galilee to get it was required.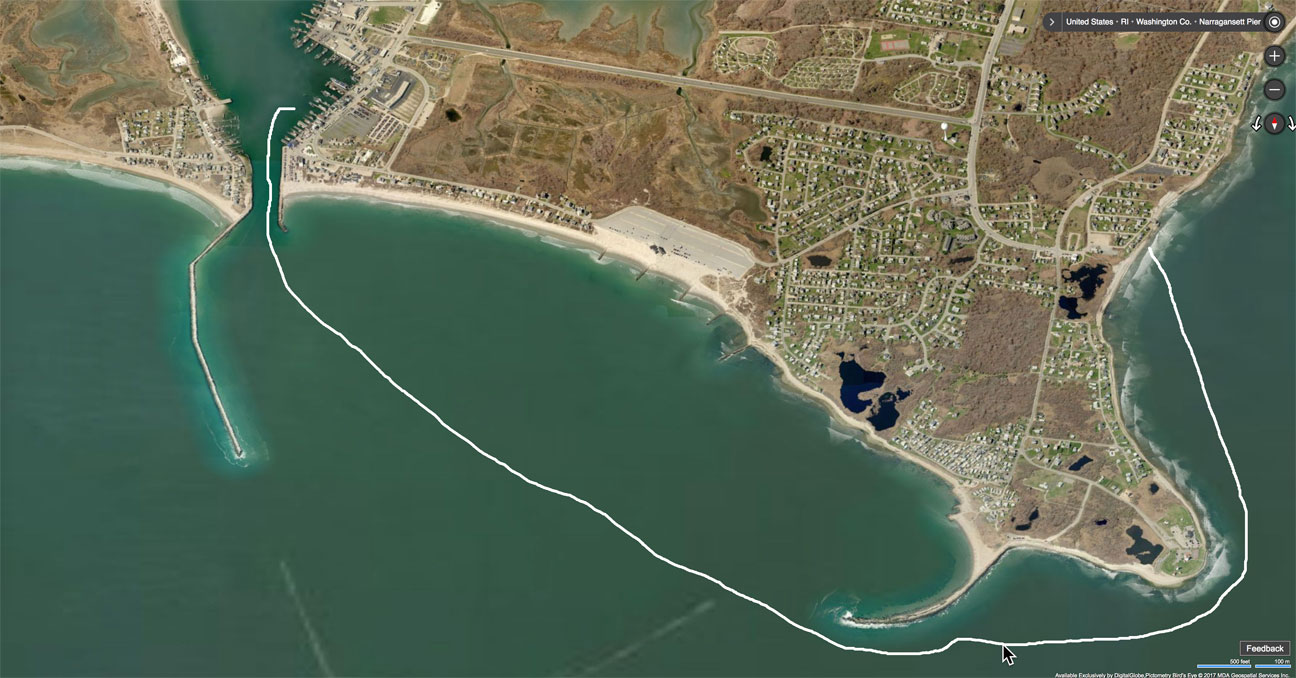 The boat, built by Pa Ramsden, I think, was powered by an outboard. It was mounted in a well within the hull, so the boat was steered with a ruder, controlled using ropes attached to a "T" atop the rudder. The helmsman, "Pa" sat facing forward with a rope over each shoulder. One day, when Dad, Uncle Jim, Pa and I were fishing in that boat on Block Island Sound I was the only one to get a strike. It pulled powerfully on my corded line. I couldn't pull it in, so the adults pulled it in. It was a skate, maybe 2 ft in width.
There is an 8mm movie of us in that boat -- with Pa steering, and my Dad smoking a cigarette, but I've been unable to locate it.
---
Below: A screen shot from an 8mm movie made by my Dad during World War II.
I'll guess 1940 or 1941. The movie is on youtube, and shows a PBY flying along the water's edge, looking for German U-Boats. (Start your viewing at 6:28.) This group is coming off the Meehan's "front" porch -- overlooking Block Island Sound, just north of the Point Judith lighthouse. This porch was destroyed during a hurricane -- the waves washed out the rocks that had supported it. So "Uncle Jim" an "Aunt Ede" moved the house back about 1/2 block west on 4th Street. The Ramsdens were Ede's parents. "Ma" was my grandmother, Elizabeth Ann Derbyshire Merchant.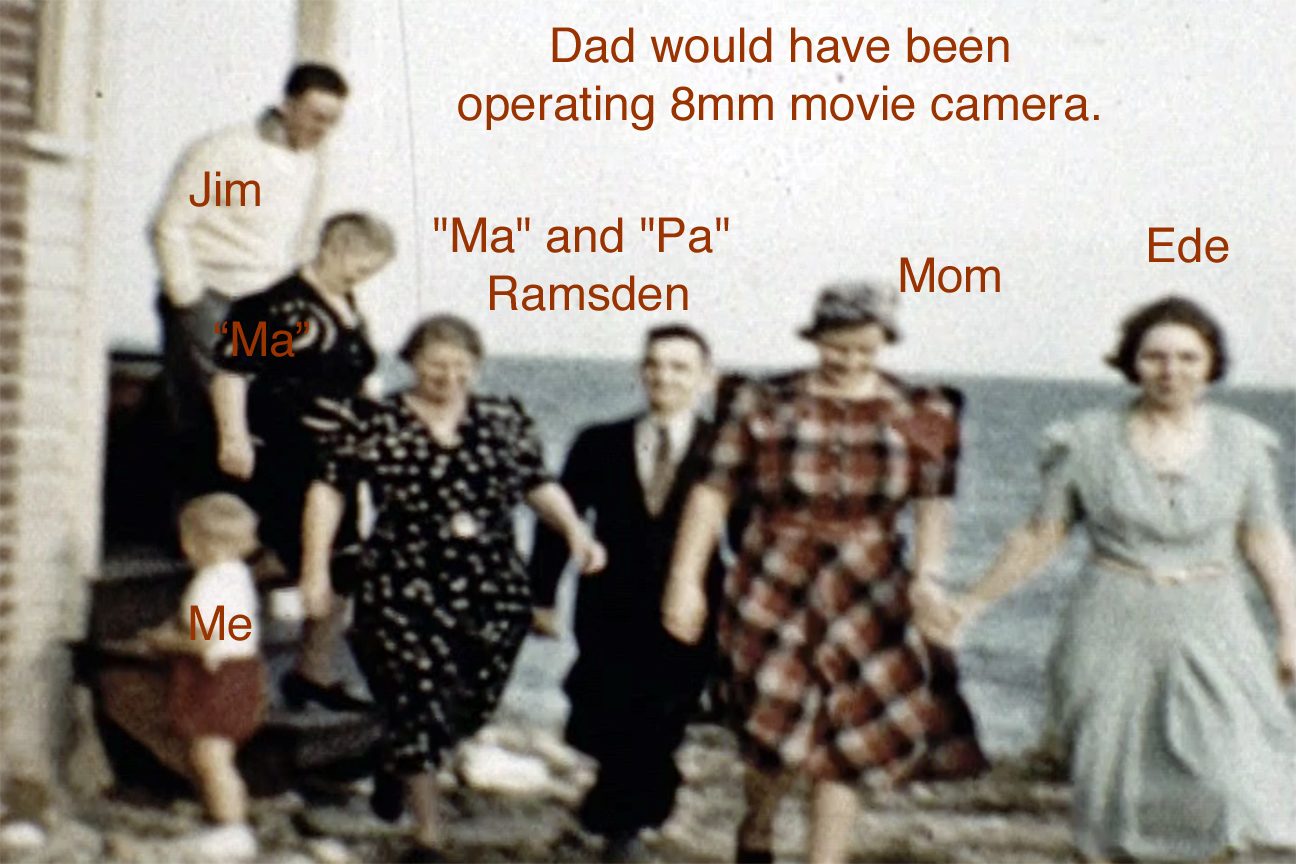 Here's another screen shot. And here's Meehan's house today.
---
GRANT'S HOME PAGE
---
Another pretty good web page, hand-crafted by
Grant MacLaren