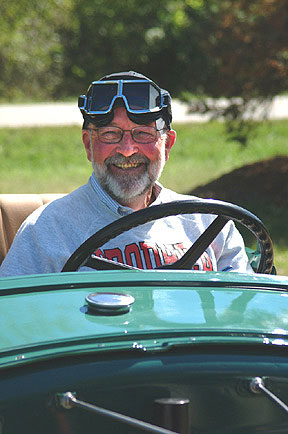 "Souper" at Newport, Indiana
Is it legal to have this much fun?
Hundreds of old cars climb the hill at Newport.
---
---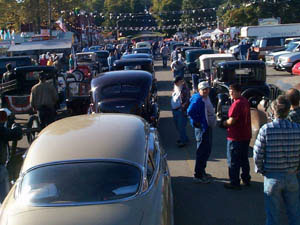 Here is the "staging area" for the practice runs on Saturday, October 5, 2002. You are allowed to make as many runs as you can make on Saturday and again on Sunday morning. The race officials start ten cars from each row. This gives you plenty of time to brag, lie and look at all the other neat old cars -- and every time you start your car, you move up ten spaces. Nice!

When is the Newport Hill Climb? The actual hill climb competition is held annually on the FIRST SUNDAY OF OCTOBER. (So, if the first Sunday falls on October 1, some events could begin in late September.) Remember - The First Sunday in October!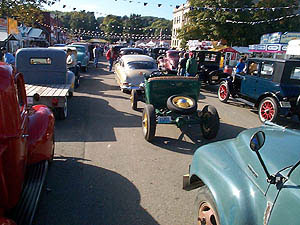 ---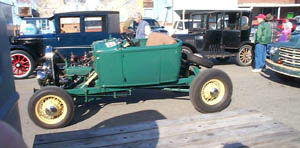 Those boards in the foreground are the bed of an old farm truck. And look at those old cars behind Souper. They run everything here.
---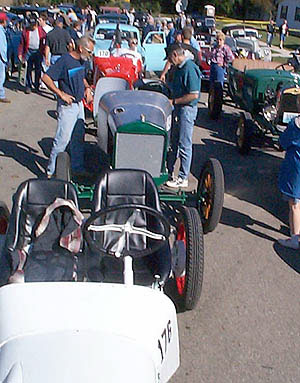 There are over twenty classes for the hill climb competition. The only "modified" class currently is for Model "T's." I hear there is some consideration for a modified Model "A" class. More than 55 Model "A's" entered the 2002 hill climb. There is a class for discontinued makes -- and I saw at least five Crosleys on the hill.
---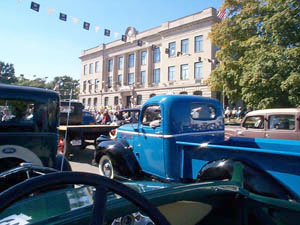 The Court House front lawn serves as the "bleachers" for the big, friendly starting line crowd. The picture below was taken from Souper while waiting for the "Christmas Tree" starting signal -- during my second "practice run" on Saturday. When I put the camera to my eye, people waived!


---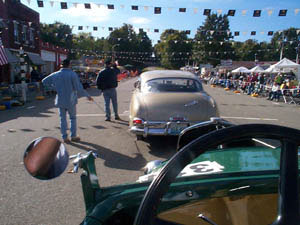 Here's Souper positioned for the next start. The finish line is 1800 feet from the start, out of sight over the crest of the hill. (Hill height is 140 ft.) The fellow driving that Hudson is from Arnold, Missouri. After lots of questioning, he admitted to knowing Jim Ruth.

I ran Souper up the hill four times -- three times "practice," once (per the rules) for competition. Running the hill clearly demonstrated the need for a fuel pump. The gravity feed from the Model "A" cowl tank was insufficient to feed the four-banger under full throttle up that hill.
(Wait 'til next year!)

---



Unofficial Observations

The Newport Lions Club does a fantastic job of running this three-day event. It's more than a hill climb; it's a three day, small town festival with all kinds of activities for young and old. Some things I have read, heard of or observed first-hand include:
It's the third largest automobile racing event in Indiana.

#1=Indy 500
#2=Brickyard 400,
#3=Newport Hill Climb

Over FIFTY Model "A" Fords competed in the hill climb! A big parade Quilt raffles Antique (make and break) engine display 23 pigs BBQ'ed by The Lions Club for their sandwich/dinner offerings Apple dumplings Pumpkin ice cream Good traffic control on/off the highway Big car show (First 400 get dash plaques.) All hill climb contestants get a commerative pin. (Mine - from 2002 and 2003 - at upper left.) Antique car auction Antique car raffle (Winner can enter it in the hill climb.) Big Wheel races for kids. Swap Meet Baby contest Gospel Music Jamboree Flea Markets Fireworks
---
Click on an ad -- doing so helps pay for this website.
(Ads are not selected by the webmaster. Google selects advertisers based on page's content.)
---
---
Questions? Email Grant.
grant@grantmaclaren.com