How much is my Model "A" Ford worth?
(Some facts and some opinions.)
by Grant MacLaren
This is the most frequently asked question on our web site. (It's and easy question to ask; usually impossible to answer.)
The basic answer is. "Your Model "A" Ford is worth whatever a buyer is willing to pay." That's pretty much true of any "collector" or special interest car. The value of a Model "A" Ford can be a very subjective thing. There are some "ball park" amounts, of course. But the range of sales prices vary widely.
And, let's face it:
Most buyers want to pay as little as possible.
Most sellers want to be paid as much as possible.
There ain't a "blue book."
Some background:
The Ford Motor Company produced five million Model "A's"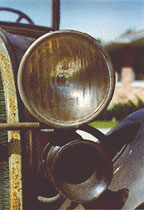 from very late 1927 through 1931. With very few exceptions (for limited production body styles), Model "A" Fords are not very "rare." And, there are probably more on the road today than there were five years ago. That's because restoring and/or rebuilding Model "A's" is a very popular pastime for many people. In other words, your Model "A" is not a very rare car. (And, it is NOT a "classic" by any definition of the term.)
There are tens of thousands of Model "A" owners who enjoy their cars for a wide variety of reasons. The Model "A" hobby is so big it keeps a number of parts suppliers in business. (See appendix.)
There are many ways to determine a "ball park" price for a Model "A" to be sold or purchased. Maybe the best is to get involved with a local Model "A" club. Two national organizations offer memberships that include handsome bi-monthly magazines. Officially "newsletters," that always contain classified advertisements offering Model "A's" "wanted" and "for sale." The clubs are The Model "A" Restorers Club (MARC) and The Model A Ford Club of America (MAFCA) (See our home page for links.) The two national clubs have many chapters in the USA and countries throughout the world.
Another popular publication having "A's" listed "for sale" or "wanted" is Hemmings Motor News. Most large newsstands and bookstores carry this thick monthly devoted to automobile "classifieds." Anyone buying or selling an "A" will want to review the current offerings in this popular publication. Its total paid circulation is over 250,000. (Go to google.com and search for "Hemmings." )
However, even when these publications offer cars for sale, the buyer must determine what's being described. For instance, just because the seller says the car is "original" or "restored," the buyer is advised to carefully investigate the actual condition of the car. (We have seen engines "restored" with a three dollar can of "Ford Engine Green" spay paint, while a reputable engine rebuilder might charge $1,500 to $2,000 to rebuild your rebuildable engine.)
Appraisers
In the "Services" section of Hemmings, you will find ads for a number of professional appraisers. Some offer web sites displaying samples of their reports. And some will "evaluate your car on-line for a fee between 50 and 100 dollars. The approach is not recommended for model "A's." One site shows a sample report that essentially gives an opinion based on 3 or 4 ads appearing in the current issues of the following publications:
Old Car Price Guide (by Krause publications.)
Cars of Particular Interest
American Car Guide
Hemming's Motor News
Collector Car and Truck
Old Car Trader
The "Old Car Price Guide" provides this rating scale:
1. EXCELLENT: Restored to the current maximum professional standards of quality in every area, or perfect original with components operating and appearing as new. This is a 95-plus point show car that is not driven. In national show judging, a car in No. 1 condition is likely to win top honors in its class. In a sense, it has ceased to be an automobile and has become an object of art. It is likely to transported to shows in an enclosed trailer, and, when not being shown, it is stored in a climate-controlled facility. It is not driven. There are very few No. 1 cars.
2. FINE: Well-restored, or a combination of superior restoration and excellent original. Also, an extremely well-maintained original showing very minimal wear. Except for the very closest inspection, a No. 2 vehicle may appear as a No. 1. The No. 2 vehicle will take the top award in many judged shows, except when squared off against a No. 1 example in its own class. It may also be driven 800-1,000 miles each year to shows, on tours, and simply for pleasure.
3. VERY GOOD: Completely operable original or "older restoration" showing wear. Also, a good amateur restoration, all presentable and serviceable inside and out. Plus, combinations of well-done restoration and good operable components; or a partially restored car with all parts necessary to complete it and/or valuable NOS parts. This is a "20-footer." That is, from 20 feet away it may look perfect. But as we approach it, we begin to notice that the paint may be getting a little thin in spots from frequent washing and polishing. Looking inside we might detect some wear on the driver's seat, foot pedals, and carpeting. The chrome trim, while still quite presentable, may have lost the sharp, mirror-like reflective quality it had when new. All systems and equipment are in good operating order. In general, most of the vehicles seen at car shows are No. 3s.
4. GOOD: A drivable vehicle needing no, or only minor, work to be functional. Also, a deteriorated restoration or a very poor amateur restoration. All components may need restoration to be "excellent," but the car is mostly usable "as is." This is a driver. It may be in the process of restoration, or its owner may have big plans, but even from 20 feet away, there is no doubt that it needs a lot of help.
5. RESTORABLE: Needs complete restoration of body, chassis, and interior. May or may not be running, but isn't weathered, wrecked, and/or stripped to the point of being useful only for parts. This car needs everything. It may not be operable, but it is essentially all there and has only minor surface rust, if any rust at all. While presenting a real challenge to the restorer, it won't have him chasing for a lot of missing parts.
6. PARTS CAR: May or may not be running, but is weathered, wrecked, and/or stripped to the point of being useful primarily for parts. This is an incomplete or greatly deteriorated, perhaps rusty, vehicle that has value only as a parts donor for other restoration projects.
I can tell you from personnel (and/or first-hand) experience that to completely restore a Model "A" Ford to be a safe, attractive "driver," not a "show car, it would be easy to spend $15,000 in parts and professional help. This would not include the hundreds of hours that the owner might spend on assembly, travel, etc.
Many Model "A's" found in barns today (yes, there are still some of these) were driven for many years before being retired. It is not uncommon to find them in a condition quite different than when they left the factory.
"When my husband bought this car, he said it would be a "good investment."
Well, your husband may have truly believed that to be the case. But, unless he struck a deal for a very rare model in very good condition, its value may not have increased. Sorry, but there is a humorous saying among antique cars buffs: "Do you know how you make a small fortune collecting odd cars?" Answer: "Start with a large fortune."
"When my husband bought this car, he said it would be a 'good investment' and he added things to the car, so I want to sell it for more than he paid for it."
If the item(s) added comply with the Model A Ford Judging Standards, it is possible they increased the value of the car. However, lets say the owner replaced the original wire spoke wheels with "better" solid wheels -- or 16" wire wheels. -- Ooops, its value probably just went down.
Or, maybe the rear bumper brackets were improperly modified to add a "touring trunk." Depending of the make, style, condition of the trunk -- AND whether the buyer wants a trunk on his/her car, the addition of a trunk may have increased -- or decreased -- the cars value in the eyes of that buyer.
"But this car has been restored!"
What does that mean? A man I know paid $25,000 for a handsome looking 1931 Deluxe Roadster. It had been "restored" professionally with a certain amount of attention paid to detail. For example: there was welting installed on the floorboard edges. However, the car was painted a bright red -- an "incorrect color" for this particular model. (My guess is the owner who hired the restorer requested the color.) The spark lever was a shiny new "repro" chrome plated all the way to its forward end, causing the rod to "freeze" and be inoperable. The "repro" radiator had no baffle in the upper tank and it spewed coolant all over its shiny red paint. etc., etc.
"To each his own"
(Should that be "to each her own?") In the rest of this document, I've tried to be objective. But let's face it, what I'm willing to pay for a car might be quite different from what my neighbor might pay, so I know some things I say here that might irritate others.
My love for Model "A's" comes from my youth. The first car I ever drove was 1931 Roadster with a home-made hard top and a home-made pickup bed. It had a "Dodge Power Wagon" emblem wired to its radiator, big knobby tires and was driven every weekend from my uncle's home to his summer "camp" on a lake in Rhode Island.
Another Model "A" of my childhood was my Great Uncle Fred's Fordor. Uncle Fred was a bachelor and had owned two cars in his lifetime; a Model "T" and his Fordor. By the time I knew Fred, he was comfortably retired from the textile mills and drove his "A" daily, mostly on back roads in rural Rhode Island. From about age nine to thirteen, during summer vacations, I was his passenger on these trips. (See "Thank You M'ams")
In 1949, (I was at fourteen), our family moved from suburban Philadelphia to Southern California. Talk about "culture shock!" Palm trees, suede jackets, gunnite swimming pools and -- hot rods!
Anyway, that's where I'm coming from.
Model "A" Fords were not highly prized in my youth, but there were still quite a few on the road. Every time my Uncle Fred pulled into a gas station, the attendant would ask if the car was for sale.
Now, here's where I might get in trouble:
There are some things I NEVER saw on Model "A" Fords in my youth. And they are the things that just scream "fake" (maybe "over-restored" is more politically correct) to me when I see them on "restored" cars today:
Etched glass.
"Stone guards" on radiators
White walls
Light colored fabric spare tire covers
Right hand welled fenders
Right hand tail lamp (unless standard equip.)
---
Bob Johnson posed the following on the ahooga.com message board a few years ago:
So You want to know how much a Model A is worth. I made a database with all of the Model As in the Restorer and Model A News for the last five years. There were 1473 cars listed. I grouped them by body style (Type) and condition. I grouped all of the Coupes (standard, deluxe, special, business and sports) into one group. I also grouped all of the 4 doors and town sedans together. I use 5 condition categories. Unrestored includes basket cases to complete cars that are all there but not necessarily driveable. Original is a car that is complete, driveable, unrestored, and in very good condition. A Driver is a car that runs and is either partially restored or a car that was restored a while back and is showing itís age. Restored is a recently completely restored car. Show cars are cars that have won awards or professionally restored cars. Note that I had to use the words in the ads to determine the condition of the cars, and everyone has different opinions on the conditions of cars. It should also be noted that the prices shown below are in thousands of dollars and are asking prices. The low, high and average prices are just that. The Deviation is the standard deviation of the price. It basically represents how spread out the prices are. Take for example the restored coupes. The average is $11,200 and the deviation is $2,400. So I would say that the asking price of a typical restored coupe would be $8,800 to $13,600. The count is the number of cars of that Type/Condition. The higher the count the more reliable the average. I will try to add graphs and charts later. Remember the financial worth of a Model A is how much someone is willing to pay. The Real worth can be priceless.
| | | | | | | |
| --- | --- | --- | --- | --- | --- | --- |
| Type | Condition | Low | High | Average | Deviation | Count |
| 400-A | Unrestored | 12.50 | 21.00 | 16.75 | 6.01 | 2 |
| 400-A | Driver | 17.00 | 30.00 | 22.94 | 5.28 | 8 |
| 400-A | Restored | 17.00 | 30.00 | 24.93 | 3.98 | 7 |
| 400-A | Show | 25.00 | 36.50 | 31.65 | 4.41 | 6 |
| AA | Unrestored | 1.00 | 15.00 | 4.66 | 3.03 | 24 |
| AA | Driver | 6.00 | 15.00 | 9.04 | 2.43 | 14 |
| AA | Original | 30.00 | 30.00 | 30.00 | | 1 |
| AA | Restored | 2.50 | 20.00 | 8.90 | 5.04 | 12 |
| AA | Show | 8.00 | 35.00 | 26.00 | 15.59 | 3 |
| Cabriolet | Unrestored | 3.00 | 11.00 | 6.87 | 2.46 | 9 |
| Cabriolet | Driver | 6.00 | 18.40 | 12.26 | 4.23 | 10 |
| Cabriolet | Original | 18.00 | 18.00 | 18.00 | | 1 |
| Cabriolet | Restored | 7.90 | 20.00 | 17.19 | 3.33 | 12 |
| Cabriolet | Show | 15.90 | 22.50 | 19.02 | 2.44 | 11 |
| Coupe | Unrestored | 1.00 | 14.50 | 4.36 | 2.20 | 61 |
| Coupe | Driver | 4.00 | 17.50 | 8.77 | 2.00 | 97 |
| Coupe | Original | 5.00 | 23.50 | 11.81 | 5.57 | 9 |
| Coupe | Restored | 7.00 | 19.00 | 11.22 | 2.36 | 104 |
| Coupe | Show | 8.20 | 23.50 | 15.63 | 4.53 | 38 |
| Delivery | Unrestored | 2.00 | 9.00 | 5.04 | 2.51 | 10 |
| Delivery | Driver | 7.50 | 30.00 | 14.96 | 7.22 | 12 |
| Delivery | Original | 25.00 | 25.00 | 25.00 | | 1 |
| Delivery | Restored | 12.00 | 18.00 | 16.10 | 2.61 | 5 |
| Delivery | Show | 18.00 | 29.00 | 24.25 | 4.57 | 4 |
| Four Door | Unrestored | 0.50 | 8.90 | 4.16 | 1.56 | 80 |
| Four Door | Driver | 4.00 | 16.00 | 9.14 | 2.42 | 52 |
| Four Door | Original | 6.80 | 25.00 | 10.93 | 5.28 | 10 |
| Four Door | Restored | 6.90 | 18.50 | 11.10 | 2.35 | 43 |
| Four Door | Show | 10.50 | 25.00 | 18.94 | 5.19 | 10 |
| Phaeton | Unrestored | 4.50 | 12.50 | 9.00 | 2.26 | 9 |
| Phaeton | Driver | 9.00 | 18.00 | 14.80 | 2.65 | 24 |
| Phaeton | Original | 12.50 | 25.00 | 19.38 | 6.57 | 4 |
| Phaeton | Restored | 12.50 | 26.00 | 17.83 | 3.63 | 23 |
| Phaeton | Show | 16.80 | 35.00 | 23.91 | 3.99 | 23 |
| Pickup | Unrestored | 1.00 | 6.80 | 3.38 | 1.70 | 45 |
| Pickup | Driver | 4.10 | 12.50 | 7.70 | 1.80 | 66 |
| Pickup | Original | 14.00 | 14.00 | 14.00 | | 1 |
| Pickup | Restored | 6.20 | 19.50 | 11.23 | 2.99 | 57 |
| Pickup | Show | 11.50 | 21.50 | 16.09 | 3.23 | 21 |
| Roadster | Unrestored | 1.20 | 11.00 | 5.27 | 2.31 | 46 |
| Roadster | Driver | 7.00 | 21.50 | 13.07 | 3.37 | 66 |
| Roadster | Original | 14.50 | 16.70 | 15.93 | 1.11 | 6 |
| Roadster | Restored | 10.00 | 20.00 | 15.27 | 2.53 | 71 |
| Roadster | Show | 12.50 | 30.00 | 19.57 | 4.23 | 40 |
| Station Wagon | Unrestored | 1.00 | 13.50 | 5.61 | 3.68 | 9 |
| Station Wagon | Driver | 7.70 | 18.50 | 14.04 | 5.28 | 5 |
| Station Wagon | Restored | 11.50 | 21.50 | 15.17 | 3.05 | 12 |
| Station Wagon | Show | 21.50 | 39.00 | 29.75 | 6.19 | 8 |
| Tudor | Unrestored | 1.20 | 7.50 | 3.75 | 1.45 | 73 |
| Tudor | Driver | 4.00 | 12.70 | 7.59 | 1.82 | 67 |
| Tudor | Original | 11.00 | 14.50 | 12.79 | 1.29 | 7 |
| Tudor | Restored | 4.00 | 16.00 | 9.48 | 2.34 | 60 |
| Tudor | Show | 7.50 | 22.00 | 13.92 | 3.92 | 17 |
| Victoria | Unrestored | 3.10 | 8.90 | 5.84 | 1.93 | 8 |
| Victoria | Driver | 6.50 | 16.50 | 10.75 | 2.94 | 24 |
| Victoria | Original | 14.50 | 14.50 | 14.50 | 0.00 | 2 |
| Victoria | Restored | 9.50 | 22.00 | 13.83 | 3.37 | 12 |
| Victoria | Show | 14.90 | 22.50 | 18.21 | 3.24 | 10 |
---
Click on an ad -- doing so helps pay for this website.
(Ads are not selected by the webmaster. Google selects advertisers based on page's content.)
---
---