1900 Locomobile
For Sale SOLD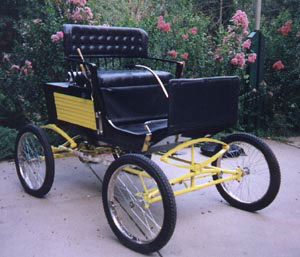 This 1900 Locomobile with Day Land engine and center tiller steering is for sale by its owenr/builder due to his retirement. This website displays more than fifty photographs of the car and a full written description. To see all the photos and information, please follow the "MORE" links at the bottom of the web pages, and the arrows on the photo pages.
| | |
| --- | --- |
| | During the summer of 2007, the car was on display in a special exhibit at the Studebaker National Museum in South Bend, Indiana. The car is now in Missouri. See October, 2007 photos of it running. |
All systems pressure tested to at least 100% over useful range.
Some components are from original car (rear axle, differential, etc.) but most are new as of dates shown in photos on this website.
Ready for parades and great for demonstation runs. Show the kids what steam was all about. Builder/owner will instruct Buyer in proper operation. No title.
Howard Henderson
420 So. Kirkwood Avenue, #338
Kirkwood MO 63122

| CLICK FOR MORE INFORMATION |



Web page by Grant MacLaren