Howard Henderson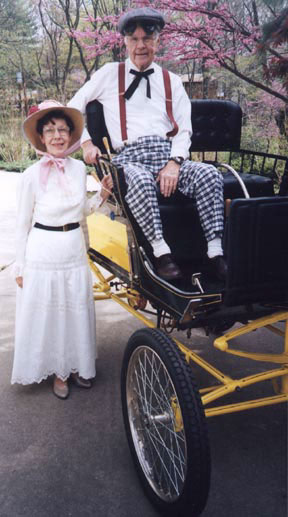 Ronnie & Howard
Henderson, Howard W, 96, Died January 7, 2016. Beloved husband of the late LaVerne "Ronnie" Kostedt Henderson; father of Dale and the late Mark Henderson; brother of the late Richard D. Henderson; uncle, great uncle and friend. Howard was an engineer at McDonnell-Douglas in St. Louis for more than 30 years and a World War II Army veteran. He helped found or foster local chapters of the Experimental Aircraft Association and the Alliance for the Mentally Ill. Early meetings and performances of the St. Louis Classical Guitar Society took place in his Kirkwood home. He and others restored Charles Lindbergh's Monocoupe in his garage; the plane was hung at Lambert Field in 1979. Among other personal projects were three airplanes he built and flew, violins, guitars, a replica of a 1904 Locomobile steam car, boats and furniture. He received an award in the Wright Brothers' mansion in Ohio for his Pietenpol Air Camper powered by a Model "A" Ford engine. Memorial service Saturday, Jan. 16, 11 a.m. at Eliot Unitarian Chapel, 100 South Taylor Ave. Kirkwood, MO 63122. Donations to the National Alliance on Mental Illness or Eliot Chapel.
A good memory, one of many: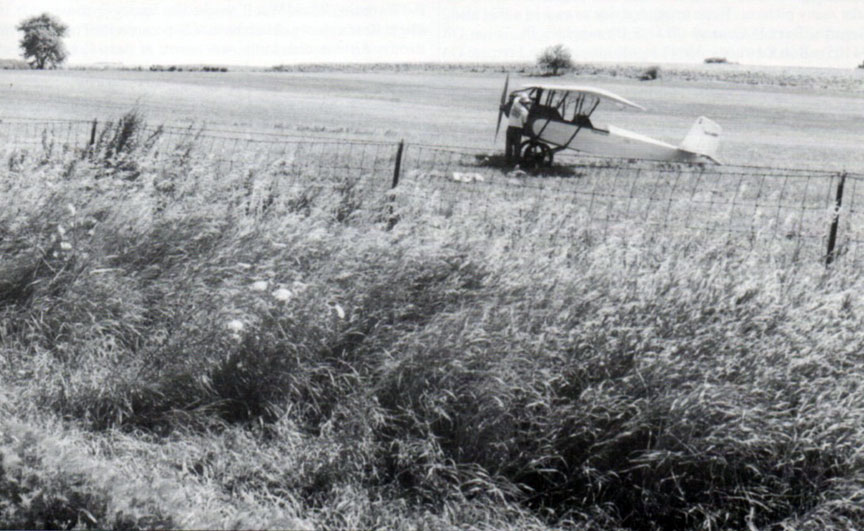 In 1995, on one of our many trips to Brodhead, Howard was flying the Piet solo, when on the final leg, a lightening storm forced him to use a farmer's field as a landing spot. I was driving my van, its gas tank served as the airplane's fuel supply. (The 300 mile flight from St. Louis to Brodhead required two fuel stops.) No cell phones then; when I arrived at the airport, I was greeted with "Where's Howard?" (The Piet was slow, but not THAT slow.) Howard managed to find his way to a farm house where the farmer phoned the airport for him. I found him at the farm. We left the Piet where it landed and returned the next morning to dry out its magneto and dumped lots of water out of the fuselage -- for the remaining short hop of ten miles or so.
More memories: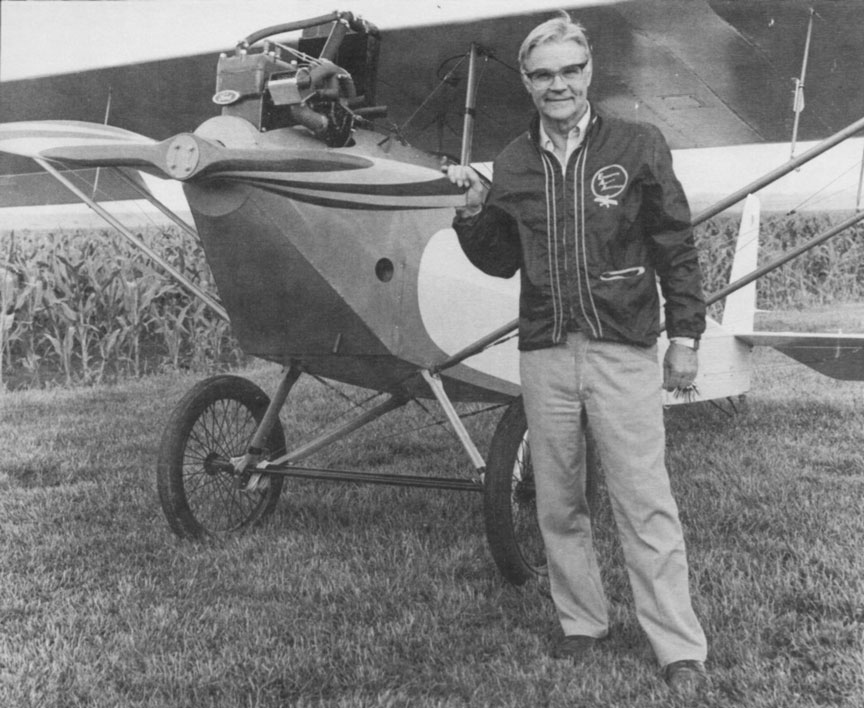 After knowing Howard for a few years, and flying with him in his T-18, it did not surprise me that he'd decided to build another airplane. He had completely rebuilt a Cub, restored Lindberg's Monocoupe hanging at Lambert, built the Sky Coupe, then the T-18. What did surprise me was him asking about Model "A" Ford engine availability. "I didn't know you were interested in old cars," sez me. "The engine's not for a car, it's for an airplane," sez Howard. I was pretty sure an old heavy four-banger would never fly an airplane, but to show me otherwise, we flew up to Brodhead (WI) where I got a ride in Bill Knight's gorgeous Air Camper. Wow! I was impressed. Back in St. Louis we attended my "A" Club's annual swap meet where Howard bought a 1928 Ford engine. He rebuilt it, and we installed it in my '31 Sedan for a 1500 mile test run, while Howard built a Pietenpol Air Camper to original plans.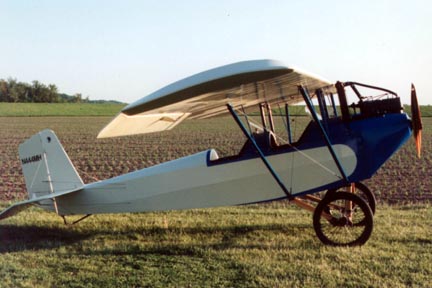 At the time I was not an EAA member. Howard was, of course. Without Howard's knowledge I submitted an article to EAA's Sport Aviation. It was published in the February edition, 1989. Can you imagine my thrill when Howard phoned to tell me of his surprise? EAA's president Paul Poberezny asked the magazine's editor, Jack Cox "Who's this guy MacLaren and why doesn't his by-line contain an EAA number?" When told I was not a member, Paul said "Make him a member." So in a roundabout way, it was Howard who got me an EAA number.
-=Grant=-
One of the first 2 or 3 times Howard flew the Piet, it stopped — in the air! — and then started a few seconds later! The culpert was its magneto — the only component Howard had not built or rebuilt. Before that day, his friend and fellow-builder Hal Christianson, Howard and I had tried for hours to start the engine by "propping" it. (I have video.) The single magneto was not an "impulse mag," and we all concluded it would be much easier to start the the old Ford if it was. So Howard went over to Illinois and purchased a "Certified" impulse magneto, and installed it. The engine was easy to start. Problem was, the "Certified Mechanic" at the "FAA-certified Repair Station" had left a timing wire in place when he, or she, rebuilt it. Howard was in the air when wire came loose and made one trip around the drive gear, interrupting the spark. When opened we found that wire, bent perfectly in the shape of the gear's teeth.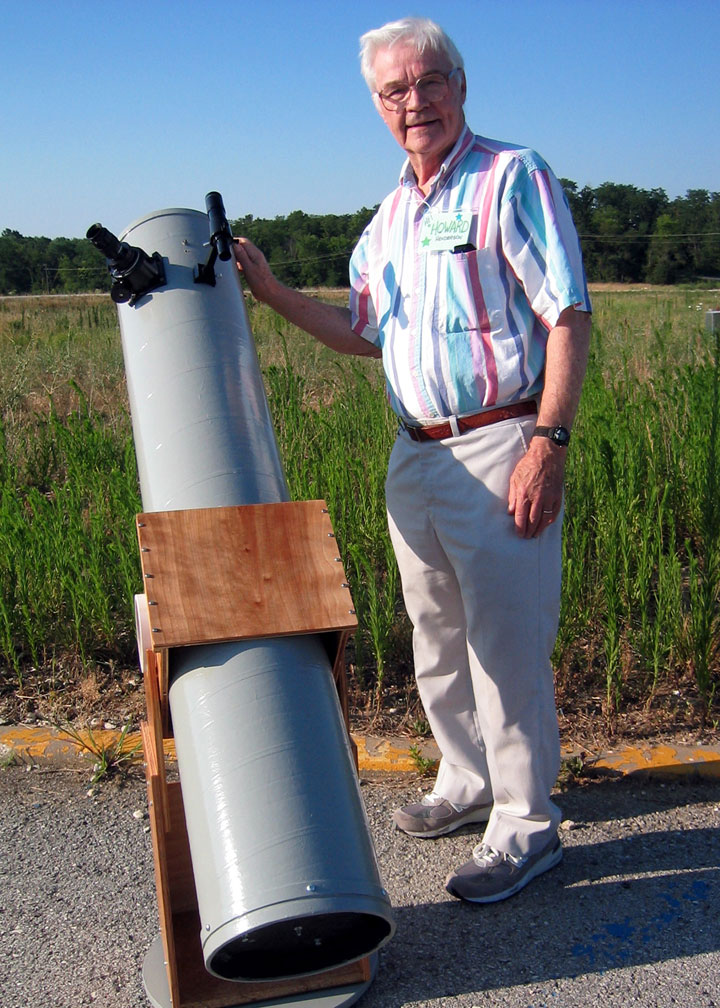 Howard with telescope
Howard built a number of telescopes, grinding their reflective mirrors in his Kirkwood basement. Here are two of them.
A good friend of ours built a replica of the Wright Flyer owned by The Franklin Institute. (A small group had been hired by The Franklin to restore the Flyer.) Howard and I flew over to Dayton to see both the original Flyer, and its replica. Here we are with the original being restored. Friends will recognize Dick Alkyre and John Strutman, Ralph Wasser behind Howard.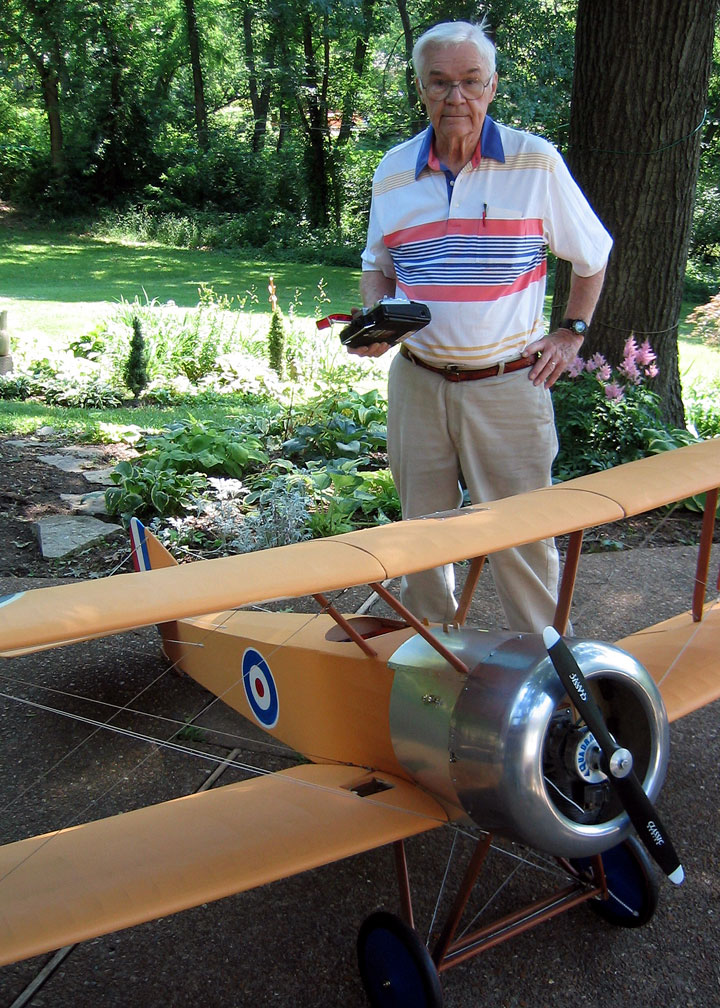 Howard with his "Pup"
Howard has always built and flown model airplanes -- hand-launched, rubber powered, gas-powered, etc. He sailed RC boats. He'd fly at Buder or at the sod farm. Here's a photo of Howard's Sopwith Pup.
google Henderson 444MH MacLaren locomobile
(for much more about Howard)
Henderson's Locomobile at Strutman's
Jack Hereford & Howard with Jack's Ercoupe
Program, a celebration of life
St. Louis Post Dispatch obituary
Text: MacLaren introduces Henderson at Chapter 32 Meeting
Fly behind an "A" (not Howard's)
---

TO GRANT'S HOME PAGE
10 JANUARY 2016
---