---
Bill's 1941 Packard Hearse
---
It was about 1956 when an Elmhurst friend acquired a 1941 Packard hearse, with body by Henney. Although geared all wrong for highway speeds, we drove it many times from the Chicago area to Carbondale, IL and various places in So. Wisconsin.
We received deferential treatment from other traffic (including Dundee police) when we turned on the headlights, lowered the shades in back and wore billed hats borrowed from our high school (York) marching band.
Mounted just below the starboard side running board was a "pull-out" 78 rpm record player that had provided graveside music.
It worked! . . . after the amplifier tubes warmed up. Our favorite record was "Too old to cut the mustard."
THIS was the version in Bill's hearse:
"Too old to cut the mustard"
About three years ago a similar vehicle showed up at the Easter Car Show in Forest Park here in St. Louis. Alas, it had no record player.
Here's a '41 Packard, but Bill's was the version with the smaller engine.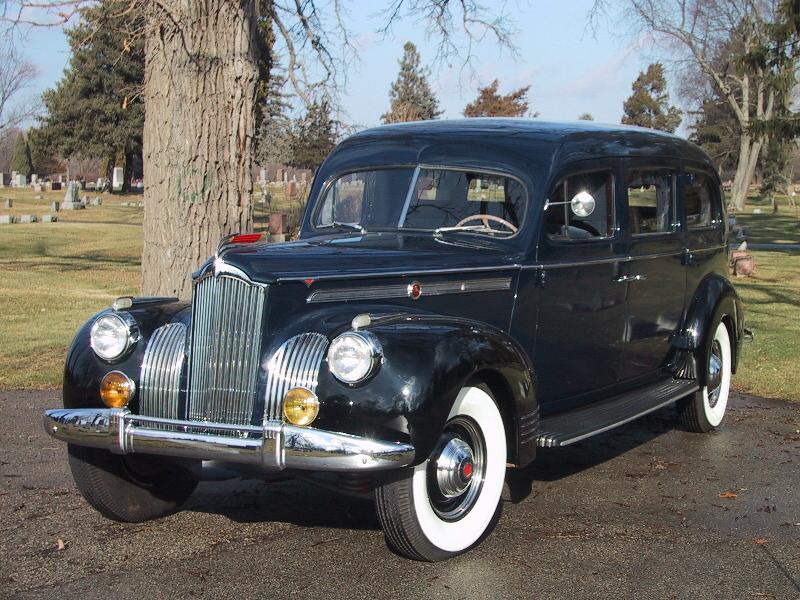 On one Christmas vacation trip from Carbondale, the little engine threw a rod. The rod was replaced -- outside -- in the owner's driveway -- in December -- near Chicago. Brrrrr.
---
An email to friends, 11/16/14:
Suppose you remember Bill Dailey's '41 Packard hearse. Complete with 78 rpm record player under right-hand running board. "Too old to cut the mustard" was one favorite we played. Bill and I discussed the car at recent (York '54) indoor Villa Park picnic, remembering it threw a rod on one trip from Carbondale to Elmhurst. When we towed it home, I was behind the Packard's wheel with Bill driving the tow car (his father's Ford) -- way too fast for my liking, so I steered us off the highway onto the shoulder. Bill was not happy. (I did not remind him of another sample of his driving -- rolling down a hill, sideways in his '39 Ford.)
-=Angus=-
---
*** Another version:
HEAR IT HERE ***
---