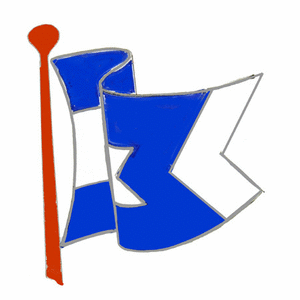 Having a wonderful time, wish you were here . . .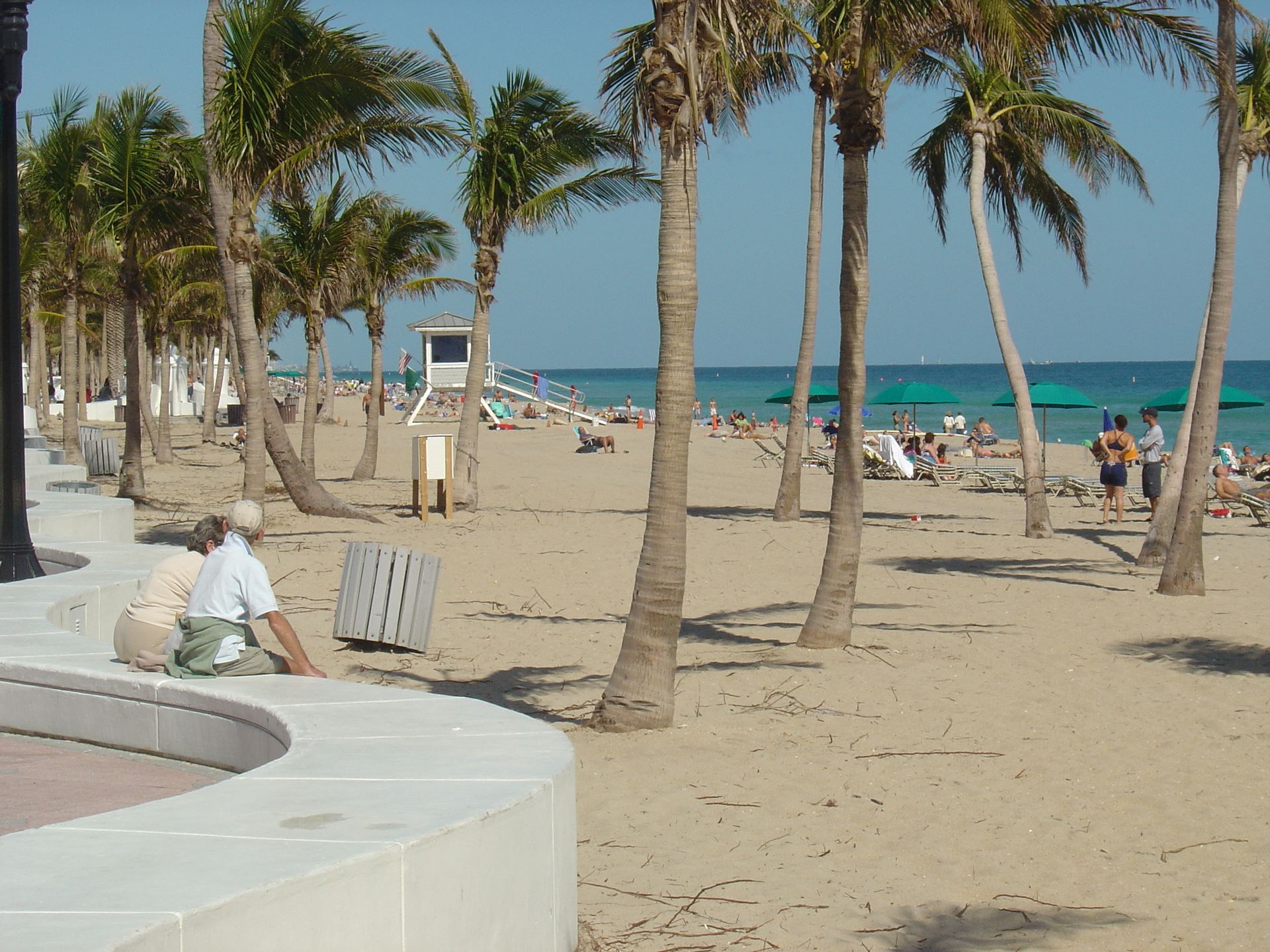 Click image to enlarge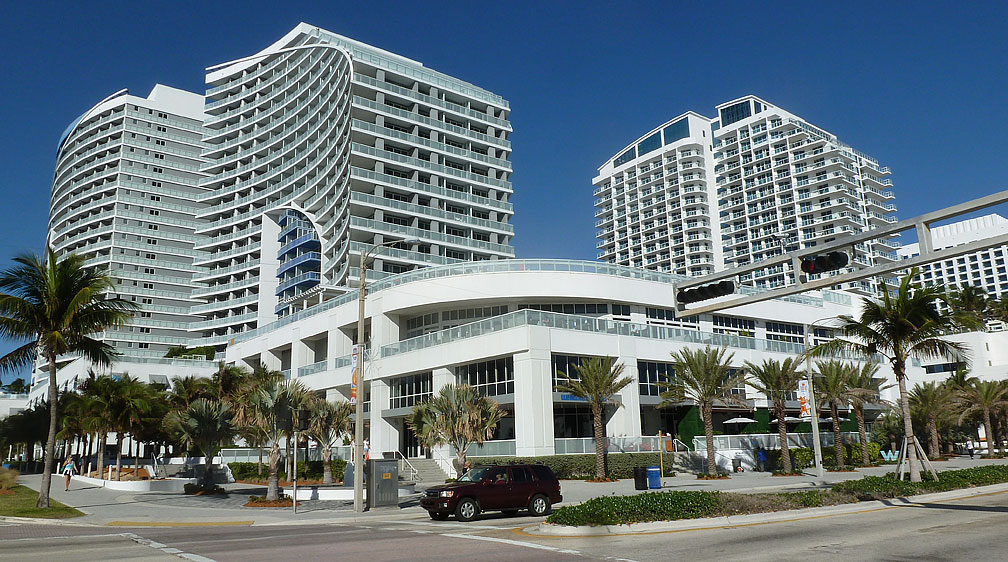 Click image to enlarge
We did not stay here. I just liked the colors.
If these photos are dupes, please excuse. While in Florida, I was using a new (to me) device and a strange email application provided by my server. I took very few photos, and some displayed here were "clipped" from the Internet.
Gettin' around Ft. Lauderdale Beach/Ft. Lauderdale/Hollywood
I've never seen so many boats in one day. Many yachts worth many millions. Then there are the cruise ships and the container ships in and out of this busy port. The next two photos have been "clipped" from the web and were taken while the FL boat show was in progress.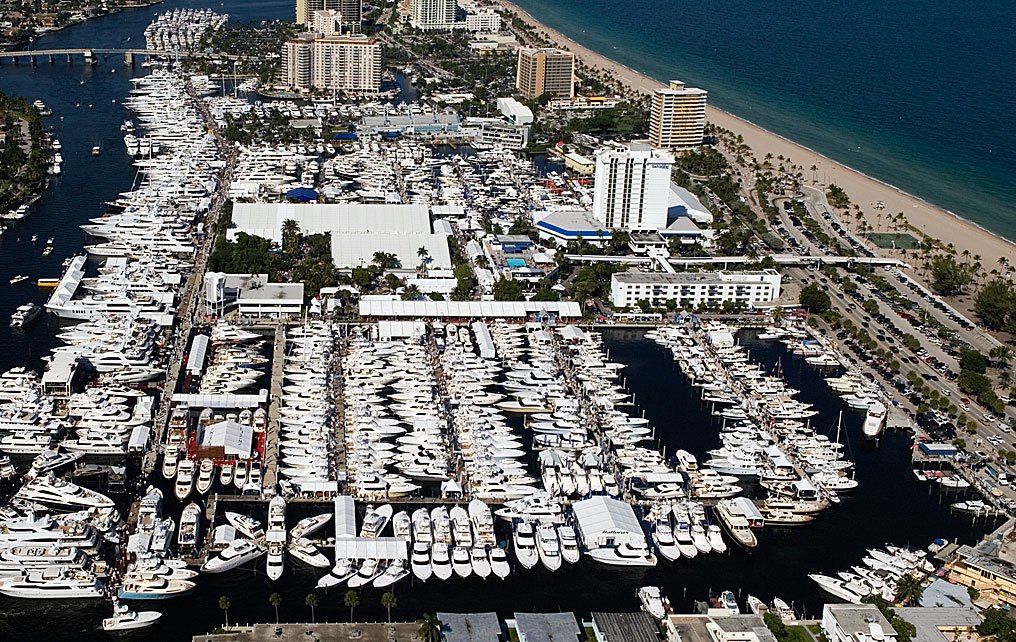 Click to enlarge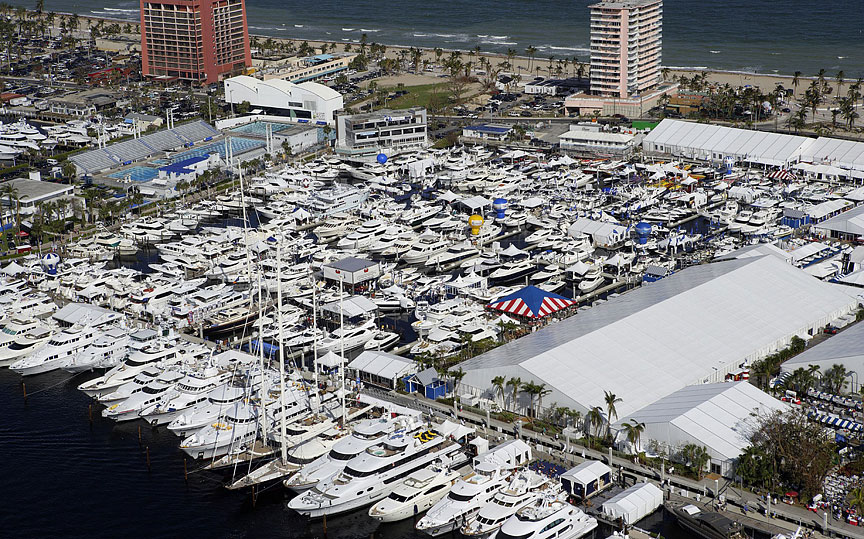 Click to enlarge
One newspaper article about the show says "The value of the products on display is more than $2 billion. The economic impact of the show in South Florida is more than $550 million." -- Most are owned by "job creators" who register them under foreign flags, avoiding taxes here. BTW -- 32 individuals wealthy enough to own the largest of these yachts provided more money to Mitt's 2012 campaign than the entire amount spent on Obama's. (Just sayin'.)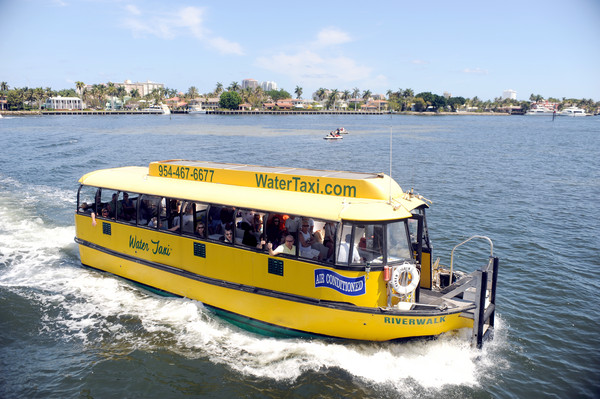 Click to enlarge ("Clipped")
We were told by a number of people to try the water taxi, and found it to be a very nice arrangement. (A "local" on the AA flight here first mentioned it.) One ticket was good for all day with unlimited transfers. We ended up riding four boats, traveling all but one leg of one route.
They really are a bargain. $17 per person buys a one-day pass with unlimited transfers. The next photo shows our first boat picking us up just south of the Sunrise Blvd bridge. We toured the area of the "very" wealthy homes and yachts, and the harbor filled with tour boats and container ships. Then we transferred to a larger taxi and cruised to the southernmost stop on the 2nd route and visited the "old tacky" Broadwalk of Hollywood Beach (photo later). After lunch, we rode a second large taxi back north and connected with a smaller taxi for the ride back to our starting point.
The draw bridges operate every half hour (if requested) and stop car traffic for 5 minutes. (I timed it.) If your yacht doesn't need the height clearance and you request an opening, the fine is $500. On one of my morning walks, I chatted with one of the fellows lubricating the lifting mechanism of this bridge: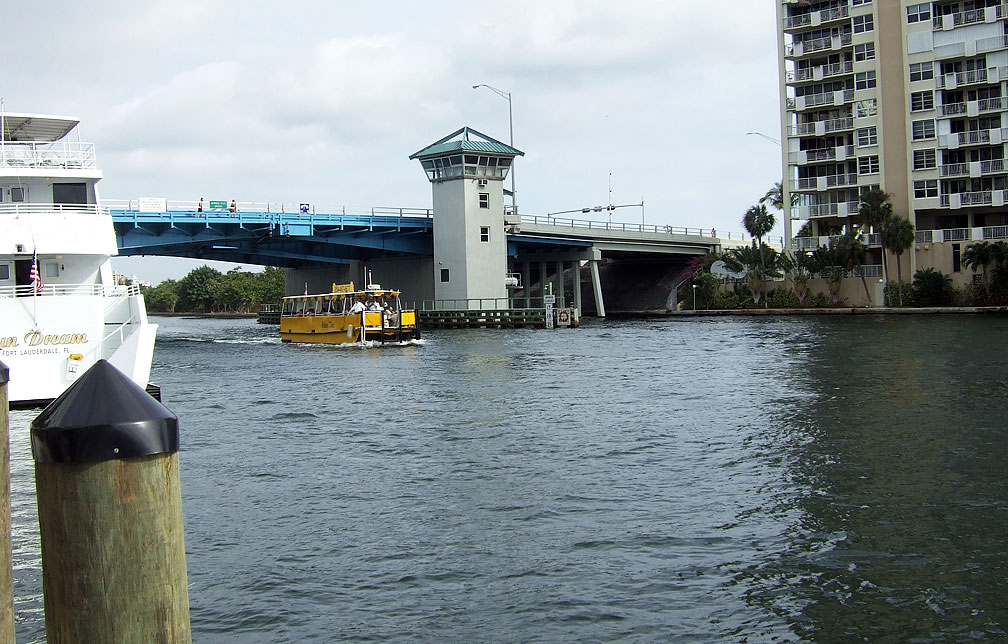 Click to enlarge
TAXI!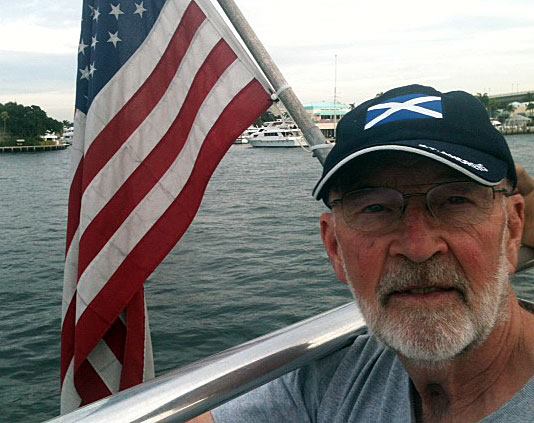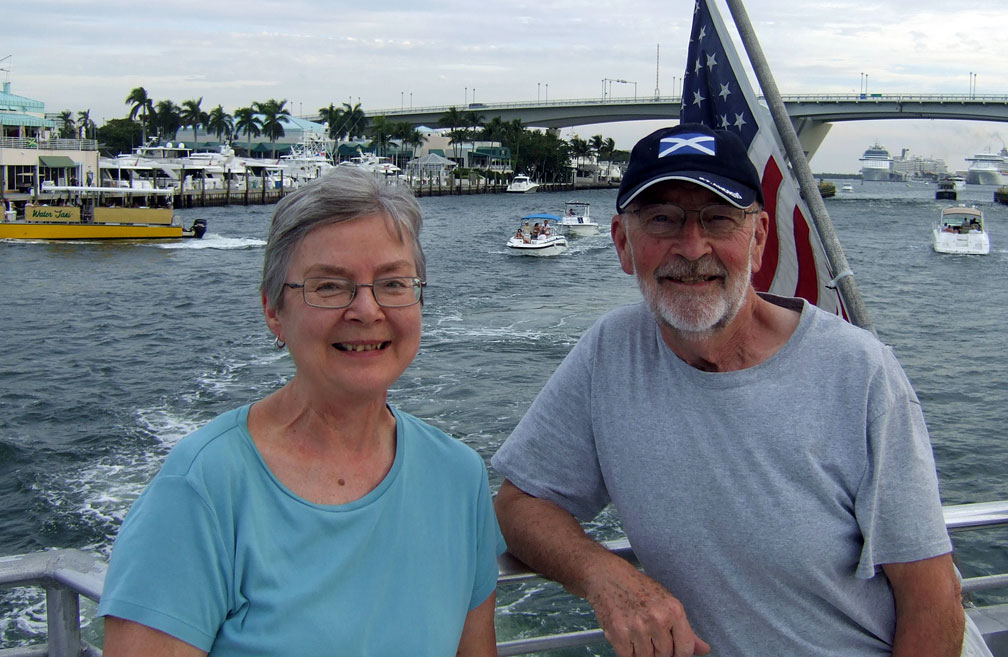 Click to enlarge
Here we are on the upper deck of one of the larger boats, just north of the Las Olas bridge (map below). The smaller taxi behind us is headed to stop #8, near east end of Las Olas bridge. That tour boat over my left shoulder is the second largest (by only 75 ft) tour boat in the world. We were told boat traffic was unusually heavy because of the New Years holiday.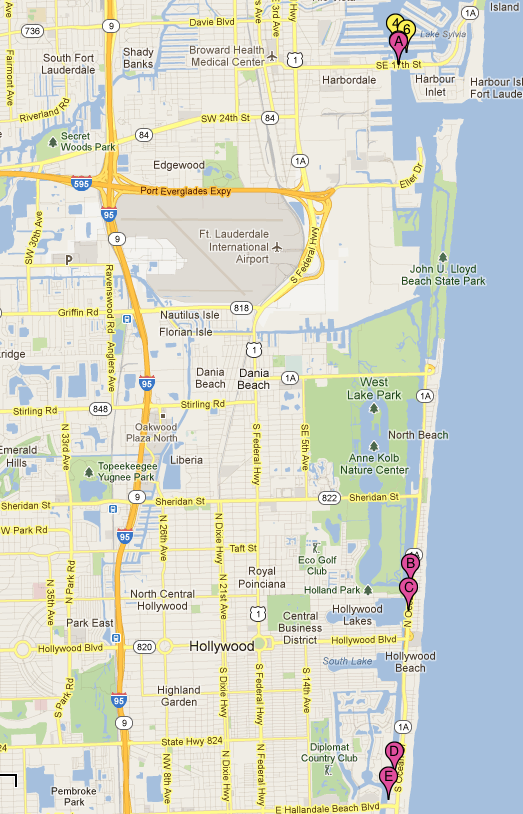 Click maps to enlarge
(Our place is one block south of Bonnet Gardens, above blue dot on left map above.)
One member of our party wasn't enthusiastic about the visit, but the water taxi offered a stop (at "D" above), so we saw a bit of "old Florida" . . .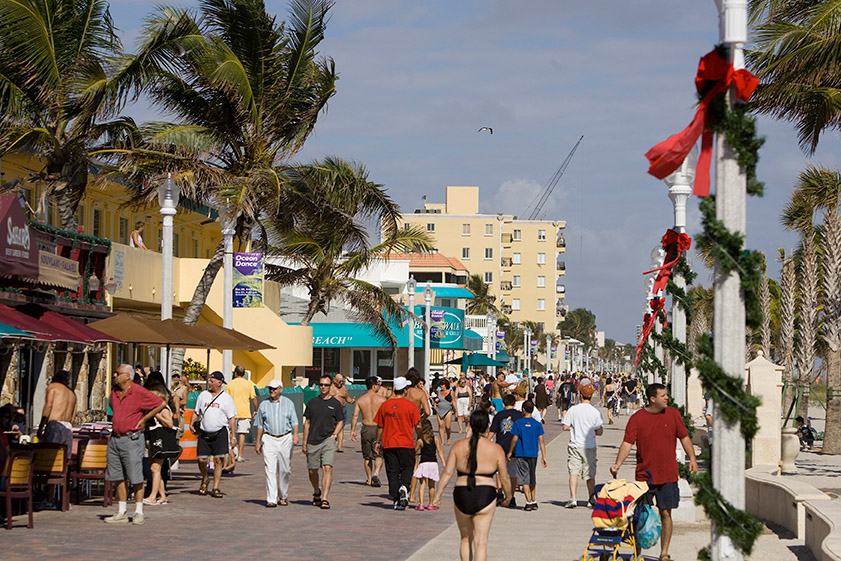 Click to enlarge
The old beach in Hollywood has what they call a "Broadwalk" -- made of bricks, mostly, and it's pretty wide, hence the name. It's about two miles of old beachfront motels, small restaurants, t-shirt shops, and crowds. Seemed more than half of the license plates were from Quebec.
The scooter rental place noted my MO driver's license is "endorsed for motorcycles," so issued a scooter with more CCs than the tourist model. This thing will go about 50 with 2 aboard. Not to worry, we're sticking to side streets, and I have no interest in getting another.
The waves yesterday were OK, but hope they get better for some body surfing tomorrow.
Here are two photos of the place we stayed. One block from the ocean: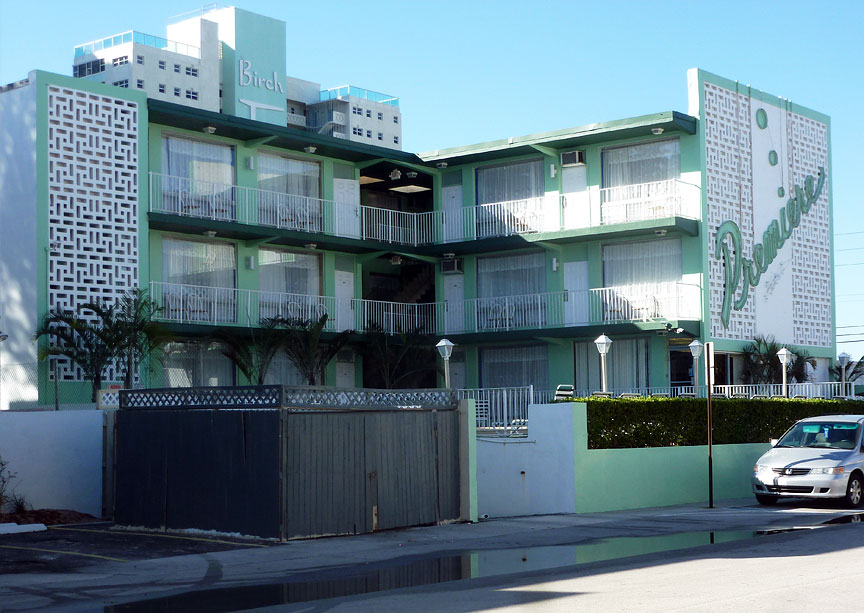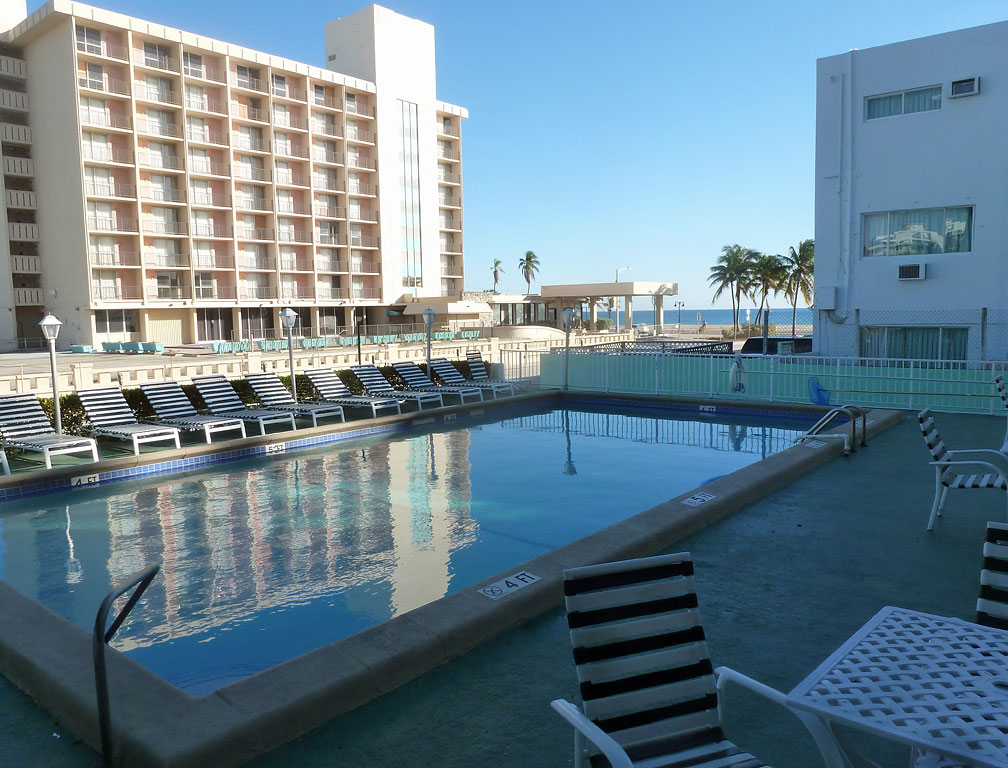 Click images to enlarge
Our pool (right, above) was heated and well-maintained.
Locals complained about cold weather today. Didn't notice as providing transport to local art museum for scooter passenger.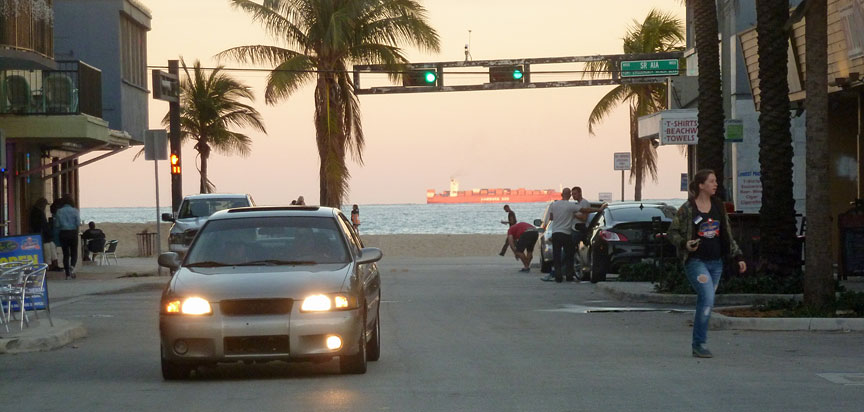 Click image to enlarge
Ever diligent Grant confirming the Atlantic Ocean has not been relocated:

Click image to enlarge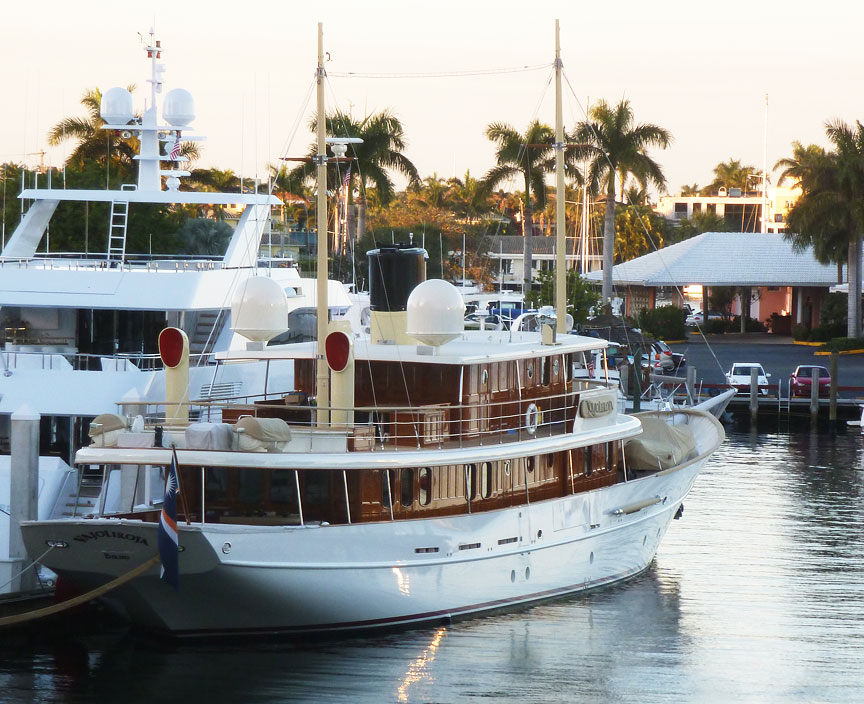 Click image to enlarge
This Cardinal fan was waiting for us Thursday evening: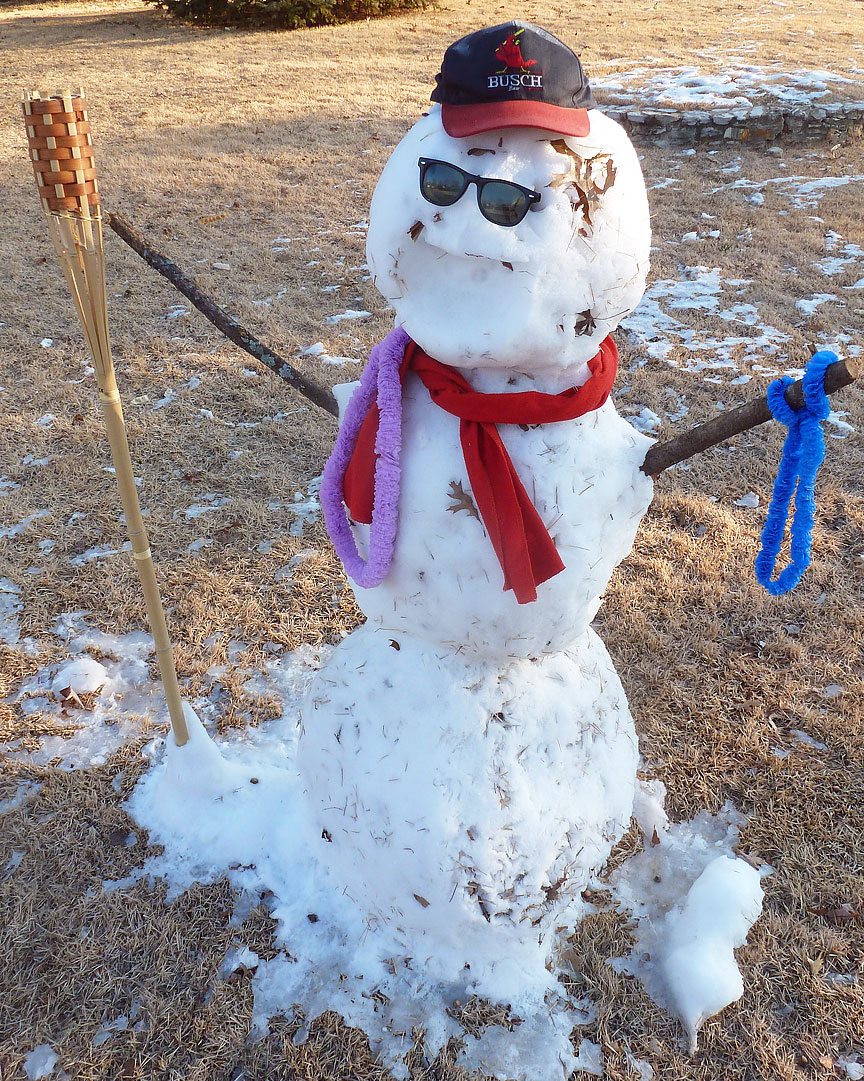 Click image to enlarge
Another pretty good web page by Grant MacLaren