Cardboard Boats
Design Department
Southern Illinois University
1962
---
---
In the fall of 1962 Davis Partt gave Seniors in the Design Department this problem: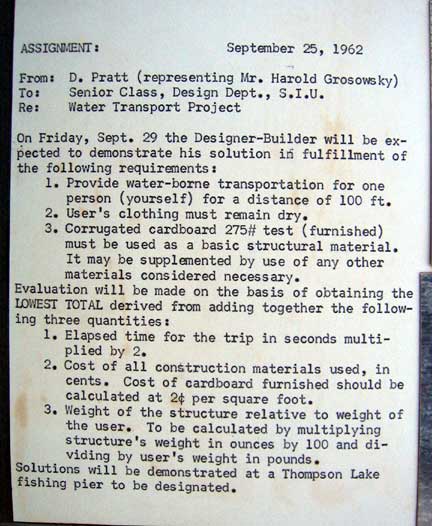 There were much more elaborate looking boats than the one I offered as a solution. (One had four "hulls," beautifully shaped. It sure looked like a boat, but sank almost immediately upon hitting the water.)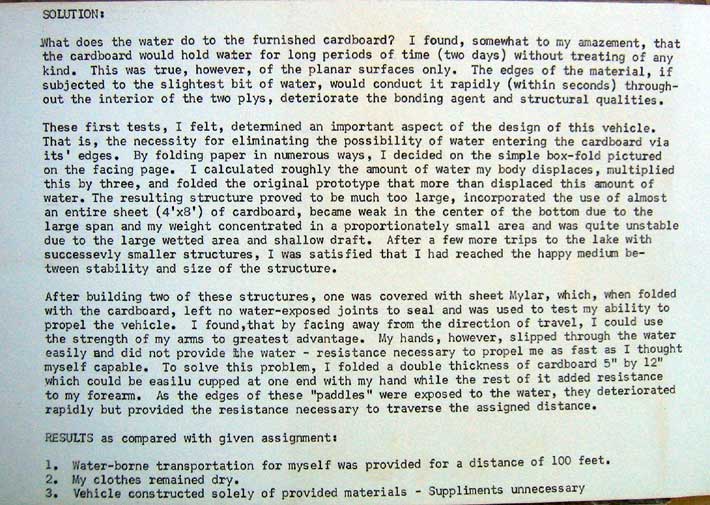 Here is my boat before being folded into its simple box shape. The folds were arranged so that no edges of the material came in contact with the water.
The photo below was taken during the actual demonstration of our solutions. Although not stated above, there was no plastic sheeting covering the cardboard (as during experimental trials) and the boat floated and kept its occupant dry for many subsequent trips on Thompson Lake.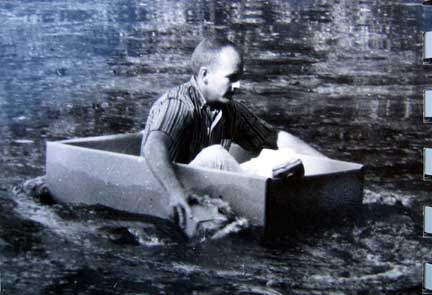 These images have been optimized for use on this web page. Some images are available in larger versions. To see if a larger image is availbale, try clicking on the image.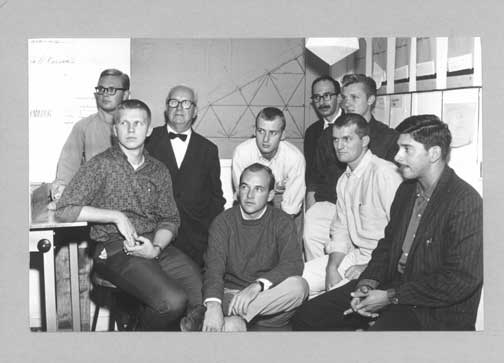 Here are some from the Senior Design Department Class that was given the cardboard boat problem. That's me front and center. And you may recognise "Bucky" Fuller. Harold Grosowsky (our instructor) stands in the rear -- sporting his black moustache. Mike Siporin is on the right. Davis Partt is not shown.

-=Grant=-
12/30/07
So much for the claim that the cardboard event started in 1974. The Design Department used the problem a number of years following our first event in 1962, 45 years ago.

Click on the image below to visit the website of the group claiming to be "first" -- 12 years later -- in 1974.

CLICK HERE
for a 'pdf' file of a December 2008 letter
written to the SIU Alumni magazine editor.