Champion of Champions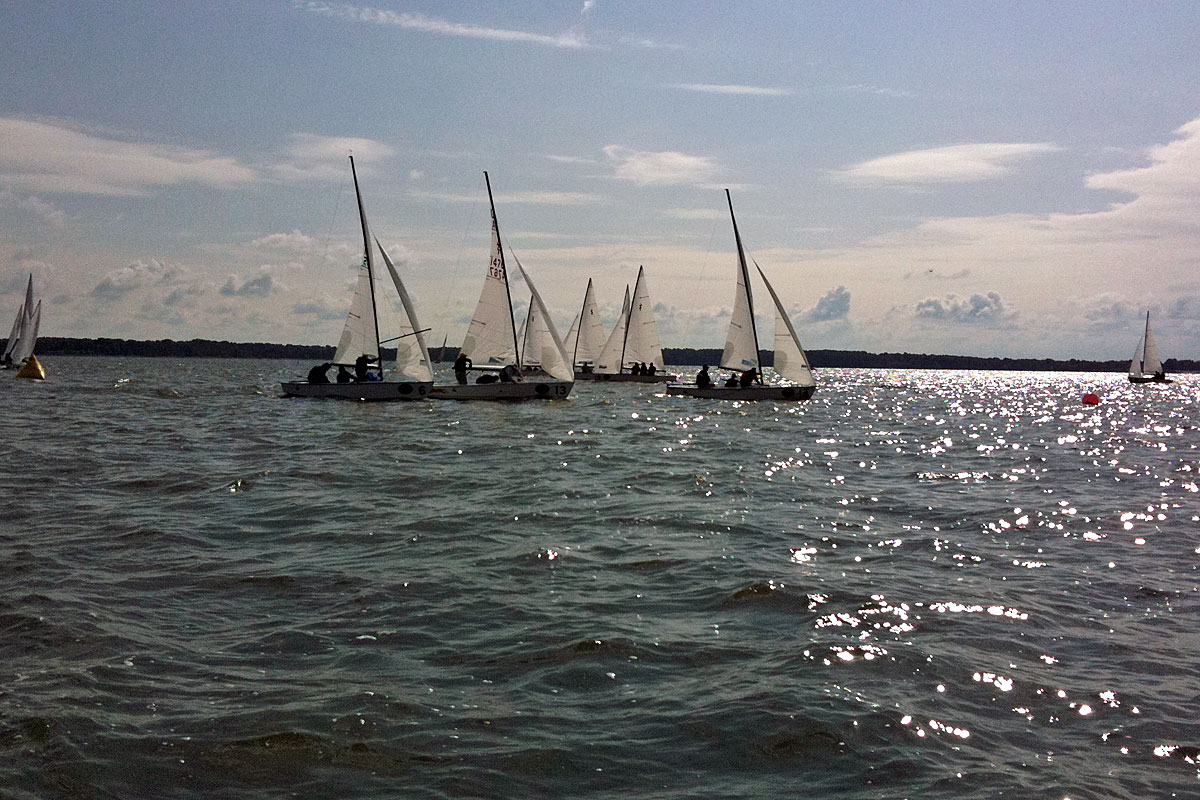 At the Windward Mark(s) -- a great idea!
---
I took the Four Winns to Lake Carlyle Friday, hoping to water ski one more time this season. But it was COLD by Sunday -- ice on the pier in the morning. (My wetsuit wouldn't do it -- I need a dry suit!)
(CLick on links like these for photos.)
FOUR WINNS LAUNCH
FOUR WINNS AT COTTAGE PIER
FROM MY PORCH, SATURDAY
Friday evening I met Codie, his granddad Mike, and his grandmother Cindy. (Codie is in the 4th grade, and like his granddad, quite a fisherman.) Mike said they'd enjoy a boat ride, so Saturday morning the four of us went out on the lake.
We saw many sails across the lake. Being Saturday, I knew it would not be CSA racing, so I guessed it was the cabin boat fleet from West Access. On the way to the see the yachts up close, I noticed a mark sporting "Rolex" in big letters. As we got closer, most of the sails were on Lightnings! "What's this,?", I asked of an old friend and committee member on one of the judge's boats. "Champion of Champions," she replied.
We watched the start of what tuned out to be the next to last race of a 17-race series, then motored around the fleet to the turning mark. I was describing a triangular course to my guests, but it was a windward-leeward -- with a twist.
Look at that photo above (or CLICK HERE) and notice the small "offset" mark. It's a great idea -- avoiding many protests, I'm sure.
I attended the awards ceremony at the CSA Clubhouse, and knew only two people there. (I haven't owned a sailboat, nor belonged to CSA since moving to New Mexico, and have raced only Sunfish at Lake St. Louis.)
Saturday afternoon, Codie, Mike and I circled the lake south of the railroad bridge, visiting two marinas. Then Sunday morning chipped the ice off the boat and put the very first ripples on the lake with a trip down to West Access and back.
FROM KEYESPORT - SATURDAY AFTERNOON
SUNDAY MORNING IN COVE
ICE!
CODIE ON SUNDAY MORNING CRUISE
MIKE ON SUNDAY MORNING CRUISE
SPRAY ON SUNDAY
COTTAGE INTERIOR
COTTAGE FRONT DOOR
MANY MORE PHOTOS HERE
(Use your Browser's "return" button to get back here.)
Here are some photos taken during the C of C Regatta, showing one-design sailboat racing at its best. Many of the competitors were not Lightning sailors. Some crew members usually sail one-man boats. Read the repots below for more about this wonderful event.
LAKE CARLYLE, Ill. (October 17, 2009) - Skip Dieball and crew Jody and Tom Starck expanded the four point lead they had through 14 races yesterday by dropping an impressive, 2-1-3, line in today's three races to win US SAILING's Championship of Champions by a 13 point margin.
"Most national championships are tough enough," said Dieball. "Coming here to face 19 other national and world champions is incredibly challenging. Winning this regatta is really gratifying. We've been sailing for 10 years in Lightnings and I hope we do it for 10 more."
Dieball (Toledo, Ohio) has had an outstanding season. He won the Highlander National Championship and Interlake National Championship this summer. Dieball now has 17 national championships to his resume. As a team, Dieball and the Starcks (Jody is a former two-time US SAILING Rolex Yachtswoman of the Year) won the 2004 Lightning North American Championships.
Greg Fisher (Annapolis, Md.), the 2008 Thistle National Champion, with crew Dan and Tobi Moriarty (St. Louis, Mo.) finished second with a 3-2-[15] line today. The two-time Lightning North American Champion, Allan Terhune (Arnold, Md.) with crew Catherine Terhune (Arnold, Md.) and Dave Perkowski (Crownsville, Md.) ended the championship 17 points behind Dieball in third. Terhune posted an 8-9-2 line today. Paul Cayard (Kentfield, Calif.) and Chris Raab (Sunset Beach, Calif.) won races today.
Winds were 8-10 mph for the first race and built to about 12 mph by the end of the final race. As the winds grew, there were definite pressure differences across the course, providing exciting competition for the many spectator boats surrounding the course.
Twenty of the country's top one-design sailors competed for the Jack Brown Trophy this week. This year's championship was hosted by the Carlyle Sailing Association outside of St. Louis, Mo. The regatta, sponsored nationally by Rolex Watch, U.S.A. and Sail Proud, and locally by North Sails, is known as one of the toughest one-design competitions in the United States. All of the competitors qualified for this event by winning a National and/or North American Championship in a one-design class.
Final results, daily reports, and photos from US SAILING's 2009 Championship of Champions are available on the event website at http://championships.ussailing.org/Adult/CofC.htm.
Race recap contributions made by Betty Struckhoff.
Final Standings: Top 5
Pos -- Skipper -- Results -- Total Points
1. Skip Dieball 9-6-[14]-6-6-[9]-3-2-5-1-3-1-3-5-2-1-3- ; 56
2. Greg Fisher 1-1-10-5-4-1-4-4-6-6-[12]-9-9-4-3-2-[15]- ; 69
3. Allan Terhune 6-12-3-3-2-3-1-3-1-8-2-[16]-10-[17]-8-9-2- ; 73
4. Stuart Robertson 4-5-2-4-9-10-9-1-2-9-6-6-[12]-10-[17]-7/RDG-7/RDG- ; 91
5. Augie Diaz 3-8-4-13-13-15-2-6-4-[17]-1-2-1-[15]-4-14-8- ; 98
---
Rolex Champion of Champions: Paul Cayard reports from Lake Carlyle
Saturday, 17 October 2009
6 Races were held today on Lake Carlyle. The temperature was a bit cooler than yesterday, about 45 F. The breeze was a bit stronger at 8-12 knots. Still it was very shifty and puffy and there was plenty of ups and downs. It is like playing that game you play with your kids... Shoots and Ladders.
Before lunch we sailed pretty good and thought we were finally developing a bit of consistency. I think we had a 7, 5, 4. After lunch, that feeling of smoothness and consistency went away. Maybe it was the Turkey sandwich. We had a bad one, maybe 15th, then we nailed the pin end of the start and had a 50 yard lead at the fist mark of the second race. We went to hoist the spinnaker and the halyard had jumped the sheave. No kite for 2 minutes while we flailed away trying to get that thing sorted. We finished second in that race. That's how big our lead was!
Then in the last race, I got a horrible start, we battled back to 8th and then up the last beat we lost 9 boats. Frustrating!
To give you and idea about the wind here, you can be sailing along and then just have the jib back. When a puff hits you hike out and then jump back in the boat as it is gone in 2 seconds. It is a workout.
Christine, our little doctor, is great. She is putting up with two overgrown Star boys who fumble around on this thing with the grace of an elephant. Plus we are bitching about everything from the boat to the conditions and she is putting up with all that. She is the best. She is a pediatrician so she is used to dealing with children.
Sorry I am not writing more about who is winning but I honestly don't know who is winning. I think Greg Fisher is doing pretty well. There are quite a few teams here who sail Lightning's regularity.
("Clip") Tomorrow we will probably have three more races and then fly back to SFO tomorrow night. I sailing on my Hula Girl on Sunday with my son Danny. We are taking a group sailing who won the trip at a school auction in my neighborhood.
Paul Cayard
---

---
---