You don't knead this bread!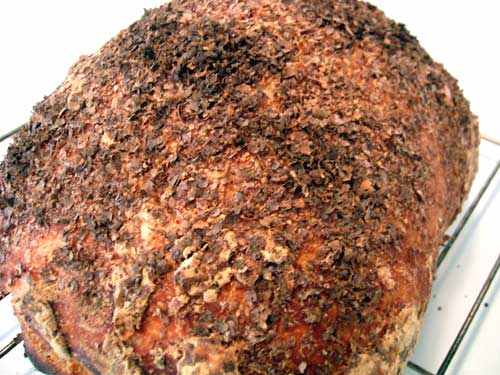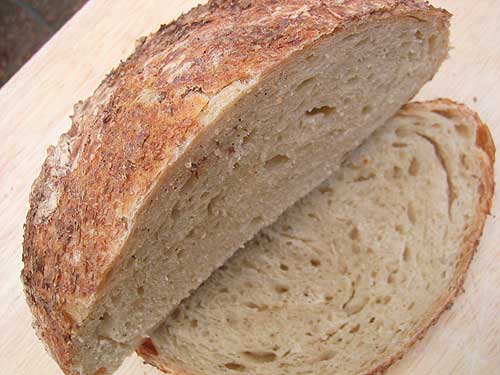 No kidding; no kneading. -- Adapted from a recipe by Jim Lahey of Sullivan Street Bakery in Hell's Kitchen, NY.
Laurel sent me one recipe and I just had to try it. I spent less than 15 minutes "making" the bread and a lot of time waiting. It's so simple.
Here's how I did it: Put three cups of white flour in a mixing bowl. (I used "bread" flour, but I'm told any white flour will do.) Add one tsp. of Yeast. (I used Fleishman's Active Dry Yeast. The original recipe calls for 1/4 tsp. "instant" yeast but I don't know if it matters much.) Add one tsp. of salt. (The original calls for "fine" salt -- what's that?) Mix ingredients.
With those three things in the bowl, add about 1-1/2, maybe 1-5/8 cups of room temperature water and stir it with your (preferably clean) hands. The dough will be shaggy and sticky. Cover the bowl with plastic wrap and let it rest for 12, preferably 18, hours at room temperature (say 70 degrees F.). It was chilly here, so I put the bowl in the oven overnight with the oven's light on.
The dough is ready when its surface is dotted with bubbles. Lightly flour a work surface and flop the dough onto it. Sprinkle a little flour on top and fold it in thirds -- like a business letter. Turn the "letter" 90 degrees and fold it in thirds again. Cover lightly with plastic or cloth and let it rest 15 minutes.
With floured fingers, quickly shape dough into a ball. Coat a cotton towel with wheat bran. Place dough on bran seam side down, cover with another towel and let dough rise another two hours. It will more than double in size and will not readily spring back when poked with a finger.
About one half-hour before dough is ready put a 6- to 8-quart heavy cast iron pot with cover (I'm told Pyrex or ceramic will work.) in the oven, and heat oven to 500 degrees. (I'm told 450 degress will work; I used 550.)
When dough is ready, carefully remove iron pot from oven. Remove pot's cover and set aside. (These things are HOT. Make sure you have a safe place to put pot and cover while doing the following. I used our glass stove top.)
Slide your hand under towel and turn dough over into pot, seam side up; it may look like a mess, but that's O.K. If dough is unevenly distributed, shake the pot, it will straighten itself out as it bakes. Cover with lid and bake 30 minutes, then remove lid and bake another 15 to 30 minutes, until crust is nice and brown.
Remove bread from pot, cool on a rack.
My friend Jane says she has baked this bread a number of times since she saw its originator "on Oprah" -- and that it makes wonderful toast -- "if you are foolish enough not to eat the entire loaf when still warm from the oven."
HOME