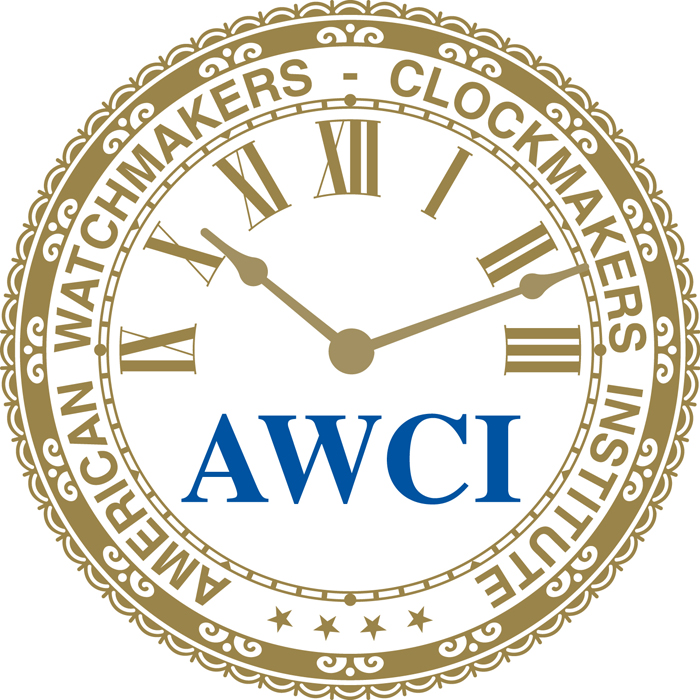 AWCI'S NEWEST FELLOW
Robert D. Porter, CMW, FAWCI
December 2017 - Horological Times
The newest AWCI Fellow is Robert D. Porter. Fred White announced at the AWCI annual convention in October that Robert had received this prestigious award. Read about Robert's accomplishments as a horologist and his contributions to AWCI below.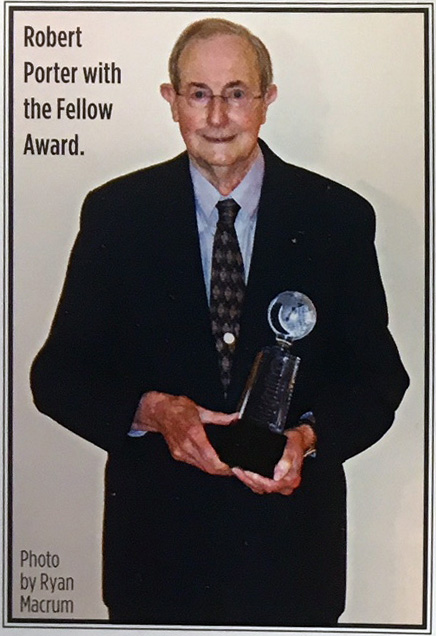 Robert D. Porter began repairing watches when he was still in high school.
"Dad taught me how to use a lathe, how to replace a balance staff, how to clean and lubricate the movement, polish cases, replace broken crystals, and all the other skills watch repairing requires. All my practice work was on trade-in watches. After a lot of practice, practice, practice, I slowly began helping Dad repair, under his close supervision, the simpler jobs that came in for repair," says Robert. After graduating from high school, Robert worked in construction for several years.
His uncle, who was a machinist, suggested he apply for a machinist apprenticeship program with a large earth moving company in Peoria, Illinois. Robert says "the work was hard but I was getting a good education and being paid for it. I also had a small watch repair bench set up in our apartment and made extra money repairing watches for some of the people I worked with."
A wet construction season and reduced demand for the products the company manufactured resulted in a large layoff. So, Robert got in the jewelry business in a nearby small town. "We put every dime we made back into the business, and relied on watch repair for our bread and butter; sales were gravy," says Robert.
He also completed a course of study from the Chicago School of Watchmaking and passed the CMW exam from the Horological Institute of America in 1960 "to prove to myself that I was competent to repair customers' watches." Robert joined a local watchmaking group, which helped watchmakers network to find parts and share experiences.
"After several years of working six days a week 12 or more hours a day I had an opportunity to go to work for an aerospace company in St. Louis, Missouri. Eight hour days, time and a half for overtime, vacation and medical benefits appealed to me, so we thanked our customers, closed the store and moved our stock to Dad's store." There were three watchmakers in the metrology (weights and measures) calibration laboratory, and Robert worked his way up from inspector to engineer, and then became supervisor over two labs. Robert was privileged to inspect many of the parts and to calibrate many of the pressure, dimensional, optical, and force gages that were used to manufacture and inspect components of the Mercury and Gemini space capsules. He also received two patents during that time. He says: "Folks, your watch/clockmaking skills are transferrable to many different businesses that require manual dexterity and problem-solving skills. Optical and medical instruments are other examples."
Robert helped two jewelers with their watch repair work during the time he worked in the lab. He became involved with AWCI, working on many committees, as a traveling lathe instructor, as a director, and president. "Being involved with AWCI has been a life-enhancing experience; I've been able to meet and work with some of the finest watchmakers and clockmakers in the world. For example, in 1993 Henry B. Fried led our AWI tour group to the top of Elizabeth Tower at the Palace of Westminster, where we were standing next to the clockworks just as Big Ben, the massive bell inside the clocktower, struck noon. That was a significant emotional event! Our tour group also met George Daniels and David Penny at Sothebys.
---
Accomplishments and service
Continuous membership in AWCI since January 1961. Honorary member.
Affiliate chapter: Founding member and past president of the Metro Saint Louis AWCI affiliate chapter
AWCI Board of Directors 8/1998, Second Vice President 9/2000, First Vice President 9/2001, President 9/2002 Member
Committees Served on the Technical Advisory Committee, and then the renamed Horological Times Advisory Committee, the Certification Committee and the Book Review Committee (Chairman).

His time on the Technical or Horological Times Advisory Committee spans from the late 1990s through December 2016. During his second term as president he was involved in the Perpetuation Fund.

Publication credits
Published 97 articles in Horological Times
Published the following books and pamphlets

How to Make a Form Tool Grinding Attachment for the Watchmakers Lathe (see cover here)
How to Make a Lantern Pinion Drilling Attachment
How to Make a Pivot Polisher and Micro Drilling Attachment for the Small Lathe
How to Make a Super Sensitive Micro Drill Press
How to Make Tiny Drills Quickly, Easily and Accurately
Restoring This Old Lathe
Restoring This old Verge Fusee Watch
Taps, Drills and Dies, Inch and Metric: Useful Information for the Watch/Clock Maker and Model Maker (now available as a Kindle book)
The Art of Repivoting for the Watch and Clockmaker:
Basic and Advanced Repair Methods
The Clock and Watchmaker's Guide to Gear Making (see cover here)
The Pin Pallet Escapemeant Adjustment and Repair
A Useful Tool for Winding and Unwinding Loop-End Mainsprings
---
"I worked with Bob for several years on the Horological Times Committee and always found him pleasant to work with, kind and respectful of the other committee members' ideas and opinions. Bob is a prolific writer who has generously shared what he has learned throughout a career spanning several decades. Bob has always encouraged me to write and share with others, with the goal of helping others learn and improve their skills, and do a professional job. I have learned a lot from Bob and greatly appreciate his sharing and contribution to our industry."
Bob Little
CC CW
---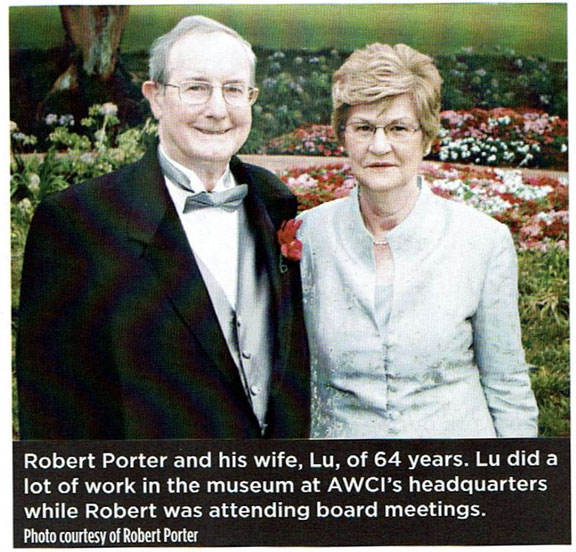 21 October 2017
AWCI Fellow Award

I was pleasantly surprised when Mr. Fred White AWCI president called to inform me that I have been awarded the Fellow Award. Mr. White also told me that Bob Little, Chairman of the HT Committee had nominated me for the award, and was approved by the a AWCI Board of Directors. My heartfelt thanks to Mr. Little, Mr. White, the BOD, and anyone else who may have been involved in the decision process
Quite a few years ago I nominated Mr. Archie Perkins for the Fellow Award which was approved. I had wondered why he had not received the award sooner because he was clearly qualified to receive it many years before he did. During a discussion with Archie he told me that he had "stepped on some toes" at AWI when he was involved with AWI activities. I suspect that Archie may have been critical of how something was being done and it was held against him. Mr. Perkins was a perfectionist in everything he did.
Archie Perkins wrote many articles for the Horological Times over the years have that have taught all of us so much about the art of horology. His lifetime of writing and superb drawings depicting how to do watch repair and restoration are now available in three volumes from AWCI. We should all strive to leave something behind for those who follow our generation, as Archie Perkins has done.
I would also like to congratulate Mr. Joe Cerullo as our incoming a WCI president. Joe and I worked together at AWCI seven years ago I wish in great success.
Best regards to all WCI members,
Robert D Porter CMW, FAWCI
---
The AWCI Fellow Award is AWCI's most prestigious award. It carries the endorsement of one's peers as an outstanding member of the horological community.
The person must have these qualities:
Tangible evidence of leadership abilities
Active participation chairing or serving on committees
Publication of articles in horological publications
Given lectures, workshops and technical demonstrations
---
December, 2017 issue (pdf) of
Horological Times (See page 42.)

Another pretty good eb page by
Grant MacLaren
---