Grant MacLaren's
World War II Memories
---
On Jan 10, 2012, at 7:30 PM, Grant's granddaughter Mazzaya emailed from Jakarta, Indonesia:
Hi Granddad!
I have an assignment in class where you have to interview someone who was alive during, or during part of, an historical event. I wanted to interview you about WW II when your cousins came to stay with you.
Here are the Questions:
How old were you, what year was it and where were you during WWII?
Your Cousins had came to stay with you. What were their names and how old were they?
What was it like having them stay with you (were they nice, mean, did they ignore you?)
How did they affect your everyday life?
How did the war affect your everyday life?
Did you talk about it with friends? If yes, what were your conversations like?
Was there anybody you knew, or were particularly close to who went off to war? If yes, what were your feelings about it?
Mom told me that you put up a map in your room. What did you do with it?
When the war was over, how old were you?
What were your feelings about it?
Thanks Granddad, please try to email me as soon as you can!
Mazzaya
---
On Jan 10, 2012, Granddad replied:
Hi Mazzaya!
My father's oldest brother, James, was born in Nova Scotia. Unlike his other siblings, he emigrated to England when he was a young man. (His other brother and two sisters came to the U.S.A.)
Uncle Jim: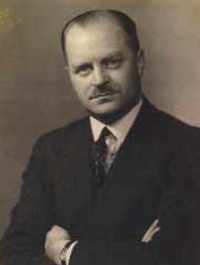 James married Claire and they had two children, Shiela and Iona. So the family of four was living in England when Adolf Hitler started World War II. Part of Hitler's plan was to bomb England and make the English people surrender to the Nazis. (Adolf had another "think" coming!)
James, (my Uncle Jim) and Claire, (my Aunt Claire) were both involved in the war effort. He was an "industrialist" who worked for BSA (at the time its name was British Small Arms) and Claire was a singer and entertainer.
A singer -- part of the war effort? When the Germans dropped bombs, the well-organized British people went underground, using their subway system as bomb shelters. While the bombs dropped on their streets and buildings, their entertainment was a singer. Guess who?
So their "jobs" required them to live in cities, and cities would be the targets of the Nazi bombers. Uncle Jim and Aunt Claire thought Shiela and "Oni" would be much safer living with our family of four in Drexel Hill, Pennsylvania, USA. Our family was my Dad, Thomas; my mother, Hope; my younger sister, Sandra; and me, Grant.
So one day, in 1939, when my sister was 2 and I was 4, I got two new "sisters!" Oni was 6 and Shiela was 8. Here is a newspaper photo of Aunt Claire "tucking them in" in their new bed at our house.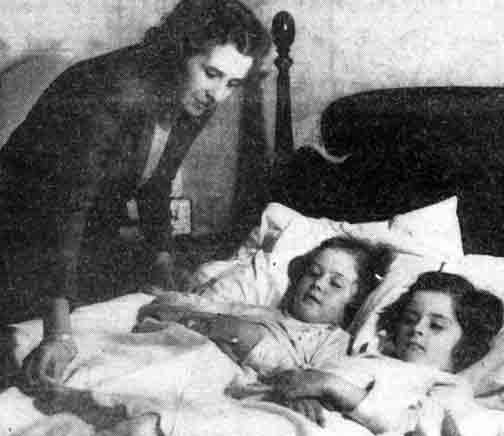 Iona was six, Shiela eight when this photo was made with their mother Claire traveling to the U.S. The girl in Claire's arms and the boy on the left are not identified: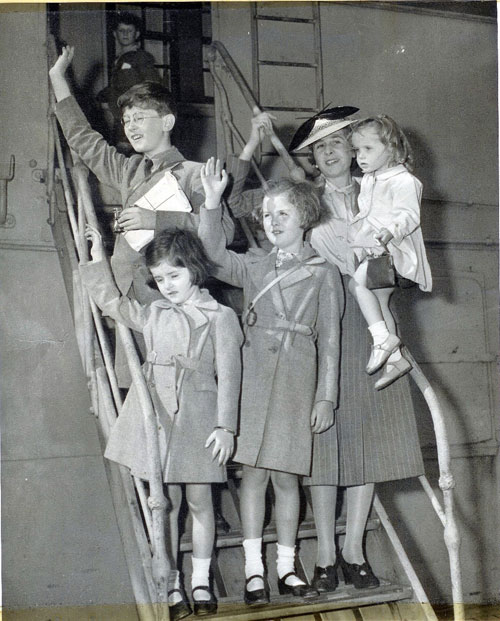 I liked having THREE sisters because in those days we had no dishwashers. Dishes were washed by hand, dried with dish towels and put away. My mother washed, and there was room in the kitchen for only two helpers to dry. My two new older sisters were the perfect helpers, so I remember never having to dry, and I liked that just fine!
"The war" was always on our minds. My father had trained to be a soldier before he was married, but when the USA joined the war to help England, France and the other allies, Dad was working for Brown and Sharpe, a machine tool company in Rhode Island that made machines that made weapons to fight the war. So it was more important for him to "stay at home" and help the war effort in that way.
During the war, there was "rationing" of many things. The government gave us "ration books" containing stamps. One stamp might give you permission to buy one stick of butter, or one cup of sugar, or one-quarter pound of beef. No new cars were built, and there was strict rationing of gasoline. Most people got a window sticker for their car showing a white "A" on a black background showing they could buy only a very little bit of gasoline. Because it was so important for my Dad to be able to get to the Philadelphia Navy Yard (where warships were being built) he was issued a "C" Gasoline Ration -- a big white "C" on an orange background. He could buy as much gas as he thought he needed, but was very careful not to buy more. Those "Cs" were rare, and I don't remember any of my schoolmate's families having such an allocation. I knew my Dad was "doing his part."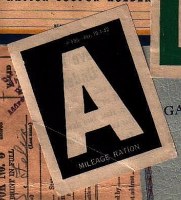 &nbsp &nbsp &nbsp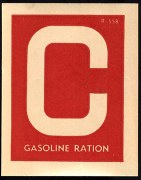 We grew food in our Victory Gardens. Ours was big one. My mother's twin brother, my Uncle Howard, was in the Army, and stationed near our house in a supply depot. One spring day, he visited us on a "3 day pass" and planted ONE HUNDRED tomato plants in our garden behind our house. Click here to see a poster urging people to can food from their gardens. My mother and our neighbors did just that.
Near the end of the war, "Uncle Ice" (Howard) sent me about 20 shoulder patches from different army uniforms. My mother sewed the patches on curtain valences in my bedroom. One of the makers of breakfast cereal printed the parts of "fold up" military airplanes on the back of their boxes. I cut them out, put them together and hung them in my room. They were made so if you glued a coin in their nose, they would fly pretty good, but not as good as the ones you hand-launched with Mr. Klipp. (I still have the gliders he made for you.)
The map in my room: After the invasion of Normandy in 1944, our local newspaper, The Philadelphia Inquirer published a map centered, "above the fold," almost every day. The map showed troop movements of both the allies and the enemy. I had a large (probably National Geographic) map of Europe on my bedroom wall and used pins and tags to put the newspaper's information on my map. (In 1944, I was 8 years old.)
I had two cousins who served in the U. S. Navy; Howard and Donald Drew. Both were officers, trained in R.O.T.C. at college. Donald at Yale, Howard at Brown. Donald did not see combat. Howard did, in the Pacific Ocean. He was an officer on a tanker ship. I remember his ship had refueled the U.S.S. Little, a destroyer that was sunk soon after by a Japanese Kamikaze raid.
On 4/28/17, Donald's widow Madalyn wrote me, saying: The info on the USS Liddle is a bit confusing. Just before Don and I married in '52 he had to accept commission in Navy or be drafted into Army. Korean conflict. The Liddle was taken out of mothballs and he was an officer on that ship for the duration. You see why I am confused. Keep videos coming. Madalyn (I thought Don had served in WW II, but he served in The Korean Conflict.)
At the end of the war, Shiela and Iona returned to England and both became trained midwives. When they returned, I was 8, Oni was 10 and Shiela 12. After working in England, both returned to the U.S.A. and worked as RNs (registered nurses). Shiela died a few years ago. Iona and her husband live in California. Oni and I email almost daily.
What do I think about the war? Well there is NO "good war." And, in my 75th year I can see good reason to be a "conscientious objector" -- certainly in all wars the USA has been involved in since the end of WW II. But when I was young, and faced with Adolf Hitler, even if I had the experience I have now, I think I would have agreed to go. I'm afraid many today forget just how bad Hitler and the Nazis were. Their evils are beyond dispute: violations of civil rights, murder, invasion and conquest of other countries, fascism, militarism, racism, anti-Semitism, forced labor, death camps, etc., etc.
Love,
-=Granddad=-
---
On January 11, 2012 2:55:33 AM CST, Mazzaya replied:
WOW! Thanks Granddad! This will help me a lot with my English project!
Thanks a ton! Love,
Mazzaya
---
Mazzaya, a few days before you sent me the questions about my cousins, I had sent this snapshot to your Mom, my cousin Oni and a few others. The subject of my email was "Guess Who?" My message was: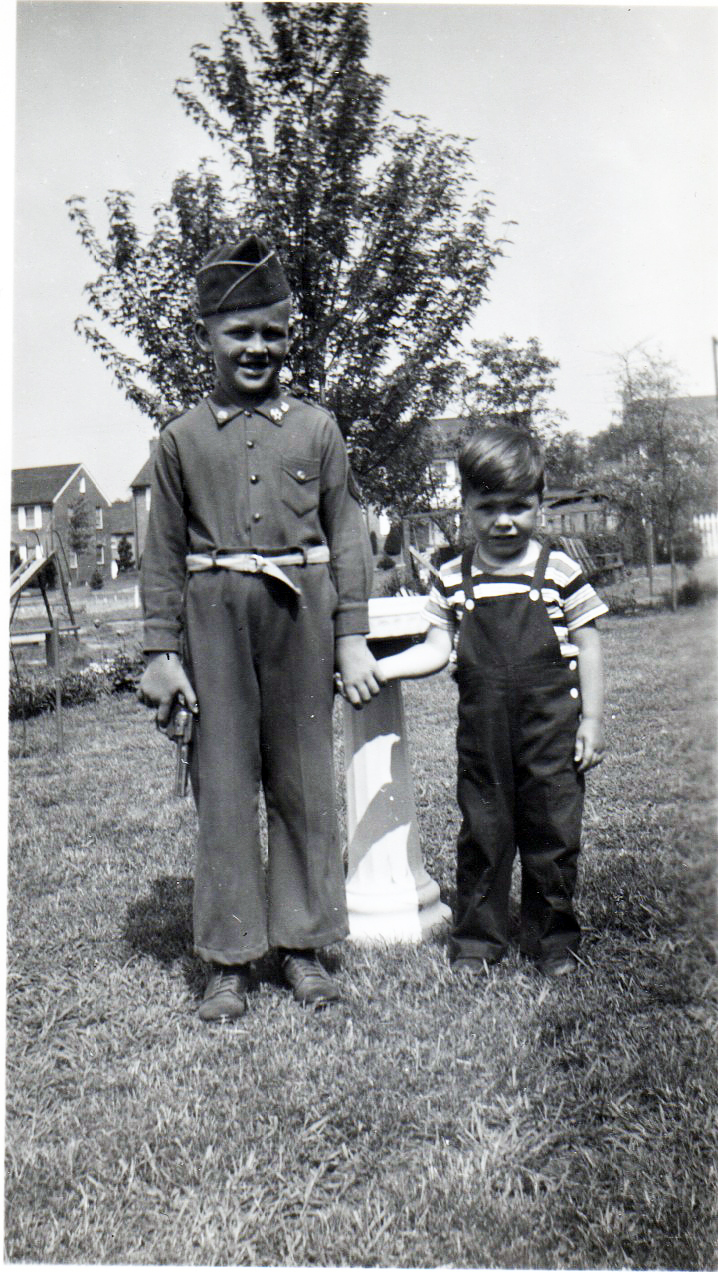 (Click for bigger image)
It's me, ready for combat, in the back yard at 915 Collenbrook Ave., Drexel Hill, PA. Don't know who the little guy is.
Those house fronts are on Bond Ave. The slide must have belonged to the Josts. There were no houses behind us then; that's where we grew the "Victory Gardens." We stored paper for "the paper drive" in that shed (over the little guy's left shoulder.)
-=Grant=-
---
My cousin Oni answered my email:
I'd know that face anywhere!! -- You don't look very fearsome!! (Sorry, but you don't!!) You're too cute!!
The little boy looks familiar but can't put a name to him! He looks like my friend, Midge Roye but I don't think she had a baby bro.
I remember going back to Drexel Hill in '58 or '59 -- was horrified to see all those houses where our V-gardens had been and our beautiful woods further down. I remember violets growing there.
Memories!! Some times it seems like yesterday -- others -- a lifetime ago (which it was!)
I am in a small group that sings for two adult day care centers (I call it "singin' for the old people"!!! -- no comment!) and I always sing songs from WW II -- I remember so many of them! The residents love these old songs and sometimes they don't know where they are -- but they sure remember those songs! Too much fun!
Thanks for the picture!!
Oni
---
A friend, Mike McLane, sent me this after reading the above: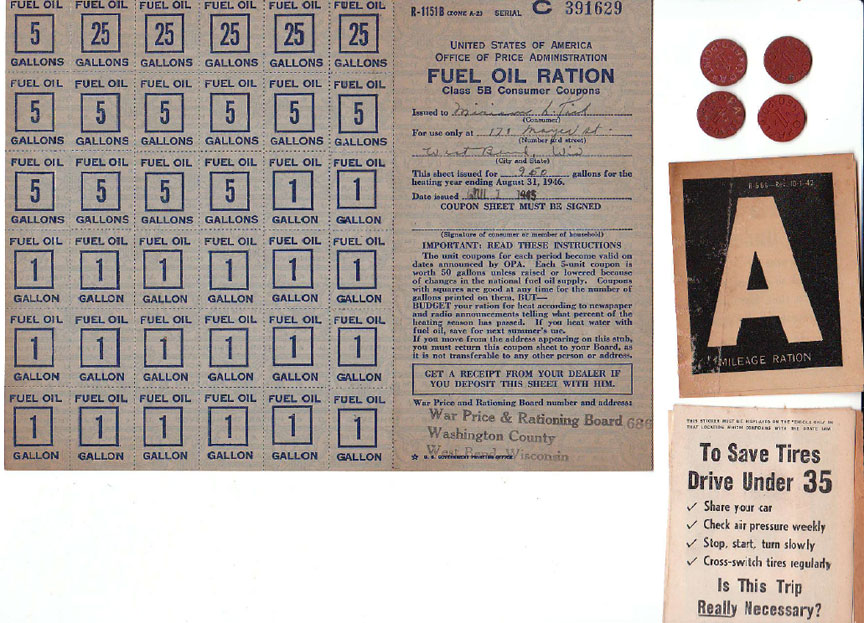 (Click for bigger image)
"Along with the "A" gasoline sticker (front and back) are four (red) "meat" tokens, given in change for meat purchased with a ration stamp of greater value than that required by the purchase."
---
---