Grant MacLaren's
1981 18' Century Resorter
The Interior -- Page 4
---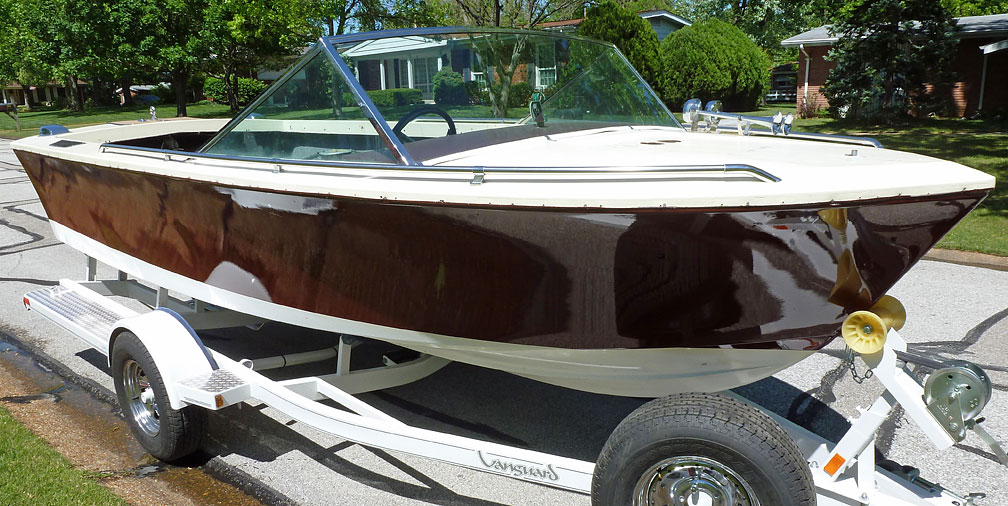 &nbsp &nbsp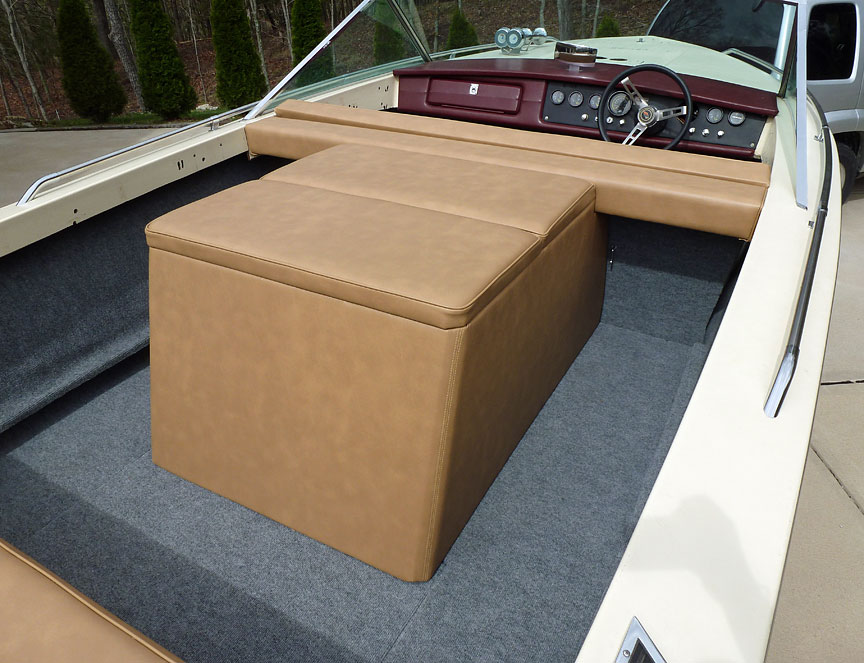 ---
Click on any photo for a larger image.
---
1/18/12 -- Took a few things to upholsterer today, including a small piece of the carpeting I had used for some boat bunks two years ago. Joe liked the material. The price is right and it has taken a lot of abuse in my earlier applications. I like its looks, so we'll use it on the floor, sidewalls, etc.
I also delivered the cut-down panel for the throttle/shift control, the panel for the aft seat (bottom) and the aft seat back. The aft bottom pane was ready to upholster, but I had not removed the foam from the back -- I wanted Joe to see how it "fits" in the boat.
Returned to my shop, and stripped the front seat bottom, found 6 inches of foam and some other stuff. Then I stripped the aft seat back. Wow, what a bunch of stuff in there!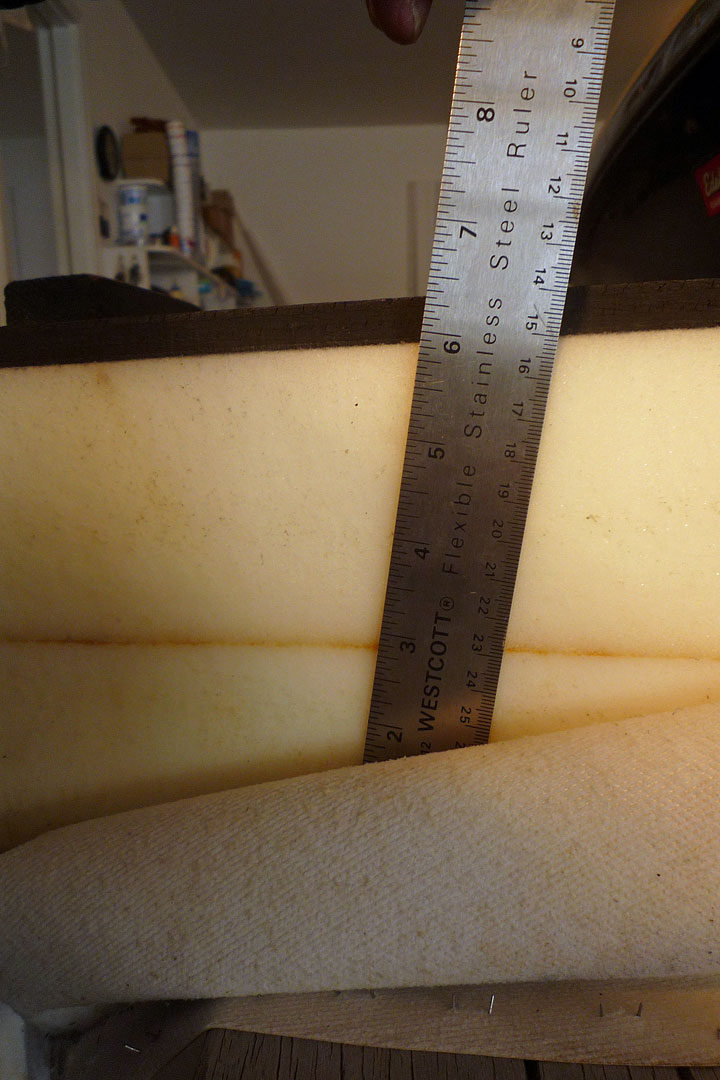 &nbsp &nbsp &nbsp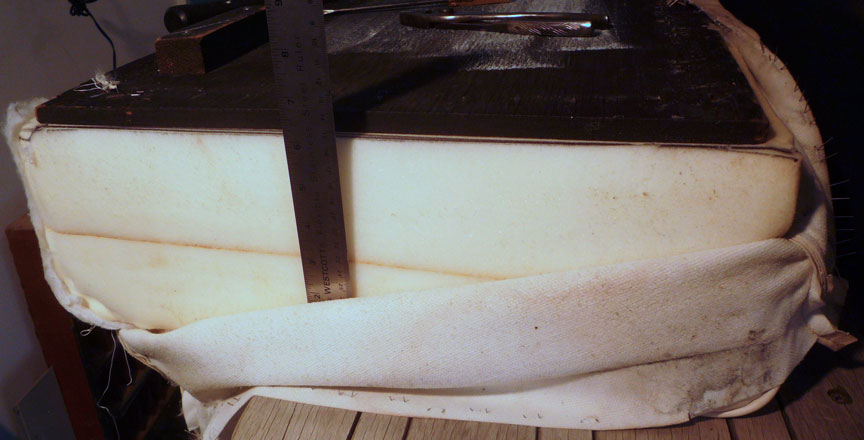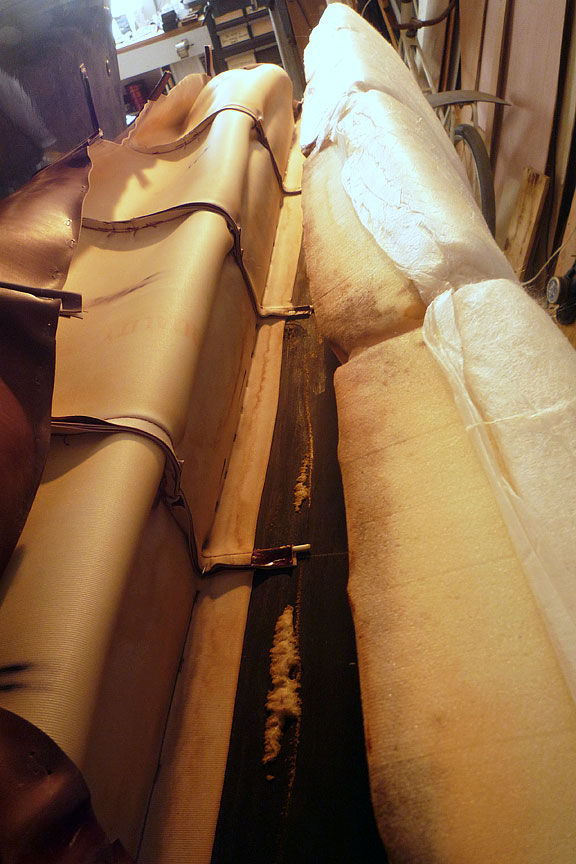 Below: Front seat back -- Front seat bottom -- Aft seat back (Aft seat bottom already being upholstered, as are the long aft inside wale panels.)
Small items on can are forward inside wale panels with anchor bolts 'glassed in place.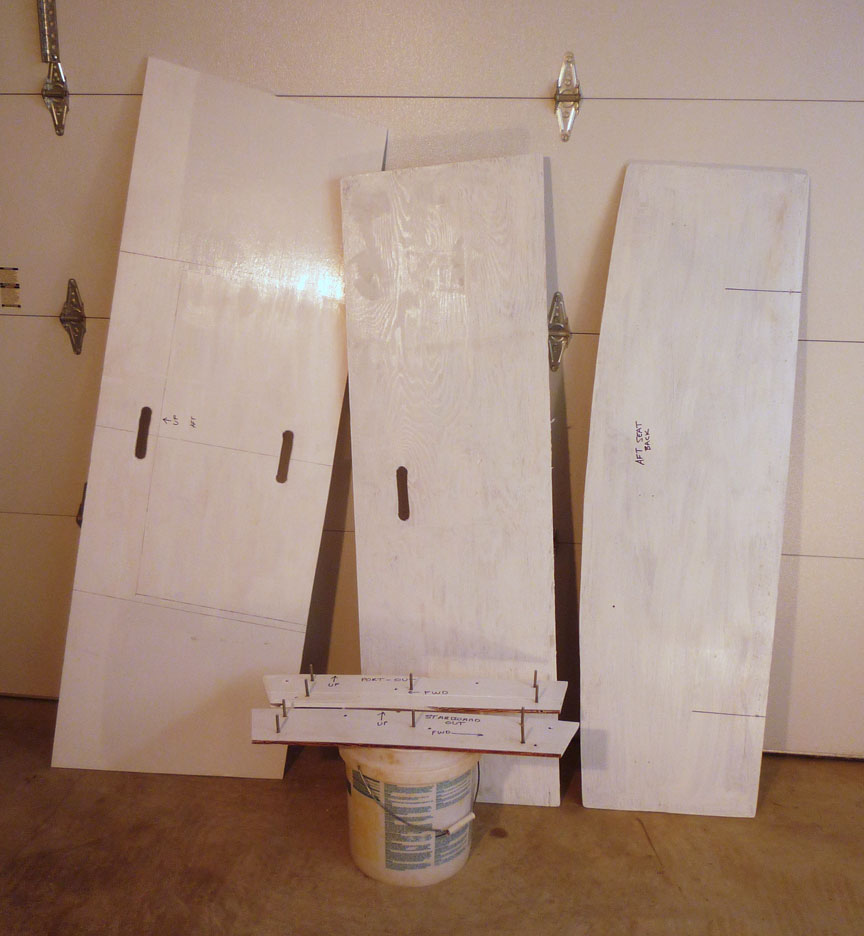 Decided to rebuild aft seat base, making center bay wider and much deeper -- deep enough to accomodate a tool box: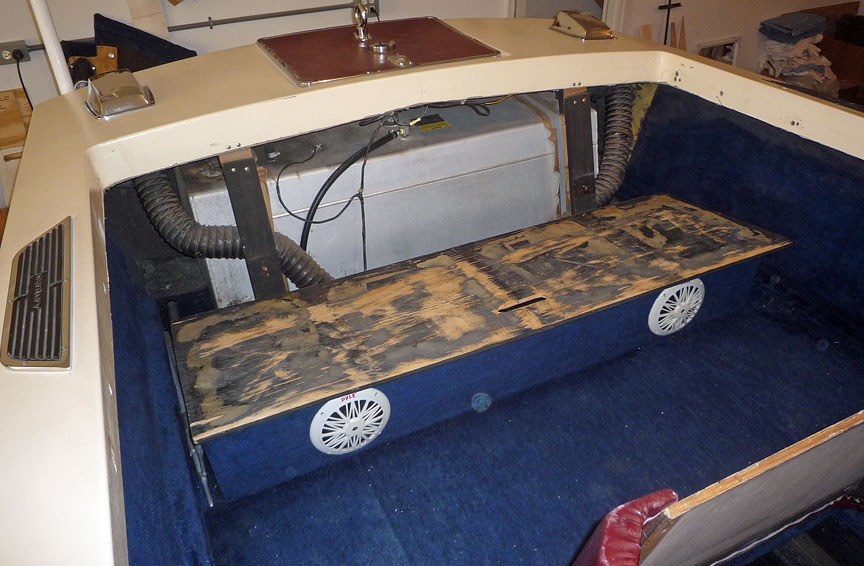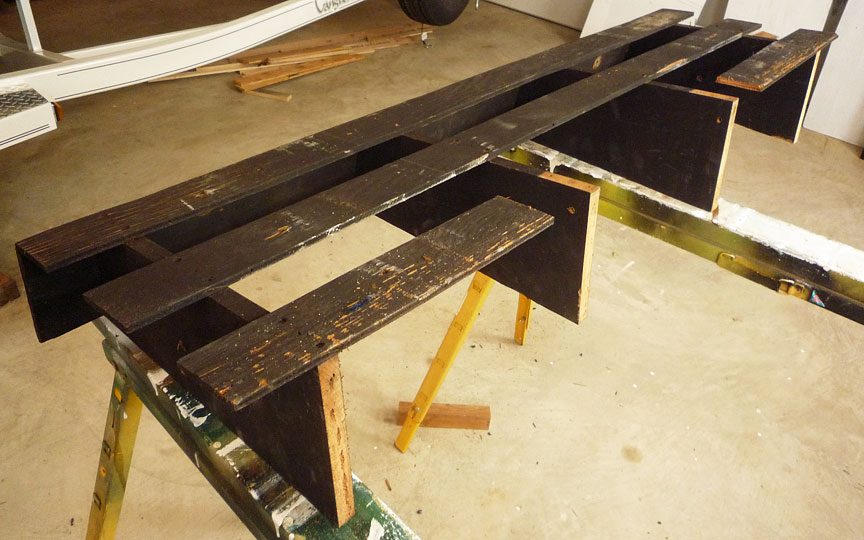 1/22/12 -- Here's the result (the face gets carpet):

&nbsp &nbsp &nbsp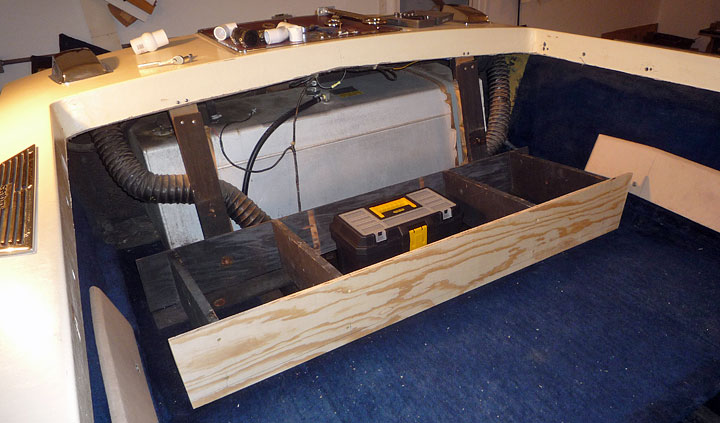 &nbsp &nbsp &nbsp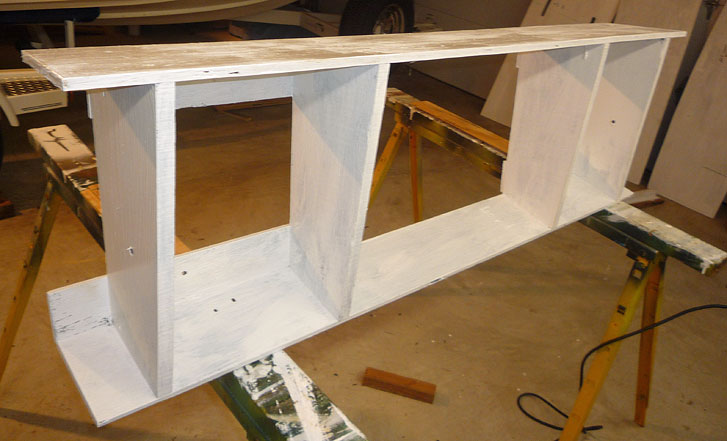 1/24/12 -- Installed pieces on front seat back that will provide anchors for engine box. Later, painted the back, the front seat bottom and the two forward side panels: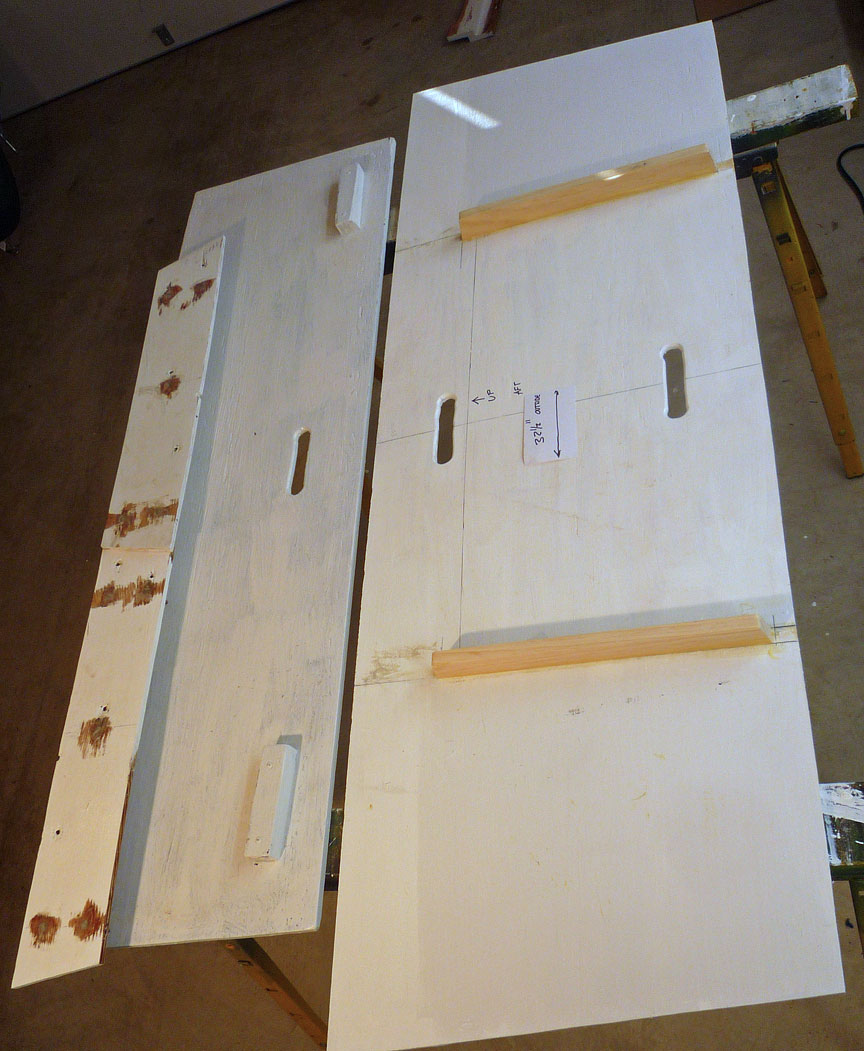 And the two lower side panels have been shortened and painted.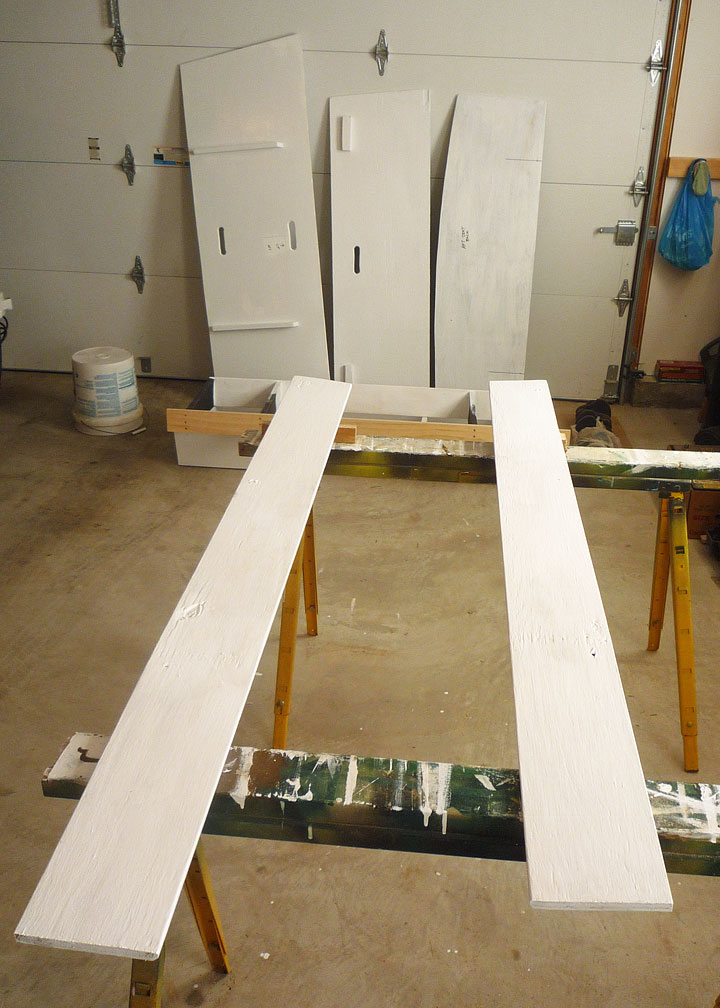 (1/29/12) Today, after holding one of the two lower panels in place, I decided to rip them down to 4-1/2 inches in height, and mount them to the carpeted support rail flush to the bottom of the support rails. I'll use four panhead screws on each rail and cover their heads with plastic caps to match. I think the rails, covered in "leather" vinyl will look quite handsome. BTW, those carpeted rails are made of the worst-looking material I've ever seen used in a boat. It's terrible looking particle board.
(2/2/12) Below is sketch of beam to run across boat behind front seat. Top piece is "one by" pine. Verticals are "1/2 inch" ext. plywood. Glued today with Titebond III. To be finished with padded upholstery. Front of beam will support back of front seat. Rear of front seat will be finished with two carpet, both sides of engine box.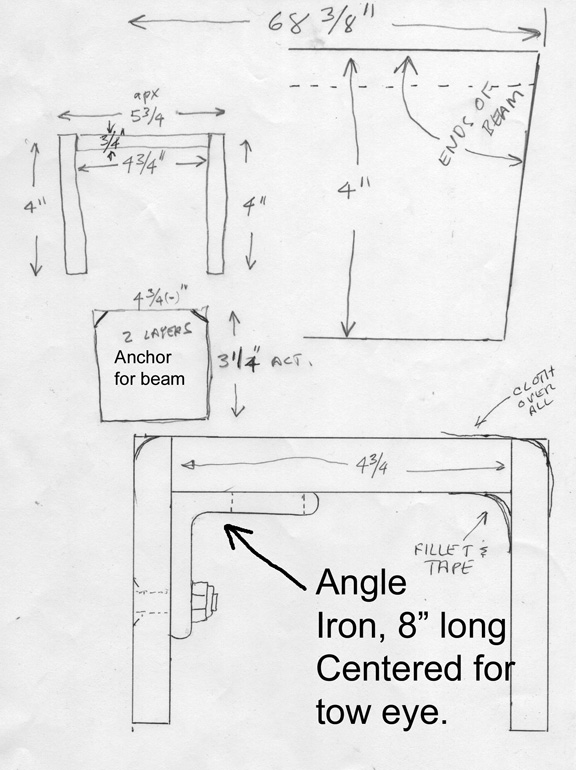 "Beam" to serve much as this part of '73 Resorter 16: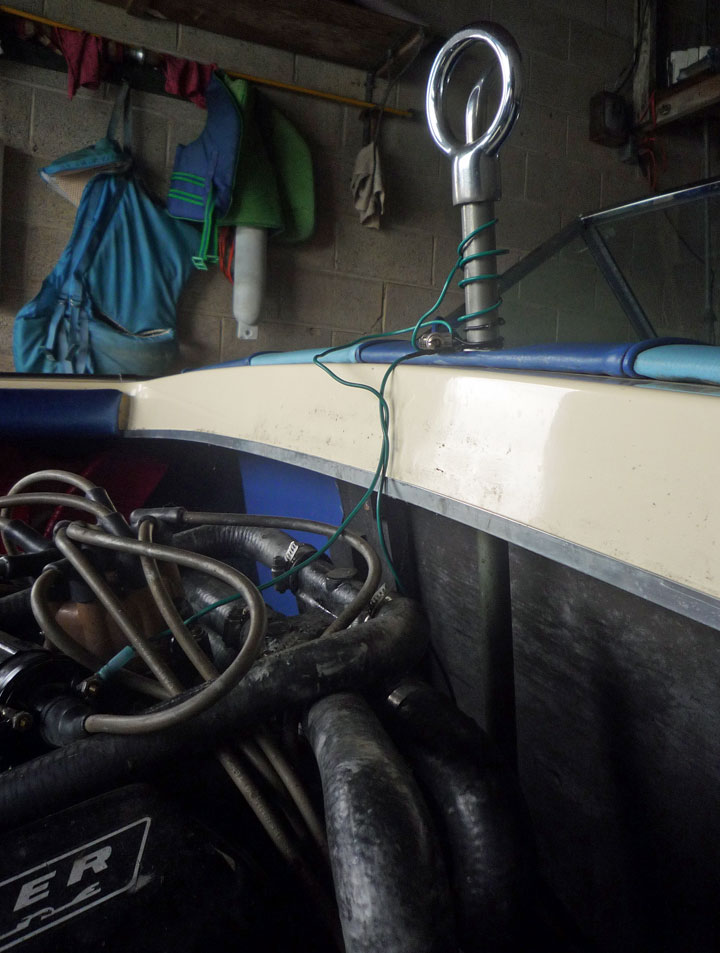 My design makes it very easy to remove back of front seat for good access to engine and sea-water pump.
---
NEXT PAGE
---
HOME
---
Ads are selected by Google.
---
---
Another pretty good web page by Grant MacLaren