Grant MacLaren's
1981 18' Century Resorter

Front Seat
This view of front of front seat shows some loose upholstery material; in need of repair.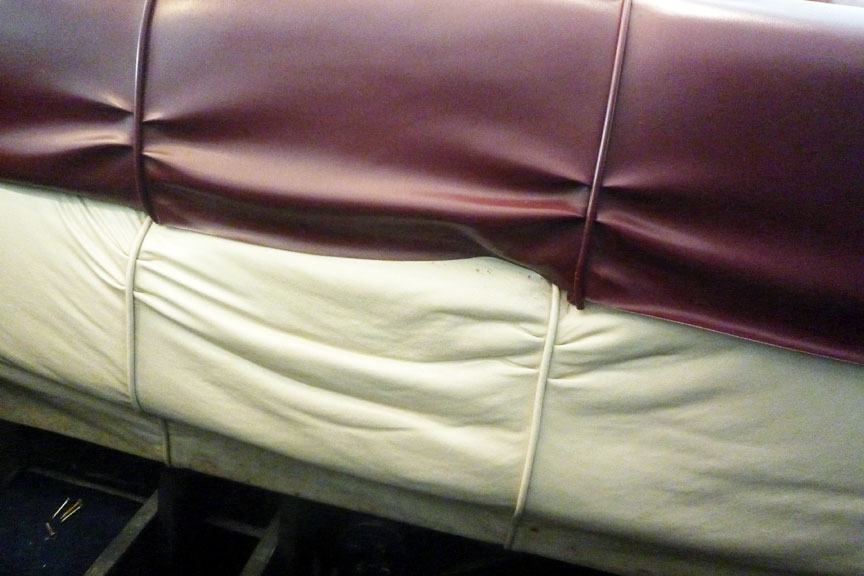 Back of front seat looking forward. Notice, there is no ski tow ring atop seat back.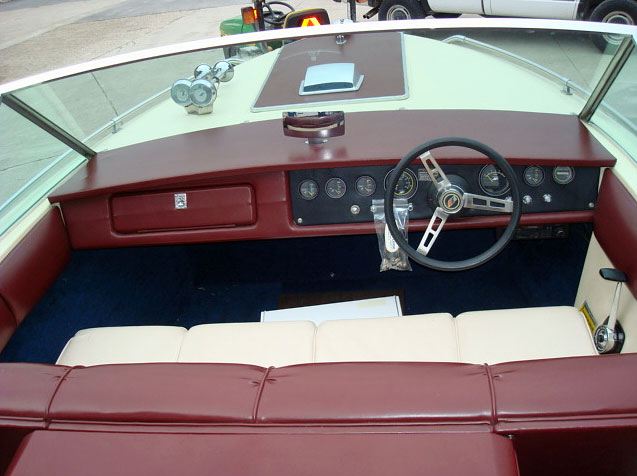 The seat's upholstered top board is drilled (next photo), and there's another "support" just forward of the thermostat (2nd next photo). There is no bracket or other support at the lower end (at the battery box level.)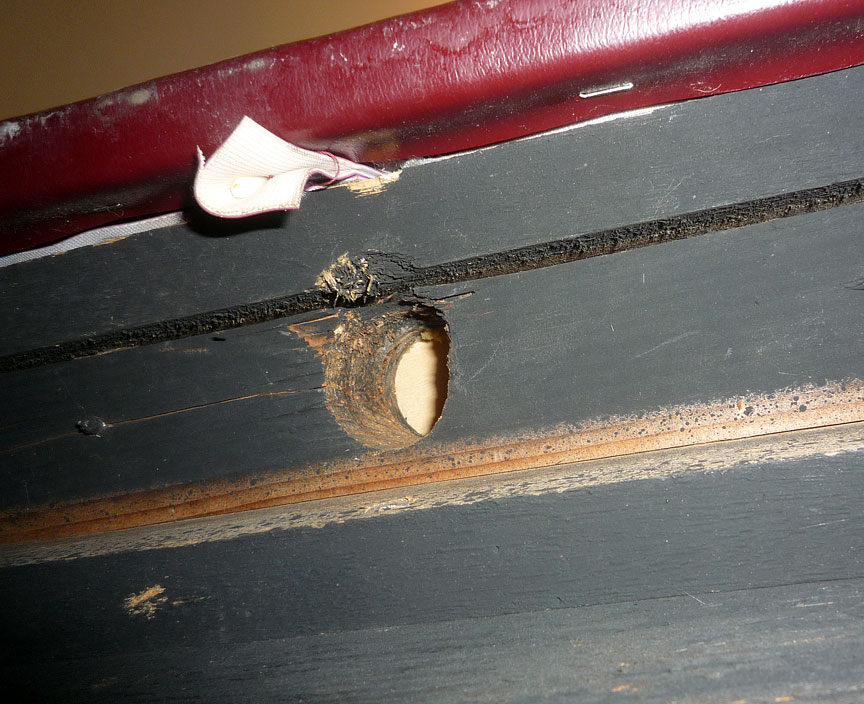 Below, red arrows point to a hole in a piece of angle iron used as part of the ski-tow support. See another photo on this page.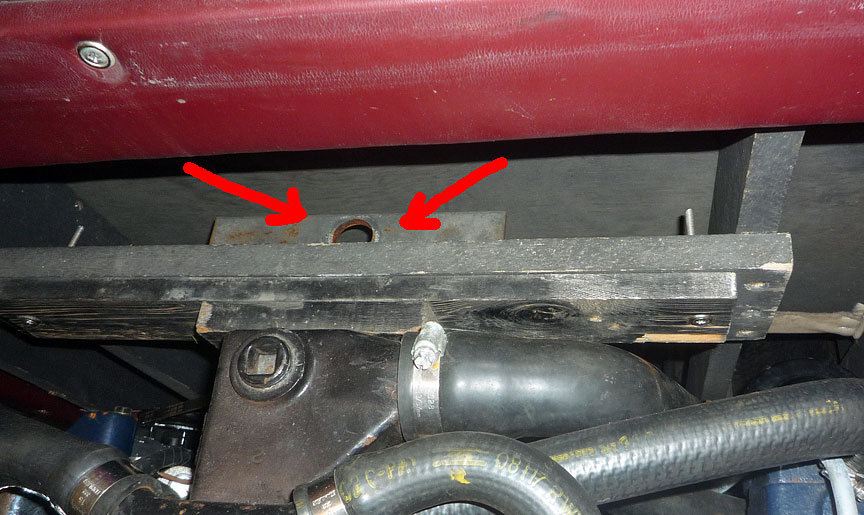 Blocking fills the space between seat back and engine. i.e., the seat back is supported by the engine. (What's with all those long screws? And what's with the long bolts at the sides of the seat backs? Century seemed to have only one length of screw or bolt in inventory -- TOO LONG.)

Here are two views of the front seat.
This one looking forward, with starboard covering panel removed from seat back (note TOO LONG bolt upper right):
This one looking aft, with seat cushion removed (note upright extends into battery bay):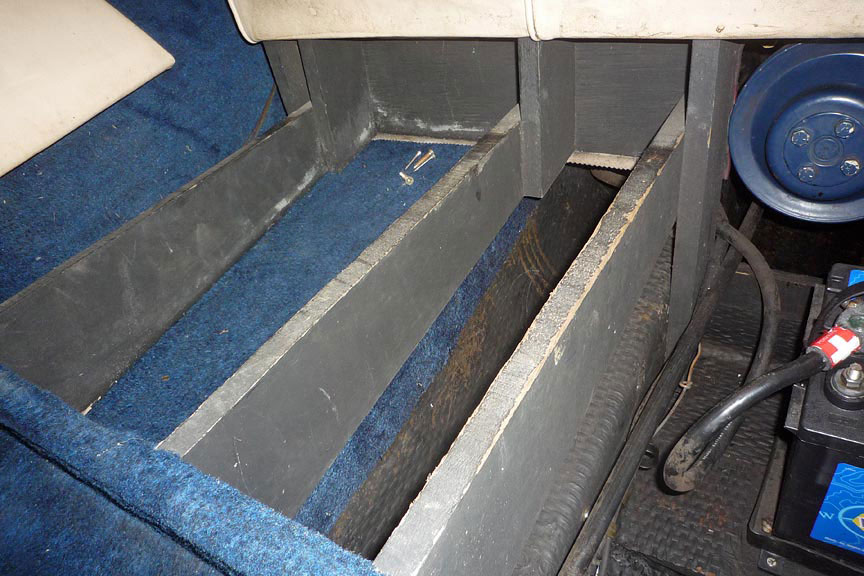 All three seat-back (back of seat back) panels have been removed. They are leaning against rear seat.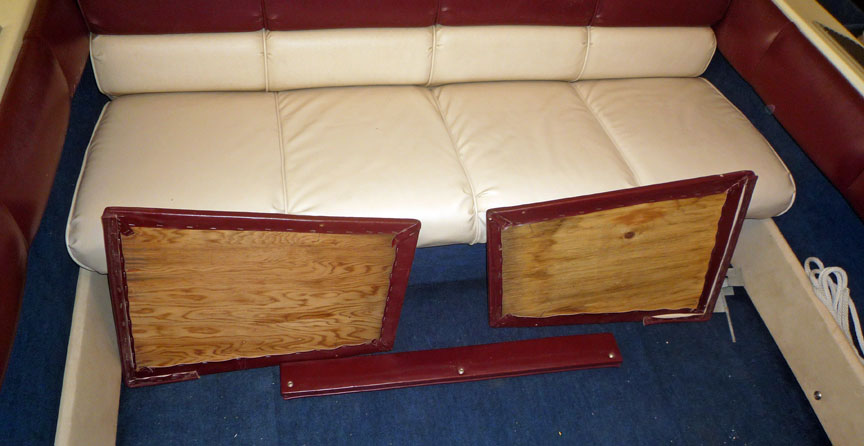 Battery has been removed. Screws have been removed from bottom of "long upright" and the forward walls of the outside bays under the front seat cushion. The two large bolts at the top outside of the seat back frame have been removed. The entire seat assembly (less the seat cushion) is loose, and has been lifted out of the boat.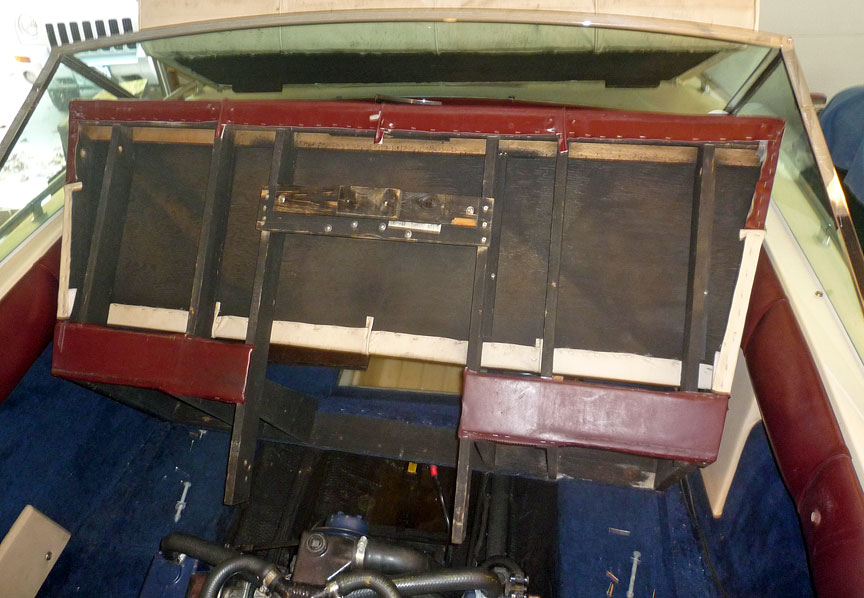 CLICK HERE
FOR A LARGE IMAGE SHOWING LOCATION OF FASTENERS.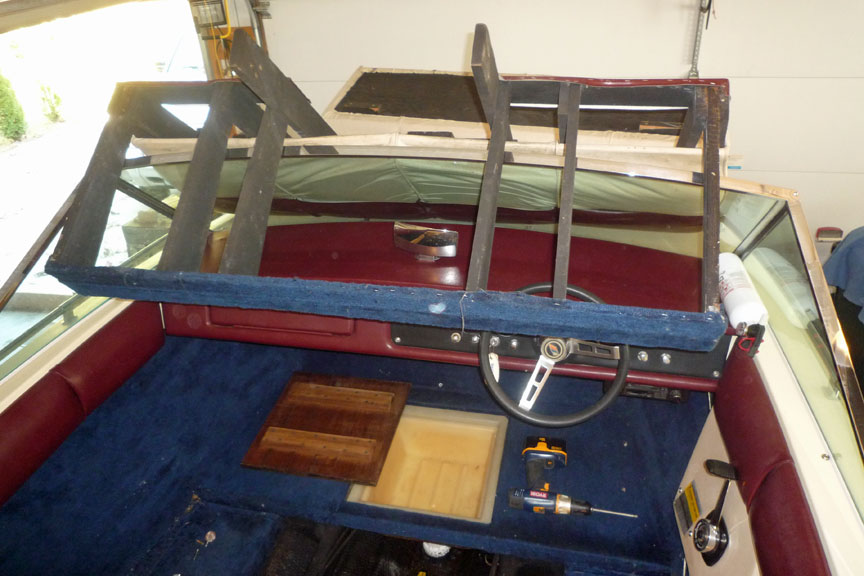 With the front seat assembly removed, there is much better access to the fuel filter, the fuel pump ("old" one, with its sight glass) and the "sea-water" pump. (Did you notice the ice box under the front floorboards?)
The front seat assembly is kinda heavy and awkward to move around. I will cut it into two pieces (seat and seat back) to make it easier to manipulate.
---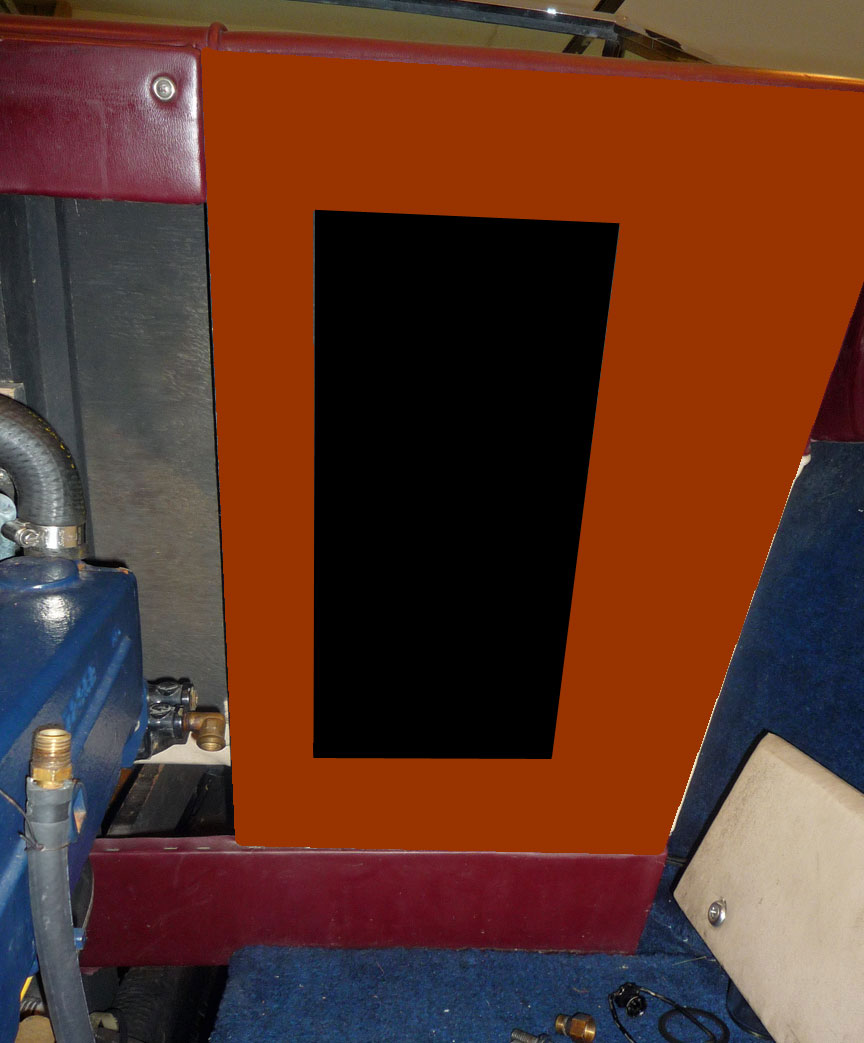 Looks like there is some room in the seat back to store a couple of PFDs, or towels, etc. Could make two new panels with openings (black) in them.
---
The photo below shows that removing the front seat gives very clear access to the forward end of the engine, making it much easier to work on the sea-water pump, fuel pump and fuel filter/water separator. When the seat assembly is modified, only its "seat back" portion would be removed to provide such access.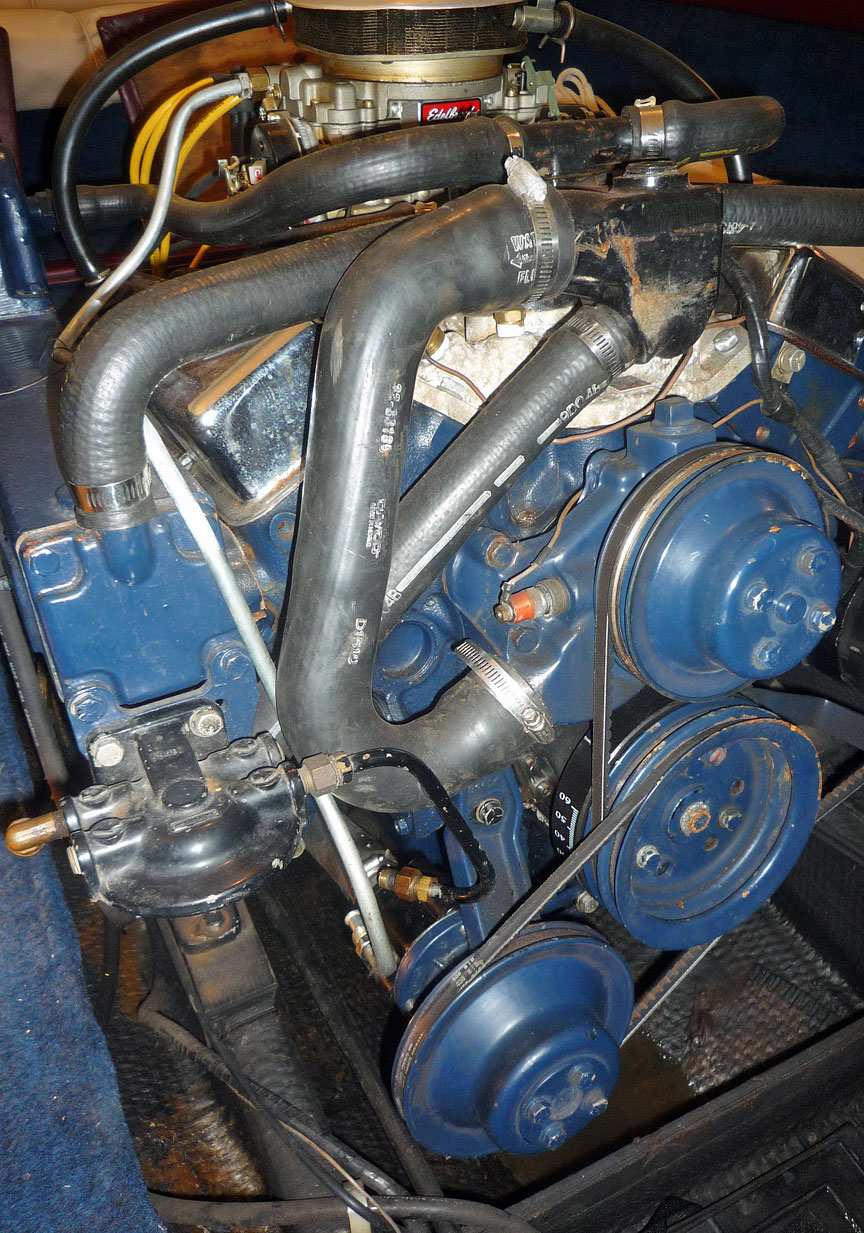 ---
---
NEXT PAGE
---
HOME
---
Ads are selected by Google.
---
---
Another pretty good web page by Grant MacLaren