Grant MacLaren's
1981 18' Century Resorter
Comparing 2 Resorters
---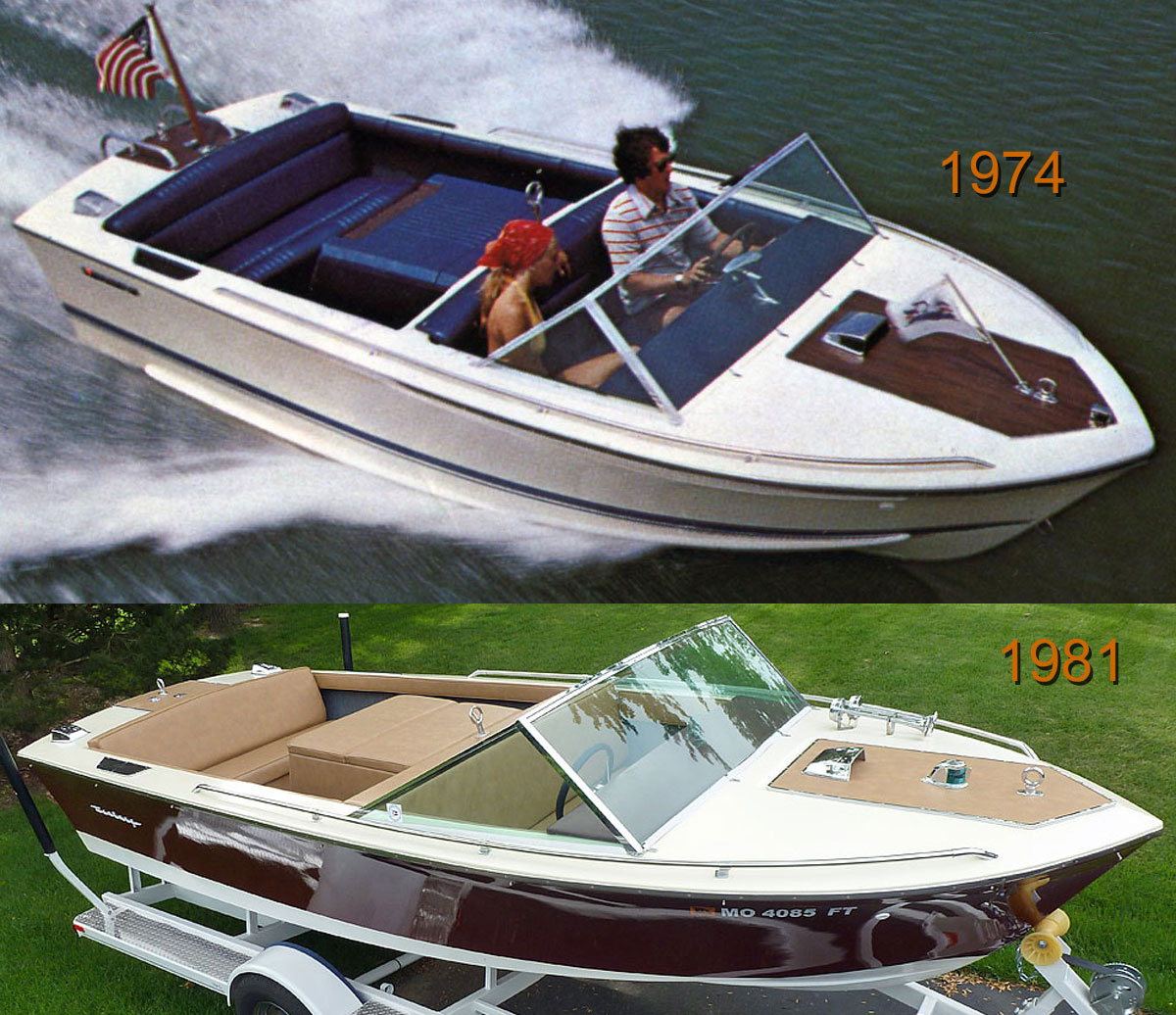 ---
Throughout this website,
a click on a photo will probably yield a larger image.
---
Grant's been playing with Photoshop again. -- The two boats above are Century Resorters. The upper one is a 1974, 16 ft. boat as Century showed it on the cover of their '74 catalog, except that Grant reversed its image, for a better comparison with his 1981, 18 ft. that's been modified by Grant to his liking.
The 1974 16' boat is well-known to Grant because a friend owns one just like it. Grant has driven it, tuned it, water skied behind it and winterized it for a few winters. (The boat Grant knows so well was purchased new, probably from Kinn Motors Marine in Oconomowok, WI.)
The 18' boat is Grant's 1981 Resorter, its recent history thoroughly described on this web site.
The '74 16' Resorters all had spray rails made of wood.
This '81 18' Resorters had/has no spray rails.
The '81's motorbox was redesigned and rebuilt by Grant. (As were the seat bases and backs, and the gunnel bolsters.) The new motorbox has a two-piece lid and is reinforced with wood and aluminum cross members.
Grant built new deck panels, front and rear on the '81. He replaced the Century bow navigation light with a Perko unit offering a burgee-pole mount. On the new aft panel he relocated the fuel filler to offer "straight-line" access for a fuel dip-stick. This required that the ensign-pole mount be moved off center.
Windshields. -- Compare the length of the two windshields' side panels. (Grant prefers the older, shorter side panels.)
BTW, the '81 windshield requires base gasket as follows:
Windshield (the front panel) = 64 inches Side panels (ea.) = 46 inches (x 2) Total = 156 inches or 13 ft!
The '81's windshield has only two hold-down clamps between the front panel's corners. The 1974 Resorter has four clamps. Grant intends to add three clips, through-bolting them to reinforced backing plates. Here's a clip.
Grant decided to add 3 clips to the '81's windshield and ordered 3 used clips from A and A in Manistee. Here's a clip.
Deck. -- Notice the fiberglass section running athwartships behind the front seat on the '74 boat. There was no such deck portion on the '81, so Grant designed, built and installed a "box-truss" in the '81. This provides an excellent place to mount the ski-tow ring, and permits the front seat's back to be removed without removing the heavy, cumbersome original seat assembly. (Great for engine access.)
Ski tow ring is mounted backwards on the '74 catalog's cover photo.
Swim platform vs. ladder -- The '74 Resorter has a transom ladder. It's very difficult to use when getting out of the water and into the boat, because its lowest rung is about at water level and pulling one's self out of the water with one's foot at shoulder level, is tough to do. The '81 Resorter has a large teak swim platform that's easy to "roll onto," then sitting up and climbing aboard. The platform can also be handy to use when getting into the water, esp. when skiing.
Hull shape -- The older boat has a much flatter section at its aft end. The '81 has a more pronounced "vee" section which probably offers a smoother ride, and probably a slower top speed than if it was flat. However, the '81 runs at over 50 mph (measured via GPS) and usually cruises at a much slower speed -- 25 mph.
Engine ignition -- In 2012 Grant (with much help from his friend Mark S.) installed a new electronic ignition in the 350 cubic inch (5.7 L) "small block" Chevrolet V-8 Mercruiser -- with amazing results.
At Table Rock 2012, Guy McCollum drove the boat for Grant to ski. The first deep water start, Guy opened the throttle, jerking the tow-rope handle out of Grant's hands. the next time, he opened the throttle 1/4-way and Grant came right up.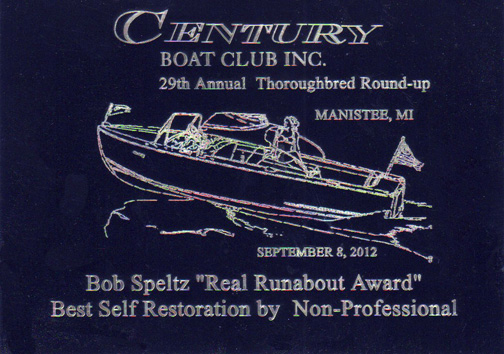 HOME
---
Ads are selected by Google.
---
---
Another pretty good web page by Grant MacLaren