Grant MacLaren's
1981 18' Century Resorter
The Beautiful Brute Stay Tuned
At the 2011 ACBS meeting, Geneva Lake, WI, there was a fellow who wanted to sell his Century 18' at auction. He had this poorly reproduced flyer available for those interested in the boat: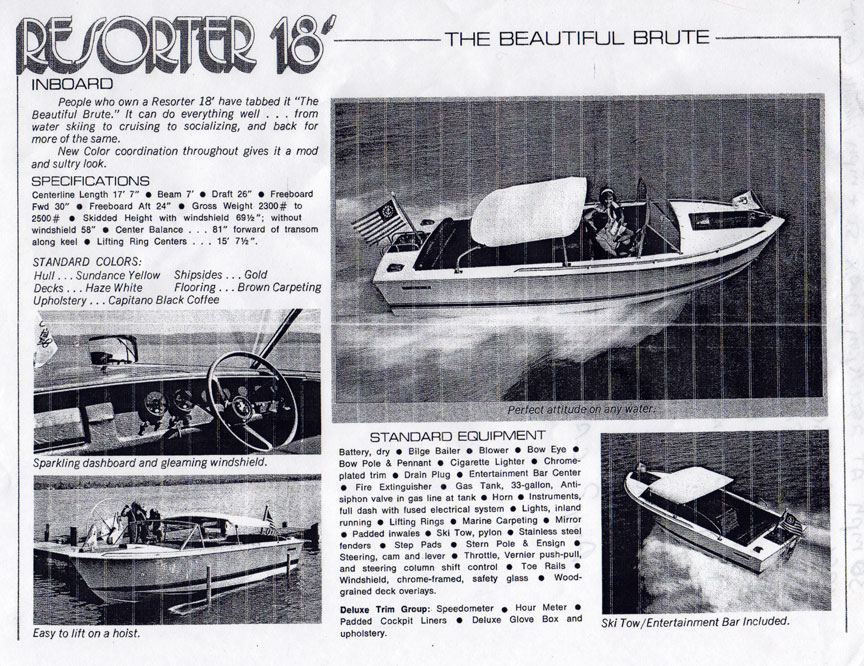 More later about the boat for sale; here are some "specs" and features from the Century flyer:
People who own a Resorter 18' have labeled it "The Beautifil Brute." It can do everything well ... from water skiing to cruising to socializing, and back for more of the same.
New Color coordination throughout gives it a mod and sultry look.
SPECIFICATIONS

Centerline length 17' 7"
Beam 7'
Draft 26"
Freeboard Fwd 30"
Freeboard Aft 24"
Gross Weight 2300# to 2500#
Skidded height w/windshield 69-1/2"
Skidded height w/o/windshield 58"
Center balance ... 81" fwd of transom along keel
Lifting Ring Centers ... 15' 7-1/2"

STANDARD COLORS

Hull ... Sundance Yellow
Shipsides ... Gold
Decks ... Haze White
Flooring ... Brown Carpeting
Upholstery ... Capitano Black Coffee

STANDARD EQUIPMENT

Battery, dry
Bilge Bailer
Blower
Bow Eye
Bow pole & Pennant
Cigarette Lighter
Chrome-plated Trim
Drain Plug
Entertainment Bar Center
Fire Extinguisher
Gas Tank, 33-gallon, Anti-siphon valve in gas line at tank
Horn
Instruments, full dash with fused electrical system
Lights, inland running
Lifting Rings
Marine Carpeting
Mirror
Padded inwales
Ski Tow, pylon
Stainless steel fenders
Step Pads
Stern Pole & Ensign
Steering, cam and lever
Throttle, Vernier push-pull and steering column shift control
Toe Rails
Windshield, chrome-framed, safety glass
Wood-grained deck overlays

DELUXE TRIM GROUP

Speedometer
Hour Meter
Padded Cockpit Liner
Deluxe Glove Box and upholstery
Frank Miklos (Webmaster, Century Boat Club Inc., 419 Big Knob Road Rochester, PA 15074-2659 -- tmiklos4@comcast.net) was at the auction. That's him in orange shirt -- on the right -- in the photo below: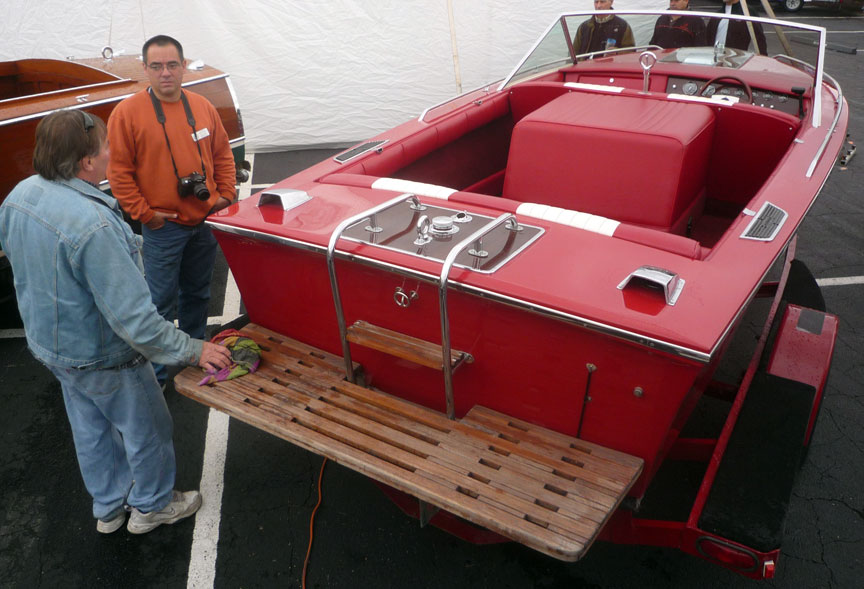 The owner of the Century, in the denim jacket, is on the left. His name is "Tom" and his phone number is 815-353-4014.
Tom listed the following about his Resorter:
30 mph at 2500 RPM, Max 50 MPH, handles great
1996 Merc 330 HP, 454, apx. 300 hrs.
New Hurth trans.
Dripless packing
1-1/8" Prop Shaft, 14 x 16 Prop.
Stereo and Disc Player
New Interior and Gell '03
Questions? Call Tom 815-353-4014
HOME
---
Ads are selected by Google.
---
---
Another pretty good web page by Grant MacLaren