The boom will pass through a slot in a triangular (wood & plywood) piece that provides vertical support for the boom -- via the upper support cable. The slot will permit the boom to move up & down. It's down travel will be limited by the upper support cable. (This "truss" -- with its vertical slot -- will have a carpeted base, protecting the fiberglass deck, and will be held in place -- fore and aft -- with a strap around one of the "grab rail" supports.)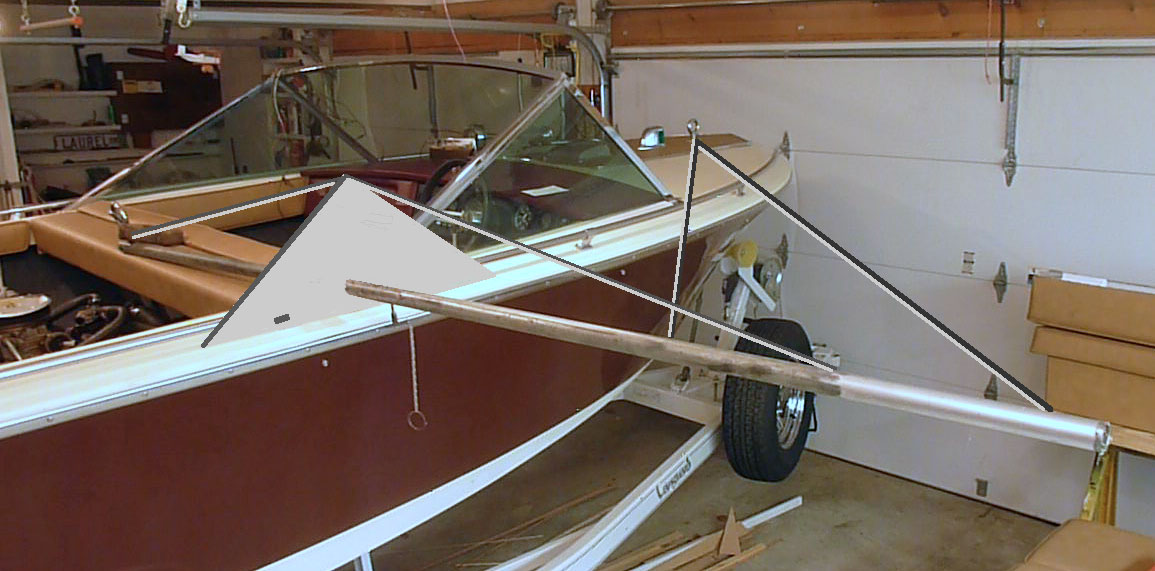 The tow eye is not easily removable. My "mock up" shows the inboard end of boom should be as low as possible. I think I'll end up using a shackle (sketch) and a (chain-link fence) top rail end cap: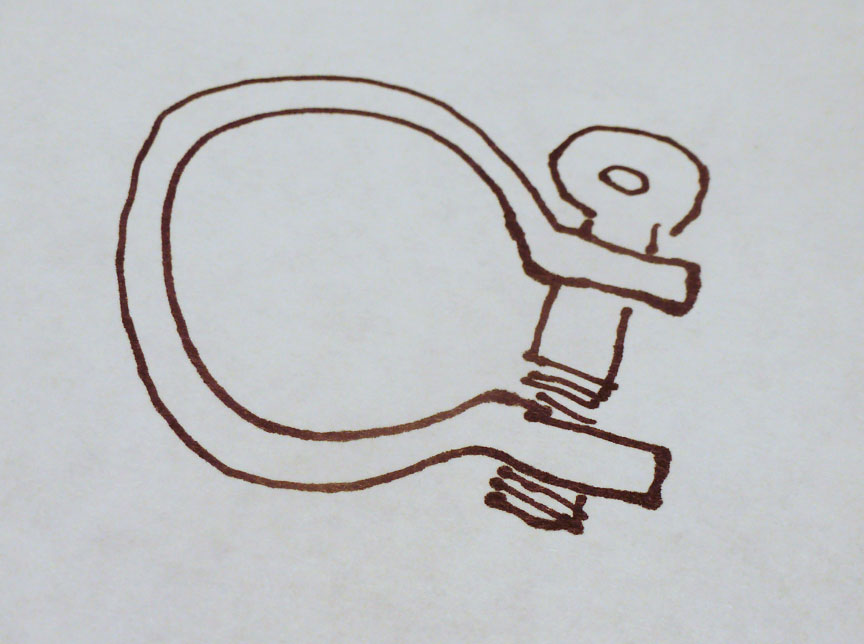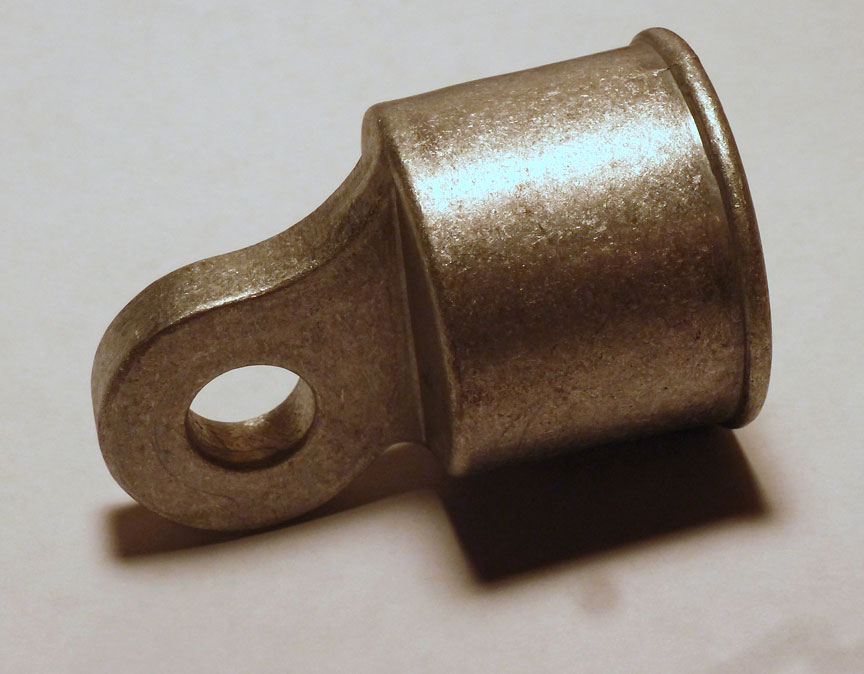 Wish I had a good marine supply here. A spinnaker pole fitting would work nicely: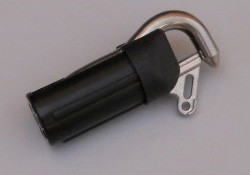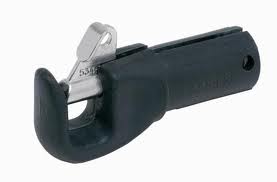 ---
(1/31/13) This was my first idea. But the tow eye's upright was larger diameter than the tube used in in this mockup.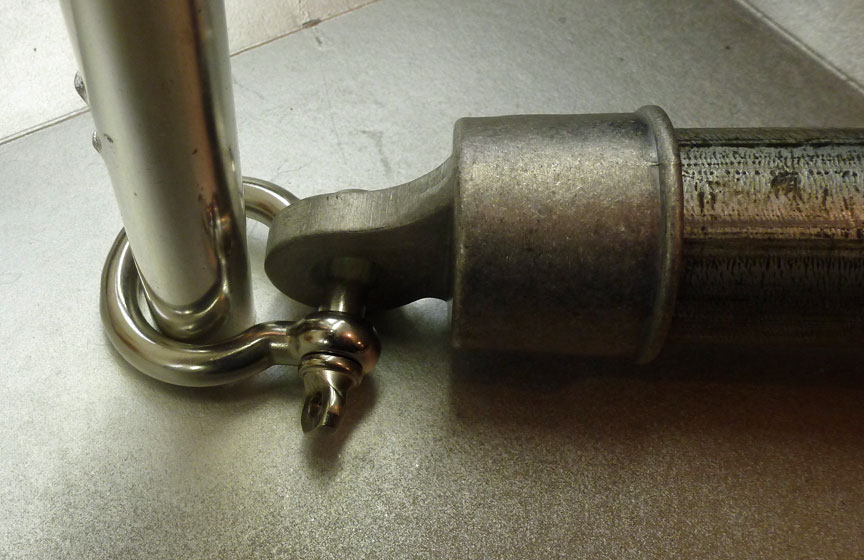 I had some SS sail track (jib sheet) and used it to make this extension: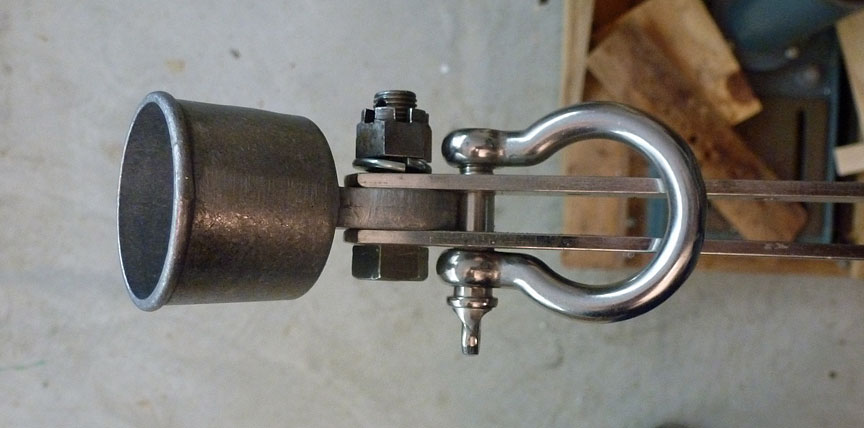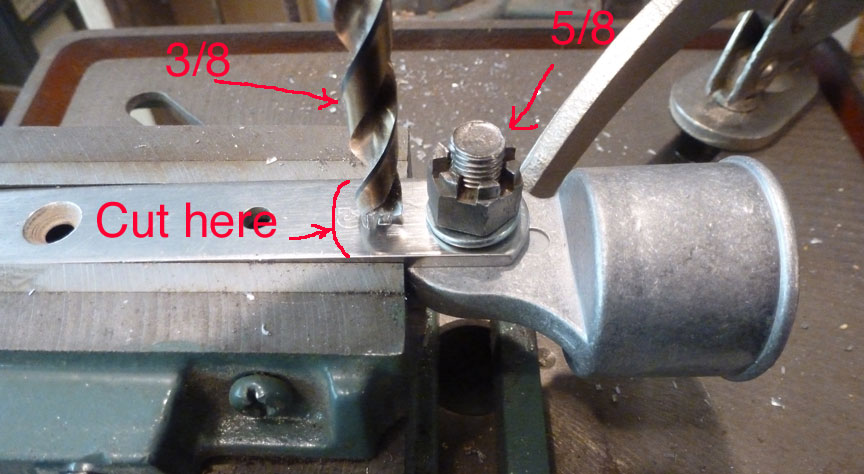 The boom (inboard end) will connect to the base of the tow eye like this. I'll make a (removable) "pad" to protect the upholstery, etc. The aluminum fitting will be pinned to the boom with an SS bolt and nut (apx. 1/8" by 1-3/4".) The fitting will be shimmed to fit the boom, then bolted.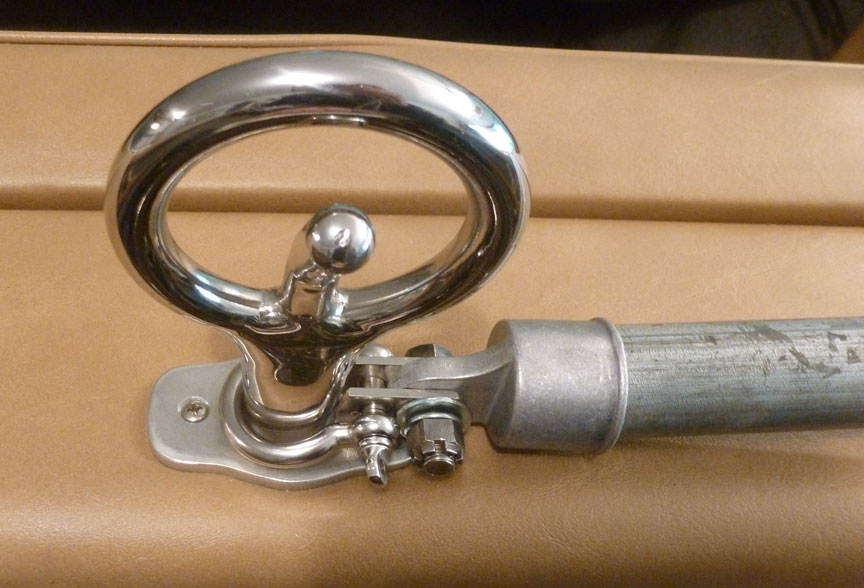 The boom is in two 4 ft. sections (for portability), pinned like this with a "push button ball pin" of the correct length: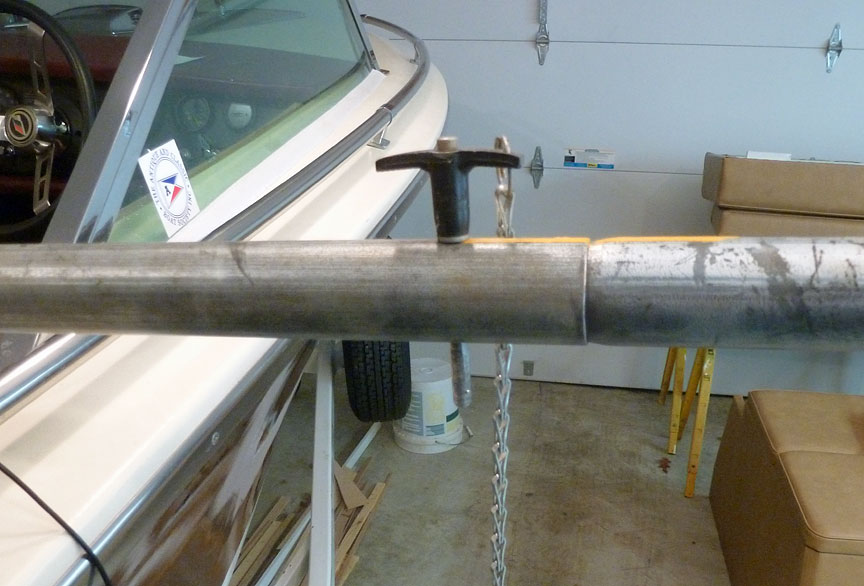 The two forward tension wires will connect to the forward lifting ring. (A piece of line shows one possibility.) That carabiner is too small for the ring. Drat!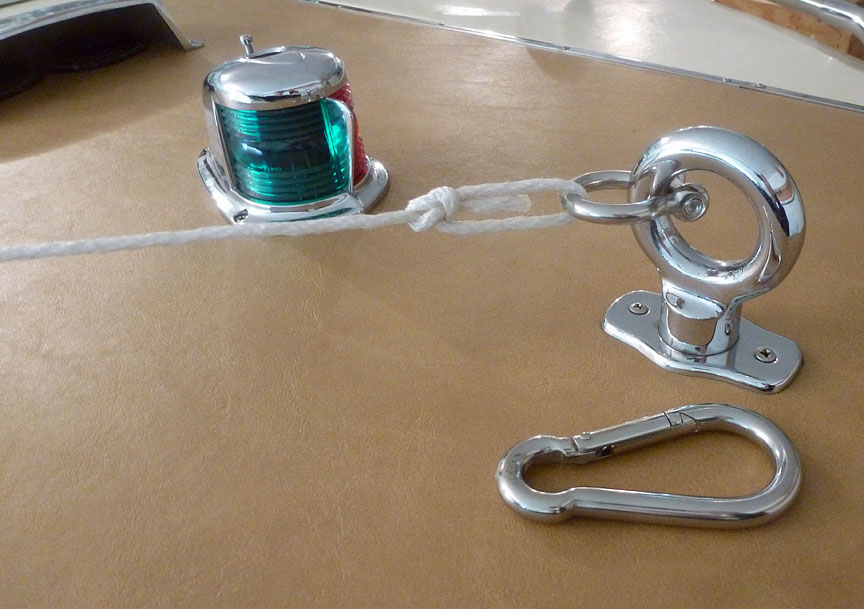 Maybe the two forward tension wires will connect to this single strap (padded where the pvc tube is shown: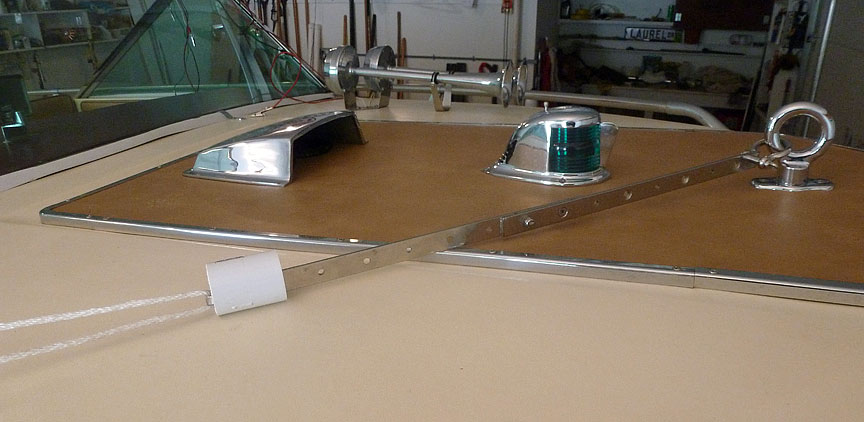 ---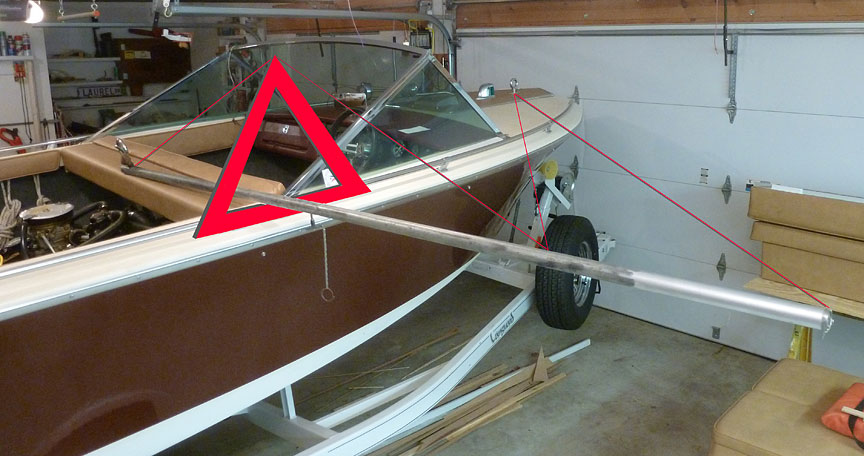 The more I think about it, the design should include:
A compression member from inboard end of boom to top of "A" frame.
(Maybe PVC (schedule 40) pipe over the cable.)
A tension member (elastic) from mid-boom, aft to (near) boat's transom.
(Probably aft lifting ring.)
An elastic component in tension member from "A" frame top to mid-boom?
Maybe not.
It will be difficult to "trim" the tension in the two forward tension members.
(On airplane wing drag wires we do that with turnbuckles, but that becomes fussy, expensive and complex -- and would increase the number of "swedged" fittings.)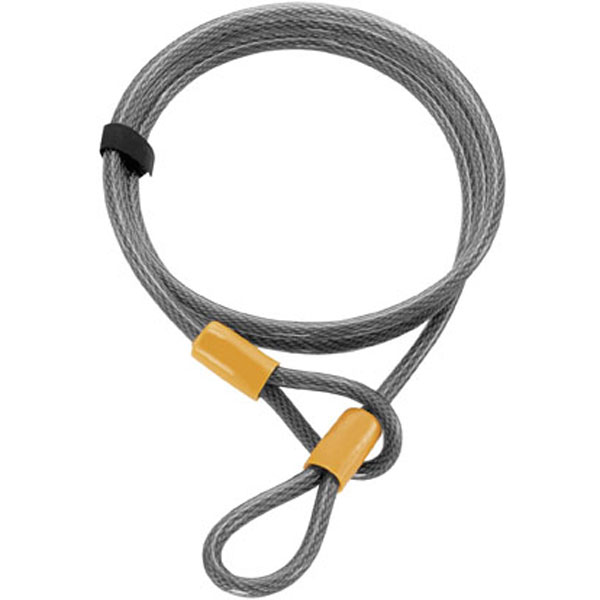 2/2/13 -- Frank Miklos -- I don't think that I'd trust the fence connections. They are not very strong. Cast aluminum will break very easily. I'd rather see you use Schedule 80 PVC. Maybe 2 layers one tube inside the other. Not sure how to attach the schedule 80. But it would be much stronger than fence tubing.
2/2/13 -- Grant MacLaren-- (to) Frank Miklos -- Yes, that's a very valid concern. I've shimmed the fittings to the tube with aluminum and bolted them with 10-24 SS bolts. There will not be much stress on the "top rail" boom because larger loads are carried mostly by SS stranded cable; the greatest being the resistance of the skier's "drag." Those cables terminate 2 ft. apart at the boom, with resulting load carried by fwd. lifting ring.
Grant -- First test run will be at Tavares. Are you going? If so, want to be the test pilot with me a test dummy?
Frank -- Not 100% sure yet. Most likely yes we are going. I'll have to look at it in person before I'd agree.
Grant -- I'll have the legal department draw up a liability release.
BTW, Here's a view showing the "2 ft." mentioned above. I guess it could be reduced to 1 ft. But if so, I'd move the upper shroud termination outboard, too:

The "tie back," probably a bungee running along the gunwale: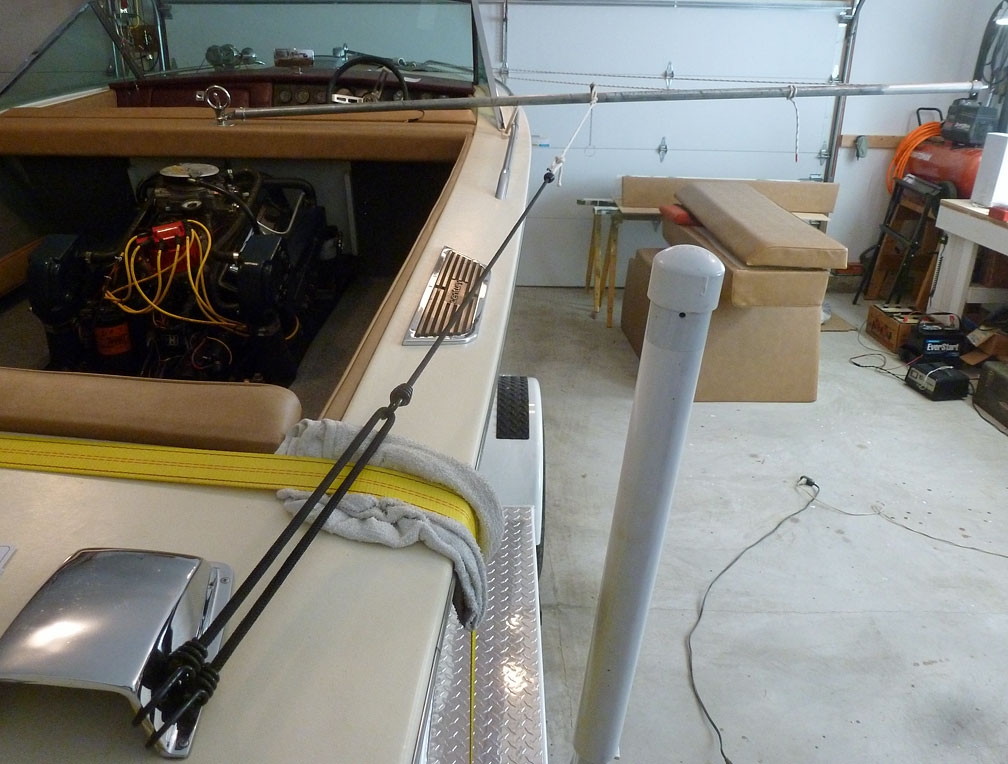 ---
Ads are selected by Google.
---
---
Another pretty good web page by Grant MacLaren.