Painting cast iron and aluminum
Grant MacLaren's
1972 Correct Craft Skier
MacSkier
Terry always insisted we use "Metal-prep" (by Pittsburgh, I think) before painting engine blocks. (That's what I used on Souper's block, etc.)
Aircraft Spruce still sells something with the name Metalprep #79.
My research shows these products are/were a phosphoric acid based cleaner. Lowes carries TSP -- which I've used here on the flat bottom (below) of my boat's tranny. After stripping paint (above), then washing with TSP, I've applied some white Rust-Oleum -- which seems to be sticking. I'll try another portion (or maybe this one again) using Rust-Oleum primer first:
The hardest job is cleaning the tranny case without "opening" it. Much of the other stuff has been sand-blasted and primed. It's really easy to paint that stuff. (See cast aluminum bell housing below.)
In January (2014) I had the valve covers media blasted, primed and painted by "Jason" at Blastco in Wentzville. Believe me -- that paint is HARD. (Almost like powder coat.) I know, because I sanded it off the high parts. Took me about two hours per cover. I like the way it looks:
(3/30/14)
That stuff (NAPA stripper) really works:
I've decided on this technique for the stuff I'm painting "at home":
Seal up all openings. (Note old hose attached.)
Apply stripper, let it set 10 minutes (see above.)
Scrape off as much paint as possible with putty knife.
Repeat.
Let set for an hour or more, then attack with portable wire wheel, removing all remaining paint.
Wash with TSP, wipe 'til white cloth remains white.
Wash with strong Tide mixture.
Rinse with clear water from hose.
Wipe dry with towel, let dry in sun.
Apply Rust-Oleum self-etching-primer.
Apply no fewer than 3 coats of Rust-Oleum color.
It should look something like this (painted today):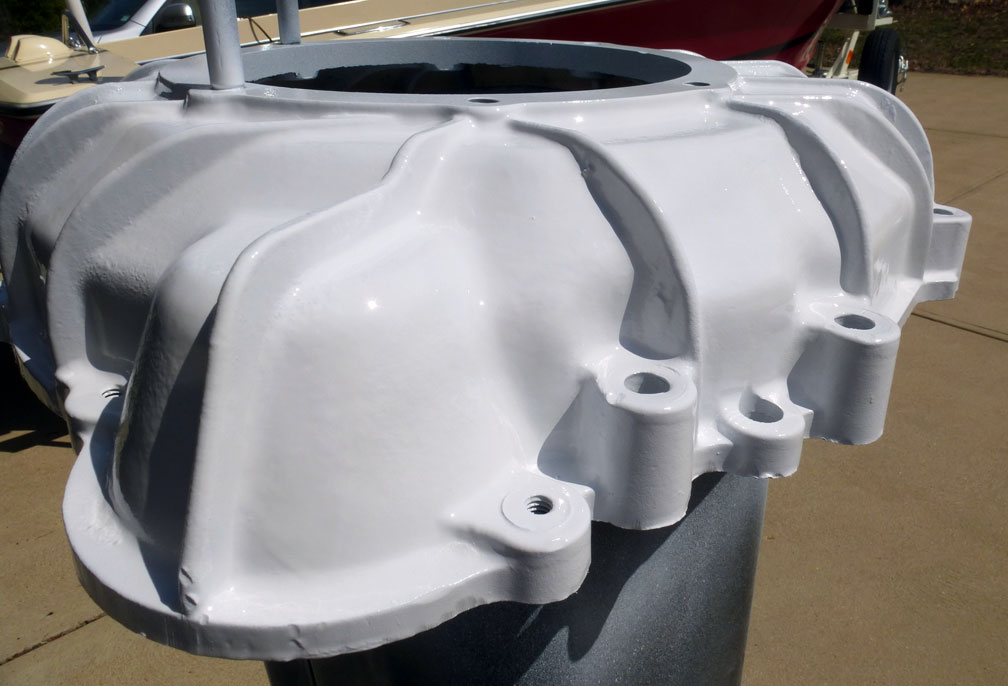 Click photo for larger image.
Now, on to that Ford block!
---
"It needed a little work, but what boat doesn't?"
---
HOME
---
Ads are selected by Google.
---
---
Another pretty good web page by Grant MacLaren