It runs!
Sounds Awesome!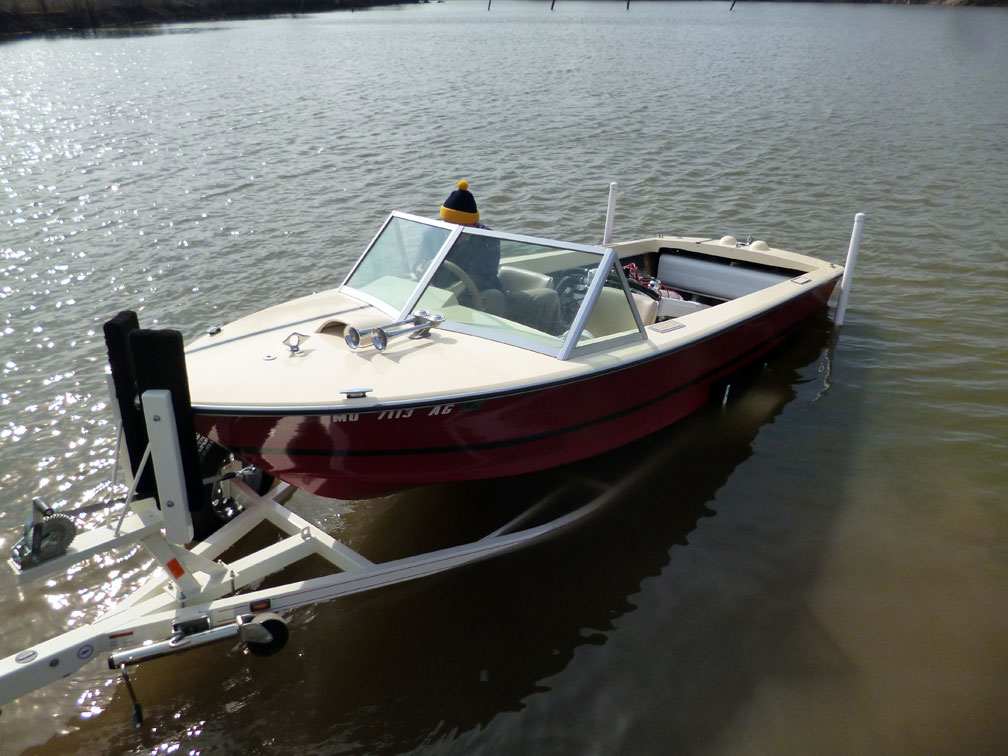 Click above for larger image.
(Wednesday, Feb. 17, 2016)
Houston, . . . we have had a fuel problem.
First of all, the nearby County Park's ramp was closed today, 2/17. It was open yesterday (2/16) when John and I went by to check it out. ???
So Bud and I drove to the Mississippi where I knew a nice ramp (Hideaway Harbor) was open. We left it on the trailer, with pickups submerged, and the separater/filter filled with fuel. It would start and ran until the carb bowls emptied.
"We'll figure it out." Everything is new or rebuilt -- except for fuel pump. But, pump was working when we pulled the engine. So we had a mystery.
Stay tuned . . .
Probably just as well that it didn't start on Wednesday. Well, it did "start" -- just didn't stay running more than its fuel prime. When I got it home, I spotted some tranny fluid in the bilge (yuk!) And, found NO water in the cooling system -- because I had not installed the petcock in the bottom of the sea water pump. Found it in the clutter on my workbench and installed it, and tightened the one loose tranny fluid fitting. After pulling fuel to the carburetor with a little hand-pump, I turned the engine with the starter. Still no fuel pumping.
I left the fuel line disconnected at the carb, and waited to show Bud there was no fuel. When Bud showed up, I cranked the starter and fuel shot out -- about 6 ft. -- over the transom!
We double-checked the timing, hooked up the fuel line and it started -- but there was fuel in puddles around the carb. We removed the newly bent steel fuel line, and using a loupe, spotted a tiny crack in its seam. We installed a new rubber fuel line from pump to carb, and hooked up to a garden hose in the driveway -- it started immediately.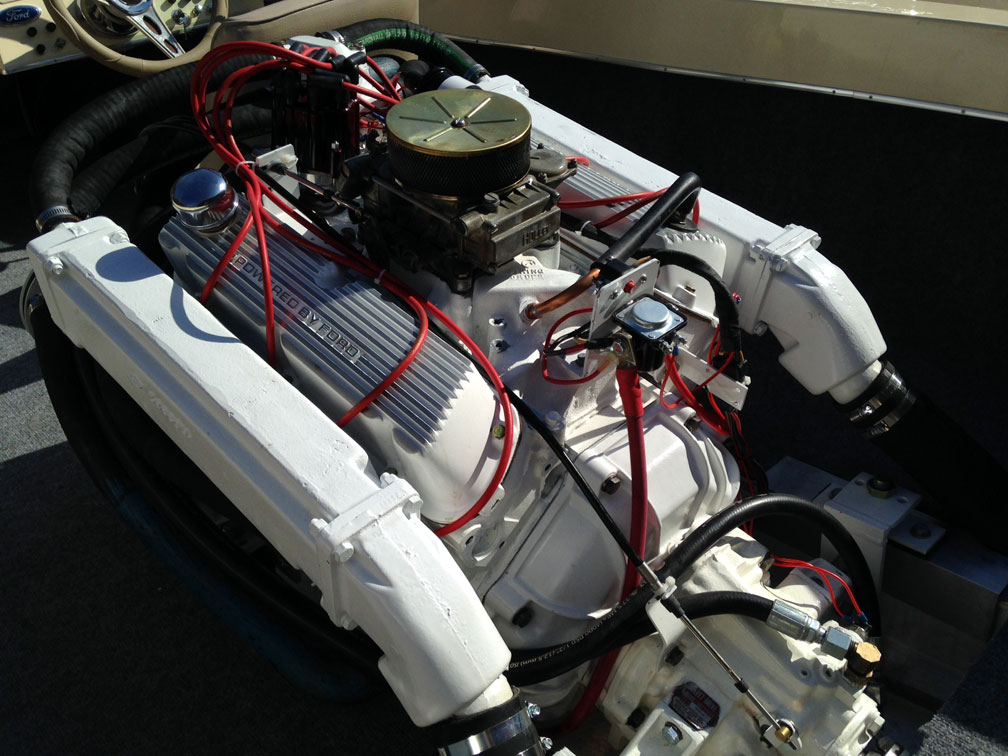 Click above for larger image.
(Monday, Feb. 22, 2016)
If the weather prediction is accurate, we intend to "break it in" on the Mississippi this Friday or Saturday. i.e., 1/2 hour at 2K rpm. Another boat is to join us.
And if that goes well, I may just take it to FL for the 200 mile cruise on the St. John's River.
So, recent delays were caused by a steel fuel line split at its seam, my failure to install one of the petcocks in the sea water pump, and a tranny fluid fitting not tightened. We'll guess the fuel pump's valves were "stuck" after being dry for over a year. But now all seems fine, and I can get to work on finishing the seats, etc. (Today, 2/24, it SNOWED!)
2/25/16 -- We've decided the fuel problem was due to a "sticky, dried-up fuel pump." And, because the pump is the only thing not rebuilt or replaced, have decided to buy a new one. We'll probably rebuild the existing one and keep it for a spare.
2/29/16 -- Warm again today. (Joe -- the other boat -- had a plumbing problem at home and couldn't make it.) We launched at Hideaway Harbor again. Engine started quickly and we kept it running at 2000 rpm for 30 minutes -- to "break-in" the camshaft. After about 10 minutes of running I looked at the prop shaft flanges. They were turning, but very slowly, about 4 seconds per revolution. We ran it for 30 minutes, now and then goosing it to 3K, then shut it down.
We took the boat home and ran it in the driveway on a garden hose, but not for long because the prop flanges were turning rapidly and I was afraid of harming the cutlass bearing. (Tranny fluid not warmed up?) We also discovered the sea-water pump's pulley was touching the pump body. That was fixed with a spacer washer. Checked the timing again -- it's about 12 DBTDC.
I've ordered a new fuel pump from basicpower.com -- after sending them three photos of my pump. Seeing the photos, they confirmed it's the correct pump. Photo #1 - Photo #2 - Photo #3
An email to Ken:
Ken, FYI, they (basicpower) say then can confirm if I send them photos, so I did: (Can you explain where the gas goes if a diaphragm fails? I still don't understand.)

-=Grant=-
Reply From: "KO"
Hi Grant
There is a diaphragm above and below that spacer ring that has the pipe plug in it. These are the AC built pumps.
If one diaphragm fails, the other one hopefully is good and hasn't already failed. With the little sight bowl you can see if one diaphragm has failed(the one in contact with the gas all the time) and then it's time to replace or rebuild but the other one should keep functioning.
With the plug in there, it seems there's no way of telling. The other diaphragm keeps working (in a perfect world) till it fails and gas would get in the oil if it leaks a little. On a big failure, it just won't run any more. They are beefy diaphragms and I still have one that's 40 years old with about 4000 hrs of run time with no issues.
On the Carter fuel pumps that are single diaphragm with the tubing hookup, then any gas goes into the carburetor and the engine runs lousy due to extra gas dumping in the carb throats and if the diaphragm is bad enough it quits running anyway because of its inability to pump.
Hope this isn't confusing things more.
Ken
Ken,
Very helpful.
1) We were unable to remove the plug on the pump (the one in my boat.)
2) I like the idea of the little sight bowl.
3) Seems to me, the tube up to the carb intake would not be as "self evident" if failure occurred.
4) My friend's 1973 Century in WI has its original pump, I think (with sight bowl.)
From her manual (I like the little bowl):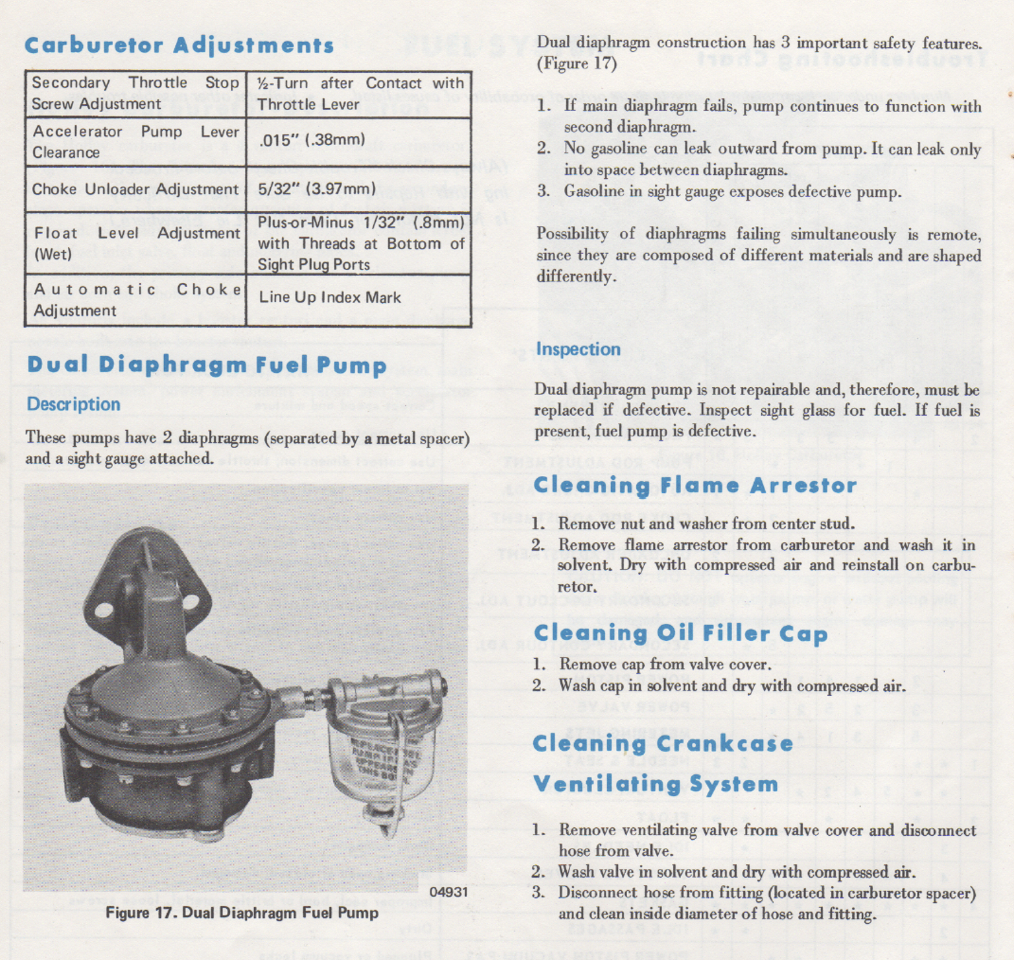 This from an '81 Century, previously owned. (Use your "back" button to return here.)
HOME