Engine ID
1972 Correct Craft Skier
MacSkier
After we pulled the engine out of the boat in November, 2013, I spotted this tag under the coil. (I read in Ford literature it would be found on one of the carburetor mounting bolts.) Nevertheless, here it is -- 2-1/2 inches in length -- describing, I think, the original engine installed when the boat was made (or dated) in 1972.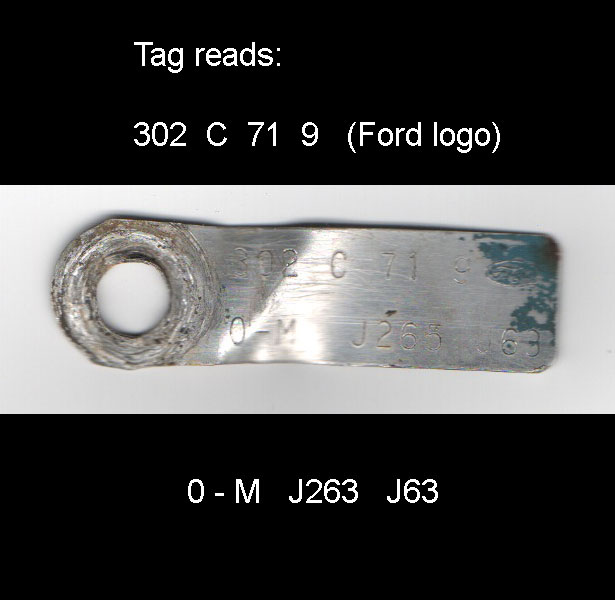 Click photo for larger image.

I guess Ford could have made the engine (block casting) ID more difficult to find, but they hid it pretty well.
It could not be seen until I removed the starter from behind the letter "A".
(BTW, "B" is where the rubber plug was removed, "C" is a petcock -- located higher than the plug. The rubber plug is 1.5 inches in diameter. I've replaced the plug with a new one from NAPA.)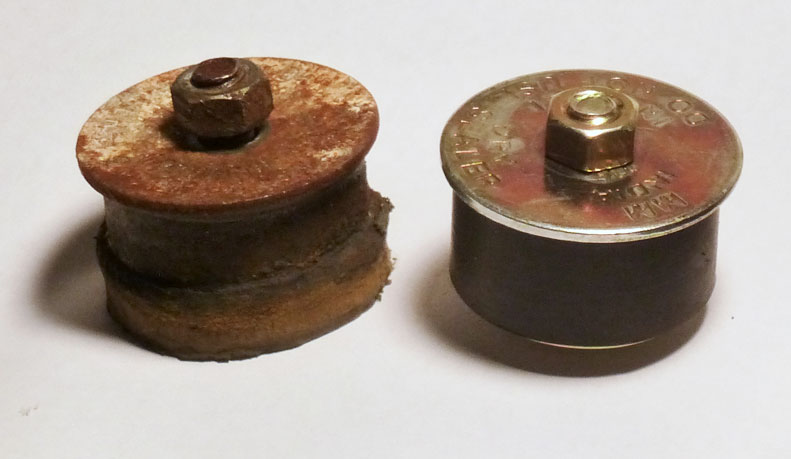 Click photo for larger image.
Anyway, I could not see the engine ID until I used a mirror (and my camera.) Here's the ID: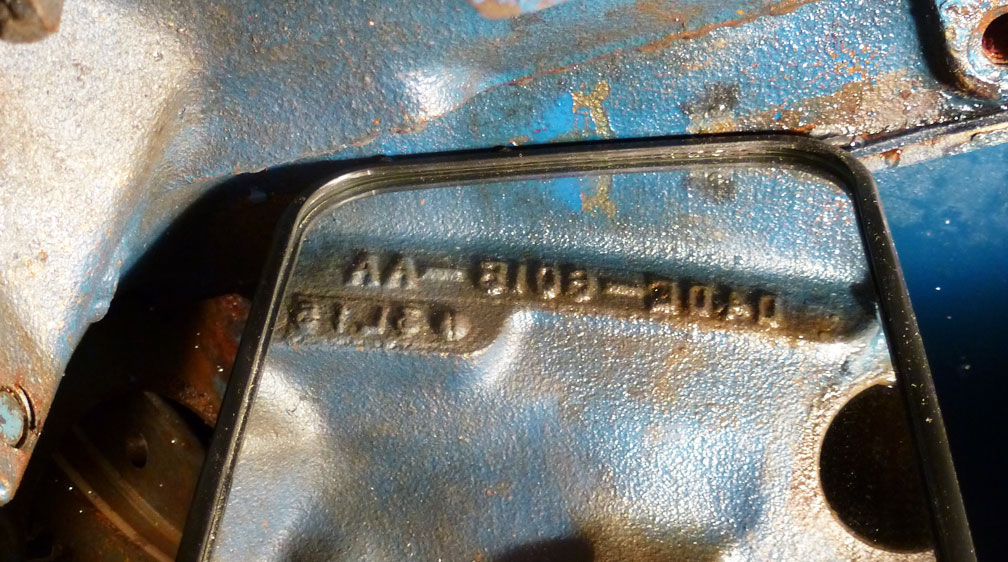 Click photo for larger image.

Click photo for larger image.
I read the engine number as D4DE - 6015 - AA but THIS DOCUMENT implies the engine is a 1974. ("D" = 1970's, "4" = 1974, "D" = Falcon, "E" = Engine, etc.)
The boat is a 1972 according to its title, and the engine was/is a Ford 302 CID, "220" horsepower: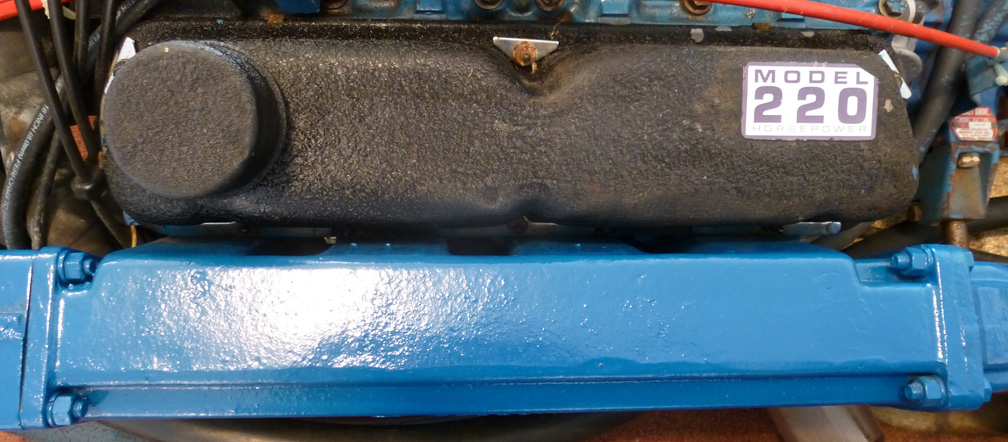 Click photo for larger image.


Replacement (cast aluminum) valave covers will have to fit behind the water-cooled exhaust manifolds.
---
4/29/14 -- When Eric at Car-Doc started to strip the engine, he found the block cracked. See that white patch by a DPO?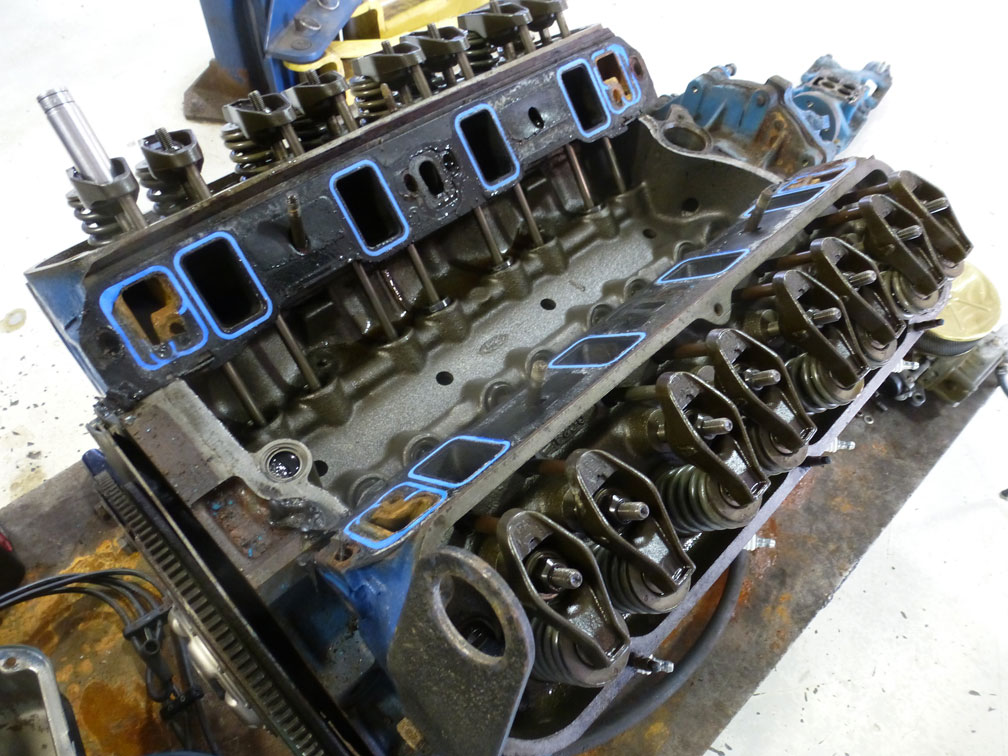 Click photo for larger image.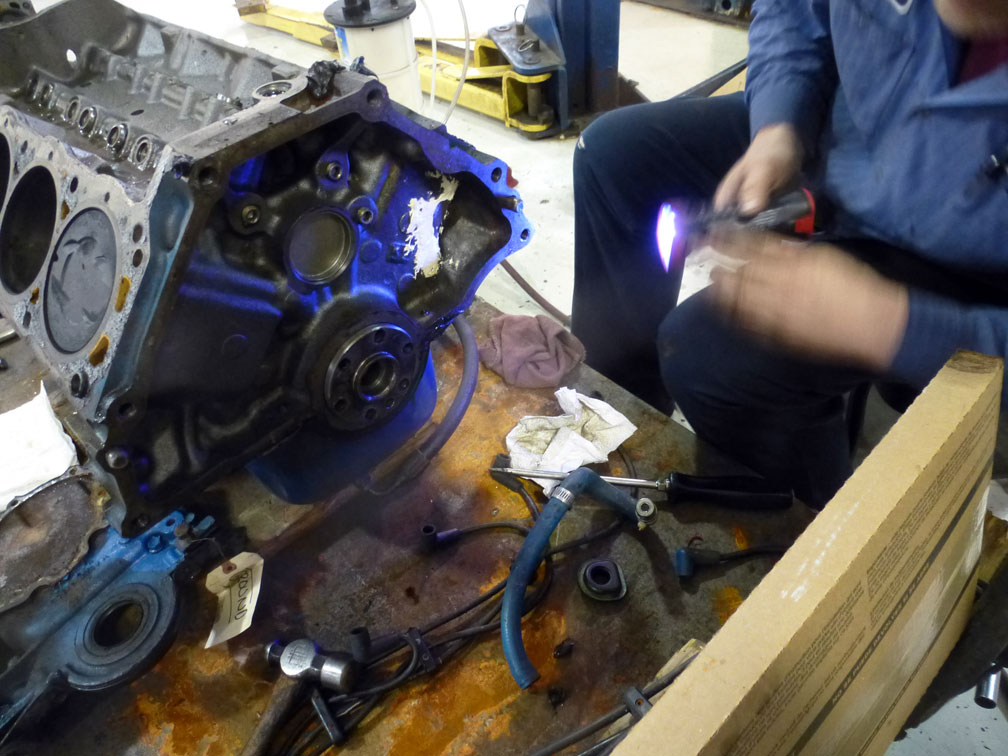 Click photo for larger image.
We've looked at a few sources for an engine replacement; The Summit DMA4 by ATK might be one.
Concerns would be:
exhaust manifold fit
bell housing fit (i.e., for Velvet Drive)
intake manifold fit
5/1/14 -- ATK says their DMA4 will not work as a 1974 replacement. (It's made to replace '81-'95's.) "All the blocks are the same. It's the heads that are different," and "you'll need casting numbers from heads." ATK guy said "we don't do short blocks; your local machine shop would be best bet to do a short block."
---
Engine Page 1
Engine Page 2
Engine Page 3
Engine Page 4
Engine Page 5
Engine Page 6
Engine Page 7
Engine Page 8
---
"It needed a little work, but what boat doesn't?"
---
HOME
---
Ads are selected by Google.
---
---
Another pretty good web page by Grant MacLaren