Cracked Block
1972 Correct Craft Skier
MacSkier
The boat is a 1972. Its engine block was a 1974, 302 V-8 with 351 heads. It's the block pictured here. As previously determined, the pictured engine is a "Reverse Rotation" marine engine.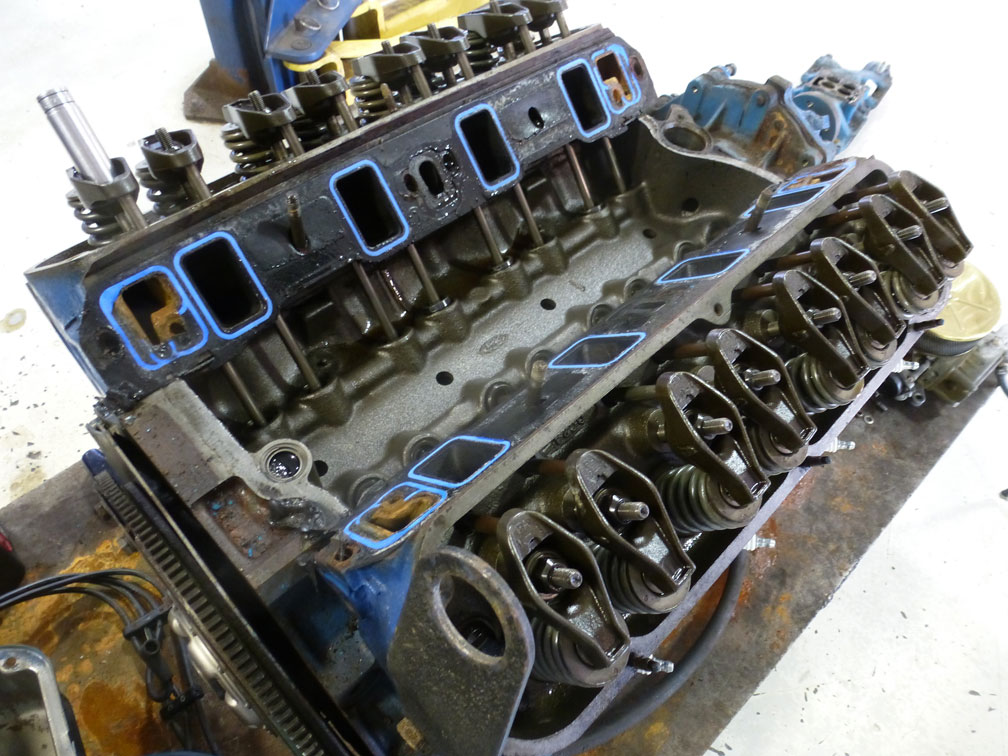 Click photo for larger image.
On Tuesday, April 29, we began tearing down the engine. (I had previously removed things like the starter, alternator, various brackets, the sea water pump, etc., for replacement and/or cleaning and painting.) The cylinder walls were smooth -- no ridges. When we removed the timing cover, we noticed the cam gear had worn an area on the inside of the cover, but it seemed that problem had been previously addressed and resolved. BTW, later learned that the usual timing cover is of aluminum. "Todd" remarked, upon seeing mine; "Oh, you have a cast iron cover. Good!" Mark pulled and replaced each hydraulic lifter, noticing on two of them sharp ridges around their bases. He could not determine if the cam was worn or damaged. We also noticed the water jacket was cracked. A repair had been attempted with some sort of goop -- possibly epoxy. We did not remove the pan.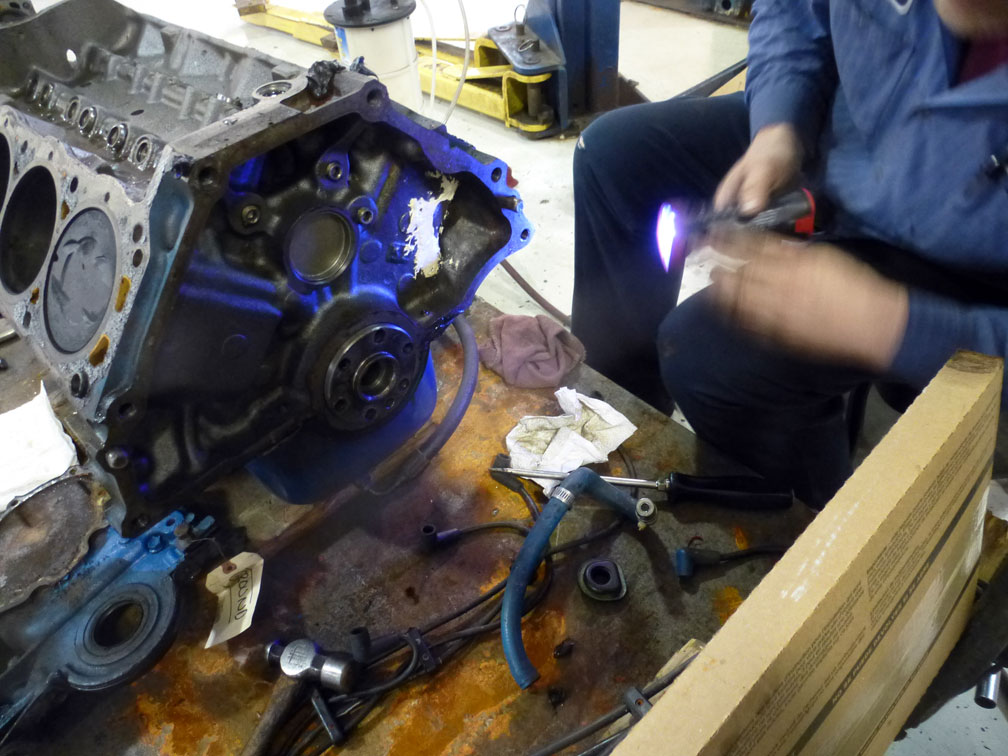 Cracked block!
Click photo for larger image.

What to do? CCF provided some useless info, and the usual scolding for not doing things "my way." Bud E. had told me about Shreves Engines here in St. Louis. I had seen short and long blocks in Jegs and Summit catalogs. So I phoned all of them, including Jasper and "poweredbyford" in Florida. (poweredbyford.com) And, I visited Shreves.

The very first person I called was Todd at Terry's Machine Shop Services in Bridgeton, Mark's machinist. Todd said he couldn't match the prices shown in "the catalogs," but as I followed up -- visiting Shreves, phoning all the others, it became apparent that having Todd build an engine would be the best way for me to go. Mark phoned Todd, who picked up the engine on 5/7/14. He asked for some of the important "missing" parts (the ones I removed for cleaning and painting, etc.) I delivered them to Todd -- and learned a lot:
My block is definitely a '74, 302.
Todd thinks he has an unmolested 302 block in his shop.
My heads are "351's" -- not 302's.
A friend writes: "I just read the forum and it said that the 351 heads flow better, like twice the cfm. The main limiting factor to the 302 was air flow through the heads, so that makes sense to swap the heads to increase the flow. One guy said the combination of the 302 and the 351 heads was better than the 351 itself because of less weight to hp." The 351 must weigh much more because the block and crank is much bigger.
and
" . . . did some more reading. You can only use the early 351 heads. The later 351 heads increased the combustion chamber and also had different port shapes that did not match the 302. The consensus is . . . the heads give you 30 more hp. That makes it 250hp. (Forum) . . . talked about the need to use inserts on the head bolts because the 302 has smaller head bolts than the 351 head bolt holes. But everyone thinks it is a good mod if you are not doing any major upgrades like stroking."
Todd has an "extended" oil pan he would use on my "new" engine.
Like me, Todd does not want to use an oil drain in the pan.
Todd says the dipstick location can be through the block, not sticking out of the side of the pan.
Reminders:
We have a new electronic ignition system.
We have a new marine starter.
We have a new marine "one wire" alternator.
Mark will fabricate a new fule line from fuel pump to carb.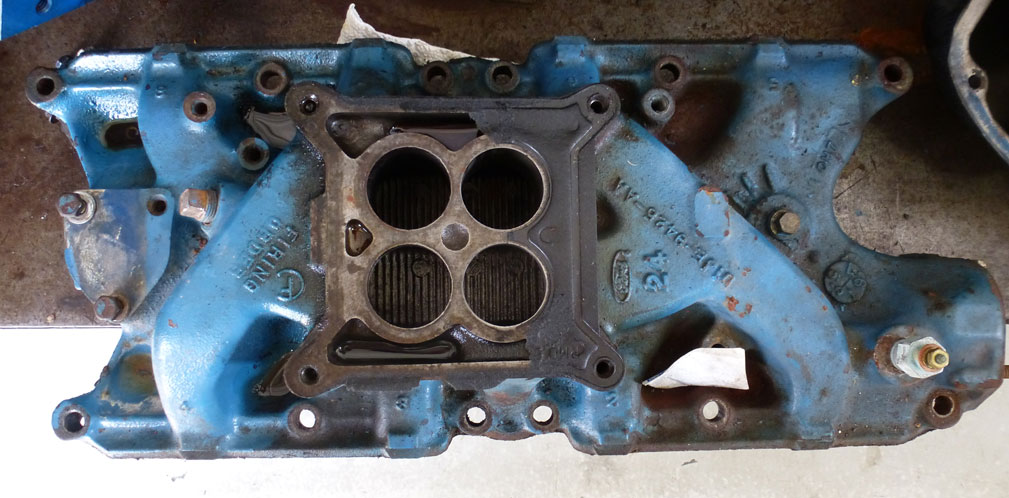 "12 bolt" intake manifold
Click photo for larger image.
5/8/14 -- BTW, I took the boat to the ACBS boat show at Lake St. Louis Boat Show last Saturday.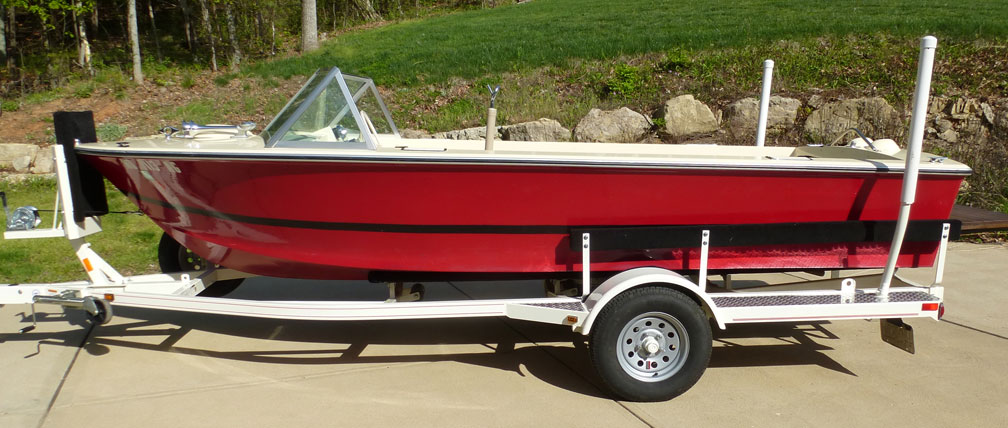 After LSL boat show, 5/3/14
Click photo for larger image.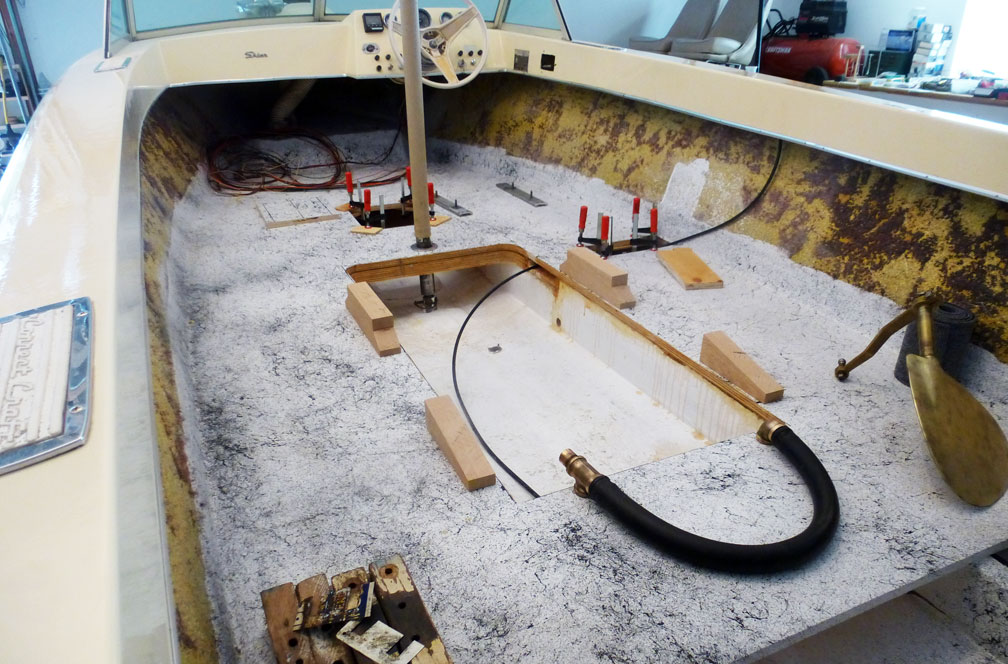 Click photo for larger image.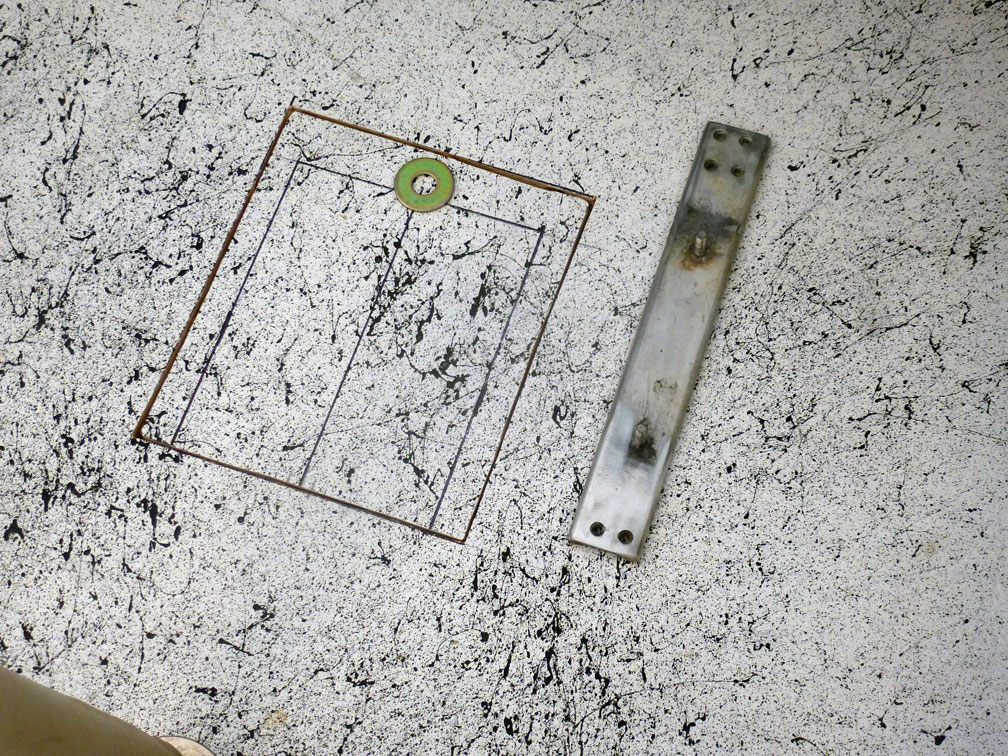 At LSL boat show, 5/3/14
Click photo for larger image.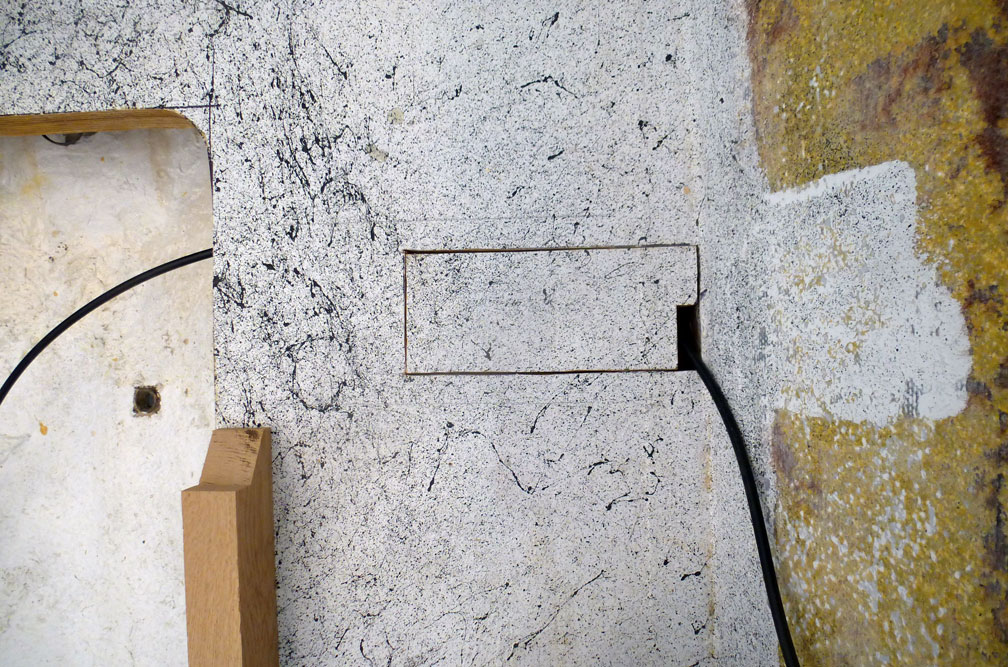 At LSL boat show, 5/3/14
Click photo for larger image.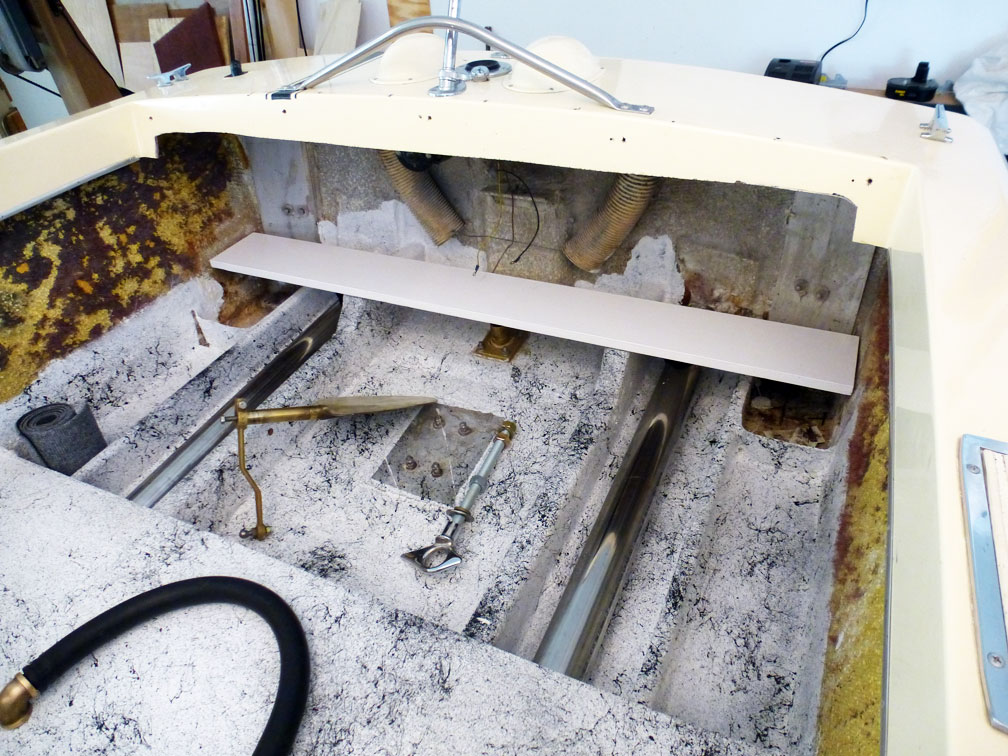 Tank shelf fit, 5/12/14
Click photo for larger image.
---
Engine Page 1
Engine Page 2
Engine Page 3
Engine Page 4
Engine Page 5
Engine Page 6
Engine Page 7
Engine Page 8
Engine ID
---
"It needed a little work, but what boat doesn't?"
---
HOME
---
Ads are selected by Google.
---
---
Another pretty good web page by Grant MacLaren