Engine
1972 Correct Craft Skier
MacSkier

UPDATE, 2/22/15: When we pulled the engine, we found a cracked block. A 1974 replacement block was used to build a new engine. As of today, the interior hull has been rebuilt -- new stringers, new deck, etc. Return to this website to see progress.
---
This is one of many pages referring to the engine.
---
From "Tim" on Correct Craft Forum 11/14/13:

Grant, as I said, from memory, I cannot recall which firing order my '71 has.
The marine/industrial long blocks coming out of Ford switched from the older (289) firing order to the newer (351) firing order right around this time.
old firing order = 18736245
new firing order = 18456273
The fact that your block is a '74 doesn't mean much other than the block was replaced at some point.
It is highly likely that all of the original parts (crank, cam, etc) were swapped over from the original '71/72 vintage engine to keep it RH (a LH auto block was likely the donor).
---
Early in 2014, when taking the engine apart, we discovered,
The engine block (water jacket) was cracked on the forward face of the port cylinder (#5).

SO,

Another block was acquired and rebuilt by Todd at Terry's Machine Shop.
---
By Grant today, 11/14/13:
I visited the boat, traced its plug wires, and determined: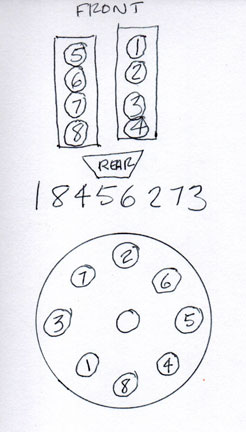 Click photo for larger image.
This from Crusader Owner's Manual: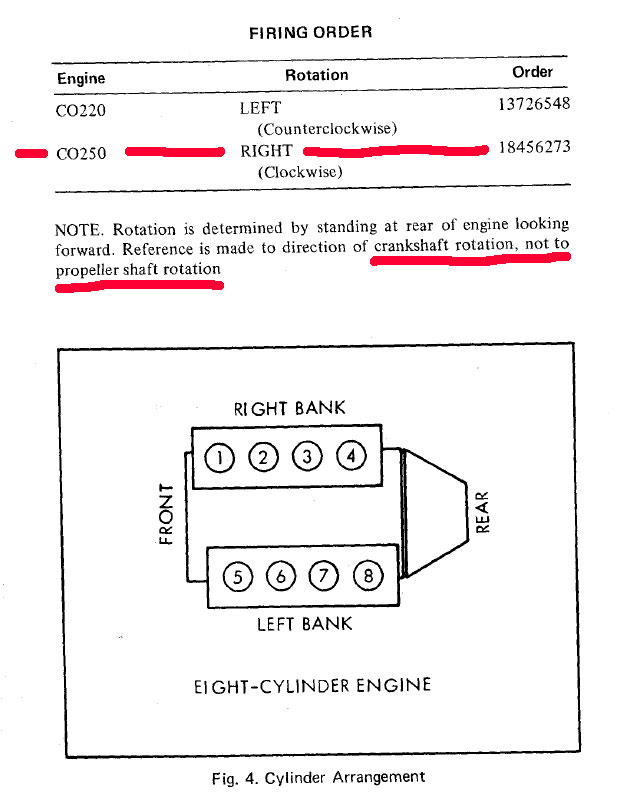 Click photo for larger image.
---
(found on 'web:)
Ford 302 Windsor V8 -- Ford 302 Specs & History -- Ford 302 ci V8 Engine
This article focuses on the 302 (5.0L) Windsor V8 used specifically in F-Series pickup applications.
The Ford Windsor engine family replaced the Y block in 1962, but it was not until 1969 that the 302 Windsor rolled out for Ford Truck applications (the 302 replaced the 289 in the Mustang for 1968). The engine is nearly identical to the 302 used in the Ford Mustang, with minor differences that made the engine more suitable for truck applications, where low rpm torque and slower overall engine speeds are favored to high rpm horsepower. In 1972, the addition of emissions control devices as well as the switch from SAE gross power ratings to SAE net ratings caused a huge reduction in the engine's reported horsepower/torque.
Fuel injection was introduced in 1985, which woke the engine up significantly. 1996 was the last year for the 302, as Ford replaced the Windsor engines with the 4.6L and 5.4L Modular. The 302 is likely one of Ford's most well known engines, with no major problems in its 27 years of service in the Ford F-150 and respectable power output. For Ford pickups, the 302 was an honest engine that consumed significantly less fuel than the larger alternatives, but still performed like a V8 was expected to.
---
So now we are quite sure it's a 1974 block in my '72 Correct Craft "Skier."
It is not original to the boat.
It is a Ford "302" producing 220 hp.
It is a "Right Hand" (reverse) turning engine (viewed from rear.)
It is a Ford "small block" marinized with components from an engine originally built by Crusader (Parent company was Thermo Electron Marine Engines -- Thermo Electron sold its Crusader line to Pleasurecraft.)
We really don't know who built the engine -- possibly someone other than Crusader (now Pleasurecraft Marine or "PCM".)
I have a manuals for
'73 Crusader engine -- in .pdf form.
&
'?? Pleasurecraft Marine Engine Owners -- in .pdf form.
---
I found these images on the 'net showing Ford car engine firing order & Ford boat engine firing order.
---
The engine probably looked something like this when new, (although manifolds were Ford Blue):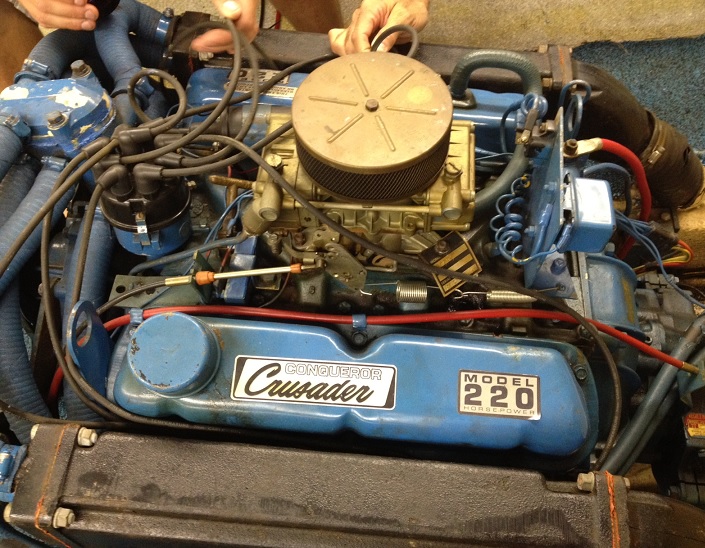 Click photo for larger image.
My engine looked like this when I acquired the boat: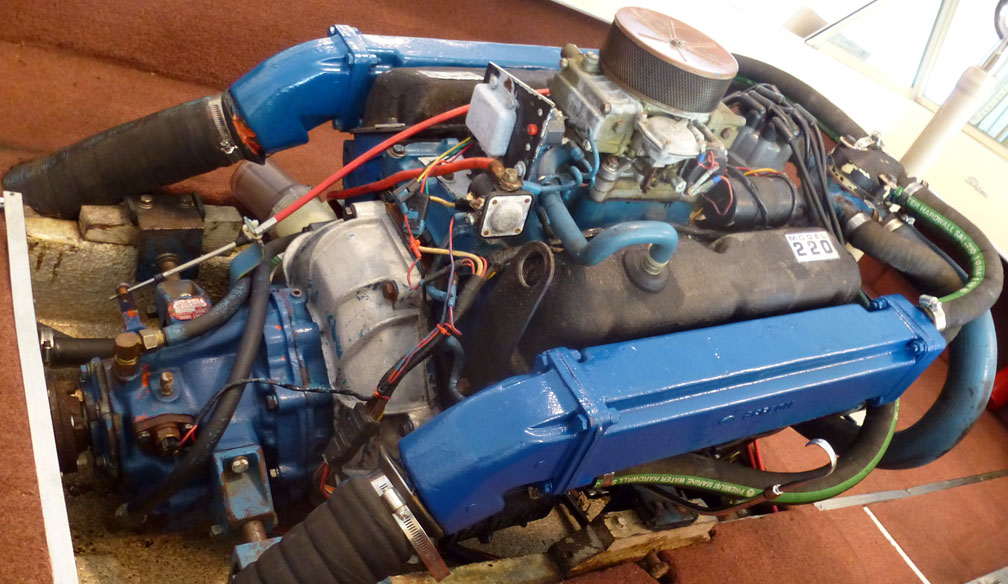 Click photo for larger image.
Engine Page 2
Engine Page 3
Engine Page 4
Engine Page 5
Engine Page 6
Engine Page 7
Engine Page 8
Engine Page 9
Engine ID
---
"It needed a little work, but what boat doesn't?"
---
HOME
---
Ads are selected by Google.
---
---
Another pretty good web page by Grant MacLaren