Hey, Look!
There's an engine in that boat.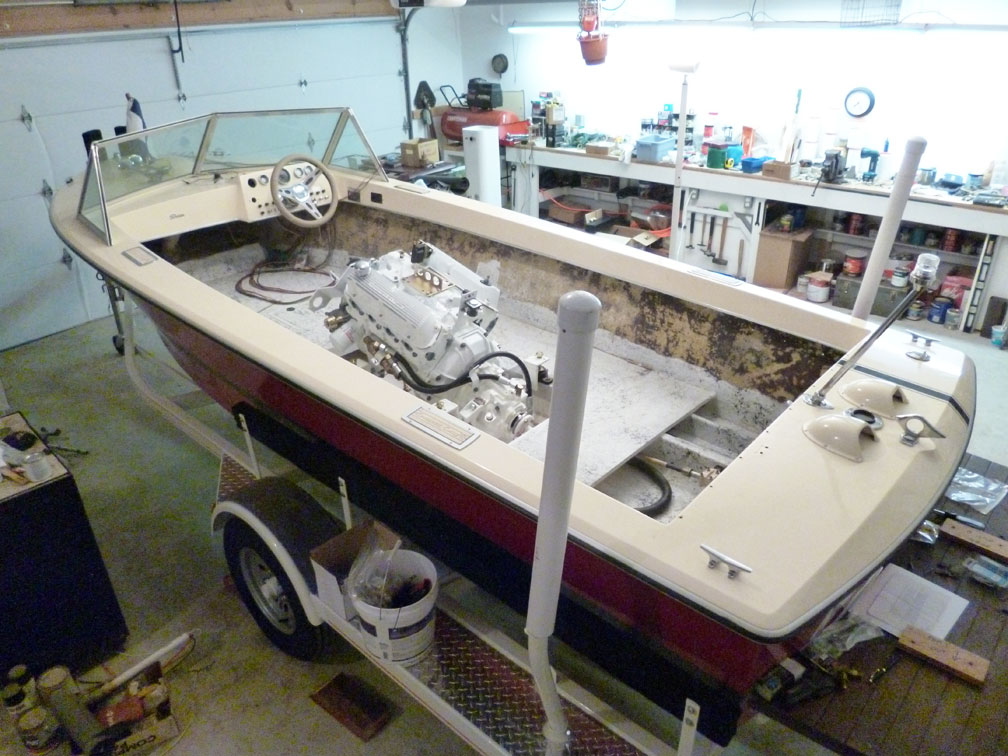 and, it's being aligned using a laser!
The rebuilt 302 with replacement block and 351 heads has been out of the boat during foam removal, stringer replacement -- new floor, etc. The original engine mounting system has been replaced. (The original one -- using beer cans for shims.) So, how do we place the "new" engine with it's "new" mounts on its "new" stringers, with proper alignment with the propeller shaft? (.003" allowed at mating flanges when rotated.)
A friend said I should use a laser and volunteered to build a device that would help us do the job right. This is Gary's great creation: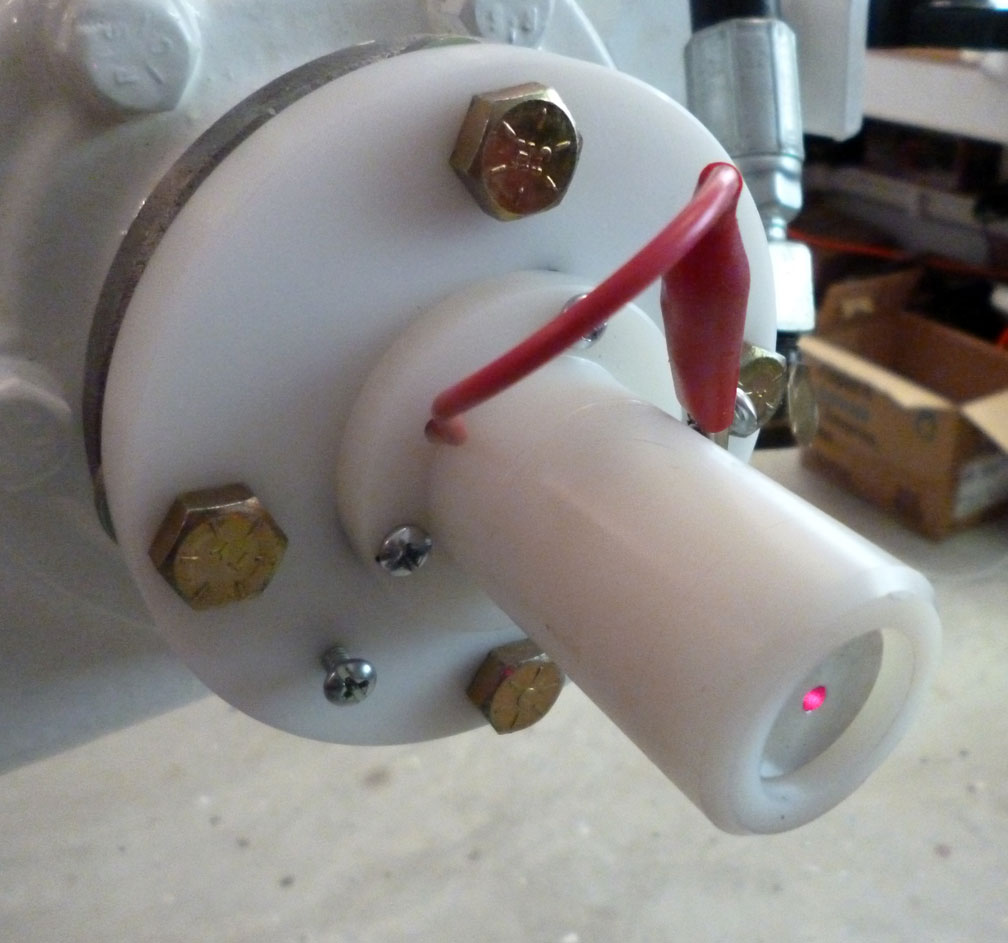 The laser is from a device used by some target shooters to "sight" their rifles -- the battery powered laser portion of Gary's creation is mounted on a flange supported by three machine screws; with "O" ring "washers" permitting adjustment of the laser's beam 'til it is perfectly centered. Here's how we centered the laser beam before placing the engine in the boat.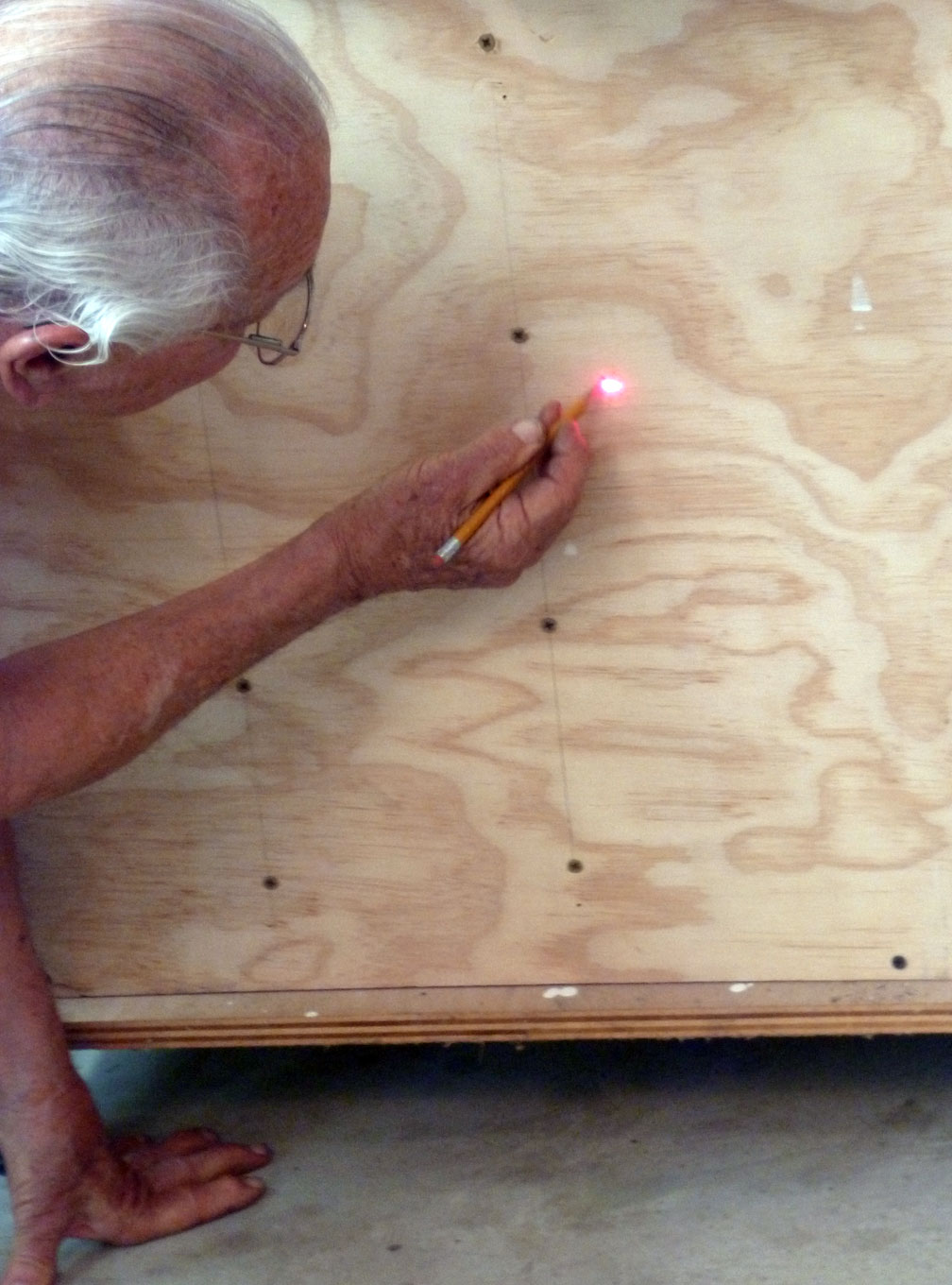 With the laser turned "on" and the device bolted to the transmission flange, the tranny flange is turned 90 degrees at a time. I'm turning the tranny, Bud is marking the beam's offset at about 10' -- more than twice the length of the shaft.
With the "centered" laser attached to tranny flange, we placed the engine in the boat.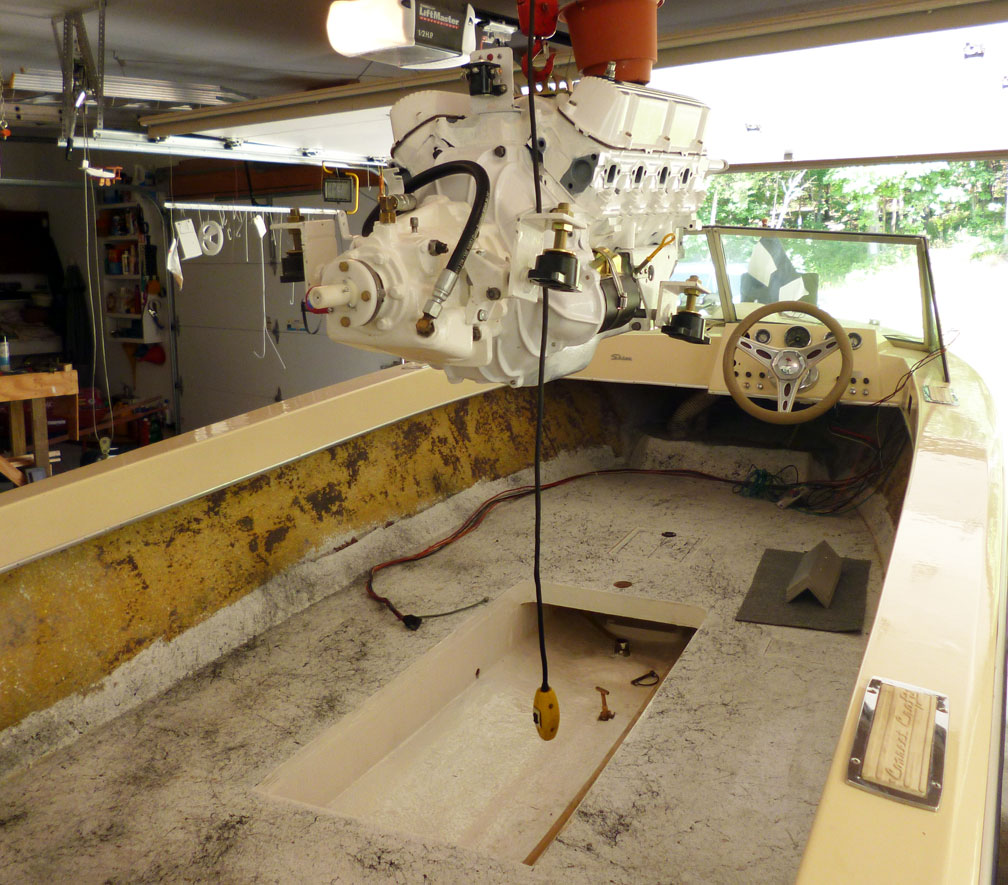 We had previously notched the rudder (guaranteed to drive the purists nuts), making it easy to insert and remove the prop shaft and/or a 1" thin-wall steel tube in its place.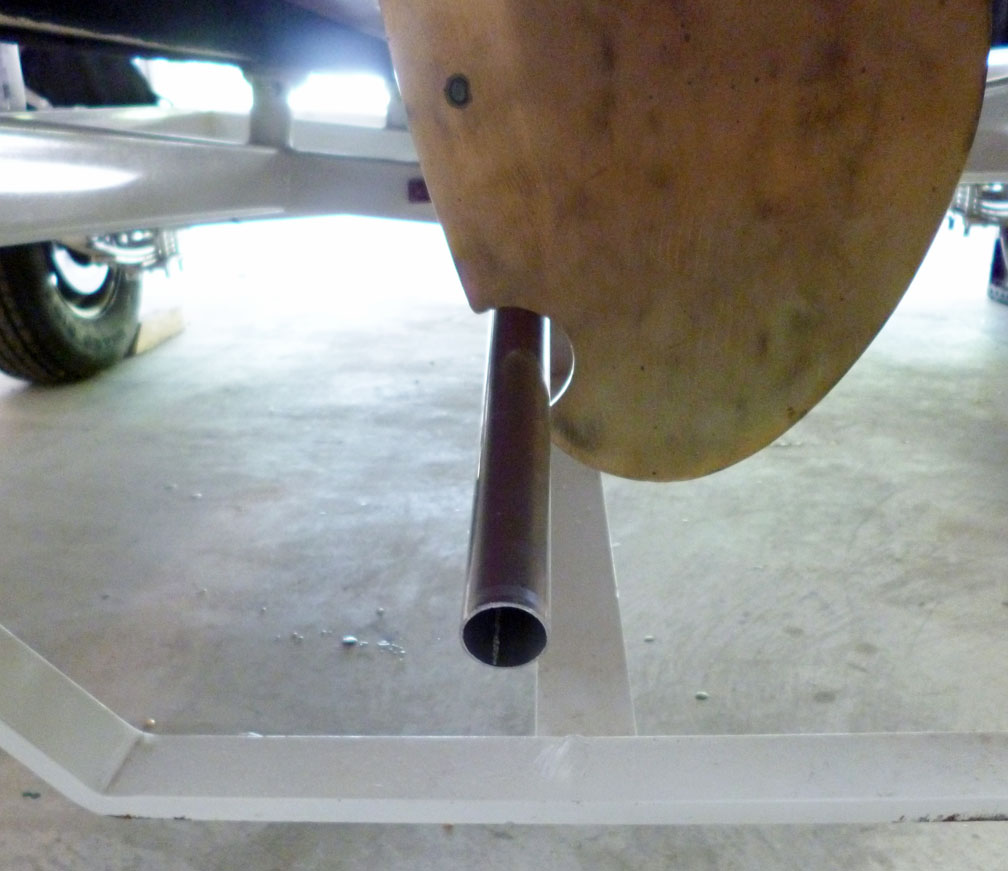 With the engine dropped on the stringers, this is what we saw: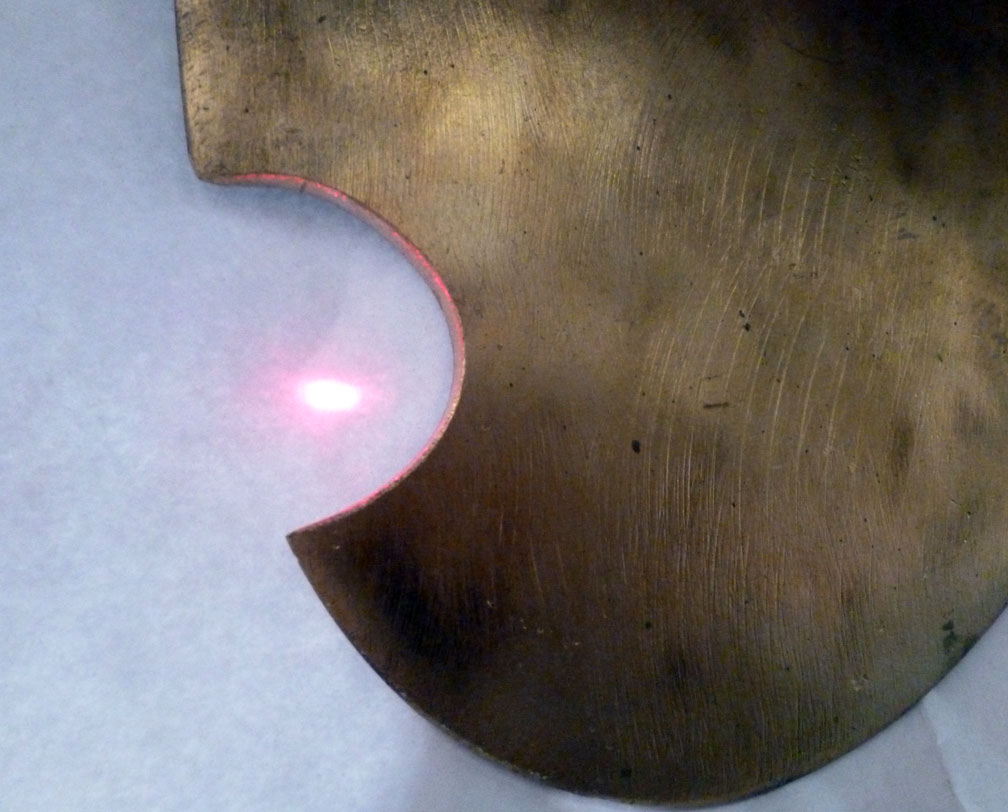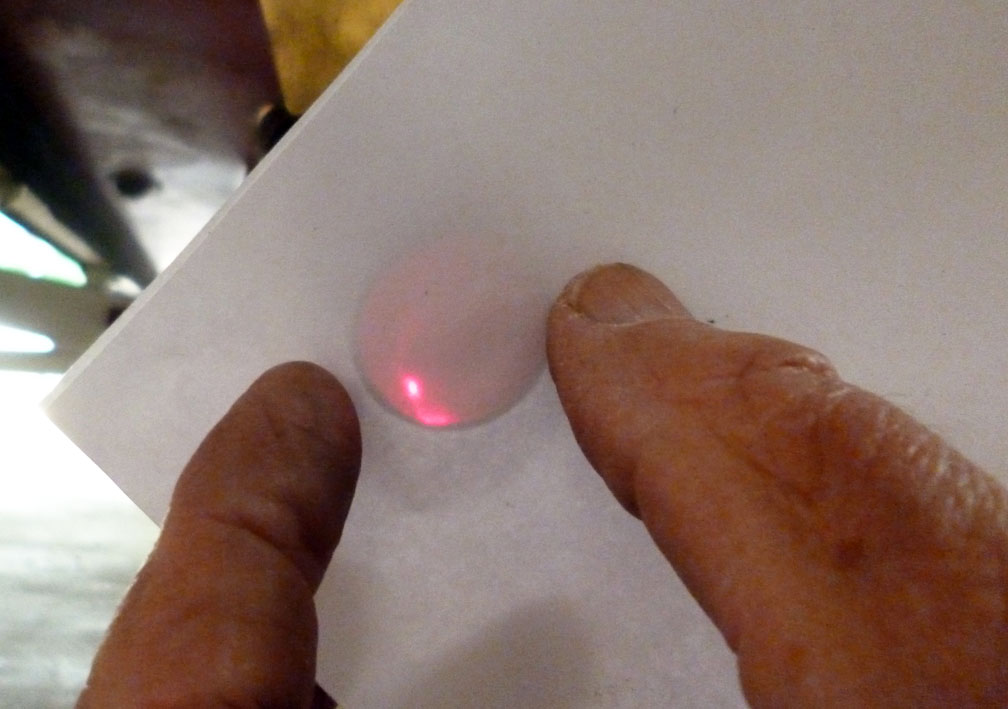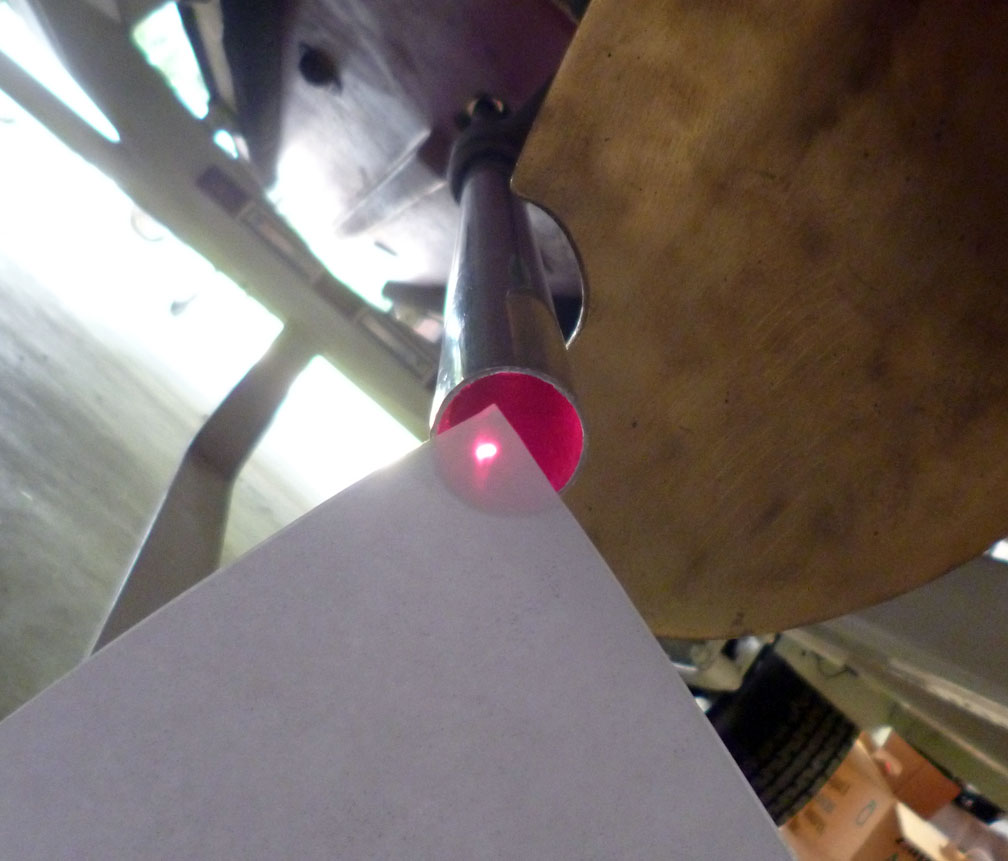 When we inserted the prop shaft and its flange, we discovered the engine was about 1" too far forward. So we moved it back 1" and adjusted the mounts again (lowerimg the engine a bit) until the laser beam was centered. Our final adjustments will properly locate the engine, so that the space between the flanges will vary less than .003" (probably .000") when rotated. (We've determined that the the flanges themselves are not perfectly "square." i.e. the flange faces are either 1) not flat, or 2) not at perfect right angles to the shaft axis.) Whatever, we are well within the specified .003".
---
"It needed a little work, but what boat doesn't?"
---
NEXT PAGE
HOME
---
Ads are selected by Google.
---
---
Another pretty good web page by Grant MacLaren