Saturday, November 20, 2010 - 10am - ARC
St. Charles County Airport / Smartt Field (KSET)
Guest speakers for the meeting were Howard Henderson, builder of Pietenpol Air Camper N444MH, and Grant MacLaren, former editor of the Buckeye Pietenpol Association Newsletter.
The story of Howard's "A"-powered Pietenpol was told in EAA's Sport Aviation magazine and is available on the Internet HERE.
Here are the notes Grant used to introduce Howard: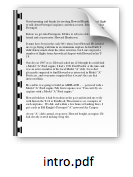 In 1989, on the 60th anniversary of the Air Camper, Grant screened an automated slide presentation at EAA's Osh Kosh Convention about Mr. Pietenpol and his airplanes. That 28 minute presentation was shown at our Nov. 20 meeting, along with a 12 minute video about Howard's 444MH.
Howard then answered questions about the building of propellers and his Air Camper. He also talked about the early days of Chapter 32.
A 2010 panorama of some Piets at their annual Fly-in:



Here are some more photos (and video) taken at the 2010 Pietenpol Fly-in at Brodhead, Wisconson (CLICK HERE).
Here is a brief film about Bernard Pietenpol (speakers on):
And here is short video shot from a Model "A" Ford-powered Air Camper. Notice the condensation running back atop the intake manifold (speakers on):
---
PHOTOS OF NOV 20 EVENT BY ANN KEHLER
---
---
TO CHAPTER 32's HOME PAGE
---
---