Building our house at 3103 Painted Horse Drive

On April 27, 2006 we completed and signed a contract to have Bill Williams build this new house for us at Echo Lake in Byrnes Mill, Missouri: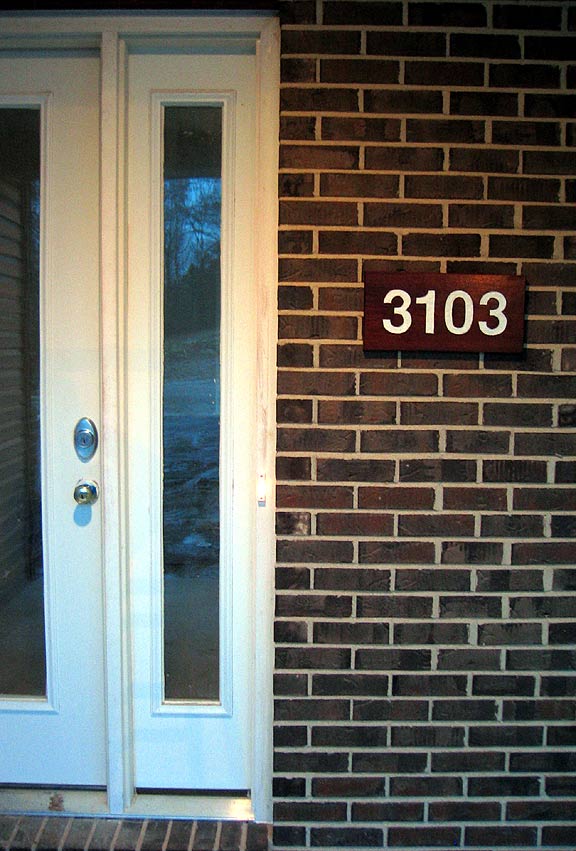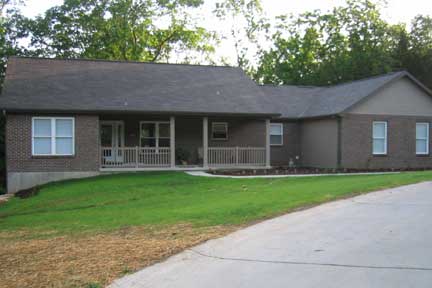 The house will be heated and cooled using a geothermal heat pump. If you'd like more information about this earth-friendly and inexpensive-to-operate HVAC system, you can read more about it HERE. And, we'll discuss it a bit more later in this project's description.
Byrnes Mill is southwest of St Louis, Missouri. You may remember we lived there on Franks Road after moving from New Mexico. Here's some information about Byrnes Mill.
I've known our builder since our days living in Byrnes Mill -- when I served on P&Z in that community.
Our building site is on one acre adjoining about five acres of common-ground woods. The new house will be about 1700 sq ft on one floor -- three bedrooms and a large living/dining/kitchen area, and two baths. In addition to its 1700 sq ft on the first floor, it will also have a full basement containing a large (18 x 27) finished room, and a (third) full bath at "walk-out" level to the woods We will use it as a studio space. Others will find other uses, I'm sure.
We will use one of the bedrooms as an office. The big insulated side-entry garage will be used for cars and shop. The third bedroom is for guests, who will have their own bath.
Many hours were dedicated to refining the house plans, staying a few weeks ahead of the building project.
Below is a building schedule showing the various tasks to be completed during the planned 6-month building period. Based on other projects being built by our builder and his "subs," there seems to be a pretty good chance of completing the house in less than 6 months. These guys can move quickly.
Our paperwork was completed -- but not delivered -- one day. When Grant showed up at the site the following day, this is what he saw. Foundation & footings could be in the ground by May 7.
SCHEDULE:
Footings and foundation (COMPLETE)
Drain tile and waterproofing (COMPLETE)
Framing -- subfloor, exterior walls, trusses, interior walls, deck (COMPLETE)
Roof shingles (COMPLETE)
Basement floor plumbing rough-in (COMPLETE)
Termite treatment (COMPLETE)
Pour floors -- basement and garage (COMPLETE)
Windows and exterior doors (COMPLETE), including garage doors (COMPLETE except openers)
Bricks (COMPLETE) and siding (COMPLETE except railings)
HVAC, plumbing & electric rough-in (COMPLETE)
Framing/electric inspection (COMPLETE)
Insulation (COMPLETE)
Drywall (COMPLETE)
Driveway and walk, poured (COMPLETE)
Paint ceilings, walls & millwork (IN PROGRESS)
Flooring -- vinyl (COMPLETE) -- hardwood (COMPLETE)
Carpentry finish -- interior doors, base boards, cabinets, vanities, stair-railings, doors, hardware, etc. (COMPLETE)
HVAC, plumbing, electric finish (COMPLETE)
Flooring, carpet (COMPLETE)
Final clean-up (COMPLETE)
Final inspections (COMPLETE)
Of possible interest:
New house is about 26 miles from St. Louis Art Museum.
5 Edgewater is 40 miles from Art Museum.
New house is about 33.2 miles from STL Airport.
5 Edgewater is 24.4 miles from STL Airport.
New house is about 15.2 miles from Emerson Chapel (via Eureka).
New houses is about 17.8 miles from Emerson Chapel (via Antire Rd).

Red "X" marks apx. location of our new house.

Floor plan - rough sketches

Dates of interest:
April 1 -- Buyer expresses interest in buying 5 Edgewater
April 12 -- Sale Contract on 5 EW executed
April 27 -- Contract offered to build/buy in Byrnes Mill
April 28 -- Trees cleared on building site
April 30 -- P&G look at shingles, bricks, siding etc.
May 1 -- No digging due to rain -- continue to revise floor plan, windows, kitchen, studio, office, etc.
May 2 -- No digging due to rain -- Submitted "colors" for shingles, bricks, siding etc. -- and revised floor plans for kitchen, MBR, MBath, BR/office, Studio bath, etc., etc. Located North with Terry's compass on site. Added 301 sq. ft. deck and deleted 1/2 bath. Specified insulated garage door.
May 3 -- No digging due to rain -- Grant worked on refining floor plans.
May 4 -- No digging due to rain -- Grant worked on refining floor plans.
May 5 -- Bill Williams laid out foundation for digging, had crushed rock placed for concrete truck access -- Grant & Phyllis visited kitchen appliance stores, made "cabinet" appointment for 5/8.
May 6 -- We decided to reduce size of planned deck.
Terry & Grant visited building site. Grant started a "full sheet" drawing of the revised floor plan.
May 7 -- Grant worked on "full sheet" drawings of the revised floor plan.
May 8 -- Grant gave drawings to builder. P&G met with cabinet supplier.
May 9 -- P&G to Florida.
May 12 -- Builder begins digging for footings & basement.
May 14 -- P&G return to Lake St. Louis.
May 15 -- G to Elmhurst, IL.
May 16 -- G to Elmhurst, IL.
May 17 -- G to Elmhurst, IL.
May 18 -- Footings poured.
May 19 -- Rain in a.m. -- Foundation walls laid out. (Grant took photos 5/20.)
May 20 & 21 -- Weekend
May 22 -- First level of forms set today.
May 23 -- Foundation (basement walls) being formed. These guys are strong -- and are very careful setting forms accurately; plumb and square.
May 24 -- G&P to Indianapolis.
May 26 -- Foundation forms.
May 27, 28, 29 -- Memorial Day weekend
May 30 -- Final foundation pour.
May 31 -- Windows ordered.
June 1 -- Finished stripping forms. Rain in p.m.
June 2 -- Grant and Bill Williams met this morning at site. Discussed grade, framing changes, radiant tubing, patio slab, driveway, closing date, etc. Good meeting. June 3 & 4 -- Weekend.
June 5 -- Drains installed.
June 6 -- Waterproofing applied to exterior of living space below grade. Grant & Terry visited site. Phyllis visited carpet supplier, made (2nd) appointment with kitchen cabinet supplier on June 9.
June 8 -- Rough grading under way. Grant & Terry visited site. Grant met with Bill's brother Ron, and Jan, at BWC, made copies of Grant's revised drawings for BWC. Reviewed drawings with Ron and set "November 1 or earlier" as closing date.
June 9 -- Phyllis and Grant visited BW's kitchen cabinet supplier. "Duff" made a cabinet layout for us, but suggested we try another company to supply the cabinets we want. After that, we looked at hardwood floors and requested a quote.
June 10 (Saturday) & 11 (Sunday).
June 12 -- Did not visit building site. Made appointment (Thursday) for cabinet order. Dinner at Yvonne Nagy's.
June 13 -- More rough grading today. Tons of fill delivered. Looked at "decorative" vent options in vinyl sided gable. Here's a map of the Byrnes Mill area. The red shows our land. The green is adjacent "common ground."
June 14 -- Framing of basement walls started today. Ronnie checked with Grant about studio window placement.
June 15 -- 2nd day of Framing. The studio space looks nice and large. P & G met with cabinet supplier today. Here's a sketch.
Received quote for wood (bamboo) floor upgrade.
June 16 -- 3nd day of Framing. Terry and Grant visited the site. Grant thinks there will be roof trusses on the house a week from today.
June 17 & 18 -- Grant & Daryl spoke by phone on Saturday, discussed budget status. Grant met with cabinet supplier Sunday, deleted "bookcases." Grant made drawing of "stair-railing" detail.
Grant had ski practice Sunday (Father's Day) 10:30 am. 14 in "Mens Line" -- too much weight for MasterCraft, will need the twin-rig.
June 19 -- 4th day of Framing. Phyllis and Grant selected carpet and vinyl today -- and accepted hardwood flooring proposal.
Terry and Grant visited the site and met head framing carpenter Bill, who says framing, gable construction and truss delivery will be completed by Thursday. Truss crane is scheduled for Friday.
June 20 -- 5th day of Framing. All interior walls on "1st floor" have been framed. Garage door wall in place.
June 21 -- 6th day of Framing as of noon. Met with Bill, Ronnie & Steve Kindlesparger about geothermal HVAC at 10am. Stairs installed. Truss crane still scheduled for Friday.
June 22 -- 7th day of Framing. Framing crew built gable ends today. Deck materials on site. Truss crane scheduled for tomorrow. We selected door hardware and requested a proposal.
Grant visited the maker of our vanity tops, the same people who made out "tops" on Crosswinds house. (They do good work at a fair price.)
June 23 -- 8th day of framing.
Grant had other appointments this a.m. and by the time he got to the site (10 am), the truss crane had come and gone. Grant met finish carpenter Mark -- and gave door hardware and vanity top specifications to Mary.
Saturday photos.
June 24 & 25 -- Weekend.
June 26 -- Phyllis & Grant visit site and finalize specs for door hardware, tub and showers. Today's photos. House is ready for shingles, windows, brick work and exterior doors. Windows scheduled for delivery tomorrow.
June 27 -- Grant to Strutman's. Some windows installed, a few were mis-ordered, and Bill told his staff he will put in a retaining wall behind our house.
June 28 -- No visit to the site.
June 29 -- Larry Kehler & Grant visited site. Deck (10' x 16') and retaining wall below have been constructed. Shingles have been delivered on roof and brick in front yard. Retaining wall constructed in front yard. Most windows have been installed. Photos.
June 30 -- No visit to the site. Grant visited house, marked AC outlet in brick on porch.
Met with mason and left notes, ie., no "coach lights," no numbers in masonry.
Asked Daryl about HVAC and kitchen cabinet bids.
July 1 -- Sailing lessons for kids in am.
July 2 -- Ski show.
July 4 -- Ski show repeated.
July 9 -- G&P to Lake Geneva, and
July 10 -- Lake Lauderdale
July 11 -- Drive from WI to LSL
July 12 -- Visited site.
July 14 -- Met with Daryl at display. Marked sewer stack and fridge pocket. MacLaren's "check list" to Daryl.
July 16 -- Phyllis to UCLA, Grant to Grafton ACBS show.
July 18 -- Lunch w/Howard.
July 19 --

Ronnie, Terry and I met with two more geothermal HVAC contractors, and invited bids.
Masons finished brickwork. All but one window installed.
Garage floor, porch floor and deck footings ready to pour.
Plumber will relocate sewer stack in studio per Grant's plans.
Waiting on HVAC proposal (for pex tube, manifold) so basement and Phyllis's studio floor can be poured.
Oops! Was that a brick?

July 20 -- Terry reports plumber has moved "studio stack" tight up against wall.
July 21 -- See this page posted July 22.
July 22 -- Grant visited site and posted a page dated 7/21.
July 23 -- 13th Annual Start-Up Party at Terry's.
July 24 -- Did not visit site.
July 25 -- Visited site, met plumber and photographed rough-ins, tub and shower.
July 26 -- Rough-in plumbing complete. Two bids received by Grant for geothermal, pex tube, etc.
July 27 -- HVAC bids (3) evaluated by Terry and Grant. We selected a contractor to install a single zone geothermal HVAC system for the whole house AC and forced warm air, plus a radiant heat system for the Studio. (Terry installed a large tempering tank in his system, but we'll omit that feature in ours -- for now.)
July 29 -- Very hot today. Terry and Grant visited site; Grant photographed items of interest, then met with Daryl.
July 30 -- Sunday -- Grant orked on editing "Pez" video.
July 31 -- Monday -- Another hot one. Very productive 1/2 day at site.
Termite treatment completed.
August 1 -- Tuesday -- Still hot. Grant cleaned up interior of house & burned some trash. Window salesman visited while Grant was giving Ray Sisson a tour of house.
Met briefly with Daryl.
August 2 -- Wednesday -- Did not visit site. Requested (by phone) a bid on insulation upgrade.
August 3 -- Thursday -- Porch and garage floor poured today.
Phyllis, Yvonne, Terry and Grant had lunch in the great room.
Looks like the flatwork guys are ready to pour studio and basement floor.
August 5 & 6 -- Saturday and Sunday -- Details here. Phyllis leaves for CA on Aug. 7.
August 7 -- Monday -- Terry phoned to report the basement floor has been poured.
August 8 -- Tuesday -- Visited site w/Terry. Plumber has much of copper installed. Basement shower on site. Stair well wall framed.
Framers will locate studio wall so sewer stack is covered with drywall. (Reminded Daryl by phone again). Deck support foundation poured.
Photos here.
August 9 -- Wednesday -- Did not visit site. Daryl phoned Grant with question about shutters; said siding will start tomorrow.
August 10 -- Thursday -- Terry and Grant visited site this pm. Photos here.
August 11 -- Friday -- Grant to Wisconsin.
August 15 -- Tuesday -- Grant met with electrician at 8 am, took this photo. Siding almost complete. HVAC contractor will begins on main system tomorrow. Carpenters were cutting register & return holes, etc.
August 16 -- Wednesday -- Did not visit site.
Terry reported via email:
"Grant,
I stopped by your house after breakfast today. Basement duct work was being installed, the return air grille frames were in place, register holes were cut in floors, front bedroom stud was moved for the air return, siding work was continuing on the back side. I'll stop by Thursday on my way back from Fred's son in law's bathroom plumbing installation.
Regards, Terry"
August 17 -- Thursday -- Took this this photo of the house today. Final meeting of iMovie SIG tonight.
August 18 -- Friday -- Met electrician Scott (636-262-8917) at site at 7:00 pm, reviewed some wiring details. (Consider this for office needs.) Electric rough-in is about complete. Terry and Ronnie were at the house, too. Discovered front porch posts improperly located. They will be moved. (Siding guys don't seem to be "getting the message," but their errors are being corrected.)
Ronnie expects mechanical inspection (if electrician finishes today) on Monday the 21st, then insulation to be installed early in the week. Tom has requested geothermal wells be dug.
August 19 -- Saturday -- Grant worked at the site today from 10 am to 6 pm; cleaned up interior and exterior, burned trash, etc.
August 20 -- Sunday -- Grant worked about 4 hours to complete "clean-up." Insulated perimeters of windows and doors as planned. Larry and Ann visited. Had late BBQ lunch.
August 21 -- Monday -- Electricians finished basic wiring, ready for inspection tomorrow. HVAC guys installed duct for stove hood. Grant insulated perimeters of windows and doors, met with the siding guy, discussed perforated soffits and proper location of porch posts and railings. Photo here.
August 24 -- Thursday -- The last few days I've been busy. Wednesday I did some low voltage wiring in the morning, some consulting in the afternoon, and ended the day ordring kitchen cabinets the builder had let "slip through the cracks."
Here are some photos taken today:

Three Geothermal Wells*

*How it works
A "closed loop" geothermal system connects an indoor heat pump with a matrix of undergound piping. In our system a small pump circulates water through plastic pipes in three 135' deep "wells" where it is warmed by the earth in the winter and cooled by the earth in the summer. This natural heating and cooling action, in conjunction with heat pump technology, maintains a constant, comfortable temperature indoors without burning fossil fuels. (Our first electric bill, covering 30 days in December '06 and January '07 was $90. Keep in mind, ours is a total electric house -- and we are radiant heating the studio floor using a standard electric water heater.)

August 25 -- Friday -- Followed up on insulation "punch list" and took more photos of 3 wells and "geothermal pipe".
August 26 -- Saturday -- Slalom tournament rained out; Grant attended Frog Follies in Evansville.
August 27 -- Sunday -- Wake Board tournament rained out; Grant edited video all day.
August 28 -- Monday -- Talked with Ronnie about MBR bath plumbing wall framing, and Jan about garage insulation. Probably too wet today for geothermal digging. Will edit video.
August 29 -- Tuesday -- MBR bath plumbing wall framing finished. Garage insulation and East and South walls of studio installed. I purchased and Terry installed an ice maker connection box. Photos here.
August 30 -- Wednesday -- Cleaned up the site. Burned some trash. Considered satellite aiming. This photo taken with a level camera directed due south. Gave kitchen cabinet status to Jan in writing. Also asked Jan about cabnet tops for kitchen and laundry and about sink for laundry. As I was leaving site mid-afternoon, Amerin UE showed up to connect electric.
August 31 -- Thursday -- Visited site late in the day with Jan and Tibor. Then dinner at their place. Drywall had been delivered today. Also, gutters and downspouts had been installed. Photos.
Sept 1 -- Friday -- Did not visit site today. See 9/2 report.
Sept 2 -- Saturday -- LSL Triathelon this am. Visited site, found studio patio had been poured and 8' ceilings on first floor have been drywalled. Good to see electric in use and drywall being hung with screws.
See photos here.
Sept 3 -- Sunday -- To Mississippi for boat ride and water skiing with Kehler's.
Sept 4 -- Monday -- Labor Day.
Sept 5 -- Tuesday -- Drywalling continues. Geothermal wells connected, manifold installed and buried. Grant met with Bill to discuss boulder walls, driveway, garage apron (to be 35' deep, etc.), sidewalk, etc. Grant documented meeting with "minutes" and a drawing.
Photos.
Sept 6 -- Wednesday -- Drywalling continues. Boulder wall north of garage apron under construction. Jan let Tibor use her new chain saw to cut away cedar tree fell by surveyors. Tibor, Grant & Terry found and marked survey stakes. Vaulted ceiling in "Great Room" has been drywalled. Grant gave "minutes" of 9/5 mtg. and drawing to Ed.
Photos.
Tibor brought his sketch showing ideas for plantings and brick front walk.
Sept 7 -- Thursday -- Drywalling continues.
Sept 8 -- Friday -- Drywalling continues. Almost all has been hung (except for part of garage and one sheet near electric panel.) Grant marks corners of garage aprons.
Sept 9 & 10 -- Saturday & Sunday -- (Sat -- Grant repaired OMC's drive belts.)
Sept 11 -- Monday -- Grant did not visit site. Talked with Bill by phone about apron location.
Sept 12 -- Tuesday -- Drywall tape has been applied to first floor walls. Grant deliverd some pallets, preparing for move. Photos.
Sept 13 -- Wednesday -- Did not visit site today. Terry repoted on drywall progress.
Sept 14 -- Thursday -- Drywall taping continues. Photos.
Sept 15 -- Friday -- Drywall taping continues.
Sept 16 & 17 -- Saturday & Sunday -- On Saturday we went to see Fred Burk in the Kirkwood Greentree Parade.
On Sunday we went to the site to take another look at the bolder wall location. Here's a photo.
Sept 18 -- Monday -- Grant met with Bill at site to discuss driveway bolder wall location. Bill says he can't move wall to East because of "depth" of bolders.
Grant carved a street number sign:

Photo 1
Photo 2
Photo 3
Photo 4
Photo 5

Sept 19 -- Tuesday -- Grant met with Bill at site again. Grant proposed moving bouldrs to East side of our property line (off our property.) Bill said this would be done with approval of Glen Stolz, owner of adjacent property. Glen gave approval. Wall will be moved, allowing 35 ft. deep garage apron. Drywall finish sanding completed in living areas. Paint delivered today. Terry visited site with Grant. Boulder wall at SE corner of house has been improved. Drivway grading under way.
September 22 -- Friday -- Grant to WI. Terry reports via email - first floor interior painted, work started on East boulder wall, SE down spout damaged. BWC via cell phone -- Vanity sink top guy needs cabinet layout drawings; Grant will provide on Monday.
September 23 -- Saturday -- Terry to CO.
September 24 -- Sunday -- Phyllis and Grant to site. All rooms on first floor and the studio and studio bath have been given first coat of paint.
September 25 -- Monday -- Grant spoke with Bill Williams by phone, then visited site in a.m. to discuss East wall placement with operator "Bucky."
September 26 -- Tuesday -- See these photos. East wall has been moved. Furnace in place and connected to geothermal wells.
September 27 -- Wednesday -- Did not visit site.
September 28 -- Thursday -- Kitchen cabinets delivered on schedule about 10 am. Here's a rough sketch of the kitchen layout. Although the computer program that sketched it couldn't get it quite right, it's pretty close. Grant met with finish carpenter, Mark at house this morning.
September 29 -- Friday -- Did not visit site.
September 30, October 1 -- Saturday & Sunday -- Grant to IN.
October 2 -- Monday -- Terry home for this day only.
October 3 -- Tuesday -- Driveway.
October 4 -- Wednesday -- Driveway.
October 5 -- Thursday -- Driveway, walk and interior photos.
October 6 -- Friday -- Did not visit site. Selected all kitchen appliances and purchased a fridge and dryer.
October 7 & 8 -- Saturday -- Phyllis to Europe.
October 9 -- Monday -- Grant "signed off" on door hardware, etc. Some topsoil spread at house. Met Jeff Lyons of browndognetworks.
October 10 -- Tuesday -- Did not visit site.
October 11 -- Wednesday -- Did not visit site.
October 12 -- Thursday -- Vinyl flooring installed.
October 13 -- Friday -- Terry visited site, reported vinyl had been installed. Terry will pick up and protect large scrap vinyl piece.
October 14 & 15 -- Saturday & Sunday. P returned from P&P/Europe trip in evening.
October 16 -- Monday -- 1.2 inches of rain. Did not visit site.
October 17 -- Tuesday -- Terry visited site in a.m., found electrician hooking up the geothermal furnace. Grant put range hood in Terry's garage, then went to site to specify wire shelving via phone with supplier. While there, hardwood flooring was delivered. Photos show wood and vinyl flooring samples but color is not at all accurate. Grant took photos of wireless broadband system components. Photos.
October 18 -- Wednesday -- P&G and Ed met with Bill at 2 pm. First photos of bamboo flooring installed today. Looks great! Photos.
October 19 -- Thursday -- Grant met with flooring installers and finish carpenter on site, marked location of mailbox, delivered kitchen sink and range hood to garage, set up pallets in basement and monitored furnace operation. No photos.
October 20 -- Friday -- Photos, etc.
October 21 -- Saturday -- Did not visit site.
October 22 -- Sunday -- Moved a load of stuff to new house's basement and installed street number today.
October 23 -- Monday -- Moved another load of stuff to new house's basement and etc.
October 24 -- Tuesday -- Moved a load of stones, etc. to new house's driveway. Photo. Porch railings delivered.
October 25 -- Wednesday -- Carpet installed today in master bedroom. Grant picked up some palletts, then loaded trailer with lots of rusty cast iron. (He thinks there is a Model "A" there.) P&G visited new house late in afternon to see carpet. Terry met us there with a table lamp. Photos. We took another car load of stuff to the house.
October 26 -- Thursday -- Grant ordered cabinet pulls from LAWLESS HARDWARE:


Except for front and patio doors, all exterior and interior doors use these levers:

October 27 -- Friday -- Check it out:
Photos. Cabinet pulls arrived.
October 28 -- Saturday -- Grant did not visit site.
October 29 -- Sunday -- Phyllis and Grant decided on locations of drawer and door pulls on vanities and kitchen cabinets -- and selected Formica colors for laundry and kitchen counter tops. No photos.
October 30 -- Monday -- Grant took a carload of stuff to the house. Met with trim carpenter Bill re: handles, etc. Discussed transition strips. Discovered top of fridge stub wall had been dry walled -- in error. Gave gave recent punch list to Daryl. Studio door to exterior need attentin, as does front bedroom window. No photos.
October 31 -- Tuesday -- BOO! Grant met with trim carpenter Bill; studio door to exterior will be removed & rehung, front bedroom window is now tightly in place, deck supports need attention, painter will finish wood wall caps and banister to closely match floors, bypass door hangers meed to be lowered apx. 1/2 inch (Grant approved Bill's solution.), Bill will cut out drywall atop fridge wall, "TJ" will make transition from MBR to MBR bath and to two carpeted rooms. Duff measured for counter tops (from Metro, 636-343-4900). Daryl ordered laundry sink today. Grant cleaned up rest of electrical boxes and installed plastic runner over studio stairs carpet. Plumber visited, said he'd be on site Friday. Siding man said porch railings will be install "next week." All door hardware is on site. Almost all trim work is finished. All interiors doors are in garage to be painted.
November 1 -- Wednesday -- Grant took a carload of stuff to the house. Range, disposer and dishwasher delivered to garage. Bill installed bypass doors in guest BR, handles on kitchen and bath vanity cabinets. Wire shelving installed. Grant ordered Formica/MDF panel from "Metro" for back of kitchen pennensula. Temporary thermostat will be replaced tomorrow. Painter painted many door frames. Interior doors in garage, ready for painting. Photos.
November 2 -- Thurssday -- Grant took a carload of stuff to the house and checked out trim work done today. Photos.
November 3 -- Friday -- Grant took a carload of stuff to the house and checked out interior painting done today.

November 4 & 5 -- Saturday & Sunday -- Saturday Grant checked out the VFW Pumpkin Shoot.
Sunday Grant took a carload of stuff to the house in the afernoon.
November 6 -- Monday -- Did not visit site today.
November 7 -- Tuesday -- Grant voted, then took a carload of stuff to the house in the afernoon. Terry visited also.

Basement and garage walls have been taped.
Mark says counter tops late because the company was out of "slabs."
Electrician says they will be finished on Thursday, Nov 9.
Toilets have been set and have water in their traps. Hot water tank has been set.
Grant gave BWC his reply to Jan's memo of last Friday.
Grant delivered two replacement KraftMade cabinet doors to site.
Grant photographed a neighbors (high spped computer?) antenna.

November 8 -- Wednesday -- Grant loaded heavy shop tools in trailer.
November 9 -- Thursday -- Grant moved heavy shop tools in trailer to RV storage yard. Moved more stuff to basement. Visited site; electricins finishing up. Almost all plumbing has been finished. Paid Metro for cabinet "back." Purchased two (required) ceiling fixtures for walk-in closets. BWC responded in writing to our 11/7 memo. Good progress on garage and basement drywall.
November 10 -- Friday -- Finished cleaning out 5 Edgewater garage. Took a small load of stuff to new house. Electricity is "on." Installed overhead light in two closets and a few light bulbs.
November 11 & 12 -- Saturday & Sunday -- Did not visit site on Saturday, purchased a bathroom mirror, light bulbs, etc.
November 15 -- Wednesday -- Final inspection and painting of garage interioer scheduled for today.
November 16 -- Thursday -- Second coat of paint in garage not accomplished.
November 17 & 18 -- Friday and Saturday -- Garage painting completed. Studio heat completed. Grant hung prop in his office, moved a load of shop stuff into garage, etc.
Photos here.
November 19 -- Sunday -- Did not visit house.
November 20 -- Monday -- Still no counter tops. Basement walls painted. Some final "touchup" painting finished. Tops to be delivered tomorrow, Tuesday.
November 22 -- Wednesday --
November 30 -- Closed on 5 Edgewater.
December 1 -- Closed on 3103 Painetd Horse.
December 5 -- Installed yagi antenna for high speed internet connection via Brown Dog Networks.
Here's a photo of our (temporary) yagi setup. It's aimed at the top of a water tower maybe five miles from our house.
December 6 -- Wednesday --
December 30 -- Saturday --
January 14 (2007) -- Sunday --

Low-bid trim carpenter at work.
Upper cabinets. (Lower cabinets with slab doors will be topped with a Formica serving shelf from same fabricator that made our kitchen here -- and our Crosswinds kitchen.

May 9 -- Wednesday --
May 18 -- Friday --

---

---