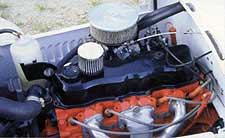 Track-style roadsters will always be fondly remembered as the roots from which our modern, high-tech street rods sprung. They are the very essence of hot rodding. The no-frills, no-amenities forerunners to our present luxo-rides, they're just a drive train and a simple chassis with as little body wrapped around them as possible.

The images these wonderful old cars invoke are those of fearless young men clad in leather helmets and goggles streaking across the dry lakebeds of Southern California in the '40s, with rooster tails of dust flying high into the air filtering the setting sun. Another image may be the often heated, hard-fought, side-by-side battles played out on the dusty dirt tracks that dotted the American landscape.

Today, these neat little cars seem to be making a comeback, proven by more frequent sightings of them as they're sprinkled among the high-dollar, one-of-eveything, megabuck moderns at major events. There are a couple of things this exercise proves: one; a street rod is within the reach of almost everyone if you want to apply yourself, and two; less is frequently more.-- Darrel Annent

This track creation is the homebuilt wonder constructed by St. Louis, Missouri resident Wayne Godbey. In this day of "1-800" cars, this ride is very unusual. But Wayne knew exactly what he wanted, how the finished product would look, and how much he was willing to spend. Fortunately he was able to use a couple of years before construction to search swap meets for many of the parts he needed.

When construction started on the chasis, Wayne used a oxygen bottle as their mold and a wooden mallet as their shaper. Wayne also did all the finish bodywork, painting, wiring, and upholstery (but allowed his son, Tony, to cut the windshield).

He did almost all of the work himself using a bare minimum of 1-800 parts and a minimal amount of money; $6,800 to be exact.

Considering what he got, we'd say that's a great return on his investment!
FACTS & FIGURES

WAYNE GODBEY
St. Louis Missouri
1926 Ford Track T

C H A S S I S

Frame
Custom by Owner
Wheelbase
92"
Modifications
1-1/2" x 3-1/2" channel
Rearend/Ratio
'73 Mustang 8" (fake Q-C
cover) Moser axles / 4.11:1
Rear Suspension
Homemade Friction Shocks &
Radius Rods, "T" Rear Spring
Rear Brakes
'73 Mustang Drum
Front Suspension
Homemade 1/4 Eliptic, '36 Radius Rod
Front Brakes
'39 Ford
Steering Box
Reversed Corvair
Steering Column
'81 Chevy Van, Tilt
Wheel make, size
'35 Ford, 16"
Front tire make, size
Avon 5.00 x 16
Reat tire make, size
Avon 7.50 x 16
Gas Tank
5 gallon
E N G I N E
Year and Make
'81 GM S-10 Straight 4
Displacement
151 C.I.
Camshaft
Stock
Valve Covers
Painted Black
Induction
Mustang 2-bbl
Wires
Taylor
Exhaust
3-1/2" Side or 1-3/4 Below
with Cut-Out.
Transmission
TH350
Trans. Modification
Wagner Transmission, St. Louis MO
B O D Y
Body Style / Material
Track T / Steel
Body Manufacturer
FoMoCo and Owner
Body Modifications
'26 Ford Touring Front Half
Owner-Modified Rear. Narrowed 8"
In Rear, 6" at Firewall
Hood
Aluminum, by Owner and Wife
Radiator
Gravois Radiator, St. Louis MO
Grill
Stock, '26 Ford
Bodywork
Owner
Paint / Color
PPG Deltron - White / Red
Painter
Owner (First Time)
Headlights / Taillight
Studebaker / Hupmobile
Windshield Glass
Tony Godbey
I N T E R I O R
Dashborad
Homemade
Gauges
Stewart Warner
Wiring
Owner
Steering Wheel
Foam 3-Spoke
Upholsterer
Owner / First Time
Material / Color
Naugahyde / Oxblood
Carpet
Maroon
---
[ Grant MacLaren's home page ]
---


Another web page
by Grant MacLaren