-- For Sale --
Four 1935 Ford 16 inch spoke wheels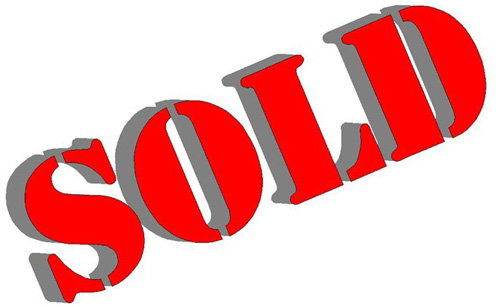 But, how about a Model "T" or two?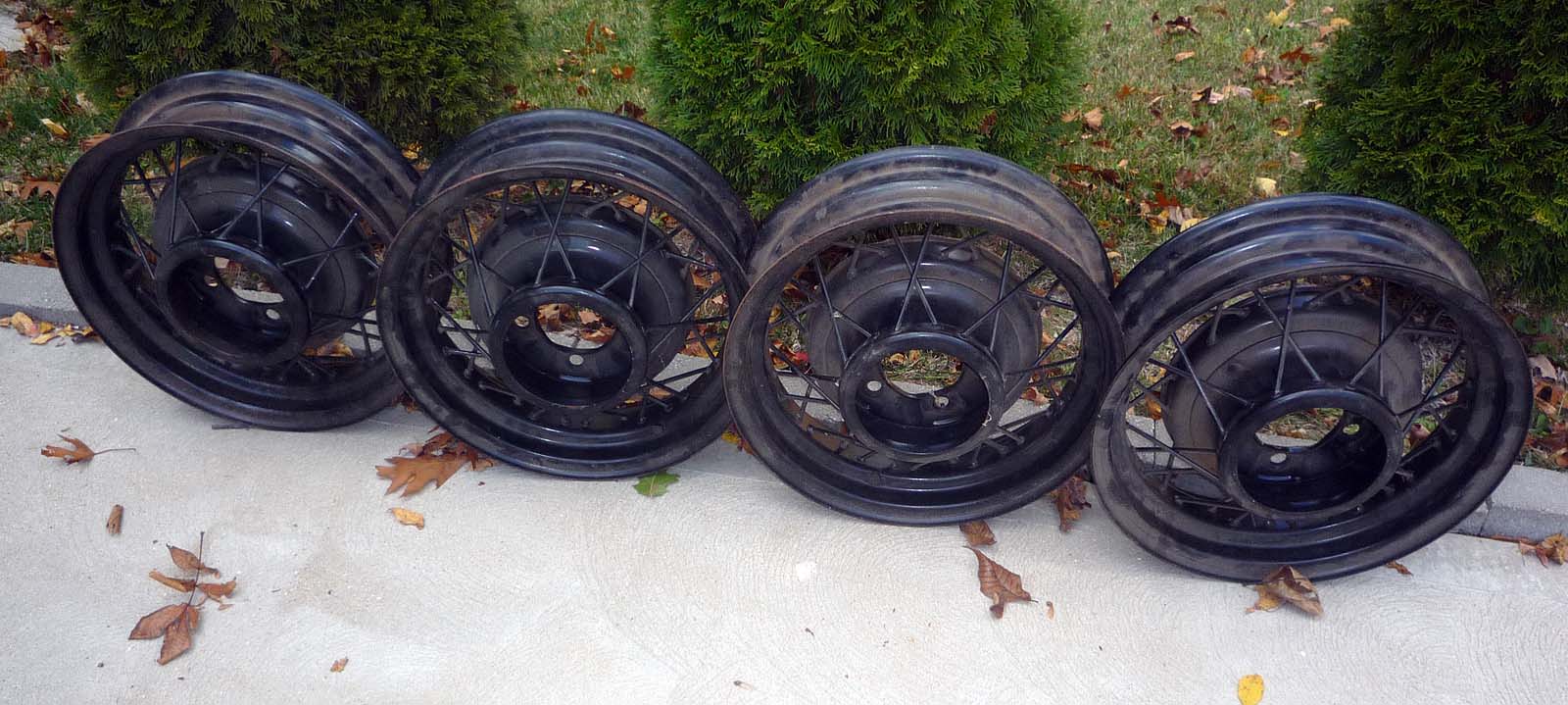 Four 1935 Ford 16 inch spoke wheels. Straight. Like new. Barn fresh. Four hundred bucks cash for the four of them. You pick them up near St. Louis, Missouri. No, I won't take less. (I don't think they make repros yet, but the 19" and 21" repros are priced at $339 each.) Click photos for larger images.

INTERESTED?
PHONE: 314-560-2054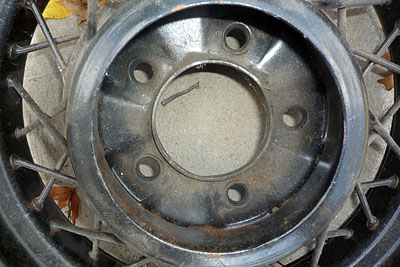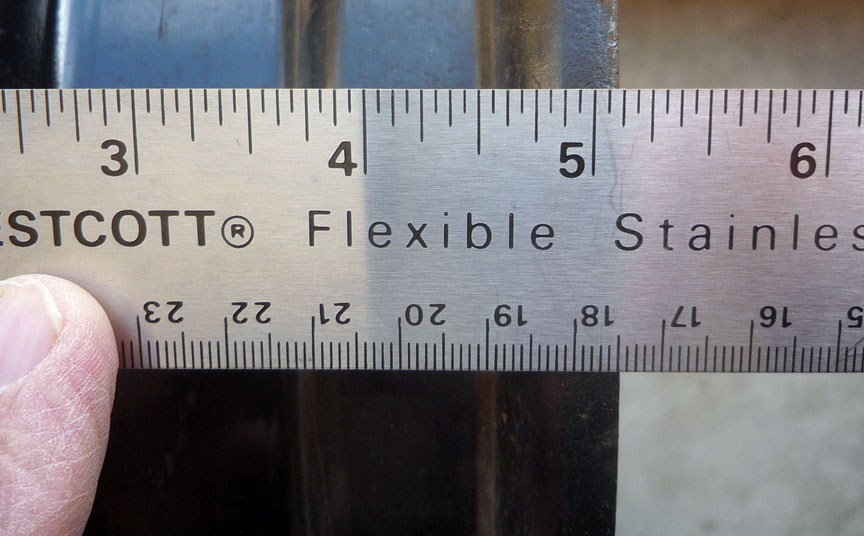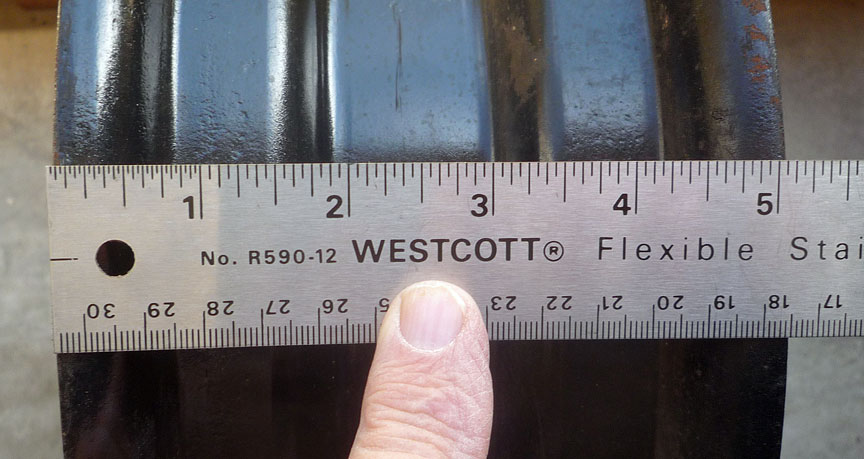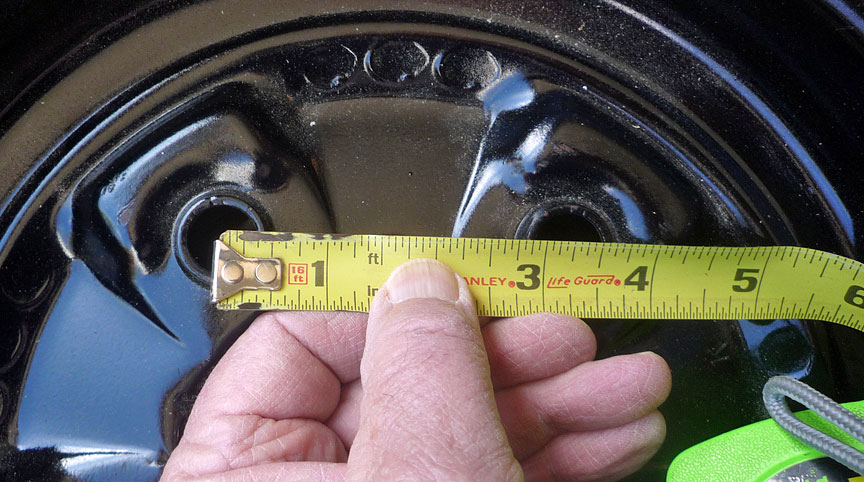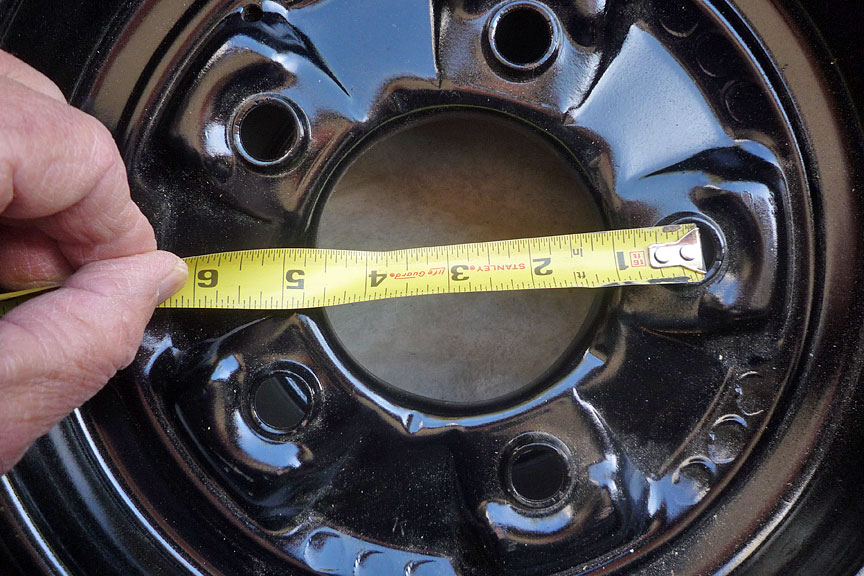 The same size, but powder coated, wheels on this Model "A" hot rod (click for larger image):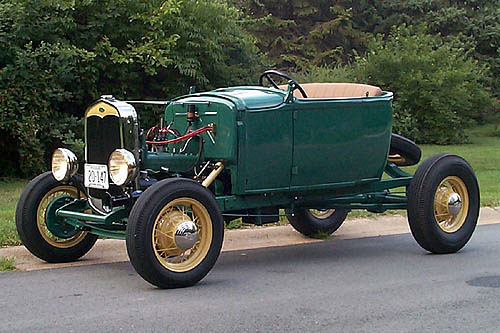 CLICK HERE
for more about green hot rod

Recently offered on ebay (did not sell):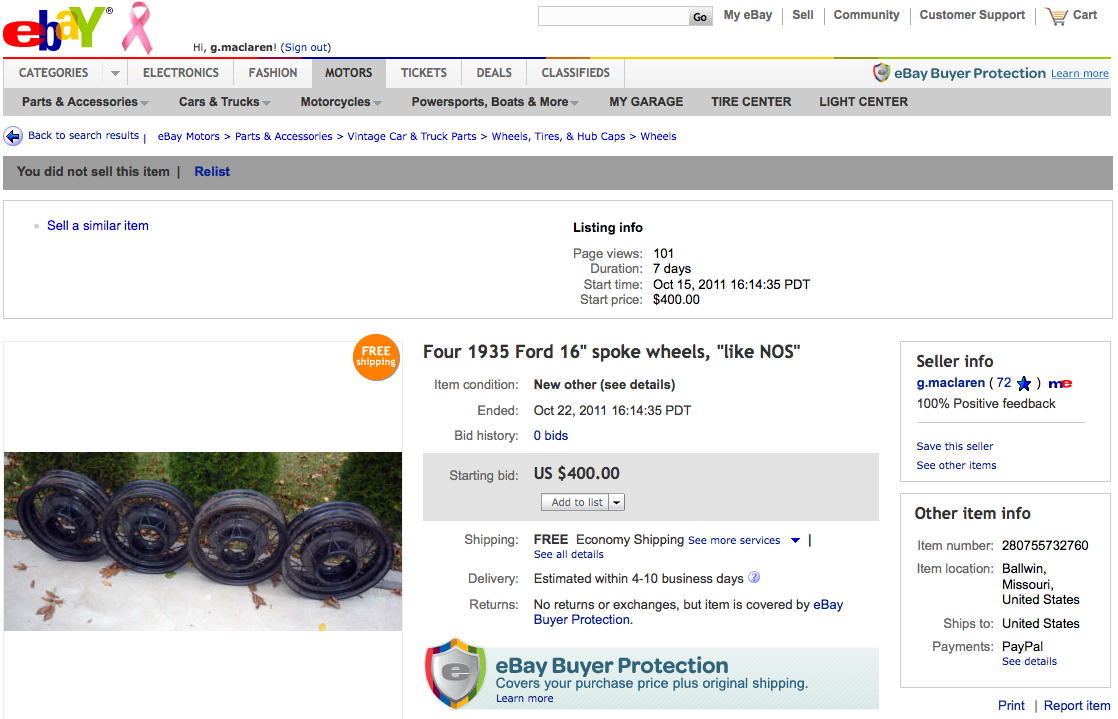 Found on the Internet:
QUESTION: I have a '34 Ford coupe with a Flathead and early running gear. The brakes are '40 Ford all the way around. I've been driving the car in the same condition for several years and decided it needed a different look.

After looking around, I finally found a mint set of '35 Ford wire wheels. I got them all powdercoated, mounted the big 'n' little 16-inch bias-ply tires, and was all ready to bolt them on when a fellow rodder said you claim these wheels shouldn't be used because they don't fit the drums as they should. Tell me it isn't so!

I have lots of money wrapped up in these things, plus I think they look great. I bolted them on and they do look good, but now I'm afraid to run them. What exactly is wrong with using them, and is there a fix?Carl WrightVia the Internet

ANSWER: While '35 Ford wire wheels do look perfect on a traditional hot rod, there are a couple of things you should be aware of before bolting them on your coupe.

The '35-and-earlier brake drums were unique in that they were designed to add support to the wheels. The face of the drums had raised areas cast in between the studs and the hub, a flat surface outside the stud circle, and another flat surface farther toward the braking surface.

Although the bolt pattern is the same, the later drums don't support the wheels to the inside of the stud holes properly, so when the wheels are tightened they tend to flex in that area. The results vary for this situation. It can make the wheel have excessive run-out, they can tend to loosen up due to flexing (which often leads to the holes being egg-shaped or just worn oversize), and cracks can develop. Then there are those who say they have run them for 100 years with no problems.

A number of years ago, we cut a '35 Ford wheel in half and then fastened it to an original drum. What we found was the wheel contacted the drum in two places: the raised projections inside each stud and the raised surface outside the studs. The wheel only made contact outside the studs when that same wheel was bolted to a later hydraulic brake drum with its flat mounting surface. Tightening the lug nuts caused a "levering" effect, pulling the center of the wheel toward the drum.

The best way to address this fitment issue is a wheel support made by Dave Wilton at MT Car Products (530-872-0122; www.mtcarproducts.com). A steel disc that slides over the studs, it has a raised section inside the studs that supports the wheel; they're cheap insurance against problems at 20 bucks each.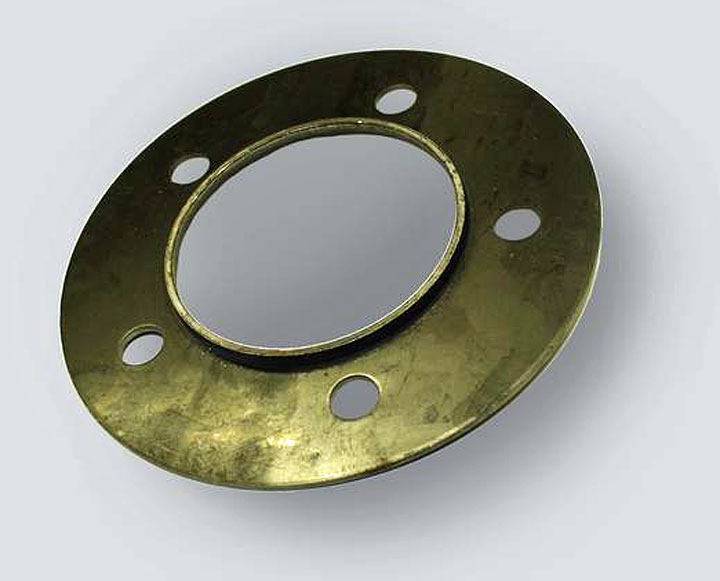 CLICK FOR LARGER IMAGE of
support (not needed on Model "A's", etc.)
While we're on the subject of wire wheels, we'd like to offer one last suggestion. Before going to the work and expense to make a wire wheel pretty, check the condition of the center, particularly the condition of the lug-nut holes. We've seen them so worn that a lug nut would practically fall through the holes (make sure to use the proper-size lug nuts that take a 13/16-inch socket). Mount the wheels on a balancer, or at the very least bolt them to a hub on your car, then spin them and check for run-out both vertically and horizontally.
---
As listed on Craig's List -- October 13, 2011:
Four 15 inch spoke wheels. 1935 Ford. Straight. Like new. Barn fresh. Four hundred bucks cash for the four of them. You pick them up. No, I won't take less. (I don't think they make 16 inch repros yet, but the 19 inch and 21 inch repros (pictured below) are priced at $339 each.) The "A" wheel is pictured only as an example. I do not have "A" wheels for sale.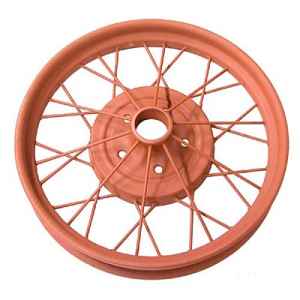 CLICK FOR LARGER IMAGE
---
---


CLICK FOR LARGER IMAGE
---
Or, maybe you need a Model "T" or two:

www.tforsale.com
---
---
---